"I think we need to break up." As easy it seems to say it, the harder it is for the person to hear it. After your heart is crushed into pieces by your ex-boyfriend, the hardest and bravest thing is to get over your ex-boyfriend fast and move on with your life. How to get over your ex-boyfriend and put the past behind you?
It's not that easy to just put the past behind you and move on after a breakup. All those years of memories and moreover, feelings can't just vanish right away. Here are 18 ways to get over an ex you still love.
Related Reading: What Questions Should I Ask My Girlfriend About Her Ex?
18 Proven Ways To Get Over Your Ex-Boyfriend
How do I stop missing my ex? Do I still love my ex? After your breakup all these mixed feelings come into your mind and you keep asking yourself these questions.
It is because your mind is still replaying all those memories along with the break up. Your life is at a standstill and you can't even eat because you are so down. You still haven't got full closure from your ex-boyfriend and this is preventing you from moving on with your life. It is important to get over your ex-boyfriend and we have 18 ways up our sleeve for you to get over your ex-boyfriend.
1. Make yourself busy
According to Dr. Sanam Hafeez, Psy.D NYS Licensed Psychologist, "It takes about a month to form new neuropath ways in one's mind, so the best thing to do is to get busy and pack your day with activity. Most people sink into depression when a relationship ends."
To get over your ex-boyfriend fast it is important to keep your mind occupied so that you are able to apply your mind into things that aren't related to your breakup. Keeping yourself busy will help to keep you distracted and your mind won't wander towards the breakup.
Related reading: 11 easy and effective tips to survive heartbreak without breaking yourself
2. Get those emotions out of your system
If you are a person who believes in denial and chooses to avoid your emotions so that you don't feel the pain then don't do so. Denial will only help in the short-term.
According to research, ignoring your emotions will lead to long-term pain and it will be even more difficult to recover from it. Cry your heart out and get it out of your system once and for all.
3. Reflect on the relationship
Ask yourself what the relationship was like. Were you happy? Was it about the two of you or just about him? When you look back and contemplate on your relationship, you will realize how blinded you were by love.
You couldn't see that he wasn't the right one for you. Once you start seeing things clearly, you will realize that the breakup was a good thing.
Related Reading: 8 Signs Your Boyfriend Is In The Relationship Only For The Money
4. Talk to someone
Talking to someone who is close to you and understands the situation that you're in will help you gain some perspective. Talking to someone who you confide in will help in taking all that pain out of your system and start the healing process.
Make sure that whom you're speaking to is someone who is positive and a good listener. The last thing you need is another dose of negativity. If you get the right person to give you the right advice then it is possible to get over the ex you still love.
5. Write down your feelings
You may not be someone who likes to pen down her feelings but sometimes writing about your feelings helps you to understand your emotions.
When you are talking to another person, you may not tell him/her exactly how you feel and may choose to leave out a few points.
But when you write, you know that you're the only one who is going to read it and writing exactly how you feel will help you in understanding how hurt you are and help you in getting over your ex.
6. Stop blaming yourself
Many times after a breakup people start to blame themselves for what went wrong in the relationship. They feel that their partner left them because they weren't good enough.
It is important to stop blaming yourself for what went wrong. Let go of the guilt that makes you feel that you're not good enough. Understand that it wasn't your fault.
7. Don't think about being friends
You can't be friends with someone who broke up with you. You could be asking yourself, "Do I still love my ex?" The answer could be yes, but staying in touch with the ex is not a good idea, the no contact rule works better.
You both might act like it's okay to go back to being friends again but it doesn't work. At some point or another, all those feelings will explode and come out in the most unexpected ways. Being around your ex-boyfriend will be a constant reminder of your failed relationship and you won't be able to move on.
Related reading: 15 reasons why being friends with your ex doesn't work
8. Dump all reminders
"How do I stop missing my ex?" If this is question you are asking then we will tell you, you need a detox when it comes to your ex-boyfriend.
If you have a shirt that smells like him or a rose that he gave you, you need to get rid of all such things. Get rid of all those things that remind you of your ex-boyfriend.
It could be his things, gifts he gave you or old movie stubs that you kept as a keepsake. If you want to get over your ex, you need to get rid of things that remind you of him. If you are still missing the ex it will show.
9. Stop overthinking
As the days pass by, you will think about all that has happened in the past and analyse the things that went wrong. The more you think about the past episodes, the more those memories will begin to haunt you.
Stop thinking about how you could correct the events that took place. Instead, look forward to what is to come and focus on your life.
10. Start dating yourself
According to Jennifer Seiter, founder of Ex Boyfriend Recovery, "There is a philosophy called 'dating yourself' that is a perfect mind set for anyone to have if they want to get over their ex."
This philosophy promotes self-love instead of seeking love from another person. Date yourself and do things that make you happy instead of looking for someone else to do them for you.
11. Spend time with your close ones
One thing that you must understand is that relationships may begin and end, but your family and close friends are meant to stay forever. This is the time to reconnect with your loved ones.
You might have been so involved in your relationship that you weren't able to focus on the people who actually care for you. Your loved ones always know what to do to comfort you.
Spending time with them will help you heal faster and you will not feel the need for anyone else in your life.
Related reading: How Saying 'I Love You' Too Soon Can Be A Disaster
12. Cut off contact
Try not to go after your ex and find ways to contact him. Contacting him will only make you more vulnerable and make it more difficult for you to get over him. Also, avoid the urge to stalk him on social media. You might feel lonely and want to look at him or talk to him for one last time.
Truth be told, there will never be a last time and you will find yourself stuck with his memories if you don't cut off contact immediately.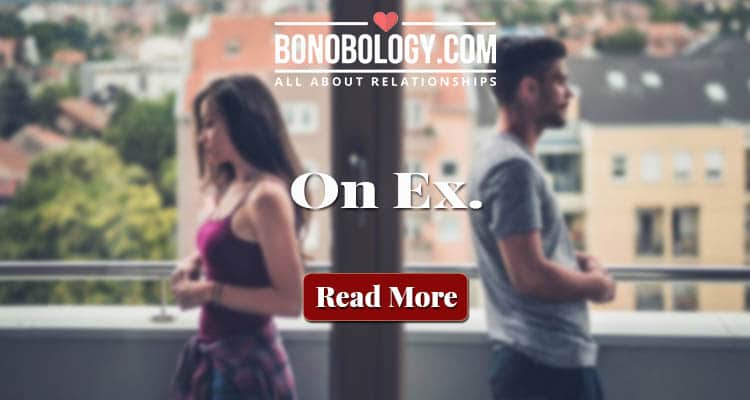 13. Focus on his negatives
Instead of reminiscing the great memories that you both shared together, focus on his negative aspects. Did he treat you well? Did he actually love you? Was he involved in the relationship as much as you?
Thinking about all these aspects will make you realize that at the end he wasn't worth it and it will help you move on.  Maybe he never realised your worth.
14. Think about the things you won't miss
If you are thinking of how to get over your ex boyfriend, instead of missing the things that happened in the past, focus on the things that you won't miss about the relationship.
There might have been many lows in the relationship where you had to struggle with your self-respect, happiness and place in the relationship. Think about all those things because you aren't going to miss it anymore.
15. Learn and forgive
One of the main reasons why it is difficult for people to get over their ex is that they aren't able to forgive them for the way they hurt them by breaking up.
The pain and ache remains with the memory of the breakup and as a result of which, they can't get over their ex-boyfriend. One of the main ways of getting over your ex is to forgive him for all the pain that he caused you.
Learn from the mistakes that took place in this relationship and make sure that you, or your future partner, don't repeat them in future.
Related reading: 8 steps to completely forgive someone who cheated on you
16. Get out of your comfort zone
It is time to start living life out of your boundaries. Get out of your comfort zone and start enjoying life. Call your best friends and plan a night filled with fun and enjoyment you've never done before.
Getting out of your comfort zone will also help in self-exploration. Try joining a yoga class or explore that food business you had on your mind for a long time. Don't be afraid to try new things. Only by doing that you will find yourself and get over the person you loved deeply.
17. Go on a trip
Sometimes distancing yourself from the environment that keeps reminding you of your ex-boyfriend is important. Go on a trip with your friend or you can also travel solo.
Meet new people and do new things. A change in environment will help you get over your ex and you will feel lighter from inside.
18. Love yourself
"I'm Not Good Enough"
Remove the "Not" from the above sentence and tell yourself each day that you are good enough. Start loving yourself instead of seeking love from others. If you keep doing that you will only end up in a rebound relationship. 
Once you believe that you are enough, you will realize that you don't need anyone else but your friends and family.
Self-love is one of the most proven ways to get over your ex. As the saying goes, love yourself and rest will follow. It is hard to get over someone whom you gave your heart to. We've all been there. Heartbreaks are a part of life and failed relationships are just lessons that you learn.
It might be difficult getting over your ex, but it isn't impossible. It is important to, for once, start thinking about yourself and your life. He may not have been the right guy for you and you deserve much better. Always remember that cupid strikes in the most unexpected ways so don't give up hope on love. This one just wasn't meant to be and your man is yet to come to sweep you off your feet.
He Has Broken My Trust But I Still Love Him And Want To Help Him Out