Are your hormones sending you that irresistible urge to talk dirty and make him very horny? You know you want it and he is probably waiting for you to make the first move and set the mood right. But you do not know where to start or if there are any sex chat rules you need to follow. It's your lucky day, because we will tell you about the A–Z of dirty sex chat – how to initiate, what types of messages to send for which mood, all of it.
You don't want to miss this if you have this burning desire to turn him on through some playful texts. Dirty chats do go a long way to making your real encounters more meaningful. So, we give you the best, sexy, and dirty text messages to send to your boyfriend and make him crave you like crazy!
6 Dirty Text Message Tips – How to initiate talking
There is no denying the fact that sexting is a great stimulator to keep the spark alive in your relationship. Moreover, if you are stuck in a long-distance situation, away from your partner for a long time, sexting is your savior. Now, not everyone is a pro at this. How to sex chat, what to say, what not to say, how to initiate, when to have a sex chat – the confusion is too much to handle. But you have nothing to worry about because we have the top 6 dirty text message tips to make your sexting experience a toe-curling one:
1. Consent is the key
The first rule of having a sex chat is to ask for your partner's full consent. Make sure you are both on the same page and they are just as comfortable with the whole idea as you are. And consent is not a one-time thing. Don't assume it to be a given for future sex chats just because you already smoothened the path once. Also, if you want to try something particularly kinky, check with your partner if they are okay with it.
2. Pick your time wisely
You cannot expect your partner to get involved in the dirty talk in the middle of the day when they are super busy at work. That's what makes timing an important factor in sexting. Plus, your partner may not be in the right state of mind to accompany you every time you want to play with yourself. Try to gauge their mood and schedule before you initiate the sex chat.
4. Visuals are important
One of the best sex chat ideas we can offer you is to be very picturesque with your narratives. When you are writing a dirty message for him, he can't see your expressions or your naked body, nor can he touch your skin. Naturally, he will need a little bit more than just a dry text to turn him on. Be elaborate, paint a scenario with your words. Tell him what you want to do to him, or what you expect him to do with you. Don't shy away from expressing your secret desires and your first sex chat will be a big hit.
5. Don't rush through it
You won't skip the foreplay and jump right into the main act while you are in bed with your partner, will you? The same goes for sex chat. Because of the obvious physical distance, the major enjoyable part of sexting is the slow, seductive build-up. Don't reveal way too much at the beginning. Tease them, send naughty emojis and selfies, walk through every step of it with them, and reach the climax together. There is no hurry!
6. Be original, be you
There is one simple rule to maintain the flow in a naughty sex chat – be spontaneous. Don't overthink much about your next response. See, nobody knows your body, your urges, your desires better than you. And until you tell your partner about how you want it, even they won't be able to give you the utmost pleasure. So you can always come to the internet for inspiration for sex chat messages, but it will only work when you mix them with your own imagination and fantasies.
Related Reading: How Masturbation Helps In Long-Distance Relationships
7. Make sure your partner is finished
It's a basic courtesy toward the end of a romantic sex chat to ensure your partner has made it to the climax. You cannot leave the chat abruptly just because you had your fun. Being there for your partner is essential. Plus, it's a sign of a healthy, loving relationship beyond the realm of passion and physical intimacy.
45 Sexy And Dirty Text Messages For Your Boyfriend
Sex chats are a mix of naughty, fun, dirty, with a bit of kink too. Sexting is like an art, you need to be creative and let your imaginations take a wild turn. All you need to do is bring your opening act with a bang and the rest will just follow. When you are planning to engage in a sensuous sex chat with your man, make sure to go with the flow and don't interrupt it by talking about regular things.
Your aim should be bringing out your sexiest self during a kinky sex chat with your boyfriend. The whole idea of talking dirty is to get him hard in his pants and make him long for you even when you are not around. He should also know that you don't need a bed and a romantic ambiance to seduce him. A few naughty messages from you are good enough to turn him on.
So, are you ready to spice up your sex life with the kinkiest sex chat messages sent to his inbox? If you are still a little lost about how to sex chat, here are 45 dirty text messages to send to your boyfriend to make him long for you the way you want him to. Let's plan an unforgettable experience through this sex chat for him. Alert! It's too hot to handle.
Tantalizing messages for your boyfriend
We have some amazing sex chat ideas to get you started on the sexting front. Chances are these naughty sex chat starters would seduce your boyfriend instantly and drive him crazy! He would want you closer not just through text, but in real life too.
1. I'm not wearing any underwear. Seems like I lost them all… Would you come over and help me find some?
2. I so want to tear open your clothes right now.
3. Do you want to come over to my place for dinner? Dessert's on me!
4. Yesterday you looked so hot in that black shirt, I was wet the whole time.
5. You know what I feel like doing? Lick your juicy lips, squeeze them, and leave little bite marks on them.
6. Hey babe, I want your taste on my tongue. Can I roll it all over you until you start shivering?
7. Just so you know, tonight at dinner, there will be no underwear. Feel free to slide your feet up my legs.
8. I am touching myself right now in places you can't imagine.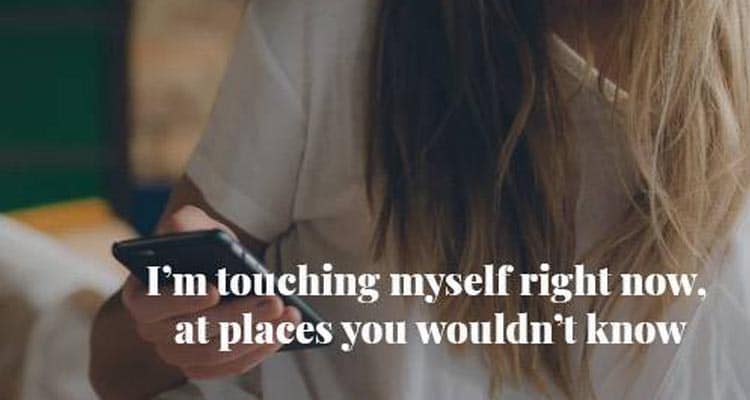 9. It's so hot. I feel like tearing my clothes off. Wanna help me?
10. My nipples are turning hard. Are you by any chance playing with them in your dreams?
11. Guess what. I just masturbated and I couldn't think of anything else but you to get me to the peak.
12. I want you to explore every inch of my body and find the places that turn me on like crazy.
13. I have been super naughty lately. Will Daddy spank me hard tonight?
14. I want to lick you all over your body with an ice cube in my mouth.
15. Next time we are together, I want you to tell me what you would like to do while you are doing it.
16. Hey sweetie, I was trying to give myself a little pleasure. But couldn't get you out of my head the whole time. Stop living in my mind rent-free.
17. I am so wet and horny. Why aren't you here yet?
18. I want you to touch me in places that make me feel so hot and wet. I can't resist you for even a second.
19. If only you were here to see me naked…
20. I want to love you like I do in that lacey black thing that you love so much.
Related Reading: Sex Games A Couple Should Play
Dirty messages for your boyfriend
A touchy-feely dirty message for him can make your guy go crazy. Dirty sex chat over texts is just as effective as it works wonders while you are in bed with him. Just try it out.
21. My legs are wide open. Care for it?
22. I want you to make me cum. Yes, make me cum.
23. I want you inside me, like right now!
24. I want you to fuck me so hard that I can't stop myself from screaming your name. 
25. I want you here with me, with not a single piece of clothing coming in between us.
26. Your shirtless body makes me want you all the more!
27. I want you to squeeze my boobs and bite my nipples.
28. I will let you do whatever you want. Literally.
29. Did I tell you about a fantasy I have? I want to tie you up and suck you until you become so hard that you give me a taste of your cum.
30. I can still feel your body on me, your warmth on my skin.
Related Reading: 10 Cute Texts To Send To Your Man When You Miss Him
Extremely sexy messages for your boyfriend
These ultimate, hot text messages are going to be the clincher. Chances are he would be turned on like crazy and the effect of these messages will be felt next time you go all hot and sweaty under the sheets.
31. I can't resist it when you are about to get inside me. But I would so like you to tempt me more until I can't hold it any longer!
32. Fuck me now, will you?
33. I woke up in bed all wet. Must have dreamt about you.
34. Even the thought of you makes me wet below the waist.
35. I want you to kiss every part of my body, don't miss an inch.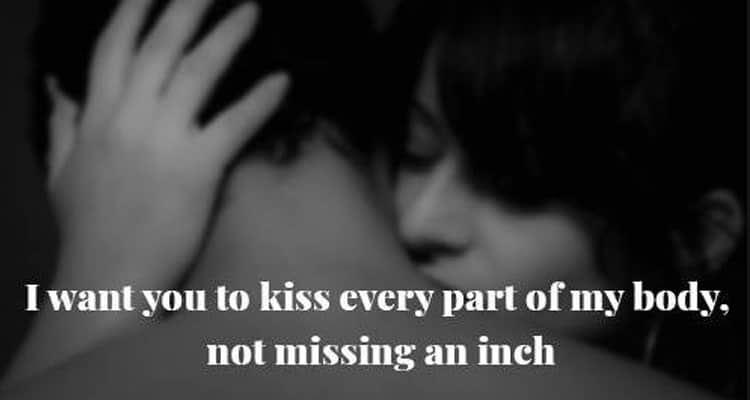 36. I hope you have an ointment for bite marks. Tonight, I will leave hickeys on you everywhere.
37. Can you come to my place and unhook my black bra for me?
38. How do you like the idea of licking some yummy liquid chocolate off my naked body?
39. I want to see how well you play with your tongue between my gaps.
40. I can't wait to be together with you naked.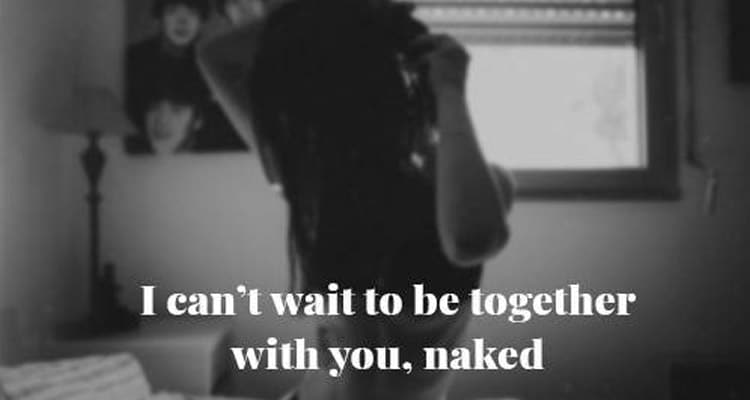 41. I love the way you suck my nipples.
42. I want to taste, touch, and feel your skin on mine.
43. I will do whatever you tell me to. I promise. Just tell me what you want. 
44. Didn't you say you like choking? I would love to choke you with my boobs.
45. I have got a little surprise for you. You'll have to undress me to discover it.
Whether you are a fan of dirty sex chat or romantic sex chat, our elaborate list has got you covered on every bit of it. Indulge in a sensual conversation with your boyfriend and leave nothing under the wraps. Bring out the beast within you thanks to these super naughty and dirty text messages, and give your boyfriend the time of his life. You will soon become a pro at sexting!
Talking Dirty For The First Time?
Talking dirty is one of the finest acts of eroticism but is often underexploited. Talking dirty for the first time can make you feel anxious and that is natural. You never know how the other person is going to react! What may be dirty talk to you could be offensive to the other person and there is a constant fear of your partner thinking of you in not such a good light.
Sometimes, you may feel super awkward when your boyfriend starts talking dirty. You like the way he talks but are afraid that you might ruin the mood of sex chat for him by saying something stupid. Don't worry if you are new to this couple's sex game. Take this chance to notch up your game a bit by sending him dirty text messages from our list. You might think that your amateur self will spoil the fun but the truth is that the art of talking dirty is no biggie.
It is your subconscious mind that stops you from doing it because you think it to be awkward, wrong, and weird. You fear being judged. A dirty sex chat is far from weird or awkward. You just need to feel it from the inside and convey your sexual self through texts. It's as simple as that! A bit of imagination and indulgence is the recipe for talking sexy with a mix of dirty. Just bring out the best in you and your boyfriend won't be able to resist the distance and will moan for you.
If you are planning to have a sex chat with your man for the first time, it will be an easy play, now that you have mastered the art. Remember, self-indulgence is the key and until you feel it yourself, you will not be able to make him stiff in his pants. Enjoy every bit of the guilty pleasure that talking dirty has to offer and seduce him till you're too hot to handle for him.
Disclaimer: This site contains product affiliate links. We may receive a commission if you make a purchase after clicking on one of these links.
FAQs
1. How do I drive him crazy over text? 
To drive him crazy on a sex chat, you could tell him about your secret fantasies. Talk about everything you want to do with him, things you want him to do to you, what you are wearing, each other's erogenous zones – just be very lucid and explicit in your description.
2. Where do most guys go wrong with naughty text messages?
The biggest mistake guys make during sex chats is sending unnecessary nudes or demanding one from the girl. If you are just starting to get to know her, jumping into a sex chat at the very first chance is not a good gesture. Neither is it very gentlemanly to sext slowly while you are masturbating or leave the chat abruptly once you are done.
6 Reasons Why Every Woman Should Masturbate (And Stop Feeling Ashamed about it)
8 Signs Your Friend Is In Depression And 6 Ways You Can Help
Ask Our Expert
You must be Logged in to ask a question.