Marriage is considered one of the sacred and most important pillars of Indian society and our biggest pastime as well. No wonder finding prospective grooms and brides occupies the minds of most of the senior generation, especially parents, grandparents and relatives, and although it's a practical way of getting married, it can be funny and weird too. We are talking about the funniest matrimonial ads in India.
Funniest Matrimonial Ads
While online matrimonial sites are more prevalent with youngsters, Indian parents and families still prefer to choose matrimonial matches for their children and relatives through newspapers. Matrimonial ads are more popular and have a wide reach, as most people are not well conversant with the Internet and second, such ads yield better and fruitful results, as newspapers are read by people from across all social strata and therefore can reach more people. This speeds up the search process as well. Sometimes this results in hilarious Indian matrimonial ads. While going through the matrimonial section it's not uncommon to see people bursting into peals after seeing a funny matrimonial ad.
Interestingly, these ads can give a deep and incisive insight into the character of the persons involved. Read a few to judge for yourself and do notice the emphasis on looks, complexion, financial status, sexual factors – it will make you laugh.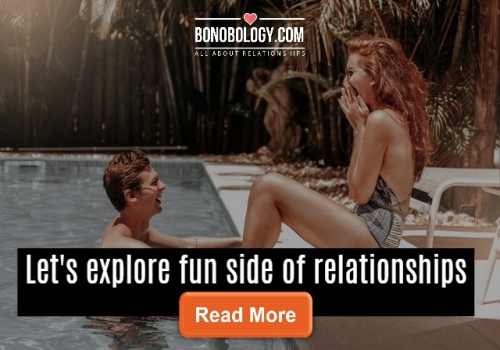 Ladki beautiful…
Chauhan girl 27/5'2″ convented b'ful working in top MNC Lko. Father Cl-I officer. High-status family. E-mail: xxxxx@sify.com …………. Box No.
Alliance invited from Civil Services /profly. qlfd/well-placed match for Kasaudhan Vaish girl 24/152 Gori, v.b'ful, M.Sc. Biotech, convent educated. Father professional. All vaish accepted. BHP must……….. Box No.
A matrimonial profile can't get funnier.
Well, at least they're honest
This matrimonial ad takes the cake for being absolutely candid and hilarious-
Matrimonial ads based on the language are further categorised as Assamese, Bengali, Gujarati, Malayalam, Kannada, Kashmiri, etc. In terms of profession, we find Doctors, Engineers, CA, MBA, Advocates, etc. They are priced based on the number of words, lines and characters and therefore you need to create your matrimonial ad keeping in mind these factors. No wonder we can see many creative ones as a result.
Although online matrimonial sites are ruling the roost when it comes to attracting the educated, city-bred, professional youngsters, matrimonial ads in the newspaper still retain their place with people who are not Internet savvy. These matrimonial ads in newspapers seem too funny.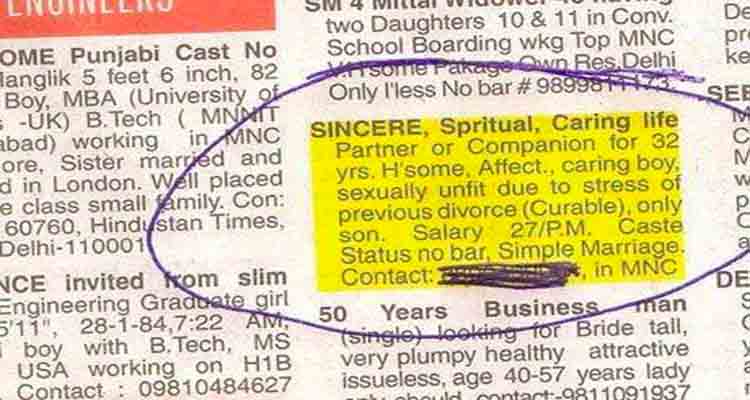 Related Reading: 10 Questions to ask Him Before an Arranged Marriage
Full marks for trying
Here are a few profiles from online matrimonial sites too which will crack you up and these are indeed crazy matrimonial ads to tickle your funny bone. These are truly funny matrimonial ads.
Matrimonial Profile 1
Hi, am Yashoda, I passed my marriageable age, I seek for the perfect match for me. The boy should be long in height, He can have long hairs also, but he should not have animals in the house. Everything else is ok, north and west Indian please excuse me. If you are my man, I long for your partnership. If you want we can chat on Facebook also, you can poke me if you want.
Matrimonial Profile 2
Jai Sri Krishna. My self Tarun, I am working as Deputy Manager, I am like a party animal, I am looking for an outdoor girl who is not part of this culture, but she should not accompany me. She should also be having a job and decent package. Caste, colour, education, horoscope no bar. She should know Gujarati cuisines. If interested mail me.
Matrimonial Profile 3
Namaste, We seek a BRIDE for our son who is clean-shaven, educated, very enterprising, handsome, he's got a height of 5'10″ and he just turned 26 having trained abroad he manages his own business. We are a high-status affluent family with 2 bank accounts in private BANK and we are very liberal in our outlook. He seeks a life partner who is 21, minimum height 5'4″ and IQ of 80 and very modern outlook. If agreeable please send a recent profile with recent photograph and please send photos with front profiles only, please do not send side profiles and it is too inconvenient to judge girls beauty. Thank you.
Funny matrimonial ads are easy to come across in the newspapers every single day. If you are in the mood for a good laugh then just go through the matrimonial ads column. Indian matrimonial ads do have a strange capability to tickle your funny bone. So what are you waiting for just go ahead?
Ask Our Expert
You must be Logged in to ask a question.