The complications of having a BFF in a relationship! Frustration is common but a little bit of clarity might go a long way.
Friends are an integral part of life as they help you build your personality and character. These friends tend to take a back seat when you are in a relationship. But when your best friend gets into a relationship, two things are bound to happen. Either you become good friends with their special one or you have differences with them and your friend may get caught in between. It is very difficult to manage both the relations and we are sure you must have been caught in this situation some time or the other. So, here are a few things that you will relate to if your bestie has ever been in a relation:
1. No more sisters before misters or stuff like that:
They totally forget about all these promises that were once made during the blooming of friendship. Now, they just want to hang out with their loved ones more than you. They now feel okay to bring their love interest in your girl's night out or boys FIFA night.
2. Chances that you do not know about yet:
If your friend has been vanishing all of a sudden from a party or receiving long calls, there are chances that they are in a secret relationship. You may have little to no idea about their love interest. They may hide it from you or your group because of various reasons and one of the main reasons being – they are not still very sure about the relation.
Related reading: I upheld the bro code by not dating my friend's girlfriend
3. Friend's night outs become date nights: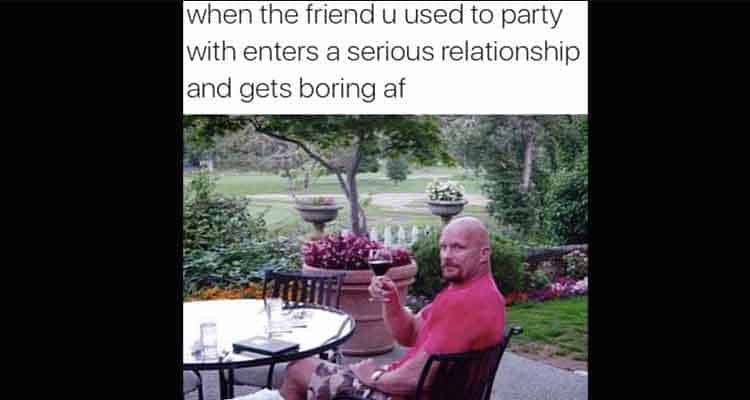 As mentioned earlier, they may have no guilt at all to bring their love interests to your group night outs, which eventually turn out to be about them. A few people even wonder how they got into this relation while a few others just adore them.
4. Begin to doubt:
You start doubting your friendship and wonder who have you been with all this time. You almost feel like a deceived individual who has just lost all the belief in BFF stuff. You curse the person, abuse them but still love them.
Related reading: Sleeping with my best friend WASN'T the reason why I divorced him and moved on
5. Tagging in social media:
Be it posts, photos, or videos, social media has now become a part and parcel of our day to day life now. Whenever you find a relatable meme you tag them. Tags seem to be the only way to communicate that you are upset with them. And again, they ignore these too!
6. Accept defeat and become friends:
Now that you have finally realized that your friend is pretty serious about that person, you slowly but painfully start accepting that person. You try to understand them and their nature. You may find them very different from the kind of person your friend deserves but you need to agree that even your friend is stupid.
7. A new group is formed:
After few initial glitches, ups and downs, all of you have a group on WhatsApp now. Your day is incomplete without forwarding jokes, memes and hot gossip. You realize that your friend just deserves that person and you have been so wrong about them. They are still a part of all the outings but you do not have any problem as that person is now your friend too.
3 girls reveal what it is like to sleep with their bestie's boyfriend
https://www.bonobology.com/tips-ready-sex-talk/