Breakups bring with them pain, trauma and a whole lot of sobbing and mourning. Breakups also get with them loneliness and isolation. While having friends and family at such a time may make it slightly better to cope with all the emotional outbursts, you can still find a way to distract and divert your attention from the whole episode even being alone. We tell you how to cope with a breakup with no friends and family by your side – on your own and with ease.
Humans are wired for companionship in terms of romantic alliances and committed long-term relationships. When that companionship goes two different ways, loneliness engulfs us with a broken heart syndrome and we suffer through the gloomy rejection. If you feel the pain caused by heartbreak is easy to overcome and moving on is a cakewalk, then you are wrong. Scientific evidence suggests that suffering from a broken heart hurts more than physical pain. There are chances that a lovelorn individual might suffer from depression and other serious health issues. Those who have family and friends by their side are lucky, as they receive continuous support to get over a breakup through love and affection. Dealing with a  breakup alone is difficult but it is possible.
But if you are lonely during heartbreak with no family or friends by your side, don't ever think you can't get over it. This so-called ordeal might be a blessing in disguise for you. Being alone post-split is the best medicine to heartbreak recovery. It might feel bitter in the beginning, but as you progress day by day, your experiences will be very positive, leaving you better than before. You will be more in control of your life, your emotions and your reactions. Don't believe us? Let us explore how going through a breakup alone will help you with great success and inspire you to be stronger than ever.
How to get through the breakup of a long-term relationship?
Long-term relationships follow a pattern where both the partners become used to each other's company. Not even in their dreams can a committed couple think of splitting. But when that hard truth hits you, the monster of rejection and abandonment overshadows everything else in the world. The pain of breaking up with someone with whom you have been with for years is intense, and getting through it alone is an uphill task.
Moving-on after staying with a person for years in a committed relationship is a tough situation to be in. We understand the pain of heartbreak you are going through after investing a lot of years in a relationship. It is fairly tough to overcome the aftermath of a failed long-term relationship, given the time and emotions you invest in it. Coping with a broken relationship that promised you a great future is as distressing as depressing. But don't get overwhelmed. Where there is a will, there is away. You will find a way to get over the breakup even if you are alone, with no one to provide you with emotional support.
Accept the truth that the commitment is over as sooner as possible. Many times, this denial is the root cause of all troubles, triggering you to call the ex-partner frequently, stalking them on social media. It would be more painful for you if your ex has already moved on in life with a new companion. So, to move on with your new life, accept the truth that the relationship has lived its life.
Learn to love yourself. So far, you have loved the significant other and prioritised him/her over others. After suffering through a bruising breakup, now is the time to love your wounded soul in your own company. Try journaling as an outlet for your emotions if you have nobody to share your pain with. There will be tears and the inconsolable pain of going through a breakup alone, but there is an end to this dark tunnel. After you are done with it, there will be healing and hope of a better tomorrow.
Related reading: 12 signs you regret breaking up and should give another chance
How to get over a breakup when you still love each other?
Getting over someone you still love needs closure. Understand that love alone will not be enough to ensure long-term compatibility. Do the reasoning on why you two aren't going to work together. Are there personality issues, or ego clashes between you both? The best thing about long-term relationships is that they introduce you to the good and the bad side of your partner. So, whether you were dumped, or are dumping your boyfriend or girlfriend, understand that separation could be the only way to escape a toxic relationship. Maybe you both are good for each other, but the timing also plays a crucial role in judging the compatibility. Maybe he/she is not able to understand your setbacks or challenges. If a relationship is not working out in spite of your best efforts, taking the call to quit is viable and right. So, how can you lead the road ahead together, if you aren't both on the same page? A better option is to give your long-tern relationship a break and let go of the memories and feelings.
How to survive a breakup when you have no friends
As it is, a breakup leaves you feeling lonely and dreadfully alone. The pain is daunting enough, and having to deal with it all alone can be very upsetting. Dealing with a breakup is surely tough when you have no friends in the city. However, we'd suggest that this may be a time that you invest in yourself. Why not use this opportunity and be your own best friend? It might take time to realise, but no one in the world can indeed love you more than you love yourself. So, why not 'Date Yourself.' Make yourself feel special by doing what you want. Pamper yourself, and fall in love with 'you' once again.
Use this time to build a better understanding of your motivations, desires, and expectations. Surround yourself with things that you love. Try following your passion or a hobby; learn a new skill which will give a boost to feel-good endorphins. Something as trivial as a bunch of fresh flowers can lift your mood. Book yourself an appointment at your favourite salon and pamper yourself. If you look good, you are bound to feel good. You can take a short course on meditation too, to calm your inner turmoil. This would have a more soothing effect than having friends around you. It is possible to get over a breakup without friends.
Try not to spend too much time indoors. Go out, even if it is for a short walk to your local park. It will cheer you up; make you see that there are nice things in the world too, not just sad things like a relationship breakup. Volunteer for a cause you so wanted to work for. Only you know what you want in this world. Use this awareness while handling a breakup as a strong soul.
How to not feel lonely after a breakup?
Staying strong after a breakup is one of the biggest challenges one faces in this situation. Not to feel lonely is in our hands, provided we take charge of the situation and commit for its betterment. Don't just break your brains on 'Why Me'. Instead, approach the scenario as 'Now Me' and focus on engaging yourself with some dream pursuits. Start with reading books, volunteering for an NGO, joining a new course. Head on to a favourite restaurant and order your choice of dish. Watch the latest movie. In short, occupy yourself.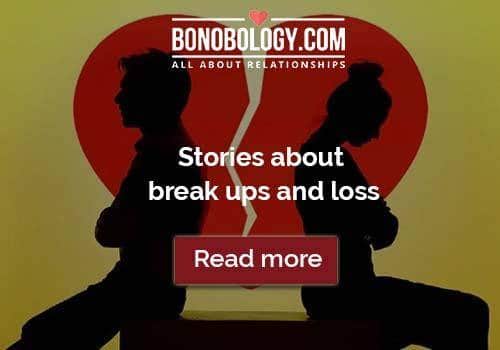 There are many fun things to do after a breakup, which will make you feel less depressed. Once you start enjoying these activities, the pain will slowly subside. Spending time like this shifts the focus from destructive thinking and makes you feel positive about life and its opportunities.
Related reading: 20 fun things to do after a breakup!
10 tips to survive a breakup all alone without friends
So, now you know that surviving a breakup alone is not that difficult. Getting through this pain without anyone to depend on requires Just a little shift of perspective is needed to emerge stronger than ever post-split. Here are the 10 tips to survive a breakup all alone.
Love yourself: Make gratitude a part of life and whenever negative thoughts churn your soul, try to repeat positive self-affirmations. These help a great deal in shifting the negative outlook to positive. Remember, breakups are a temporary phase, and self-love will help you overcome this pain. You don't need friends to get over a breakup.
Acknowledge your positive attributes: A relationship didn't work due to numerous factors. Instead of doubting your capabilities, remind yourself of all the achievements and good things. This will instil a feel-good factor in you and help you survive and handle the rejection better
Identify your talents: This will remind you of your remarkable abilities and inspire you to channel the creative outlet for your hidden potential. Good at cooking, can dance like a pro, sketch wonderfully, or blessed with a great fashion sense? All acknowledge your due worth
Keep yourself occupied: After identifying what activities make you happy, dedicate your time to them. Staying busy goes a long way in keeping all negative emotions at bay. Find things that you enjoy, and keep yourself busy. This will be a great distraction and help you heal from within
Enjoy the firsts in life: All of us have things in our minds that we wanted to do, but could not find either time or the will to do. Be it singing on karaoke nights or performing at Open Mikes, try out new things when you have been through a breakup. Who knows, this could be a new beginning for your flourishing talent
Travel and get over with the breakup: Do something new and adventurous, something that will make you feel good about yourself. Try skydiving or scuba diving and learn about the blessing called life
Get engaged with community service: Try volunteering for a cause, and allocate a few hours a week for it. You may spend time with elders, children or pet organisations. Their company is the perfect way to heal breakup alone. The realisation that your pain is less than theirs will help you recover from heartbreak
Exercise and sweat out your negative energy: What better than using the time at hand to exercise for a fitter body and a relaxed mind? Exercising is known to affect the brain positively, by boosting the supply of oxygen and stimulating the growth of new cells. Exercising also increases the production of serotonin. The neurotransmitter can boost both your mental and physical health. Now that's a steal, isn't it?
Surround yourself with positivity: Steer clear of people who have a negative approach to life and are pessimistic. Surround yourself with people who have positive vibes, and let yourself be lifted by them. Take up meditation to calm your negative energy and increase you're well being
Remember, there is hope: Don't give up on hope. Give time for your soul to heal. Love will again knock the doors. Just wait for the right time before you start dating again after a breakup
The way you approach loneliness after a breakup makes the difference. Instead of feeling it as suffering, use it as an opportunity to reconnect with your soul. Call it a peaceful solace or pleasant solitude that approaches you when you need to pause in life, explore and grow. This little shift in perspective is enough to get through a breakup alone. Agree with us? If you have any lonely breakup coping mechanisms, then do share it on our Bonobology blogs. Let your post-split healing help others too.
5 Bollywood movies which show that a breakup isn't such a big deal