You are reading this because you know that dating someone else's husband is not the right thing. Being in a relationship with a married man is something you can easily get pulled into given the undeniable charm and the maturity he possesses. You find it tough to let him go, but you also know that you need to stop dating a married man.
No matter how perfect he seems or how great you too are together, at the end of the day, you know and understand he has a wife and perhaps even kids. He couldn't be right for you, and this is for sure.
He may say that you are the only woman he loves and that he is only married because of the kids. You too, feel that he is "the one" and justify that what you have is real. The world seems a great place when he tells you that this affair is a huge risk but he is willing to take it for you. And there, you are weaving dreams of a happily ever after.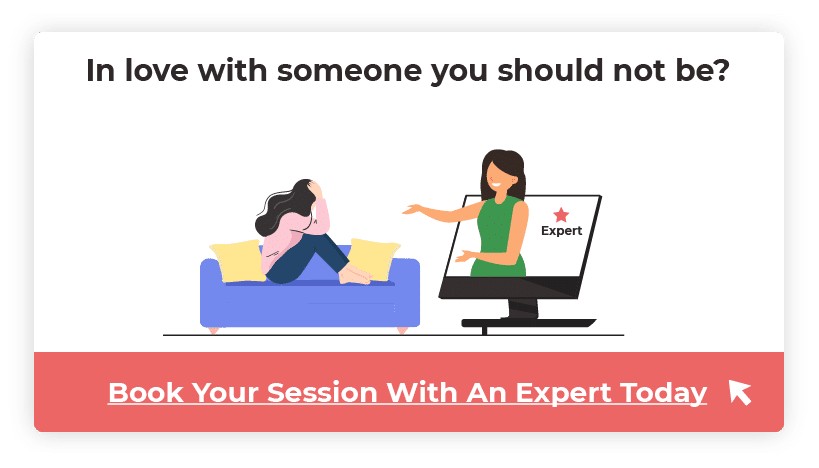 Boom! Sorry to break your fantasy.
The fact is that you are not in an actual relationship; he is having an affair with you. The man is using you to fill the emotional and, possibly, the sexual void of his marriage while you are in love with him. Makes a disaster recipe for sure.
He pampers you with gifts, takes you out to the best places, takes you for holidays and you think it is love. Is it?
Why do women get involved with married men?
Married men are more experienced than single men and know how to satisfy all aspects of a woman's needs. Their maturity and experience in relationships attract women towards them.
They have a way with words that will lure you towards them. Many women do not even know that their lover is married before they get into a relationship.
On the other hand, a secret relationship with a married man unknowingly triggers your dark fantasy because of the thrill and the rush in it.
But there is a time when you need to wake up and the sooner it is, the better you will feel. You 
15 Tips To Stop Dating A Married Man
It could have been some time since you have been trying to get out of this toxic relationship but your love for him and the thought of a happy ending is preventing you from doing so.
Moreover, every time you take a stand, he comes with his huge list of excuses and somehow manipulates you to stay in. He woos you with his puppy eyes and begs you to forgive him. He may make a few promises too.
Related Reading: Questions To Ask Yourself When You Are Falling For A Married Man
But that won't last long, moreover, it would not change anything.
Remember, he is not the victim here, just pretending to be one. In the end, he will choose his family over you. It may be painful to let him go because you love him, but the fact remains that he is another woman's husband.
Here are 15 tips that will help you finally end the affair and let go of a married man.
1. Do a reality check
Come out of the world of extramarital affairs and come back to reality.
First things first, you know you shouldn't have fallen for a married man.
Think about how bad influence this relationship is. Think about what your life was and what it has become. Are you happy from within? Is this what you want, claiming your right on someone married to some other woman?
The secrecy, the lies, the fear, the dishonesty- the pain of having an affair with another woman's husband will haunt you.
If necessary, make a pros and cons list. Don't let this relationship ruin all the good things in your life.
2. Believe in yourself
Many women get into relationships with married men thinking that it is what they deserve. They subconsciously think that they are not going to find someone else and try to adjust to the situation.
Such women convince themselves that they are in love while they could just be in love with the idea of being in a relationship. Believe in yourself. Tell yourself that the best is yet to come and you do not need to compromise.
Your future will be brighter than you think – you just need to be ready for it.
Related reading:What I Learned From My Affair With A Married Man
3. Think about your future
To stop dating a married man, all you need to do is think about your future.
What do you see? Have you been standing at the same place without any hope? Do you see a family, a future with the married man you are dating?
We'll tell you what you see and what you know.
You are in a relationship that is doomed. Your future is at a standstill. Your youth is coming to an end and you are still unsure who you are going to spend the rest of your life with. You let go of suitable men because you are hanging onto this relationship.
Future can only happen if you give it a chance. Think about it.
Related reading: When you're happily married and yet falling in love with someone else
4. Look for the void
At times people get into relationships to fill up some other void. Identify the void that is eating your life up. Is it attention? Money? Or love? Do you need to endure the pain of being the other woman to fill the void?
Whatever it is, you know that in the long run you are going to regret it. And while it is great that you identify this is not something you want, you also need to identify and avoid what caused it in the first place. 
Think about how those voids can be filled without a married man in the picture.
Related Reading : "Why Do I Attract Married Men?" Here's The Answer…
5. Evaluate what you are not getting from this relationship
All of us have certain expectations when we are in a relationship. To stop dating a married man, you need to evaluate your needs that your married lover is not able to meet. 
Take a pen and paper and list out what sacrifices you are making, when you do not need to. Would you be still making those if you were dating a single man?
Is he there when you need him or when it is convenient for him?
Did your lover spend his holidays with you or his family? Are you technically left alone while he enjoys his social life with his wife?
When the world was going around publicly celebrating, you were left alone, even though you had your lover to celebrate it with.
6. Face it- you are like a mistress to him
Reality check – you are his mistress. You are the other woman in a married couple's life. You can never take the place of his wife. He will never have kids with you. All you are doing is unwillingly breaking a family when the man is at fault.
Related Reading: Why Do Single Women Date Married Men?
7. Give him a pregnancy scare
If you are still stuck in his web of lies that he is going to be with you and leave his family, test his intentions by playing a little prank.
Just tell him you are pregnant – nothing more, nothing less.
He is going to tell you to abort the child because he cannot leave his family. His reaction will determine where you stand in his life. All the promises, all the commitments will drown in his disappointment with you.
And once he does so, you should not think twice before walking out of this hell. You are the one who will have to make the sacrifice because of a situation he put you in.
8. Ask him to file for divorce
Do not threaten to leave him. He has prepared himself for this long time before it popped into your mind. He will talk you out of it. Ask him to file for a divorce.
Tell him you can't continue going on like this. He is never going to do it, though he may keep on asking you time.
You'd know this better because you might have already given him enough time.
Related Reading: 7 Ways To Handle A Married Man Flirting With You
9. Stop lying to yourself and everyone else
Going behind a man's wife and kids for your affair isn't worth it. It has to be a secret. 
You have to constantly lie- to yourself and to your near and dear ones to keep this relationship going. And you cannot declare your relationship in public- it has to be a hush-hush affair.
There are so many secrets you have to keep and for what? A relationship that has no future. You cannot go out in public, cannot introduce him to your friends.
He will never acknowledge you as his girlfriend.
10. Think about the kids
To quit dating a married man, ascertain the complications your relationship has.
The guilt of breaking a marriage. And imagine if there are kids involved. Would you be able to handle the fact that a family broke up because a man couldn't control his desires and you couldn't decide between right and wrong?
Think about what impact this news will have on the kids. They are not prepared for such a situation. Would they not hate you? Can you take hatred of kids, so to say? 
And will your loved ones approve the relationship happily? Think about it.
Even if he divorces under pressure from you, do they deserve it? They cannot handle the trauma of having divorced parents and custody issues.
11. Tell the wife
If you really want to stop dating a married man, and also want to ensure he doesn't do it again- confess to his wife.
The wife has the right to know who she married. Telling her will put you in a bad light but you cannot expect anything else.
She needs to know because her ignorance can encourage the man to do it again with someone else. Telling her will lift a heavy weight off your chest.
He will probably not pull you back in his life and will perhaps even bad mouth you. But the plus point is that you will no more be tied to that man.
12. Sever all ties
When you have decided to end the affair with a married man, you need to be strong.  Cut off all ties with him now, immediately. It will take all the courage you have, but you know you have to do it.
You owe this to yourself.
Free yourself from this affair. Tell him to never contact you again. Block his number and delete his contact.
Block him from your social media accounts and you're your common friends not to have you both together. Threaten to inform the wife if he tries to reach you.
Related Reading: I Had An Affair With A Married Man And I Hoped For An Ever After…
13. Contact an ex
Having a friendly conversation with your ex reminds you how a real relationship felt like. It may not have ended on good terms but it was real. You will remember your old self again.
Contacting your ex is just an attempt you save bits of yourself and not rekindle any old romance.
Related reading: I love a married man who loves three women equally. How do I stop loving him?
14. Tell your best friend
Don't think about all the judging looks she will give you. In the end, she will support you and hold you together when all of this is over. You will need her the most when it all comes down crashing.
Telling your best friend about it and being open about your feelings will make you feel light. Share how committed you are to end things for good and ask her for for help. Ask her to check on you every few days lest you give in to your temptations. 
She will be your own personal cheerleader and will help you not go back to your old ways again.
15. Get back to your old life
You have been leading a secretive life and must have lost contact with your old friends. Reconnect with lost ones and get your life back. He is not going to like this because it will expose your relationships' vulnerability.
Go on dates and meet new people. Who knows where you find someone. Go out shopping with your girlfriends and buy a dress that makes you look sexy and you feel good about it. You can also do some online retail therapy and get some new cushion covers for the house or art supplies so that you can indulge in your hobby again. Own your life and move on
Tips to survive a breakup with a married man
You are blaming yourself. A part of you feels ashamed and guilty, but mostly you are in pain. You thought that you will have a happy ending but instead, you are left with a big hole in your heart. You feel exposed. It is because you were emotionally involved in the relationship. You need to pull yourself together. Here are ways to let go of a married man:
Have your share of mourning. Let yourself grieve and take it all out once and for all
Make sure it is completely over. Go to all extremes to ensure that he doesn't come back
Don't blame yourself. Blaming yourself will only justify that you were the cause
Have a friend as a shield. Your friend will ensure that you don't do anything stupid
Revive yourself. Bring back your old self that got lost when you met him
Embrace your freedom. Focus on your life goals. Live your life on your terms. Breathe
It may sound painful at first, but it is not worth investing your time and life on someone who is already taken. Unless you are also in it for the fun part, it is best to end this affair as soon as you can.
FAQs
What is the girlfriend of a married man called?

Having an affair with a married man is considered 'illicit'. If you are a girlfriend of a married man, you are most likely to be recognized as his 'mistress'. While you may be his lover, you will mostly be called the 'other woman' in his life. Dating a married man could make others address you with many condemnable titles, and it could be painful experience.
What are the dangers of dating a married man?
Apart from the society stigmatizing you for being the 'other woman', dating a married man could deeply harm your self-esteem and pride. Such a relationship entails a lot of secrecy and that could take a toll on your mental well-being as well. You also run the risk of leading a dissatisfied life because you are always a second priority.

And if his wife finds out, you could be in a very undignified position.

How do you ignore feelings for a married man?

If you start developing feelings for a married man, you need to take control of things there and then. Know that dating a married man will only bring about hurt, guilt and dissatisfaction, so fighting off your feelings early on is the best way. Keep meeting new people, avoid talking to him or spending time with him, do not pay heed to his advances and perhaps confess to a friend to play your personal cheerleader and keep you away from wrecking your life.
How To Get Over A Married Man Who Dumped You?