If your boyfriend is depressed or going through a tumultuous time, we know it can be extremely distressing for you. You might spend a lot of time worrying about him and trying to make things easier for him. With a brave smile and optimistic outlook, you might try to uplift his spirits as often as you can. 
Loving someone with depression is not an easy thing to do. The stress from your loved one's lack of well-being can truly take a toll on your own mental health too. But that does not mean you should give up or walk out. Relationships always bring their own crazy set of hurdles and this is just one of them. 
How Can You Know If Your Boyfriend Is Depressed? 
Depression is a complex phenomenon. It can be hard to spot in some individuals. In many cases, it is hard to identify a clear cut cause behind it. This ambiguous nature makes identifying and overcoming depression quite an arduous struggle. 
However, here are a few major signs and symptoms that appear in most individuals when depression kicks in. 
Related Reading: 10 Sad But True Signs That He's Quite Literally Incapable Of Love
1. Sleep problems 
If your boyfriend is suffering from mental health problems, you will probably notice changes in his sleeping pattern. It does not have to be a drastic shift but his sleep may become erratic, leaving him extremely fatigued. 
Sleeping too early on some days, staying up all night on other or oversleeping until afternoon are a few signs to tell you that he might not be so well. Trying acupuncture for sleep might help dissolve his stress and worries somewhat however he may still suffer from bad dreams and an unhealthy sleep cycle.
2. Decreased sex drive 
If your boyfriend is depressed, he might not initiate sex or be happy about getting physical with you as much as he did before. This might have nothing to do with you or his love for you. It is only a case of a decreased sex drive brought on by depression.
His energies are so drained from battling every single day that he might not be able to find the motivation for sex anymore. Moreover, pleasure may become a far off concept for him and he may be unable to seize it. 
3. Finding less happiness in the things they used to enjoy
One of the biggest and most obvious signs of depression is when your boyfriend might begin to stop being himself. If he used to love hiking, you might notice that he will barely do it anymore after the depression kicks in. 
The small and cherished happy moments of life become completely worthless to a depressed person. This might even trickle onto you and cause boredom in your relationship. Their feelings of hopelessness do not allow them to enjoy anything anymore. 
4. Sudden unhealthy behaviors 
Men suffering from depression often show sharp changes in behavior by indulging in unhealthy habits. They might begin to drink too much and at the wrong hours. They might develop other habits such as gambling too much or driving rashly.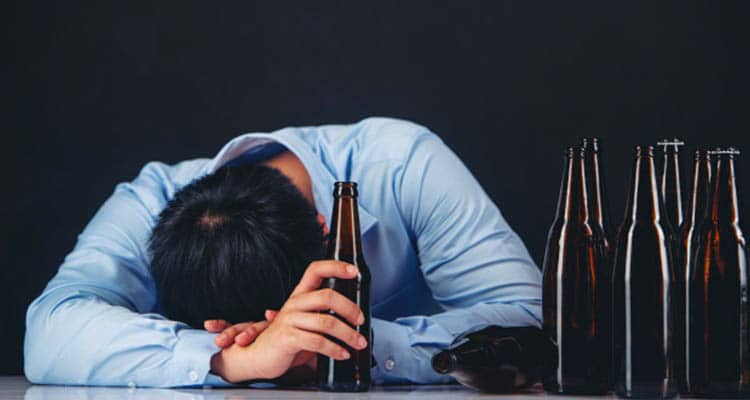 5. Reduced self- esteem  
When your boyfriend is sad, he may lose his confidence and look at himself very poorly. Depression can often stem from a negative self-image and the person might get stuck in a cycle of this reduced self-esteem. 
By being depressed the person might further view himself as unworthy, undeserving and untalented. This tainted perspective might compel him to use harsh words for himself or perform badly in different aspects of life. 
Related Reading: What To Expect When You Love A Man With Low Self-Esteem
8 Things To Do When Your Boyfriend Is Depressed 
Anxiety in relationships is a common byproduct in cases when one of the partners is depressed. Besides, it is not a condition that should be taken lightly, as statistics suggest that almost 50 per cent of suicide cases in the US are linked to depression. It is natural then that you may find yourself worried about your boyfriend's well-being as well as the future of your relationship. 
You might try to enliven your boyfriend and walk him through this tough phase to make him feel better. You need to sit, stay, hold his hand and always let him fall back on you. 
To make sure that your efforts do not go to waste and that you can help your boyfriend cope with this difficult time, here are 8 things you must do when your partner is depressed. 
1. Help your depressed boyfriend by showing him that he is worthy
Feelings of worthlessness are a major symptom of this illness. To revive and build up his image, you will have to constantly empower him with kind and encouraging words. Showering him with compliments and buying him something new are a couple of small things that you can try. 
If your boyfriend is depressed, he needs you to tell him that you still consider him worthy of love now more than ever. Do not avoid or ignore him but show him that you care. This is the time to give him all the love that you can. 
2. Do not overboard him with your concerns 
If your boyfriend is sad, he probably does not want the insecurities and sadness of his mind to spill over and cause hurt to you. At the same time, he wouldn't want to feel like he is someone who needs fixing. Doing so might make him feel like he is looked down upon. 
Offering them support is one thing, but taking charge of their personalities and trying to change them is another. He needs to feel a sense of independence to feel like he has conquered this battle instead of giving its reins to you. 
3. Help him achieve small milestones
When your partner has depression, even the smallest lifestyle changes – no matter how slow or insignificant – can make a big difference. Waking up at the same time for a week, taking a shower before noon, dressing well etc are all little goals that must be celebrated. 
Related Reading: Practical Steps To Deal With Depression – Our Panel Of Therapists Tell You
When your boyfriend has depression, even such simple tasks might make them feel like they are moving boulders. Thus, help them start slow and do one good thing at a time. Do not expect them to eat healthy and well one night and then wake up the next morning feeling amazing. 
Coping with or recovering from depression can be a one-step-forward-two-steps-backwards kind of a process. You have to be patient and prepared to encounter many failures along the way.
4. Don't lash out in frustration when your boyfriend is depressed 
It might not be easy to always be a hopeful ray of sunshine for your partner. There might be days when you might miss their old self and ponder how badly this is affecting you too. It's okay, you are also allowed to have your bad days.
However, this is less about you and more about the one you love. His rough patch might make you crazy but you need to stay strong for him. Your job is to calm down a depressed person and not show your vexations toward them. This will only make him feel worse and guilty of wrecking you. 
5. Be receptive and let him talk when your boyfriend is sad
When you date a man with depression, he might find it difficult to talk about things and express emotions they would earlier be able to do. Depressed individuals tend to create downward spirals within themselves and dwell in them. 
In this case, it is still not fair for you to always be the talkative one. You must try to get them to open up and prove that you are a good listener. This is how a woman should treat a man with depression. Loving someone with depression will require you to lend your ear to them whenever they might need it. 
Related Reading: 9 Expert Tips To Stop Feeling Sorry For Yourself After Breakup
6. Help your depressed boyfriend by taking him out
Even though your boyfriend might resist this on most days, you must get him out of the house when the situation seems right. Even if they choose to be left alone and cancel plans on you, you must keep inviting them out at the very least. 
Social circles can be enlivening and are sometimes necessary to get out of one's head. Even if it is just a temporary respite, try to take your boyfriend out and show him that the world is an amazing place with him in it.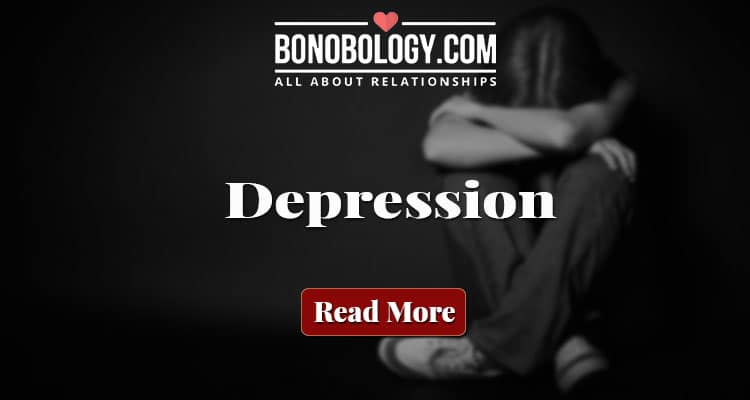 7. Take care of yourself too when your boyfriend is depressed
Yes, you read that right. Don't forget to focus on your well-being while you are trying to make your partner feel better. Such a taxing time might make you feel low on some days but you must remain the strong one for yourself and him. 
Eat well, sleep well and exercise often. You must try to not lose touch with your true self to avoid self-sabotaging the relationship. 
8. Encourage him to get the help he needs 
If your boyfriend is suffering from mental health problems, he needs professional help. You must encourage him to take that step. He might refuse many times and choose not to talk about it. However, it is always imperative to get help when one needs it. 
If your boyfriend has depression and is showing warning signs, we have a skilled panel of counsellors, who can help him carve out a path of recovery. They are only a click away! 
FAQs
What do I do if my boyfriend is sad?
You can try many things to cheer up your boyfriend. Show him his favorite movie, play a board game with him or take him out for a good meal. No matter what you do, it's most important to show him that you are there with him through everything. 

What to say to your boyfriend when he is feeling down?
Tell him that you love and believe in him. He needs to feel like he can trust you with everything and you must reassure him about the same. Reassure him that there is no difficult path in the world that cannot be crossed and that he can conquer anything that he puts his mind to. 

How do you help your man when he's stressed?
Try breathing exercises with your man. Sometimes, simply breathing deeper and better for a few minutes can make the stressful situation easier to cope with. 

How do I make my partner feel better?
To make your partner feel better, you can try a number of things. Most importantly, let him talk it out. It is very important to allow him to discuss his feelings without the fear of being judged. 

Am I Going Through Depression? I Think I Have All The Symptoms…
How To Not Feel Lonely When You Are Single And Looking For Love