Is your anniversary near, and you cannot seem to find a wish that fits your hubby's loving personality? Then, this is the article for you!
Anniversary wishes for husband can be a challenge because they are full of amazing traits that make them ever-loving and wholesome, and there is so much you want to say to them. Of course, finding one that fits them is a game-changer! So today, we shall look into some examples of anniversary wishes for your hubby that fit this ceremonial moment. 
The Funny Quips
Do you like to crack cute jokes to make your other half crack up? Does he love it that you don't have a dry sense of humor? The words you say make his day. So, if you wanna keep that jovial quip content in your anniversary wishes, these few examples of anniversary wishes for husband funny might be for you! 
1. To our old and wrinkly days, my love! But even after all these years, you
2. Happy anniversary! Thanks for tolerating me even when your wish was to bonk my head every waking moment
3. It is remarkable how long we've tolerated each other. Here's to many more years of the same!
4. Married people don't say 'I love you.' They say 'I'll do the dishes tonight.' And, for you, I would do the dishes for the rest of my life. Happy anniversary, darling!
5. I wished to be with a charmingly chaotic sweetie like you. So I took an arrow to the knee! Happy anniversary, darling
6. We have each other, and some wine! Let's celebrate this drunken journey with a few glasses more!
7. You are the best husband and the best friend to me. Meaning never listening to me must be double the fun for you!
8. Love you the most! And a little bit more for taking the spiders out!
These are some anniversary wishes for husband funny that might make him giggle like a baby. Try them out to see his wondrous reaction on this special day of love!
For Husbands Who Are Facebook Addicts
Does your hubby like to stay glued to his phone the whole day, surfing Facebook? In that case, these few anniversary wishes for husband on Facebook might just fit right! 
9. Heart react if you like my cooking, and laugh react if you want to have leftovers tomorrow for lunch! Happy anniversary, dear!
10. Many might search for new friends, food, and fun. I searched Facebook and found you. You are the best in my search history. Happy anniversary, my love!
11. You make me wish to get over my fears of public places and meet you every day on this platform
12. I am lucky to have found you, and you are the best thing to happen to this galaxy. Happy anniversary.
13. Meeting you online was the best stroke of fate! But for now, my unpixelated self awaits! Happy anniversary, love!
14. This is not a Facebook wish on your wall, but a wish to commemorate our bond from my heart. Best wishes, darling!
15. I love every moment with you. The ones where we laugh, and also the ones where we are quietly at peace. Let's spend a few more together!
16. You have been with me through the good, the bad, and the ugly. Maybe it isn't too late to make it an official reboot on Facebook!
So, if you are in the mood for some social media PDA and want to share some cleverly curated anniversary wishes for husband on Facebook, some of these might seal the ever-loving deal.
Related Reading: How To Make Up For Forgetting Your Anniversary – 8 Ways To Do It
If He Is Religious
Many men follow one or few religions based on their beliefs. Depending on who they worship, you can create loving and respectful religious wedding anniversary wishes for husband. 
17. God has helped us be, united us, and kept us safe. Happy anniversary on being together for more years to come
18. I see the Lord in you whenever you smile, laugh, and love. Wishing to spend more years waking up to the warmth of you
19. While you make me happy, God makes us strong together. May the Lord keep us feeling alive and happy, so I can wish you again!
20. We became a union many years ago, but love like this only lasts forever! Happy sweetest anniversary"
21. 3 years ago, God had gifted me with you and this beautiful bond we share. Here's wishing you another year of spending our holy love together!"
22. The Lord giveth, and the Lord taketh away. But nothing can separate our union. Happy anniversary to you!
23. You are to me, a proof of good deeds from my last life. Here's hoping to keep you happy for the rest of our lives so I can meet you again in the next life
24. Every day, I am happy God helped me know you. Here's wishing that he helps me love you more every passing year. Happy anniversary, sweet hubby!
Try out these holy anniversary wishes for husband and see your hubby beam in the knowledge that you care for him as much as he cares for you and the Lord above. The best part, most of these religious wedding anniversary wishes for husband are applicable for every sect and belief. 
If You Both Have A Child
Wedding anniversary wishes for husband with baby can be cute, quirky, loving, and sweet. They are perfect to showcase your genuine adoration for him being your baby's father. Here are a few:
25. Our baby proves our love, while you being such a loving father proves your devotion to us all. Happy anniversary to the most beautiful husband one can ask for!
Related Reading: Here's Why Making New Memories is Important
26. First it was us, now we have a little-us! Thanks for gifting me a beautiful child and for spending yet another year together
27. I feel like the luckiest girl to bring your baby to this planet. May we care for her/him as much as you care for me. And I, for you. To sweet love, and us
28. While you make the baby giggle, you make me blush. Happy anniversary, sweet thing
29. Every year I feel luckier to be your husband/wife. Thanks for being the best life partner I could ask for, and the doting father of my beautiful baby! Happy anniversary, my everything
30. You make me realize every day how lucky I am to share this beautiful journey and raise a lovely child with you by my side. Happy anniversary to you, cutie!
31. "You are the pinnacle of loyalty, exceptional love, trust, and friendship. May our children learn these traits from you for more years to come. Best anniversary wishes!
32. You are the love of my life, my archenemy, my partner-in-crime, and the sweetest, most generous father to our child.  Here's to learning how to be adults together, darling. Happy anniversary!
These are a few of some thoughtful wedding anniversary wishes for husband with baby that you can woo your hubby with. A small and cute reminder of the child you both help bring to earth can always make a man know that he has made it in life. 
Related Reading: Here's why you shouldn't let your children be your only identity
If It Is Your First Anniversary With Your Hubby
There is something endearingly magical about your first anniversary with your hubby. It is small yet, a special reminder of how you both have come this far. So, if you wish to remind him how you are there for him for the next years to come, these romantic 1st anniversary wishes for husband can be the ultimate tips: 
33. Happy anniversary, my sweet thing. Here's hoping that there are more of these amazing days to come over the years and decades!
34. You are the Ying to my Yang and the love to my heart. Here's to our first year as a couple that can conquer all! Happy 1st, my jewel
35. Here's to our beautiful first year married. To us, to joys, to pain, to night
36. A year full of joy, laughter, fun, and love makes me realize how happy I am to be yours. Happy 1st year together, my love!
37. This might be our 1st anniversary, but to me, it is the best reminder of the exceptional man that is my husband. To you my all, I wish the sweetest anniversary
38. Your joy is my gift and your happiness is my will to live. I hope I get to enjoy this loving bond with you for more years to come
39. I would give you the stars, the sky, and the galaxies if I could. For now, I give you my love, and my loyalty to keep the skies glowing for you always. In sickness, in health, and for many, many years to come. Happy Anniversary
40. You make me feel like the happiest wife to walk this planet. Now, it is my turn to make you feel like the most precious husband who deserves all the love this world has to offer. Happy 1st year to you, sweetest.
The most romantic 1st anniversary wishes for husband are the ones that are from the heart. So try these to make yours count! You can use these anniversary wishes for husband to add a dash of flirtatious undertone to your personalized love letter on this day!
When You Both Have Spent 7 Years Together  
7 years of married life means that a couple has matured and nurtured their bond to fight any adversary that comes their way. So if you wish to curate some 7th wedding anniversary wishes for husband that makes his heart skip a beat, here are a few pointers: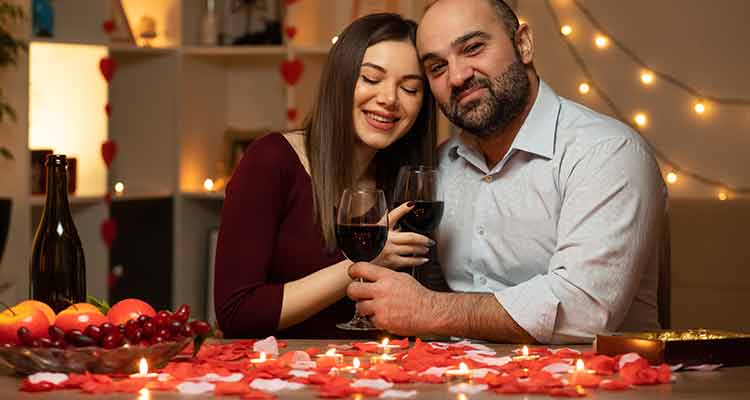 41. Every year, this day to me is the most special, as I can adorn your life with all the lavish gifts and love that you fill my days with. Happy 7th year together!
42. Let us grow older, wiser, and love each other like the last two people on earth.
43. Our 1st year made me resolute to keep you happy. This 7th year makes me wish to keep that promise alive. Here's to all the love, lust, and loyalty we share!
44. I met you first 9 years ago, married you 7 years ago, and love you every second even now. I never knew I would marry my best friend. My love just keeps growing stronger for you. Happy anniversary!
45. Looking back to our 7 years of married life, all I see is the love, devotion, and intimacy you have spoiled me with. You are a diamond in the rough, and a gem of my heart.
Related Reading: 10 Signs You Have An Emotional Connection With Someone
46. You were always my special dashing man who could sweep me off my feet if I weren't careful! Thank goodness I was not 7 years ago. Happy anniversary, love
47. I wish to cherish you for more years to come. Wishing you the most wonderful 7 years that we have spent together
48. 7 years has been too getting to know someone as special as you. Let us raise those years a bit high! Happy anniversary, sweetest!"
The 7th wedding anniversary wishes for husband should be able to encompass the beautiful bond you both nurtured and had grown.
When It Is Your 10th
10 anniversaries are significant as they denote that a couple has stuck by each other through thick and thin. Here are a few 10th-anniversary wishes for husband that can make him feel special as he should:
49. Numbers might be insignificant, but here's hoping to add another 0 to this beautiful mess we call love!
50. I can't believe it is our 10th Anniversary, darling, not when I'm just as in love with you as I was on the first day we met.
These 10th-anniversary wishes for husband are to help your hubby realize that you may be be getting older but you are still in love. After all, does age really matter when it comes to romance?
Wishing Him Engagement Anniversary
The simplest anniversary wishes for a husband can touch his heart in a thousand ways. This one on engagement anniversary wishes for husband can stand yours out:
51. Hey hubby-to-be, we have been together for years. This rock on my finger is testament to our commitment to want to double that deal. Happy anniversary, my loving boo!
So if it is your first year after getting engaged try this one out!
Heartfelt anniversary wishes for a husband can mean more than a thousand words. Try out some of these wishes, and enjoy his joyful and sweet expressions for being lucky to have found you on a day that commemorates one of your biggest milestones as a couple. 
Perfect Relationship: Does Love Need To Be Perfect All The Time?
Ask Our Expert
You must be Logged in to ask a question.