So you've found your soulmate, and now it's time to plan the wedding of your dreams! But with so many options out there, which is the best month to say "I do"? You see, the best month to get married depends on a variety of factors. For instance, are you drawn to the vibrant spring colors of spring or the warm, cozy hues of autumn? How about grabbing some amazing discounts during the cheapest months to get married? And hey, what if you could tie the knot on a perfect date, such as the day you met your love? Oh, and let's not forget the icing on the wedding cake – yes, your honeymoon plans!
With so many little things to take care of, it's important that you make an informed decision – a decision that will make your heart flutter with anticipation. And to help you make this informed choice, I've made you a complete guide on how to select the best month for your wedding. Let's do this!
When Is The Wedding Season?
Now, let's unveil the crown jewels of the wedding season: the most popular months for weddings! First up, we have the reigning champion: June! This wedding month has been a favorite among lovebirds since eternity. It's no surprise, really, as the month offers you super mild weather and a dreamy ambiance. Just picture yourself exchanging vows in warm sunshine, surrounded by nature in full bloom! June truly offers the perfect blend of romance and comfort, making it an irresistible choice for the perfect wedding.
Next up on our chart of "What is the most popular month to get married?," we have September and October – the ultimate duo of autumnal bliss. These traditional wedding months are full of colorful leaves and crisp air. With pleasant temperatures and an enchanting scenery, September and October are great choices for early fall weddings!
So, if you wish to marry during the most popular months for weddings, mark your calendars (as early as possible, if you don't want your destination wedding venues to get snatched up, or are ready to pay extra during the most expensive month to get married). June, September, and October will shower you with warmth, love, and pure enchantment as you embark on your incredible journey to your 'happily ever after'!
How To Choose The Best Month To Get Married?
Let's take a journey through each month and uncover the joys and considerations for each potential wedding season. By carefully weighing your options, you'll be able to select the best month to get married – a time that perfectly aligns with your vision and preferences. So, grab a cup of your favorite brew, put on your wedding-planning hat, and get ready for an exciting adventure!
Related Reading: Domestic Partnership vs Marriage: Difference & Benefits
1. January
If you adore winter date ideas and winter weddings, you'd love to exchange vows in a snowy wonderland. For indoor weddings and more intimate celebrations, January's off-peak season wedding is apt and allows you to focus on close family and friends. It can also be an excellent choice for couples looking to save money, as off-season rates and discounts will make your dream wedding more affordable. Therefore, January is an ideal pick for winter enthusiasts, budget-conscious couples, and those desiring an intimate celebration.
While the snowy backdrop in winter months can be enchanting, it's important to consider the weather conditions. Extremely cold weather in certain regions may affect travel for guests. Some guests may have conflicting holiday plans or vacation time in January, so be sure to let them know about your plan well in advance, to accommodate their schedules. Some outdoor ceremonies and receptions might also be limited due to cold temperatures. However, creative indoor setups can bring warmth and coziness to your celebration!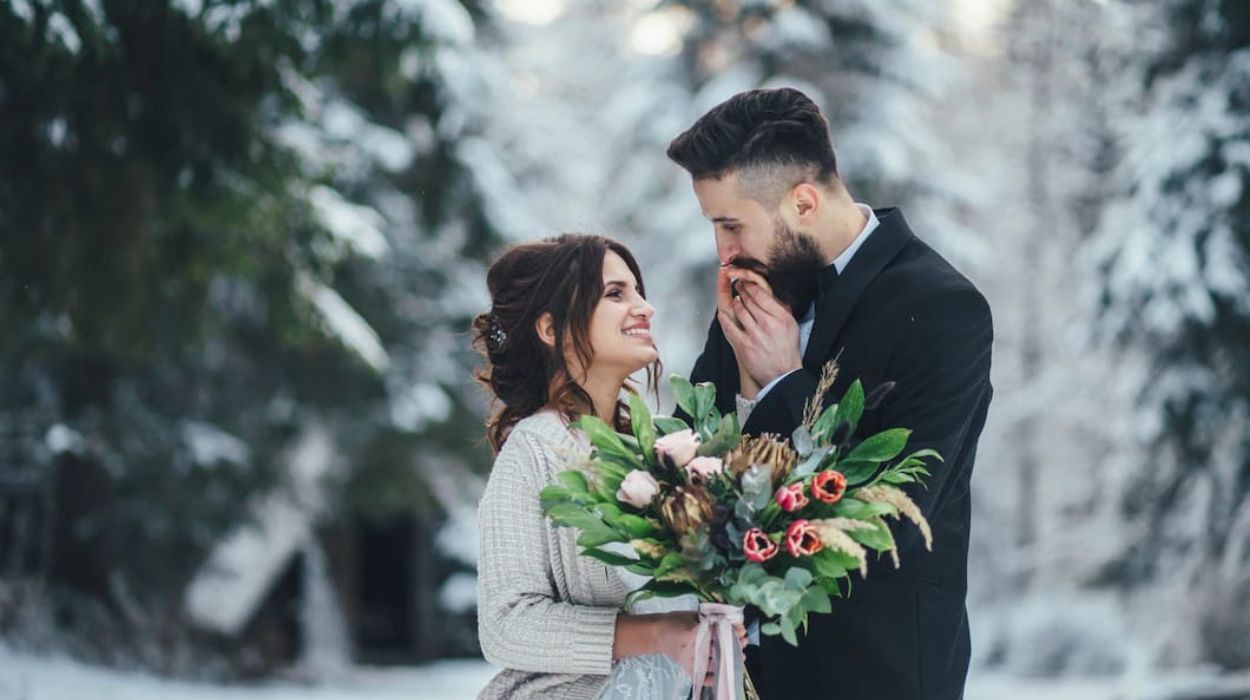 2. February
Want to infuse your wedding day with extra doses of love? If yes, February might be your best month to get married! With Valentine's Day as your backdrop, you'll have a ready-made theme to work with. Think red, pink, and white color palettes, heart-shaped decor, and whimsical touches that will create a dreamy ambiance. But yes, due to the popularity of Valentine's Day weddings, secure your preferred wedding venue and vendors early. Be prepared for potential price hikes due to the demand surrounding the holiday.
3. March
If you adore the freshness of spring, a March wedding can be perfect for you. It typically offers milder temperatures that are comfortable for both indoor and outdoor weddings. March symbolizes new beginnings, making it a meaningful choice for newly married couples. Moreover, opting for a month just outside the peak season for weddings may help you secure better deals on venue and vendor costs. With minimal calendar conflicts, your guests are also likely to be available to celebrate your special day.
So, March is a great choice for couples who are drawn to the vibrancy of spring, enjoy the comfort of milder temperatures, and prefer a time when their loved ones are likely to be available to join in the festivities. Quick tip: While March often brings pleasant temperatures, it can still be unpredictable. During your wedding planning process, it's wise to have backup plans in case of sudden weather changes.
4. April
April is an excellent choice for couples who love the idea of spring weddings, adore blooming gardens, and are willing to take a chance on April showers. Because, let's get real, a spring wedding does come with a certain gamble – the unpredictable weather. Will it be sunny and warm, or will a surprise cold snap hit? And if you do go ahead despite the chances of April showers, you'll get a wider selection of floral options to choose from.
Another factor to keep in mind is the holiday calendar in April. Easter, for example, falls in this month, and this may impact availability and pricing of venues and vendors. While an Easter-themed wedding can be charming, it's important to consider the troubles associated with holiday dates.
5. May
If you dream of a wedding with blooming flowers, joyful anticipation, and the opportunity for your guests to enjoy a soothing getaway, May could be the best month to get married. It offers comfortable weather, making it enjoyable for both indoor and outdoor celebrations. This also makes it easier to fight your pre-wedding blues. With school breaks, long weekends, and vacation time, your wedding guests will have flexible schedules during May.
May showcases nature at its finest, with flowers in full bloom and lush greenery, providing a stunning backdrop for your May outdoor wedding photos. Memorial Day too falls in late May, which can be a great advantage if you're looking for a long weekend wedding. But, being the start of the wedding season, May is naturally a popular wedding month for couples to tie the knot. This means that venues and vendors might have higher demand. o, booking in advance is important!
Related Reading: 7 Fundamentals Of Commitment In A Marriage
6. June
If you wish to exchange vows in a picturesque garden, on a beach, or under a clear blue sky, a June wedding might be your perfect match. June is neither too hot nor too cold, striking a perfect balance for your big day. However, June falls under the peak season for weddings, which means that venues and vendors may get booked quickly.
June is far removed from winter holidays and school summer holidays. So, your guests are more likely to have a little extra room in their budgets for travel and wedding gifts. With summer in full swing, June also offers an abundance of flowers and fruits. So, you'll have countless floral options for your wedding decor and a variety of delicious produce for your wedding menu!
7. July
Couples who adore summer weddings, vibrant energy, and the idea of celebrating under sunny skies will find July to be an appealing choice. If you love beach weddings or want to create a lively and carefree atmosphere, this wedding month is perfect for you.
Just make sure to plan for the potential heat and book your desired venues and vendors in advance to secure your dream wedding. Outdoor ceremonies may become uncomfortable for you and your guests. So, plan your summer wedding dates and venues accordingly (keeping in mind factors such as proper shade, cooling stations, and indoor alternatives).
8. August
Let's talk about August, particularly August weddings pros and cons. August offers extended daylight hours, giving you more time to celebrate and capture your summer wedding photos. It offers a laid-back and carefree vibe that aligns perfectly with a relaxed and joyful wedding. As August falls under a slightly off-peak wedding season, it is naturally one of the cheapest months to get married. You may find more availability and flexibility in terms of wedding venues and vendors too. This could open up more options and even help with wedding budget considerations and wedding party gifts.
But, depending on your location, August can be quite warm, especially in certain parts of the country. If you're planning an outdoor wedding, make sure to provide ample shade and refreshing beverages. It's important to consider the comfort of your guests during the ceremony and reception.
9. September
If you're a couple who adores the natural beauty of autumn, cute fall dates, and a comfortable outdoor celebration, September is your wedding month! This peak wedding season offers a pleasant balance of temperatures. It allows you to enjoy your outdoor wedding in September without worrying about extreme weather conditions.
With pumpkins, hayrides, and cozy vibes, September weddings offer festive fall themes. From rustic elegance to harvest-inspired decor, you can infuse your wedding dates with the essence of the season. The vibrant hues of red, orange, and gold create a truly stunning backdrop for those wedding photos.
Related Reading: Surprising Psychological Benefits Of Women Proposing To Men And 19 Ways To Do It Right
10. October
The foliage in October is a feast for the eyes. Imagine saying your vows surrounded by a picturesque backdrop of vibrant reds, oranges, and yellows. As the temperatures start to dip, October creates a cozy atmosphere, perfect for intimate celebrations. If you dream of candlelit receptions, warm drinks, and snug blankets for your guests to enjoy, it might be the best month to get married.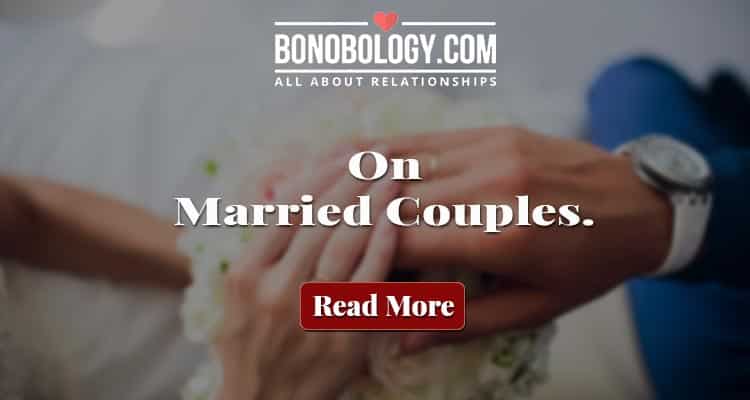 11. November
Here's the deal: November is one of the least popular wedding months. But, November weddings do offer a cozy ambiance, ideal for couples who want an intimate celebration. The chilly weather encourages snuggling up close, adding an extra touch of romance to their wedding dates. As November offers off-peak season weddings, you may also find a lot of discounts. With your finances in check, you can focus on building a happy and healthy marriage.
12. December
If you're dreaming of a wedding filled with twinkling lights, warm fireplaces, and a winter wonderland, December might be ideal. Likewise, if you want to avoid the busiest wedding months or the most popular day for weddings in town, wrap up the year with a December wedding. The holiday cheer will naturally add an extra layer of magic to your wedding day. With less competition during this time, you'll have more options and better negotiating power in your wedding planning process and honeymoon packing.
Now, remember the blizzard that hit NYC on Phoebe and Mike's wedding in Friends? The truth is, winter weddings can be quite unpredictable. So make sure to have a plan for any possible inconveniences. Travel may also be more challenging and expensive during the holiday season in winter months, so keep that in mind while inviting out-of-town guests.
Key Pointers
June, September, and October are the most popular choices among wedding months
December, January and February are the typical months for winter weddings, and they're ideal picks for winter enthusiasts, budget-conscious couples, and those desiring an intimate celebration
If you want a spring wedding with blooming flowers and lush gardens, you may choose March, April, or May during your wedding planning process
If you're looking for family-friendly celebrations, or are simply captivated by the beauty of summer blooms, go for a summer wedding in June, July, or August
No matter when you decide to tie the knot, try to breathe easy and plan ahead. Get on top of things by booking your wedding venue and negotiating with vendors. The early bird catches the worm, or in this case, your dream wedding and potential discounts. And oh, don't forget to have a backup plan, just in case the weather decides to throw a curveball or life surprises you with a few hiccups. Remember, your big day is all about celebrating love. So, let's get organized, keep a positive mindset, and create unforgettable memories, no matter which month steals your heart!
Your Guide On Numerology Compatibility – What's Your Life Path Number And Who Are You Most Compatible With?