In today's modern world, finding a Catholic single can be a little difficult. CatholicMatch makes it easier for Catholics to find a partner if your belief and faith are very important to you. Most Catholics are known to look for partners in relationships who share the same beliefs as them. If you are also one such person whose dating life focuses a lot on religion, then this piece about CatholicMatch reviews is the perfect read for you. It will answer all your questions including "What is CatholicMatch price?" and "Is CatholicMatch legit?"
Dating is hard. It is even more difficult for singles who are religious and are looking for the same sense of devoutness in their partner. CatholicMatch.com is the world's largest Catholic dating site. It is even endorsed by Catholic leaders. Many of these leaders have even found their own spouses through this site. If you are a Catholic single looking for someone with the same religious views as you, then this is the best online dating website for you.
What Is CatholicMatch?
If you are wondering, "Is CatholicMatch legit?" then the answer is yes. CatholicMatch dating site is an online dating site best-suited to Catholic singles belonging to various walks of life. It was founded by Mike Lloyd, Brian Barcaro and Jason LaFosse. More than thousand users sign up on CatholicMatch every month. In fact, this dating website has five times more active users than other Catholic dating forums. 
Based in the United States, it was launched in 2004 and has over 1.5 million users. It's, in a way, a niche dating website where you won't find atheists or people who believe in other religions and beliefs. However, if you are a Catholic who wants to maintain their beliefs and morals, you can sign up on the website and take a look. 
Related Reading: 11 Alternative Dating Sites – Mainstream Is Not For Everybody
How To Sign Up On CatholicMatch 
Once you enter the CathcolicMatch.com website, it will take about 30 minutes for you to set up your profile. It doesn't matter how strictly or freely you follow Catholicism. If you want a Catholic partner, just sign up using the below-mentioned steps and make an effective online dating profile.
1. Create a username and password
Create a username and password. Fill in your email ID and other basic information like your date of birth, marital status, diocese and your place of residence. If you have a Facebook account, you can also sign up directly by linking it to the website. Use your username and password for CatholicMatch login when you visit the website again. 
2. Fill the questionnaire
Like most dating websites, CatholicMatch.com asks members to answer a questionnaire. The questions are mandatory as it asks about your Catholic values. Some of the questions that you will have to answer include how often you attend mass and what Church's beliefs you follow. The site also asks questions about premarital sex and immaculate conception.
3. Perform a basic search
Once you are done filling the questionnaire, the site will take you to your dashboard. You can use the search box and fill in the criteria you are looking for in your potential match. Once you click the search button, you will be provided with a list of people who match your criteria.
4. Like a profile
If you find someone interesting while performing a search, you can let them know by liking their profile. You can even send them a message if you want to interact with them. Break the ice by learning some funny ways to start a conversation.
Pros And Cons Of CatholicMatch.com
There are people from many ethnicities who practice Catholicism. That's one of the pros which contributes to positive CatholicMatch reviews: it introduces you to a diverse pool of members. You can have a CatholicMatch login for free but you will have to pay to avail more features and options which the site has to offer. That's one of the cons of CatholicMatch.org. There are many advantages and disadvantages of online dating as well. Below are a few more pros and cons to help you decide better if CatholicMatch is the right fit for you:
| | |
| --- | --- |
| Pros | Cons |
| Offers a free trial that allows you to see matches | Free account holders can't reply to messages |
| The whole app is centered around faith and religion | Users are less in rural areas and small towns |
| Accounts are verified through Facebook so you don't have to worry about being catfished | No premium badges for paid users which doesn't let the users know who has subscribed |
| Most of the users are serious about meeting someone  | The signing up process is time-consuming |
Quality Of Profiles And Success Rate
The quality of profiles on CatholicMatch are well-detailed. This can help interested users get to know you before liking you or interacting with you. The photos can be viewed by both paid and free members. If you have uploaded your picture, then there are chances of your profile being viewed more times than those who haven't uploaded a picture. To enhance the quality of your profile, you can add up to 50 photos.
CatholicMatch reviews are a mixed bag with both positive and negative reviews. Of course there are many dangers of online dating that which one must keep in mind before meeting someone in person. The quality of profiles on the website are genuine as they are verified by their Facebook account. That's one of the positive CatholicMatch reviews that people have shared. 
A user on SiteJabber shared their experience, "My wife and I met 10 1/2 years ago on CatholicMatch. We both agree it was the most amazing thing that has happened in our life. Her photos were fuzzy, but we messaged back and forth for some time. I truly believe God had our happiness in mind. She was everything I asked for. I will forever be in debt to CatholicMatch. Unfortunately, you need to skim through the people that are untruthful to find the precious gem God has in store for you. Good luck to all of you." 
Another reason for positive CatholicMatch reviews is that the website will give you an additional 6 month subscription if you haven't met anyone special during your first 6 month subscription. Some conditions apply such as you must be free to marry in a Catholic church and you must contact at least one new person every week with whom you haven't already interacted or communicated with.
CatholicMatch success rate is also affected by some users having had bad luck on the website. There are many CatholicMatch complaints as well. Here is one of the negative CatholicMatch reviews we found on Reddit.
A user shared, "The site has gone out of its way to make finding a match as difficult as possible. You cannot tell who has paid for membership. You cannot tell if any given user is even active on the site or not. When did they last log in? 1 day ago? 1 week ago? 1 month ago? It is impossible to know. Old inactive profiles are lying around the site and CM does nothing to clean them up. You could message someone who has not even logged into the site in 3 years." 
The good and bad reviews are, more or less, of an equal number when it comes to Catholic singles review. If you are still unsure about signing up on the website, then their unique and special features and CatholicMatch price will help you make up your mind.
Related Reading: 15 Best Apps To Flirt, Chat Online, Or Talk With Strangers
The Best Features Of CatholicMatch
Since CatholicMatch doesn't use any algorithm like other dating websites to help users find a match, it makes up for it by offering many features which are one of a kind.
1. Emotigrams 
We all know how making the first move can make us anxious. It is a nail-biting task. CatholicMatch makes it easier for its members by providing the Emotigram feature. Emotigrams are CatholicMatch.com's emojis or emoticons. You can also send a bouquet or a rosemary instead of the usual "hey" or "hello". You can also send them a virtual cup of coffee. 
2. Temperament 
There are four fundamental temperaments which determine what kind of a personality you have. This temperament-based quiz you will have to take to find out if you are sanguine, melancholic, choleric, and phlegmatic. 
3. Interview Questions
This option can be used as conversation starters between you and your match. Think of these as icebreaker questions for dating. These questions will lead to the two of you chatting. You can create up to 20 multiple-choice questions and let the users answer them on your profile. This is a great feature to know about other people's quirks, habits and deal breakers.
4. Snooze
This Snooze feature allows the users to snooze the profile of any member they are not interested in. Those profiles will not appear in your search results. 
Related Reading: 5 Hacks To Find Out If Someone Has A Tinder Profile
5. Success Stories
This is a unique feature where thousands of success stories are available to read at CatholicMatch.com. An average of 5 or more stories get posted here.
6. Chat Rooms
There are more than 20 chat rooms on CatholicMatch forums where you can join and take part in group conversations and discuss faith-based topics.
7. Advanced Search
You can perform searches on CatholicMatch and conduct a Catholic singles review by filtering the search results based on your preferences, newest members first, age, gender, location, etc. The advanced search feature also allows you to save your search results, so you can go back and look at them later.
8. Customer Support
They have an email address where you can mail your CatholicMatch complaints and concerns. CatholicMatch forums are quite quick at responding to your queries.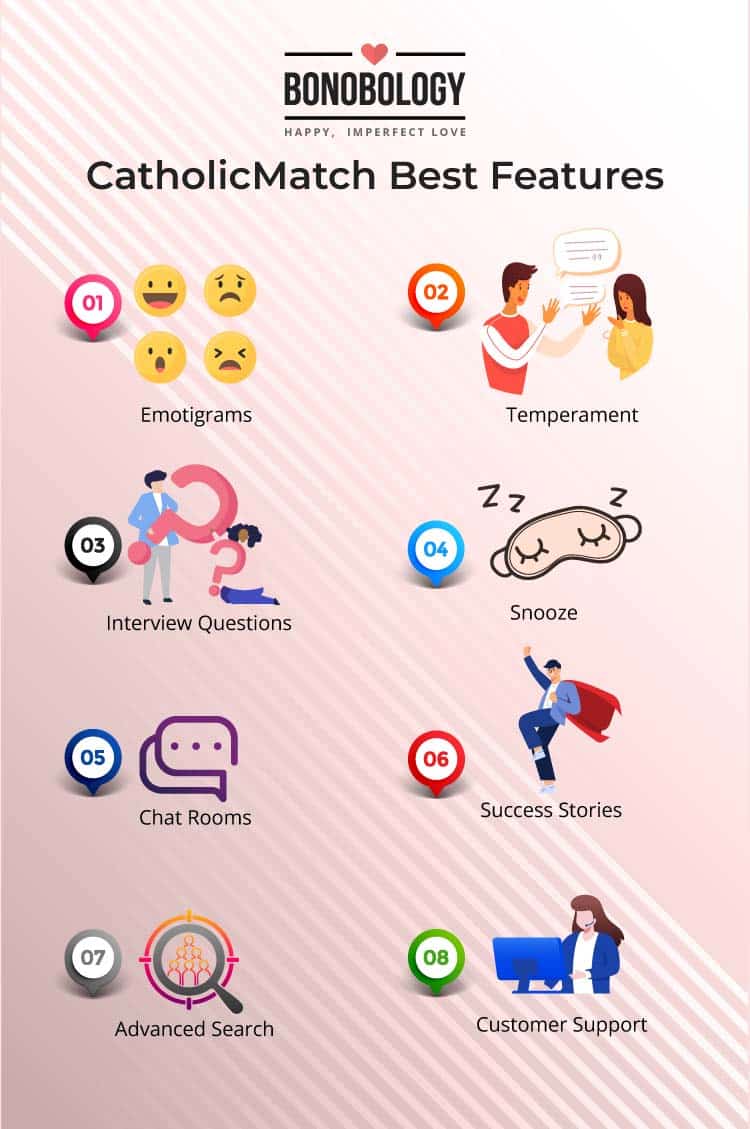 Subscription And Pricing
Now that you've read about CatholicMatch reviews and features, you are surely wondering how much does CatholicMatch cost. Read on to find the answer:
| | | |
| --- | --- | --- |
| Membership Type | Membership Length | Cost |
| Premium Membership  | 1 Month | $29.99 per month |
| Premium Membership  | 6 Months | $14.99 per month |
| Premium Membership  | 12 Months  | $9.99 per month  |
Unlike other dating websites, there are no add-ons or super boost to enhance or highlight your profile. That's one of the reasons why CatholicMatch cost is on the lower side when compared to other dating websites. When you opt for a membership, you get all of the features and functions available on the website. When you become a Premium Member, the below-mentioned features will get unlocked for you:
Ability to send unlimited messages
Ability to send personalized Emotigrams
Private chat functionality
Access to community chat rooms
Priority support
CatholicMatch Alternatives
If you are not convinced with CatholicMatch, there are many other similar sites that you can take a look at.
Christian Mingle is one of the most famous alternatives for CatholicMatch forums
Another great alternative is Higher Bond
eHarmony is the one of the most well-known dating sites which is famous for long-term relationships
Match.com is also a popular dating website with an easy-to-use interface 
Christian Cafe is also a good app for Christians 
Our Verdict
The site has been running successfully for over 16 years and has both positive and negative CatholicMatch reviews. There aren't many dating websites which focus on faith and religion. CatholicMatch is one of the rare ones in the dating pool.
There are CatholicMatch complaints too, not just positive CatholicMatch reviews. Many have had terrible experiences on this dating website. Some of them have found their soulmate thanks to the CatholicMatch dating app. If you still want to sign up on the app but don't wish to spend any money, you can use the dating website without becoming a subscriber. 
If you are a Catholic looking for someone who believes and follows your faith, then this is the perfect website for you as CatholicMatch cost is also on the lower side. But if religion isn't your top-most priority, there are many other dating websites you can try your luck with. 
FAQs
1. Is there a CatholicMatch app?
Yes. They have an app for both iOS and Android users. They can download it from The App Store or The Play Store respectively.
2. Should I use CatholicMatch?
If religion and faith are the things you cannot compromise on, then CatholicMatch is worth taking a shot. But if those aren't your primary concerns, you can skip and opt for other dating websites. 
3. Is CatholicMatch expensive?
No. In comparison to other dating apps, CatholicMatch is reasonable and not expensive at all.
4. Can you send messages on CatholicMatch?
No. You cannot send messages on CatholicMatch for free but you can sign up, upload your pictures and explore the website. If you like a user and want to send them a message, you will have to subscribe and become a premium member. 

Zoosk Reviews: A Balanced Analysis Of The Popular Dating App