This is my Ask our ExpertThis is my Ask our Expert
If you are on the internet looking for eHarmony reviews, there are high chances of you being new to the whole online dating adventure or you are just out of a long-term relationship and are currently looking for something casual. Love is a crazy thing, isn't it? It makes people do things that they wouldn't otherwise. The need to have a companion who would support you and be there for you through thick and thin has been around since the evolution of mankind.
From dropping handkerchiefs as a gesture of signaling you are interested in a young man to downloading apps on your mobile phone to look for a partner, we have evolved in the most baffling ways. Dating apps and online websites such as eHarmony are all the rage in your quest for finding love and companionship these days.
You might question the authenticity of such apps and even ask questions like what is the success rate of eHarmony. You will be surprised to find out that even such online dating websites can bring you closer to your soulmate. If you are looking for eHarmony reviews, eHarmony cost and trying to figure out how does eHarmony work, then we're here to answer all your questions.
How Does eHarmony Work?
The end of the 20th century marked the birth of eHarmony. The website was launched in the year 2000 in Los Angeles, California. eHarmony is a one-of-a-kind dating website. What separates this from other dating apps and matchmaking websites is its ability to match like-minded people based on their personalities, which are ascertained through a detailed online quiz. If you are still asking how eHarmony works, here is a broader answer to clear your doubts.
Founded by Dr. Neil Clark Warren, who is a clinical psychologist and specializes in couples counseling and therapy, the website is run on algorithm-based matchmaking to find the perfect match based on a personality test, which every user has to take upon signing up. It uses proven relationship science to seek out a psychologically compatible match for you. This website is available in more than 150 countries worldwide. That should tell you a lot about the legitimacy of this dating platform. 
Still wondering, what is the success rate of eHarmony? Well, their success rate is unmatchable. It is not just the oldest dating platform but it is also the most popular one. It has more than 4.1 million visitors every month. It has been successfully running for more than 20 years. During this time, the dating platform has helped more than 2 million people find their soulmates.
The gushing eHarmony reviews are a testament to its success and effectiveness. If you are out on the internet looking for serious and long-term relationships, then eHarmony is one of the most trusted and effective dating websites.
Now, let's take a closer look at how does eHarmony work and how you can use it to further your quest to find your happily-ever-after:
1. Create your profile
How does eHarmony work? First and foremost, you need to sign up and create a profile. Anyone can create a profile as the sign-up process is free. The website will ask you a lot of questions to create a personality profile for you. Your potential matches will be dependent on your answers. The website will do a quick screening to find matches for you based on your answers.
The information you provide will scan out the people that aren't the right fit for you and will show only those who will be compatible with you. Unlike Tinder or Bumble, you don't have to go looking for partners. With eHarmony, the right one will come knocking on your door (read screen). It will shoot out potential matches and by doing that, it saves you the time of scrolling through profiles.
Related Reading: 10 Best Lesbian Dating Apps For 2022 To Chat & Meet
2. Compatibility test
Once you are done with creating your profile, you will be asked to take a compatibility quiz. The quiz will help the website understand you on a deeper level. The quiz includes over 80 questions which can be a little time-consuming but yield excellent results. It involves questions relating to your dating choices, goals, communication styles and a lot more. One of the rare negative eHarmony reviews is their lengthy compatible test.
Unlike other dating websites which rely on just pictures and profile bios, eHarmony depends upon its compatibility quiz to assess a person's traits, temperament, empathy, feelings, intellect, personal beliefs, family values, willingness to adapt and other things which will be relevant in finding the perfect match for you. Adding your picture is not necessary on eHarmony.
3. Messaging in eHarmony
The website will deliver a profile each day. Even if you have added your profile picture, you needn't worry about your safety. The website shows your picture to only those who are compatible with you. However, if you want to message a match, you will have to subscribe and become a paid member. 
The dating platform is also known for its exhaustive online safety protocols, which eliminate the risk of being scammed or catfished. This is one of the key factors behind the raving positive eHarmony reviews. A thorough screening happens before you receive a text from someone. Abuses and offensive messages are blocked and won't get delivered to you. 
If you like a profile on the website, you do not have to wait for them to match with you. You can message users whose profiles interest you. They also have a Video Date feature. You can have a virtual date before meeting your match in person.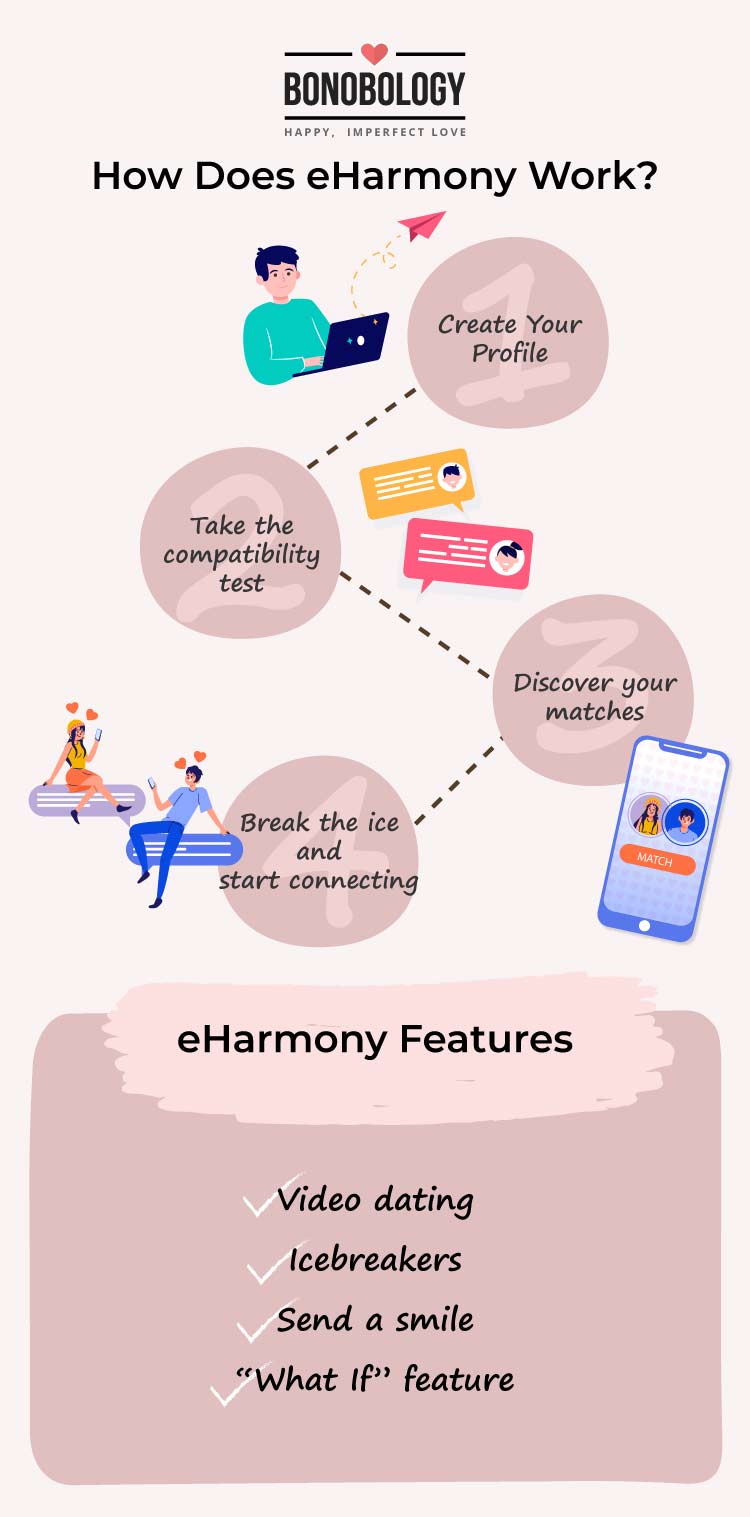 Pros And Cons Of eHarmony
| | |
| --- | --- |
| Pros | Cons |
| The compatibility test increases the chances of matching with the right person | The sign-up process is long and time-consuming |
| Provides daily matches | No search option available to look for a profile |
| Saves the time and effort that goes into browsing profile after profile | Free membership doesn't give you the access to look at a match's photos |
| One of the best dating sites for long-term and serious relationships | Not a lot of users from the LGBTQA+ community |
What is the success rate of eHarmony?
When you think of dating apps, your first is casual hookups and no-strings-attached relationships, but that's not the case with eHarmony. This website promises to help you find true love. If the 2 million+ success stories are anything to go by, it delivers on that promise. You can't expect meaningless swipes here or casual sexting or one-night stands. eHarmony reviews are proof that it is one of the best dating apps.
What is the success rate of eHarmony you ask? The answer is in the stats. It has remained one of the most successful dating apps for the past two decades. According to statistics, 71% of women and 69% of men find their spouse on eHarmony within one year of signing up on the app. eHarmony's sophisticated manner of matchmaking has given way to 15 million matches per day. 
One of the most important eHarmony reviews you need to look out for is that a recent survey has revealed that 4% of marriages in America happen because of eHarmony. 542 people get married in America thanks to eHarmony everyday. So far, more than 600,000 people have fallen in love on eHarmony and tied the knot. If you are asking is eHarmony worth it, then the answer is right here. Yes, it is. Currently, they have 37 million members who are using their dating app.
When asked on Reddit about their personal experience of using eHarmony, one user said, "I signed up twice…I've met people on OkCupid, LavaLife, Match, Bumble, Tinder, Hinge, Coffee Meets Bagel, Pof, RSVP (when I was in Australia)…and not one person on eHarmony." Another user said, "I met someone on eHarmony but that was after 8 months with no matches. We dated for several months but then he ghosted. So no, it wasn't worth it."
Not everyone's experience on this dating platform has been pleasant. As a result, you can find a mixed bag of bad and good eHarmony reviews on the internet.
Related Reading: 15 Valuable Tips To Save Yourself From Catfishing
What is the cost of eHarmony subscription?
While it is free of cost for anyone who wants to sign up on the website, its premium features are only for paid subscribers. Free members are allowed to receive and send messages during one weekend of the month. One of the other negative eHarmony reviews is its pricing. It is more expensive than other dating apps. To experience the app's premium features and better design, you will have to opt for the Premium Plus package that costs $45.90 per month.
| | | |
| --- | --- | --- |
| Membership Type | Membership Length | Membership Cost |
| Premium Light | 6 Months | $65.90 per month |
| Premium Plus | 12 Months | $45.90 per month |
| Premium Extra | 24 Months | $35.90 per month |
Their advanced algorithm is the reason behind this premium pricing, and with good reason too, since this app takes the onus of picking quality matches for you rather than leaving you to wade through a never-ending sea of options. "I still wouldn't say it's worth it though, especially since you'll find the same people there that are on Tinder and Bumble. Both free options," shares a Reddit user.
You have another option where you can pay $65.90 for six months, which is known as the Premium Light package. eHarmony also offers a year-round membership where the member has to pay a monthly fee of $35.90. All the packages offered are available in 6,12 and 24 months. "Just the fact it has a high price would be a selling point for me. You'd know you were getting serious people, not those Tinder types," shares a Reddit user. 
eHarmony Features
If you are asking is eHarmony worth it after looking at the prices, then you might also be tempted to look for cheaper alternatives. But a look at its features could well be enough to change your mind. Sure, eHarmony's cost is high but eHarmony Pro has many unique features, which other dating platforms don't offer. These include: 
1. Video dating
If you are unsure about meeting your match in person, then try video dating before going on an actual date. This feature has been appreciated since the time the pandemic started. However, it's accessible to only premium members of eHarmony.
2. Icebreakers
eHarmony has automated messages that can be sent as icebreakers. If you don't know how to start a conversation with someone you matched with, then these icebreakers can come to your rescue. Even non-paying members of this site can use this option to send a message. You can choose from 11 predetermined short messages and send them to your match. 
3. Send a smile
Like the famous poke option on Facebook, eHarmony has an option where you can "send a smile" to a match. 
4. "What If" feature
This is one of the most unique features that contributes to good eHarmony reviews. This feature allows you to explore outside your match list. With this feature, you are allowed to view 30 extra profiles, which may not appear in your compatibility tab.
Price Comparison
| | | |
| --- | --- | --- |
| Dating App | Price | Price |
| eHarmony | $45.90 (12 months) | $65.90 (6 months) |
| Match | $15.99 (12 months) | $17.99 (6 months) |
| Elite Singles | $44.95 (6 months) | $57.95 (3 months) |
| Single Parent Meet | $5.94 (6 months) | $8.49 (3 months) |
| Christian Single | $24.99 (6 months) | $34.99 (3 months) |
eHarmony reviews
When asked for the eHarmony reviews on Reddit, one user shared, "Is eHarmony still a thing? It's useless? Met two people, one was creepy and ranted about an ex the whole time we spent having coffee. The other was a total loser who was clearly not who they said they were online."
Other eHarmony reviews found on the internet are all positive ones praising the app for helping them find the love of their life. 
One of the reddit users shared, "What I really like about eHarmony is the way they measure your qualities and your potential match's qualities. I NEED to be with someone who has more masculine characteristics, is more assertive and is probably more logical than me."
I saved the best for last. One of the reddit users shared their beautiful story on how they met their significant other on eHarmony. "I (Female, 53) joined eHarmony on a free, long weekend, with not a lot of hope of meeting anymore. I matched with a dozen men, and on the last day emailed all of them, letting them know I have only a few hours left on the site and to email me if interested in continuing off-site.
Six men reached out, and I met with them all on first dates. I connected really well with one, and after just 4 dates, we were inseparable. Now, almost 9 years later, married for 7, I truly believe it was the best risk I ever took. Sometimes you just have to take a chance." 
Final Verdict
Our verdict on eHarmony is that it has great features and it has been around for more than 20 years because of its high success rate. Its main focus is to find you a compatible partner. If you are still wondering is eHarmony worth it, then the answer depends on what you are looking for. This is a great website to find serious relationships.
There's no harm in spending a few extra bucks if that will bring you closer to the person you would potentially spend the rest of your life with. It is undoubtedly the most famous dating website in the world. If you are looking for a long-term relationship, then eHarmony can be a reliable partner in your quest.
FAQs
1. Does eHarmony have a lot of fake profiles?
eHarmony doesn't create any fake profiles. Even if there is someone who has created a fake profile, then the app has its way to keep up with scammers. It is one of the most reliable dating sites. It is a legit real website where you can meet people and not worry about being scammed.
2. What is the age group on eHarmony?
eHarmony has 15,500,000 members. Of which 47% are men and 53% women. Concerning age range, the members fall into the following:
18 to 24 – 30%
25 to 34 – 18%
35 to 44 – 20%
45 to 54 – 18%
Over 55 – 14%
3. Is bumble or eHarmony better?
Bumble is for casual dating whereas eHarmony focuses on long-term and serious relationships. Adding to that, Bumble has less focus on security compared to eHarmony. Bumble offers free service but eHarmony doesn't. If you are looking for casual dates, then choose Bumble as you don't have to pay to use that dating app.
4. What is the difference between Tinder and eHarmony?
Tinder is famous for flirting and hookups. eHarmony is for serious relationships. Tinder is free, eHarmony requires its users to pay for additional features. eHarmony cost is high and Tinder is free. You have to swipe and look for matches on Tinder but you can't do the "swipe right" thing in eHarmony. eHarmony chooses the match for you based on compatibility. Tinder provides freedom and eHarmony provides guidance. 
13 Tips To Date Online Successfully And Find Your Ideal Partner
Ask Our Expert
You must be logged in to post a comment.