Searching for the best OurTime reviews? You've come to the right place. We're going to look at everything this dating website has to offer and give you a fair and balanced review in this piece. Whatever your query may be, you'll find it tackled here…from its pricing to the success rate of the site, we look at each and every aspect of the platform so you can make a better choice for yourself. Make sure you read till the very end of this OurTime dating site review to get a more comprehensive idea of the website and its different features.
Finding a partner in an overcrowded dating market only gets harder with time. And if you're over 50 years old, it only gets that much tougher; seemingly impossible even. Making it tougher is the fact that society isn't always open toward older people finding companionship and love for themselves as well. That's where platforms such as the OurTime app come in. With the OurTime app reviews in this article, you'll be able to judge for yourself if this is the right platform for you or not.
What Is OurTime?
OurTime app com is a dating site specifically created to appeal to singles who're over the age of 50. Whether you're looking for a friend or a long-term relationship, you can find it here on the Our Time com app! It has a reputation of being one of the earliest platforms created exclusively for seniors and it still boasts a growing community of members.
"It started as a joke when I felt sad. It wasn't a great experience but it was funny to scroll through some terrible pictures. Somehow though, it told me what I was looking for and there he was, on the first day, a lovely smiley face looking at me. The rest is history. You'll never know unless you try. Be brave. Do it now.", reads another of the many OurTime com reviews.
It's been here since 2001, and the site design and functionality are created in a way so that it's easy for the older generation to use. With almost 9 million visitors every month, it's one of the most popular platforms for the elderly population. Through our OurTime reviews, you'll get an even better idea of this online dating site.
Related Reading: Zoosk Reviews: A Balanced Analysis Of The Popular Dating App
How To Sign Up On Ourtime
It hardly takes five minutes to create an account on Our Time com and you can start scrolling and searching for potential matches after that. Now you can choose to divulge minimal information about yourself, but if you wish to find more and better matches, it's recommended that you fill in all the details properly. To create an account on the OurTime com app, just follow the steps here and you'll get through the signup process in no time: 
As you open the Our Time dating website, you get the option to choose your gender and the gender of the partner you're looking for
After that, you have to fill out basic details such as your pin code, name and password, date of birth and email address
Then you've to solve a simple puzzle for verification and you're logged into the system 
The next step involves uploading your profile picture and writing a brief bio that other profiles can see. While you can skip this step, it's preferable that you don't. By filling out these basic details, you increase your chances of finding a match on the Our Time dating website
The last step in the signup process involves answering a few questions about your preferences. Then you're shown a list of profiles and you can select a few to give the system an idea of the kind of profiles you'd prefer
And voila! Your online dating profile has been created and you're now a member of the platform. You'll be able to match with other Our Time singles but to communicate, you'll have to take a paid subscription
Related Reading: Best Dating Sites For Married People – Cheating & Affair Apps
Pros And Cons
Since you're searching for OurTime dating site reviews, you'll probably want all the ups and downs of the platform in one place. Well, guess what, that's exactly what this section is going to provide. Using these data points, you can decide for yourself if you want to proceed with the dating site or not. These pointers have been collected from our experiences of the platform as well as the various Our Time reviews.
| | |
| --- | --- |
| Pros | Cons |
| The platform provides daily matches based on your preferences | Most of the platform features aren't free |
| You can upload audio and video files on your profile | There's no identity verification in place, which allows many fake profiles |
| The simple layout makes it easy to browse and navigate | The quantity and quality of Our Time singles are usually lower in rural areas |
| It's easy to report and remove fake profiles | |
Quality Of Profiles And Success Rate
While the OurTime dating service doesn't have any system in place to verify someone's age, you can always report any profile that you suspect is younger than they claim to be. This ensures you keep yourself safe from catfishing by taking some basic precautions. You can view anyone's profile picture even on a free membership account and this can help you get an idea of the kind of profiles this site has. The Our Time dating site asks several relevant questions, the answers to which are there for anyone to see.
However, you might have some issues finding matches if you aren't a resident of a major city. It is advisable that you remain wary of any potential scammers and don't hesitate to report profiles. While there is no quantitative data available for the success rate of the OurTime dating service, there are hundreds of testimonials across the website and other websites such as Trustpilot. Through these OurTime reviews, you can get a broad view of the success rate and quality of the platform. 
Related Reading: Christian Mingle Reviews
Ourtime Reviews – The Best Features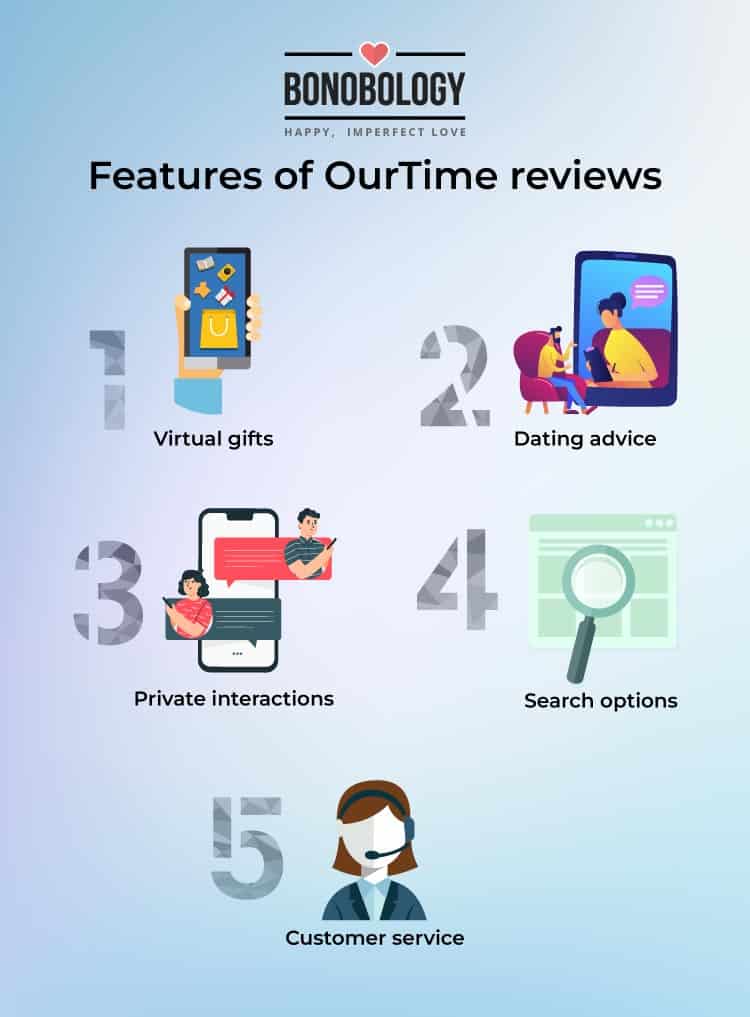 In this part of the article, we're going to look at some of the major features of the OurTime dating platform. Using this information, you can get a better idea of whether you want to go for the paid version or not. These different aspects of the OurTime dating platform help you get more suitable matches and increase your chances of finding a compatible partner.
As one of the Our Time com reviews stated, "Ourtime provides frequent correspondence and updates on potential dates. Provides advice on how to complete your profile. Having never used a dating website before, I found this one made me feel comfortable."
1. Virtual gifts
Why only send messages when you can send gifts? Through this feature, there are higher chances of the other user noticing you. This helps with not only getting others' attention but also acts as a great conversation starter.
Related Reading: 12 Best Dating Sites For Seniors Over 60
2. Dating advice
The site features advice written by their experts that you can use while dating. These dating tips will be more relevant to you since they're primarily written keeping senior singles in mind.
3. Private interactions
Once you start interacting with someone, you can call them via a private phone number provided by OurTime. This ensures your privacy is kept secure from any potential romance scammers. This also helps you in making sure you want to go forth with a match and give them your actual details.
One of the OurTime.com reviews reads, "Amongst all the negative media reports on Internet Dating I can honestly say that my personal experience of Ourtime has been very positive, both in the people I have met and in the professionalism of the Agency."
4. Search options
There are several ways to search for potential matches on the site. This includes age, marital status, ethnicity, zip code and gender. Hell, you can even filter your searches based on their blood group and zodiac sign! So there's truly a wide variety of options out there for you to pick from. 
Related Reading: Elite Singles Reviews
5. Customer service
A lot of dating platforms aren't very active when it comes to their customer support. But not OurTime! It's very easy to get expert help whenever you need it on the platform, to solve any of your issues. While the FAQ section is often more than enough to solve any of the queries you may have or issues you may be facing, you can also fill out a form that goes straight to People Media, the company that owns OurTime. 
Not just that, you can also call them on their service line directly, on working days. As per one of the OurTime reviews, "Our Time helped me when I had to cancel due to unforeseen domestic complications, no fuss from them. Thanks."
Subscription Pricing
In this section, you're going to get all the details about the cost of the OurTime dating app. Through the price breakdown, you'll be able to decide whether or not you want to go with the premium subscription or not. The platform offers two types of plans. 
While one has full mobile access, the other has full mobile access included with message read notification, profile highlight and message highlight. The former plan is available in two forms, 1 month and 6 months. The latter plan with all the features is called the value plan and is only available for 6 months. Let's look at each of their costs below:
| | |
| --- | --- |
| Package | Price |
| Full Price (1-month membership) | $29.96 (comes to $7.49 per week) |
| Standard (6-month membership) | $90.00 (comes to $3.75 per week) |
| Value (6-month membership | $107.76 (comes to $4.49 per week) |
Our Verdict
Old age brings with it several problems. You want someone to talk to, someone to spend your time with, someone you can go out with…especially if you're single. With changing trends in technology, it's not always possible to keep pace with all the emerging social media and/or dating platforms. And this is where platforms like the OurTime dating app come in that offer easy solutions without complicating matters. As per one of the OurTime reviews, "All we know is we're happiest when we're together and feel truly blessed we found each other."
The Our Time dating site has been one of the major go-to sites for senior singles for a long time now. It ensures you date online successfully and find your ideal partner. It is because of their large community and the success rate. Plus their focus on only a specific age range makes it easier for the members here to find a partner for themselves when compared to other websites. Their easy interface makes it easy for even those who're not comfortable with technology to browse and interact here.
As one member says, "I love this app, so simple and easy to understand, finding lots of chats. I would recommend this as a top dating app." You'll find that this is the general view. Many other OurTime.com reviews also mention similar experiences.
While there aren't any steps in place to verify users, most of the features are accessible only after payment which helps with keeping out scammers to a large extent. Even then, you can easily report any profile you find suspicious. There are several filters and options to communicate that make it very convenient and simple for the members to interact with each other. If you're above the age of 50, and especially if you're in your 60s or 70s, the Our Time dating site is a popular and great option with which to find partners and companions. 
Final score: 9/10
FAQs
Is OurTime free?
While it is free to sign up on the Our Time dating platform, most of the features can only be accessed when you take their paid subscription. You can create a profile, and search for members, but to interact, you'll have to purchase one of the available subscriptions.
What is the best dating site for over 50?
There are a lot of dating platforms out there for you to choose from, starting with the uber-popular Tinder to the very trusted Bumble. However, all these platforms have been created for all age groups. If you want a dating platform that's been specifically created for those over 50, the Our Time dating platform is one of the best and most popular options.
Is OurTime or Match better?
If you're looking specifically for partners above the age of 50, the Our Time dating service is a better alternative than Match. Due to the specific focus on the age group, you'll find that all the members on the platform belong to your age group or are nearby. If age is not a constraint in your mind, then Match is the way to go since it has a much larger and more active community of users present for you to interact with. However, it does not operate in a particular niche like the Our Time dating service does.
Does OurTime have an app?
Yes, there is an OurTime app available for both iOS and Android platforms. You can access all the features of the web version there in a more convenient mode – on your phone. It's why these phone apps are so convenient in the first place.
11 Alternative Dating Sites – Mainstream Is Not For Everybody