In 2003, when most of the dating sites on the internet charged a subscription fee, Plenty of Fish (POF) stood out remarkably by arriving in the online dating pool scene free of cost for users. Launched in 2003, it's still famous with more than 150 million users worldwide. If you are fishing for its legitimacy and looking for Plenty of Fish reviews, this detailed review will help you decide whether it's the right fit for you.
Being one of the most popular and free dating websites available on the internet, it is normal to wonder if it actually does what it claims. The people on the site are looking for all kinds of relationships. From serious long-term relationships to casual hookups, people of all kinds and needs have signed up on the Plenty of Fish dating app. If you want to know more about the POF app and if you are asking how much does Plenty of Fish cost, you'll find all the answers below.
What Is POF?
Launched in Canada, Plenty of Fish is one of the OG dating websites with growing users all over the world. It was founded by software developer Markus Frind. It has users mostly in North America, UK, Europe and Australia. One of the reasons behind the raving Plenty of Fish reviews is that the app has all the key features of online dating services rolled into one.
POF dating app works by combining dating site profile searches and location-based matches. It also uses the questionnaire matchmaking method. Plenty of Fish reviews are mostly positive because it offers a lot of features without asking its users to pay or subscribe.
Related Reading: 5 Reasons To Research Your Online Date Before You Meet
How To Sign Up On Plenty Of Fish
You can sign up on the Plenty of Fish free dating app by using a web browser or by downloading their app on an Apple or Android phone. If you are signing up through a web browser, type POF.com app or PlentyOfFish.com. The sign up page will appear. The average sign up process takes about 2-3 minutes.
1. Create a username 
To use this online dating app, you will be asked for your basic details such as your email ID, username and password, your date of birth, location, gender and your country of residence.
2. Upload a picture and verify your email ID 
You can add a profile picture, which will be visible along with your username. Then, verify your email ID by clicking on the link that will be sent to you upon clicking the 'Register' button after providing your details. 
3. Fill out a questionnaire
Like all other dating apps, the POF site has a questionnaire which you will need to answer in order to find good matches. Answer honestly about your dating preferences and what kind of a relationship you are on the hunt for. It also includes questions like how long your past relationship lasted and your income.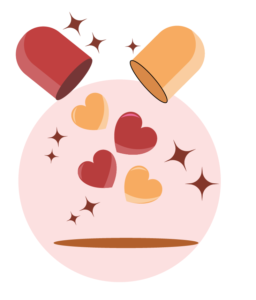 Get your dose of relationship advice from Bonobology right in your inbox
4. Choose your personality type
This unique sign up feature contributes to positive Plenty of Fish reviews. You can choose your personality type based on how you are as a person. Some of the personality types include Artist, Bar Game Buff, Cultured Urbanite, Rockstar and Yogi.
5. Write a bio
In about 100 words, write a brief bio about yourself without revealing too much information. You can describe what you are looking for or you can fill in the bio with your hobbies or what you do for a living. 
Related Reading: 30 Texting Games To Play – Game Mode On
Pros And Cons
While the POF app may be a concoction of all the other dating websites, it still has its drawbacks. There are many apps to flirt, chat online and talk to strangers. Likewise, Plenty of Fish can be used to talk to and get to know people from all over the country. Every online dating site has both positive and negative aspects. Similarly, there are a few cons which lead to negative POF reviews. 
| | |
| --- | --- |
| Pros | Cons |
| POF puts conversation first by providing free messaging service  | Both the website and app seem to be outdated and lack modern features |
| Easy sign up process compared to other dating apps | Matches cannot be filtered by location |
| Free unless you want to subscribe for the upgraded version | The free version has an overwhelming amount of ads |
| Not specific to one kind of relationship | No video chat feature  |
Quality Of Profiles And Success Rate Of POF
POF has an ever growing number of users who are looking for all kinds of relationships. Most of the users are between the age group of people in their 20s to late 50s. One of the Reddit users perfectly answered the question about the quality of the Plenty of Fish dating app. They shared, "Single moms galore. Have met a few good women on it, so I can't share any negative Plenty of Fish reviews."
The ratio of male to female users of POF site might baffle you. It has a ratio of 3:1 with men dominating the site. Plenty of Fish reviews have harbored a lot of positive feedback from its users. Another Reddit user shared, "I've had much more luck on POF as compared to Tinder. Tinder seems to have turned into a silly game for people to just see how attractive they are and never act on it. Meanwhile, most people on POF are putting actual time into making a real profile and trying to meet people.
"Beef up your profile and photos, and ask them meaningful questions in the first message. That shows you took the time to look at their profile. It'll be a breath of fresh air if you just be a normal person and don't creep women out." 
When asked about the quality of singles POF profiles, a Reddit user shared, "I met my current girlfriend using POF. It was my first and only time using an online dating site.
"She caught my eye and sparked my interest while I was browsing the site publicly. To my surprise, you can actually browse people's profiles prior to even setting up an account. So I set up an account, messaged her (and only her), we went on a date the next day (she asked me out), and the following day, we both deleted our accounts.
"I was a member of POF for three days, and I came out of it with the best relationship of my life thus far. She's a hot, classy RN with no baggage. Give it a try. You have nothing to lose." If you are still unsure about what is Plenty of Fish and are still undecided about the POF reviews, their features will help you decide better.
The Best Features Of POF
There are always many dangers of online dating. It's on the user to make sure they are not talking to a scammer. If they get a feeling that they are being scammed, they can take this to customer support by mailing their concern. Plenty of Fish free dating app comes with many exciting features. Users who don't wish to pay can use the perks of basic features like access to the site, viewing profiles and messaging potential matches. Some of the advanced features available only to paid members include:
1. Chemistry Predictor
This feature helps filter out matches to give the users better dating filter criteria. This feature has different kinds of assessments such as personality and sex tests. 
2. Nearby
Just like other dating apps that use a filter option to find out matches who live in your bandwidth, POF site also has a 'Nearby' option, which shows you matches based on their location.
3. Meet Me
This feature in POF dating sites is very useful for the ones who are open to meeting up. This is very similar to the famous swipe left or right feature from Tinder. If you like someone's profile, you can select "YES" if you are interested in meeting them. If the person you have shown interest in reciprocates your interest, you can start talking and go on a date.  
4. Top Prospects
It is a compiled list of all the matches you have interacted with or contacted over the last 30 days. 
Related Reading: Best Dating App Conversation Starters That Work Like A Charm
5. Super Yes
This feature will let the person you have interacted with know that you are really into them. Based on the information you have provided, your chances of finding a match will increase up to more than 50% if Super Yes is used. You can find this feature on "Meet Me". 
6. Send Priority Message 
If you are a paid member, then you can use this option. Once you select the send Priority Message option, the receiver of your message will find your text at the top of the list. Don't take advantage of this option and constantly send someone Priority Messages if they aren't interested. That's one of the things guys do on dating apps that instantly creep women out.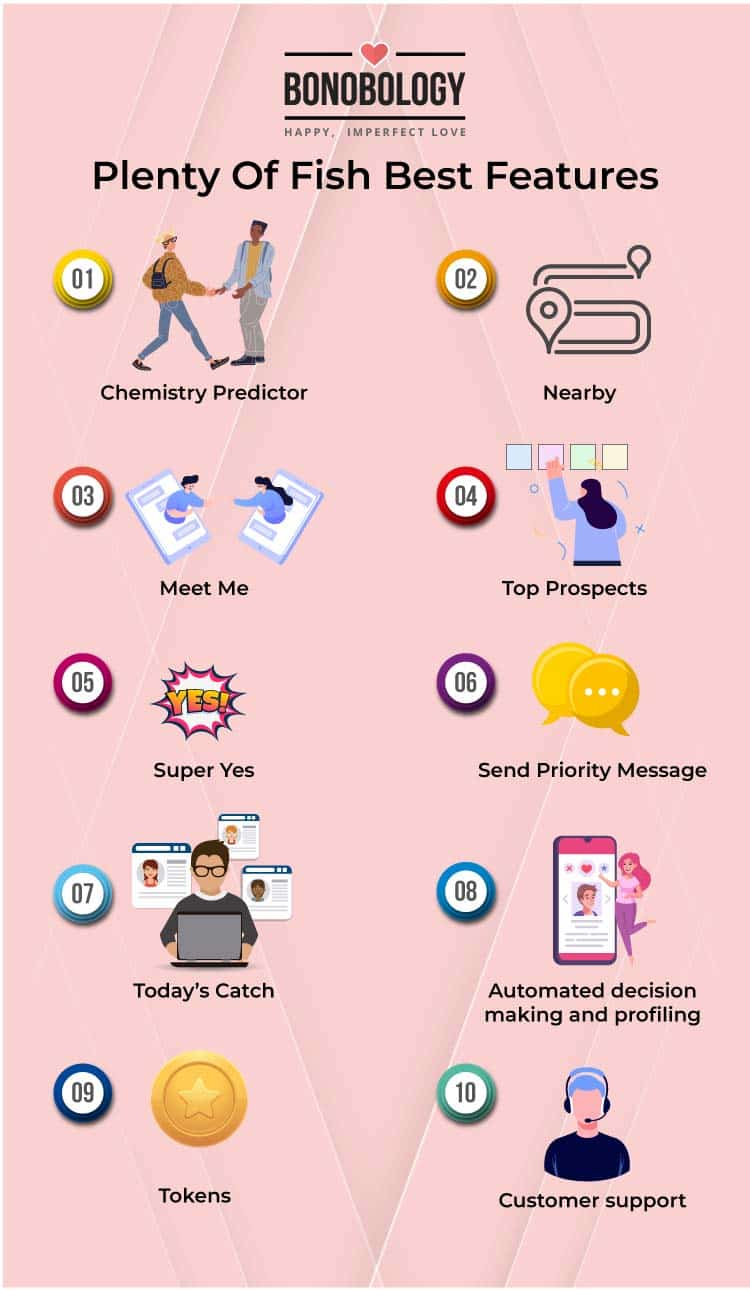 7. Today's Catch
If you turn on this feature, it will highlight your profile so more users can see it. 
8. Automated decision making and profiling
To protect the user's privacy, only algorithms are used in the decision-making processes. No human involvement takes place in POF Plenty of Fish dating app. 
9. Tokens
This feature acts as a profile booster. If you have tokens, you can use three advanced features in one shot. You can send priority messages, appear on 'Today's Catch' and use the feature 'Super Yes'. 
10. Customer support
If you have a query or a concern, their customer support is quite good at resolving them. They do not have a mobile number; your issues will be handled via email. 
Related Reading: Is Online Dating Easier For Women?
Subscription And Pricing
Considering how Plenty of Fish reviews are all almost positive, you can go ahead and subscribe if you can afford to spare a few bucks. But if you are unsure about singles POF profiles, you can sign up using the free version to take advantage of all that it has to offer. If you are asking how much does Plenty of Fish cost, you'll find the answer below.
| | | | |
| --- | --- | --- | --- |
| Membership Type | Membership Length | Monthly Cost | Total Cost |
| Premium | 3  months | $12.90 | $38.70 |
| Premium | 6  months | $8.50 | $51.00 |
| Premium | 12  months | $6.78 | $81.40 |
Our Verdict
With such a big user pool, Plenty of Fish app is without a doubt one of the best dating sites to meet people. If you are looking for a serious relationship, this app has members who are looking for the same. Similarly, if you are looking to date someone casually without any serious commitment, the POF site will match you with people with the same interest. 
POF dating sites (both web and app version) are popular amongst youth because of the free services, which other dating websites don't provide. You can use the POF.com app without having to pay or without having to sign up. POF plenty of fish provides personalized and compatible matches. One of the significant reasons why POF.com app has a growing user base is because the profiles are detailed and informative, which helps the users get a better understanding of their potential matches. 
All you have to do is answer the questionnaire honestly, create an attractive profile and upload a good picture, so users can stop and check out your picture and profile. Plenty of Fish is definitely worth a try as it puts conversations on the forefront of the dating scene. If you are truly fishing for love and are open to putting in the effort to meet someone, Plenty of Fish won't disappoint you. 
FAQs
1. What age group is Plenty of Fish for?
According to statistics, the website attracts users who are aged between mid 20s and late 50s. 
2. Is Plenty of Fish dating app good?
It's good for people who don't want to pay for a dating app and even better for those who're willing to pay and use it to meet people.
3. Is Plenty of Fish for hookups?
If hookups are what you are looking for, you will find people on the website with the same interest.
4. Is Plenty of Fish completely free?
It's not completely free. There are many free features but if you want advanced features, you will have to subscribe in order to use them.
5. Can you browse POF without joining?
If you want to browse without signing up, you can do so without having to go through the signup process. If you are looking for someone specific, you can type the username you are looking for and then sign up if you want to connect with them.
6. Is Plenty of Fish safe?
No online dating app is completely safe. If you feel something's off about a match, stop communicating with them. Meet with a match when you are sure that the person talking to you is genuine and real. 
7. Is POF full of fake profiles?
Like other dating websites, POF also has quite a few fake profiles and scammers. If you feel like you are interacting with a scammer, you can report them by sending a mail to customer support.
Zoosk Reviews: A Balanced Analysis Of The Popular Dating App