A hunch isn't good enough to confront your partner about infidelity. What you need is concrete proof – proof that free spy apps for cheaters can fetch. The virtual world will come to your aid as a last resort when you're fed up with your other half cheating behind your back. We say last resort because only 1% of situations warrant an invasion of privacy. 
You're a wise individual who can ascertain if your circumstances are extreme enough to employ the use of these apps. Be sure to not breach your partner's boundaries over baseless suspicions; you'll end up jeopardizing the future of your relationship. We're here to resolve your quandaries once and for all with the help of these hidden cheating apps for android and iOS. 
If your spouse or partner is truly being unfaithful, they won't get away with it. You deserve an emotional connection that's reciprocal. As America's beloved Jerry Springer said, "Cheating is the most selfish thing a person can do in a relationship! If you're not happy with the person you're with, then end it. It's that simple!"
15 Best Free Spy Apps For Cheaters (Android And iOS)
Is there a way to read cheating spouse text messages for free? More specifically, can you spy on your spouse's phone without them knowing for free? Yes and yes. We've curated a list of 15 free spy apps for cheaters that will get the job done easily. You need two things to accomplish the mission at hand. First, some time and space to install these applications. 
And second is the certainty that your actions are absolutely necessary because there are no other alternatives. Seriously, try having a direct and open conversation with your partner before you go down this road. Without further ado, let's take a look at these digital marvels that will catch a cheater for free. So, are there any free spy apps?
| | | |
| --- | --- | --- |
| App | Compatibility | Free Trial/Demo |
| ClevGuard | Android and iOS | Yes |
| Hoverwatch | Android, iOS, and Microsoft | Yes |
| mSpy | Android and iOS | Yes |
| uMobix | Android and iOS | Yes |
| FlexiSPY | Android, iOS, Windows PC | Yes |
Here are the top free spy apps for cheaters
1. ClevGuard 
Designed to safeguard your close ones, ClevGuard is a tracking and monitoring app for smartphones and computers. While a lot of its services focus on protecting children on the internet, they are an excellent way to spy on your spouse's phone without them knowing for free. ClevGuard is compatible with both Android and iOS and contains 20+ features that will give you access to your partner's data.
You can track phone calls, recordings, media, texts, browser history, and so much more. The surveillance covers everything from geofencing to stealth mode activity. In fact, KidsGuard for WhatsApp specializes in chat monitoring. But the best part of ClevGuard is the free demo you can access. Their subscription plans are also quite reasonably priced.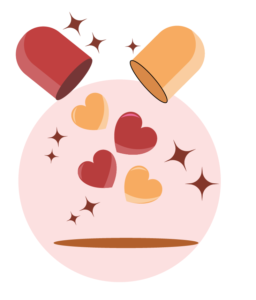 Get your dose of relationship advice from Bonobology right in your inbox
Related Reading: 11 Smart Ways To Catch A Cheating Wife
For instance, if you get an annual plan for Android, you just have to pay $8.32 per month. And if you're still not too happy with the product, you can ask for a refund within 30 days. You can check out their website for additional blog posts on monitoring solutions. No matter which device or system your partner is cheating through, ClevGuard will tell you all you need to know.
2. Hoverwatch 
Our next entrant on the list of free spy apps for cheaters is Hoverwatch. Their website states that the software has been installed on 12 million devices so far – an impressive number, to say the least. The mobile tracking features of Hoverwatch are quite commendable. Besides monitoring texts and calls, the app takes a front camera photo every time the user unlocks their phone. This can help you gather evidence against the cheating spouse.
And don't worry, your partner isn't going to find out what's cooking. This app's invisibility is superior to those of other hidden cheating apps for Android and iOS. There will be no getting away either because the monitoring will persist even if your partner changes their sim card. You can sign up on Hoverwatch for free (yes, that's right) and continue with a plan later.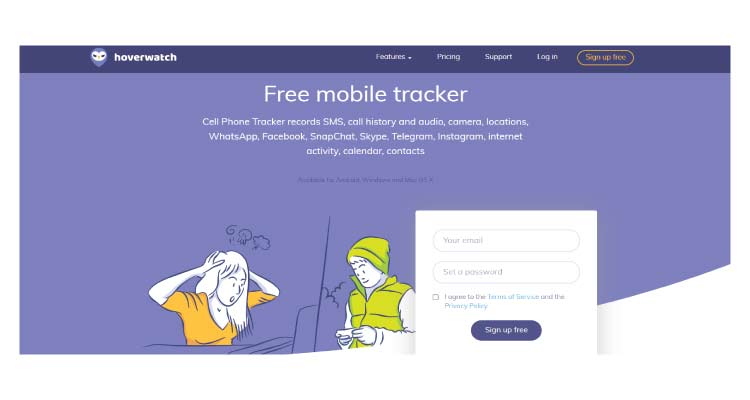 There are three plans offered by the app – personal, professional, and business. It might seem like they're a tad pricey but they do allow you to track more than one device with the subscription. The software is suitable for Android, iOS, as well as Microsoft. If you ask us, Hoverwatch's charges are worth finding out the truth. 
3. What's one of the best free spy apps for cheaters? mSpy  
How to find out if your spouse is cheating for free, you ask? Use mSpy! You can monitor your partner or spouse's phone undetected with this app's many services. The easy installation and frequent tracking make it a favorite among users. And you'll heave a sigh of relief when you hear that the data from your partner's phone can be accessed by you only. mSpy uses bank-grade encryption to secure any and all information extracted.
You can go through the many testimonials on their website to get an idea of the software. A common factor lauded by many individuals is the quality of customer support. mSpy's customer service is available 24/7 to troubleshoot. This app is primarily built for parental supervision and control but it is effective when you want to catch a cheater for free.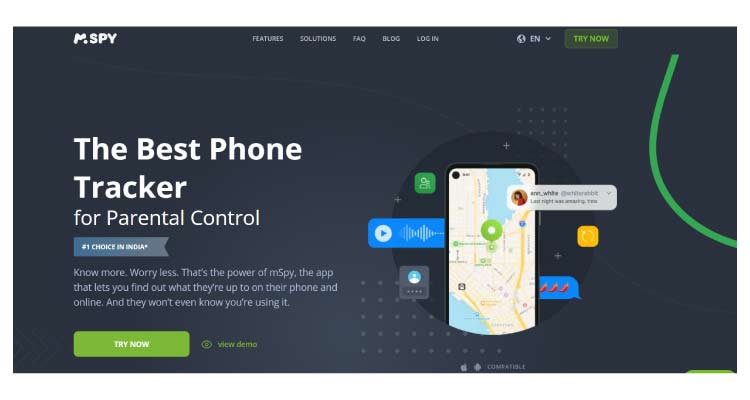 Here's one thing we like about mSpy: it encourages you to follow the local laws before you track your partner's digital activity without their permission. The app emphasizes on asking for "explicit consent" when you're installing it on a device that doesn't belong to a minor. That's some sound advice, right? Try out their free demo and you'll know why we're appreciating it. 
4. uMobix 
This is one of the best free spy apps for cheaters to monitor activity in real-time. uMobix is an app for "modern parents" who want to ensure their children's safety on the internet. It covers all the social media apps that affect relationships (the mainstream ones and the relatively unpopular ones too) and has a keylogger feature that's brilliant. Basically, the app lets you see everything that your partner is typing on their phone. 
You will learn the passwords of all their accounts too. If you think this is insane, wait till you hear about the streaming service. Since uMobix gives access to the target device's mic and camera, you can see and hear what's around your partner at all times. If they choose to have a rendezvous and lie to you about the same, they are going to get caught red-handed.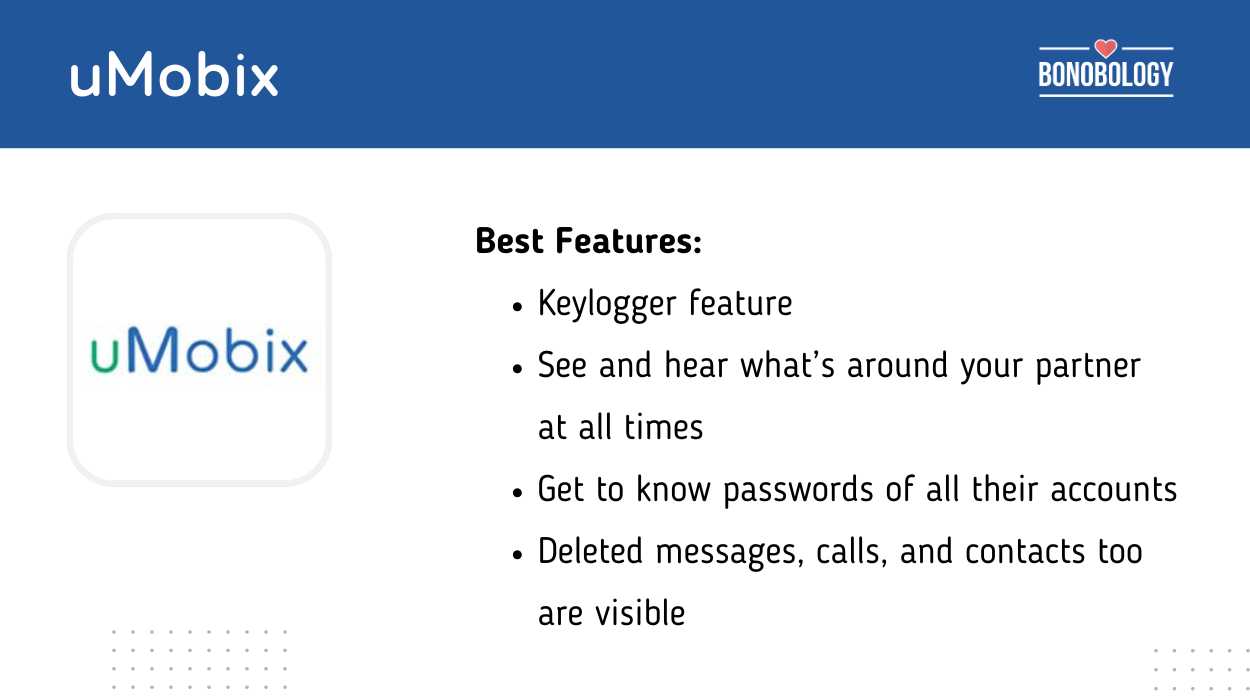 Deleted messages, calls, and contacts are also visible in this user-friendly app. Since uMobix offers such advanced solutions, the subscription plan prices are a little on the higher end. The annual plan might seem more economical as it starts for as low as $11.66 a month. Try the free demo on their website and decide for yourself. (Keep reading for more hidden cheating apps for Android and iOS!)
5. FlexiSPY
Crafted for parental control and employee monitoring, FlexiSPY is next in this lineup of free spy apps for cheaters. It monitors computers, tablets, and mobiles without being detected. This enables you to view all forms of communication (texts, calls, photos, videos, etc.) on your partner's phone. There's a feature that allows you to listen in on their calls live. The contact names can be a dupe but you'll know who they're talking to anyway. 
You can also check their GPS to ensure their location. (You'll know what to do when your partner lies.) In addition to this, FlexiSPY offers keylogger services and lets you capture media from the other phone's camera remotely. If there are any specific things you want to keep an eye on (for instance, you want to know when your partner calls a particular contact), you can set custom alerts on the app. 
Depending on your requirements, you can choose one of three plans. The Lite version  is the most basic and starts at $29.95 a month. On the other hand, the most advanced plan is Extreme and is priced at $199 for 3 months. All in all, the app is quite reliable; it's been around since 2006, after all. They put a great deal of emphasis on customer service, so you'll always be heard. 
6. Spyzzz – Read cheating spouse text messages for free
This app proclaims to launch a 'cheating partner investigation' very boldly. They have an entire section dedicated to the signs of cheating and the testimonials on their website seem to back up the claims. Spyzzz is adept at uncovering fake social media accounts, hidden pictures, and browser history. You can also view your partner's contact list, SMS messages, and photo gallery. 
Here's what we found impressive about Spyzzz: you can actually control the target device by blocking, restricting, or disabling certain services. For example, you want to get rid of the other woman in your relationship. You can use the app to block any calls from her number on your partner's phone. This service also allows you to restrict any installed dating apps.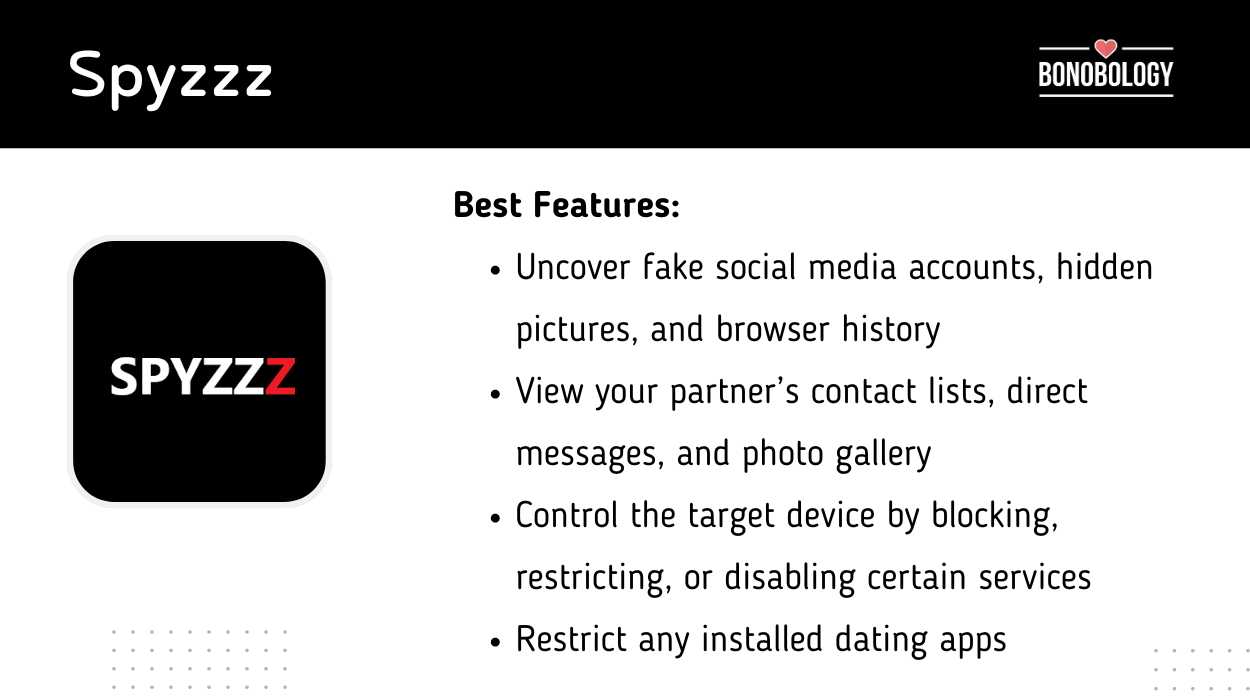 In comparison to the other candidates on our list of free spy apps for cheaters, this one has fewer features to offer. However, the duration of its subscription plans are versatile. There's no way you'll be stuck with a membership you have no use for. Because you can get the app for as little as two weeks. We think you should give it due consideration if you want to catch a cheater for free. 
7. eyeZy 
This is one of those hidden cheating apps for Android and iOS that specializes in social media monitoring. From Instagram to Viber, eyeZy will cover all virtual grounds. It will also open a window into your partner's personal chats, calendar events, and files manager. And this information updates itself every 5 minutes so you'll find out things in a timely fashion. 
The live demo will showcase just how easily navigable the app is. You'll master its workings in a short span of time and spot the surefire signs of cheating. Besides supervising your spouse or partner's location and routine, you'll be able to actively change it. For instance, you can block WiFi networks on their phone, delete events from the calendar, set a fixed screen time for certain apps, etc.
The invisibility mode of eyeZy is quite good; your partner won't discover the spyware on their phone. The app also provides multilingual customer support 24/7 to ensure a good experience for you. It's compatible with all Android and Apple devices but if you choose a plan that covers many gadgets, be prepared to shell out some money. With this app, you can't exactly read cheating spouse text messages for free.
8. Are there any free spy apps? Highster Mobile
How to find out if your spouse is cheating for free, you ask? With the help of this incredible app. Highster Mobile is a favorite among parents who want to monitor their kids' devices. You can employ the software to your advantage and make use of its many features. And they're remarkable indeed; a live control panel, a stealth camera, photo, and video log access, etc.
What really sweetens the deal is the pricing of the plans. We like free spy apps for cheaters that keep things simple in the subscription department. You can get Highster Mobile's Basic plan for $2.99 a month and the Pro plan for $6.99 a month. These rates are applicable to both Android and iOS. It must be said that the Basic plan is truly…basic. You'd be wiser in opting for the Pro, which has better features.
Related Reading: 12 Reasons Why Men Have Extramarital Affairs
Downloading and activating the app is fairly easy. However, there is a drawback you ought to make note of – the icon of this app is visible on the phone being monitored. Highster Mobile doesn't work undetected and your partner will know exactly what's cooking. While this digital solution is pocket-friendly and easy to use, there's a high risk of fighting in the relationship.  
9. pcTattletale 
This uber cool app can be the one you're looking for to spy on your spouse's phone without them knowing for free. You can't confront a cheater without evidence, as we've established. And pcTattletale can help you gather loads of proof with its array of wonderful features. You can record videos and calls, access hidden or deleted files, and monitor the browser history of your spouse. 
Free spy apps for cheaters like pcTattletale are expensive because there's just one plan you can choose. It's an annual subscription for $99 that allows you to track 3 devices. Pricey, we know. But there's a silver lining; you can check out their free trial albeit with limited features. The reviews are sparking for this one, so be sure to keep it in mind.
Alas, pcTattletale is not available for iOS. Only Android and Windows users can avail its many benefits. If you choose to go with this and end up disliking the app, there's a 60-day money-back guarantee in place. And you can always get in touch with them through their support service. 
10. SpyBubble – Free spy apps for cheaters
If you're not a very tech-savvy person, SpyBubble is for you. It demands no advanced technical skills from the user's end and it's very easy to get it up and running. You can spy on your partner's Android or iOS device remotely as there is no jailbreak required. The app functions undetected, provided you hide it when the download is complete. An oversight from your end can let the cat out of the bag.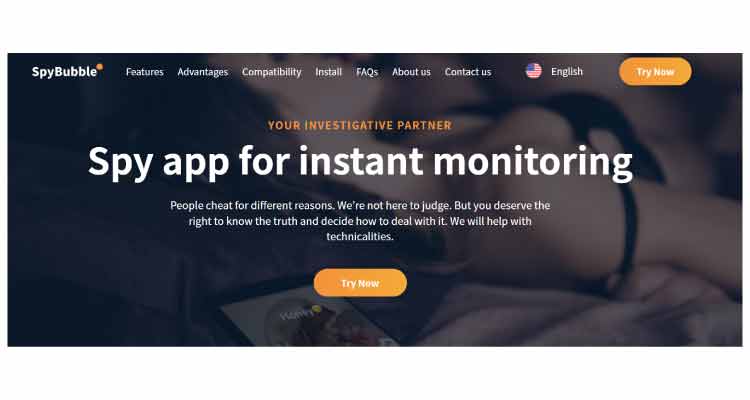 Besides the standard features, SpyBubble does have the added advantage of real-time tracking that keeps you up to date with your partner's whereabouts. The app understands the value of 'investigation' and claims to roll out new features each month. They want their users to make an informed decision and walk away from infidelity to a brighter future. You can take a look at the real stories and testimonials on their website as well.
11. MobileSpy.at 
Looking for hidden cheating apps for Android and iOS that have extra features? You might like MobileSpy.at and the 42 services it offers. The live smartphone monitor is ideal if you want to read cheating spouse text messages for free and catch them in the act. The other features include geofencing, sim tracking, data removal, WiFi blocking, etc. MobileSpy.at is also commendable because it doesn't drain the target device's battery.
The subscription plans become more economical when you sign up for a longer duration. For instance, a monthly plan will cost you $19 but a six-month plan costs $13/mo. Besides the length of subscription, there is no difference in any of these. All updates are absolutely free and so is the trial. All this (and more) makes MobileSpy.at one of the best free spy apps that'll hep you catch an online affair.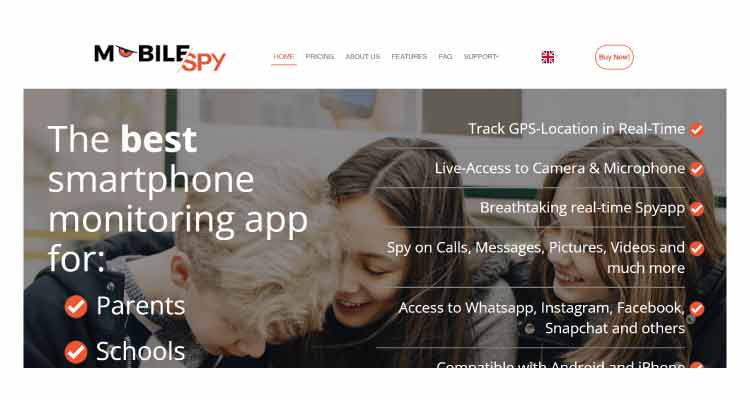 12. Spyera 
This app doesn't exactly belong to our list of free spy apps for cheaters (it is priced at $89 a month for smartphones)! But it's earned a place by virtue of its advanced features and excellent user interface. From checking your partner's phone battery to taking screenshots of their apps, there's very little you can't do with Spyera. The invisibility mode is so proficient that you can even delete all signs of jailbreak from the iPhone.
Related Reading: Are Cellphones And Relationship Problems Going Hand In Hand?
The app works splendidly on all devices and the prices differ for each one. Spyera has a 10-day refund policy that's fairly straightforward. If you don't like using the app, you can have your money back. The website also offers several tutorials for users who are new to using the software. Even the blog is very well-written and informative. We know it's expensive… Are you willing to go this far to detect infidelity in your relationship?
13. Cocospy 
Don't be fooled by its sweet name and website; Cocospy is one of the finest apps out there to catch a cheater for free. It has the usual features (call recording, data access, Instagram tracking, etc.) and a few unique ones. For instance, you can view the timestamps and bookmarks of your partner's browser history. So, you'll know how often they've visited a website (and if there's someone else in your partner's life).
Cocospy provides 4 options for a subscription – Basic, Premium, Family, and Business. A one-month license for one Android device will cost you $39.99. Yes, the prices lean toward the high end but the services are good value for money. It's really easy to get started with the monitoring process; you just need to sign up with an existing email id and install the app. What do you say? Is Cocospy what you were looking for?
14. How to find out if your spouse is cheating for free? XNSPY 
What's caught our eye here is the XNSPY Analytics feature on the website. The software analyses your partner's digital patterns for you and delivers a report (For example, you can know who they call the most in a day). In addition to this, you can check their WiFi network logs and SMS/IM chats. It's also possible to remotely control the target device's mic and camera.
XNSPY belongs to the category of free spy apps for cheaters that are compatible with both Android and iOS. You can get the app for $29.99 a month as a one-time subscription, or opt for the plan of $4.99/mo annually. While the customer support team is not available 24/7, it is quite efficient. Be sure to check their live demo on the website!
15. Spyine
Free signup, easy installation, and an accessible dashboard – the perfect ingredients for free spy apps for cheaters. Snapchat has been a favorite of those conducting an extramarital affair. Spyine is adept at monitoring Snapchat texts, images, call records, and files. The GPS tracker is also powerful and you can get a better look through Google's 3D street view. 
You can spy on your spouse's phone without them knowing for free because the stealth mode of Spyine is pretty awesome. The subscription plans are expensive and not everyone will be able to afford them. However, there is a demo available and if you think the app is worth it, spy away! 
And that was our list of free spy apps for cheaters. We hope you found one that's the right fit for your situation. Use these in moderation and take some time to process the information they reveal. Maintaining your emotional equilibrium is key at such times. All the very best for your endeavors – may your relationship never see infidelity. 
FAQs
1. How can I track my husband's phone for free?

There are many free spy apps for cheaters that can be used to monitor your spouse's digital activity. ClevGuard, Hoverwatch, mSpy, uMobix, etc. come with a free trial or demo that will serve your purpose. Check out our list of the top 15 apps to get a clearer picture.
2. Is there a free app to catch a cheating spouse?

There are no apps that are absolutely free. However, reputed and reliable apps offer free demos and trials that can get the job done for you. 
3. How can I find out if my partner is cheating online?

You should try and have a direct conversation with them. If that doesn't work, you can employ free spy apps for cheaters that can help you track your partner's virtual activity. There are apps like FlexiSPY, Spyera, Hoverwatch, etc. that might uncover infidelity.
Coping With Depression After Cheating On Someone – 7 Expert Tips
What Is Trauma Dumping? A Therapist Explains The Meaning, Signs, And How To Overcome It