"How to find out if your partner is cheating online?" Jane never thought that she would be Googling a question like this. She had the most stable relationship with her husband Aaron for 10 years but doubts started creeping in when Aaron started getting hyper about the Wi-Fi connection at a resort on a weekend break.
Jane said, "All he cared about was if the Wi-Fi was working and he stayed glued to the mobile. The beach, the great food nothing seemed to matter. After we came back I ran a check and found out he was having an online affair." 
In a study conducted among 1828 web users in Sweden, almost a third of the respondents reported cyber sexual experiences and as many were in committed relationships as were single. So when it comes to millennial relationships having an internet affair is the most common thing. 
Related Reading: What Is Micro-Cheating And What Are The Signs?
If you use your instincts you would know if your partner's online interactions have gone up and have turned fishy. So how to find out if your partner is cheating online? Give this article a careful read.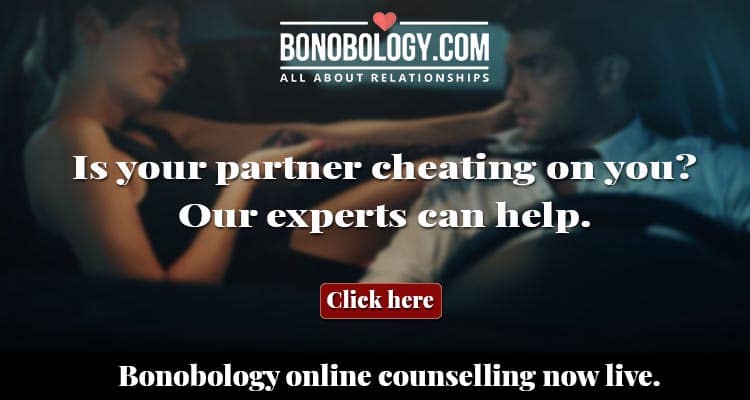 8 Signs Your Partner Is Cheating Online
The signs will always be there if your partner is cheating online. Like in Jane's case it was clear that Aaron had this need to stay connected to someone Jane was not aware about.
After they came back from the resort for the first time in 10 years of their marriage Jane started snooping on her husband's phone and found out that he was constantly chatting with some random female on Facebook. 
When Jane confronted him he immediately denied it. This is a very common knee-jerk reaction of someone who is cheating.
Well! How to find out if your partner is cheating online? Look out for the signs of cheating. We list a few.
1. The smart phone is password protected
If your partner's phone is always password protected and they treat it as a body appendage then it is a complete sign that they have something to hide from you. 
This is a sign your partner is having an internet affair. 
2. They never access social media on common devices
You could be sharing a laptop or a desktop but chances are they would never access their social media accounts on that. 
If a message pops up when they leave the desk to take a call and if you get to see all their activities then that would be a dead giveaway. They just can't risk it.  
Of course, they could be operating under fake accounts too so you might just a get a peek into that if they are accessing FB on a common laptop. 
3. They don't want to be friends on social media
They don't want you to be on FB, neither their relationship status says they are married. Their friend list is never visible. 
Neither do they want you to follow them on Instagram but your friends might tell you about the banter they were having with some random person of the opposite sex that was rather flirtatious.
4. Your partner is cheating online if they are on dating sites
It's not easy to find out if your partner is on a dating site because you have to be there as well. But you could have friends who are there and they could check out for you.
Brandon thought his marriage was perfect till a friend told him his wife Susan was cheating on Tinder. He couldn't imagine his wife was hooking up online and that too right in front of his nose.
Related Reading: How a lying woman broke the heart of a small-town boy on Tinder
5. They are on the phone at odd hours
You wake up in the middle of the night to see them texting someone. Or you could even find them on the living-room couch with the pretext of watching TV but actually messaging away to glory. 
If you have been thinking how to find out if your partner has been cheating online then just see if they are lazily Facebooking but as soon they see you they keep away the phone and pretend to do something else. 
6. Social media PDA
Is your partner doing social media PDA?
They have a couple photo as their social media profile and often indulge in SM PDA on birthdays and anniversaries. There's nothing to feel secure about this behaviour.
In fact, most men have their family photos as profiles to prove that they are safe people when they are trying to establish contact with new people online. People who indulge in online cheating often use family as a shield to whitewash their intentions. 
7. They smile while texting
If they are messaging someone secretly and cheating online then they could be engrossed texting and smiling while doing so. 
This can happen when you are saying something and your partner is lost in the smartphone.
8. "Supposedly" interacting with someone from the same sex
Tania found her husband David always talking to someone called "Derek". When the call came Derek would flash on the phone but David would always leave the room to take the call. 
Then there would be WhatsApp messages from Derek but David always took care to clear the chat. David said Derek was a colleague who worked in his team and they had to be in touch constantly.
One day Tania managed to note the number of "Derek" and called from her landline a lady picked up the phone. 
This is a common technique of online cheating, using a same-sex name so that the partner doesn't get suspicious.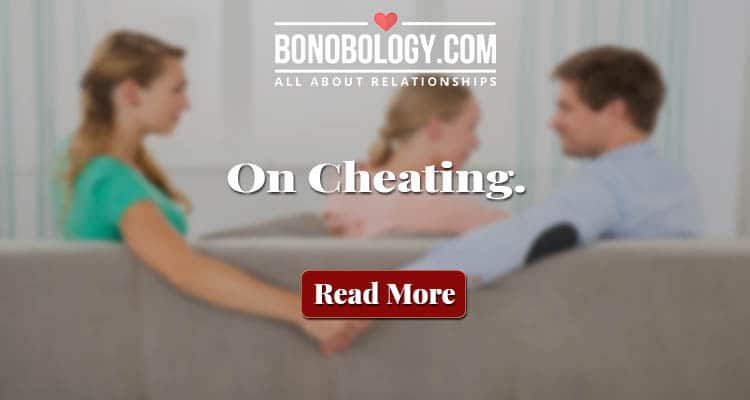 How To Find Out If Your Partner Is Cheating Online?
Online cheating is something we are all prone to thanks to the modern world of internet interactions. There are some people who can refrain from getting into an online affair but there are some who cannot stop themselves from cheating online and with some others, it becomes a habit actually. 
Online cheating is a way of indulging in emotional infidelity and its instant gratification to people who are attention seekers. 
If your partner exhibits some of the signs of online cheating then instead of being just suspicious you have to do some fact-finding. So how to find out if your partner is cheating online? Follow these steps.
1. Check their messages 
While we believe that spying is the last thing a person should do on a partner's phone but if you have been feeling that something is amiss for a long time then this is the only way to ascertain if they are cheating online or not. 
Your husband, for instance, could be taking his phone to the washroom even and places it below the pillow at night. What do you do then? 
There are women who have been asking: How can I see my husband's text messages without his phone? Is checking text messages possible without the phone? 
You can set up apps that you can use remotely through your laptop and internet to read your husband's texts or see his online behaviour. 
This is not to say that husbands are only responsible for online cheating. Wives are too. "I installed Highster Mobile on my wife's cell phone and could even track her on GPS," said a husband on conditions of anonymity.
2. Search online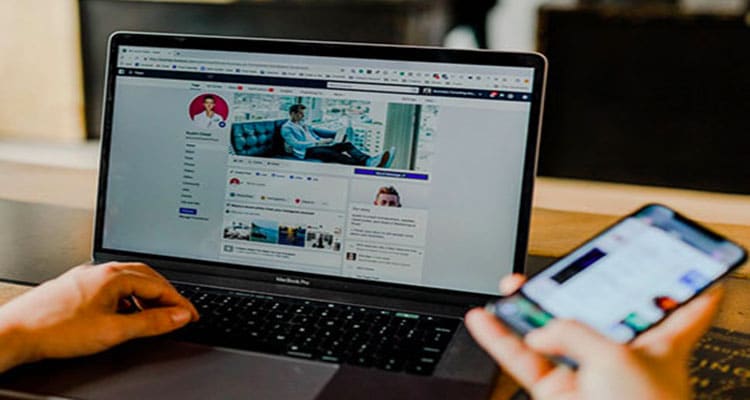 If you can get hold of a name or names of people your partner is cheating on you with then you can run a Google search on them.
This way you get to know who they are, what they do, where they live. If you can't do it yourself there are companies who could help you to run the search and they charge between $15 and $50 to do the search for you and come up with detailed data. 
3. Run a check with friends
You will be surprised to see how much more they know about your partner than you know. Laura was telling her friend Dina about how she is suspecting her husband is cheating online. 
Dina instantly told her of the flirtatious exchanges she has noticed between him and a particular lady on Facebook. Laura wasn't friends with her husband on FB so she had no clue but her friend had obviously noticed. 
Friends sometimes notice much more than we do because our faith in our partners often blind us. 
4. Is your partner on dating sites?
As we have seen that many married people are on dating sites like Tinder so it's important to check if your partner is there too.
How do I find out if my partner is on dating sites? A remote app will help you check that or you could create a fake profile and check. Chances are your partner is also there under a fake name but if they have used their photo you would instantly know.
5. Suggest a phone detox trip
This would help you nail them. Leaving the phone in the bag and going a relaxing holiday would be the best idea if your partner is interested in spending time with you, but if they are not then they would react adversely.
But if they get angry at this idea and come up with all kinds of excuses starting from work to family to tell you that how life without the smart phone is just not possible.  
What Is The Best App To Catch A Cheating Spouse? 
Since online cheating has become the way of the word the market has also become flooded with apps to catch the online cheater.
There are two kinds of apps: One's that you have to install in the cheater's phone and the other can be used remotely.
In the remote apps category Spyine app is used pretty frequently in the other category where you need the phone at least once to install the app are Spyic, Cocospy, Minspy, Spyier, Flexispy, Stealthgenie, Spyhuman and Mobistealth are some of the other apps with various features and costs that are most frequently used to catch online cheating. 
 The later are mainly Android phone apps and none of these come for free.
Once you see the tell-tale signs of online cheating you can take all the steps to be sure that your hunch is right. 
How To Watch Out For The Relationship Red Flags – Expert Tells You