long distance texts
Making a long-distance relationship work is hard enough, and then there's the added pressure of keeping the spark alive, which we can all agree does not come with a manual! So in a bid to keep your partner on their toes, you are either in a frenzy to try big gestures or going down the negative spiral consisting of boredom, doubt, and whatnot. But you'd be surprised to know that long-distance texts work magic in propelling your relationship forward!
Any relationship, be it long-term or short, is built on actions. The small gestures, thoughts, and in some cases gifts too. It tells the other how much you mean to them. Considering how strenuous long distances can be for couples, small gestures make a major impact. Given the fact that communication is vital during this time you spend apart, looking for novel ways to connect becomes an integral part of your routine.
Adding color to your daily routines and letting your partner know you're thinking about them during the day can be a pillar of validation in the relationship. Let's face it, video calls are juicy and fulfilling but not always feasible when you have a day to get through. And voila, sending a sweet text can be the highlight of the day for both you and your partner. To that end, let's dive into the different types of long-distance texts you can send your BAE.
26 Cute Long-Distance Relationship Texts
You exude the cute in you when you are romantic with someone and that is not news. But distance can get in the way of your ability to charm your partner with your cuteness. We dabbled in some long-distance relationship texts that are super cute.
We also have some tricks up our sleeve that you can use on BAE to make the best out of the relationship and show affection to your partner even when you're physically apart. Want to see how cute texts can actually get? Fair warning: It can get pretty adorable or should we say aww-dorable! Check out some cute long-distance relationship texts:
Related Reading : How To Seduce A Man Through Text Messaging?
Our video calls are the only thing keeping me going, baby. It's just a matter of time before I hold you in my arms again
All the love songs in the world finally make sense when I listen to them thinking of you
The distance between us lessens when I realize we look at the same sky and breathe the same air
Baby, pick up my call. I miss your sweet voice!
Oh, how I miss waking up next to you and listening to your heartbeat. Best feeling in the whole world!
Thank you for teaching me what true love looks like. Distance means nothing
Not a day passes when I don't think of our future. And you're the best part of it
Our emotional connection has only grown stronger with time and I see now why fate led me to you
You make my life easier just with your cute little face. I hope you have a lovely day, beautiful!
I love talking to you because it makes me realize that time is just an illusion and not a problem
You could be a thousand miles away and I'd still feel you when I wake up in the morning. All the miles wouldn't matter
You looked so cute on video call this morning and honestly, I can't stop smiling thinking of you
You are the only reason for my smiles all through the day. One cute message from you is enough to get me through the day
This time we spend apart will only work in our favor, trust me
Every time I miss you, I take a look at your cute bowtie and the world makes sense again
Your sweet long-distance texts are the reason why life apart from you is that much easier
It does not matter how much distance there is between us, it is only making me love you harder
Was just imagining jumping into your arms when we finally meet
Cannot wait to squish your face when I see you again
What's my love popsicle doing? I miss you
A cupcake I saw today reminded me of you. Bring me your adorable face, please
During our video calls, I can't help but marvel at how adorable and cute you are
I wish there was a way I could have just your face here with me so I can kiss it all day long
Your sweet messages are the essence of my phone, baby. These long-distance texts make the thousand miles between us less painful
Just the thought of our heart beating in rhythm is enough to stay strong through the distance, baby
The surreal pain of not being with you is transforming into the hope of one day jumping into your arms. Oh, how I long for that day!
26 Naughty Long-Distance Texts To Keep The Passion Alive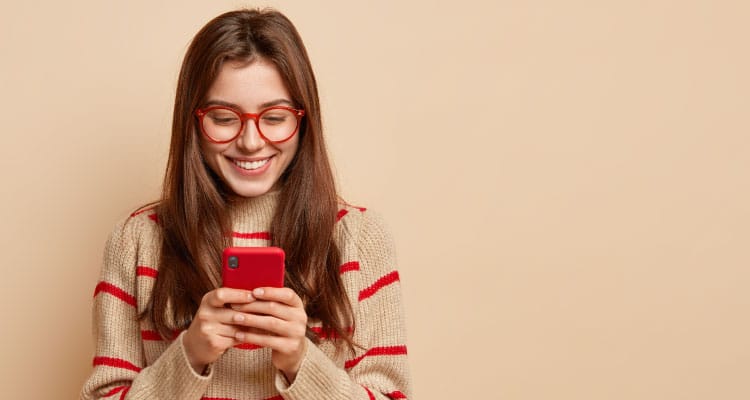 When you are away for so long, you crave each other so much that anything you say to your partner or they to you can seem exciting. So, let's have fun with that, shall we? How would you react if we told you that you could get that intimate feeling over the phone but a proper nudge is needed to really get the ball rolling? Naughty long-distance texts can play an important role in keeping your long-distance relationship alive.
Whether it is in the middle of the day to distract them for all the sexy reasons or to get cozy at night, sexy text messages never fail to hit the mark. For long-distance couples to go a little crazy in love, we have some steamy texts that you can send their way.
Do you want to see what I'm wearing? Trust me, you are going to want to see this 😛
I need some of you right now. I'm suddenly craving something hot and delicious
Argh, to see you shirtless right now would be a dream come true
The thought of you is making me crazy. What are you doing to me?
You are not going to believe the things I'm going to do to you tonight 👅
I would kill to have your body on mine tonight, baby!
Do you know what will get me going? A thirsty picture of you!
Oh, the things I feel when I think about what I'm going to do when I see you. Wink, wink!
Send me a picture of you. I mean a full picture of you 😉
I know it's noon but want to get into the washroom, real quick?
Oh, baby, I have been dreaming of doing some nasty things to you
Are you kidding me with that picture? Phew, you look like a million bucks
Oops, I think I forgot to wear my panties
We should really be putting this night to good use and devouring each other, baby.
I'm drooling over the picture you sent me, are you for real?
The minute I see you, I'm jumping on you
I'm craving you on a crazy level right now
With or without clothes, you are still my number-one turn-on
I wish I could taste your lips and eat the rest of your body 💋
Hungry AF for you. Come to bed right now!
I'm going to do unimaginable things to you when we're in bed together
You have no idea how you excite me
I want to see every inch of you. Down for a hot, steamy virtual date?
I love talking dirty to you. The things I dream to do to you are inexplicable

The things I dream to do to you are inexplicable

Those dirty texts you send me keep me up at night
Related Reading: 45 Sexy, Dirty Text Messages For Your Boyfriend
26 Flirty Long-Distance Texts To Keep The Romance Sizzling
Who says a long-distance relationship does not have room for flirting? What if we told you that it could lead to some juicy times you won't be able to forget easily? Whether it is complimenting your significant other or just up top having a roleplay sesh, we can assure you that some flirty texts sent along the way, only enhance the romantic and sexual energy of the relationship.
Even if it is not oozing out sexy right off the bat, being subtle and flirty can do the trick even when you are trying to send a funny text message. Let us show you how to frame some flirty long-distance texts:
I could easily be swayed if you just looked at me
The dress you wore had a little bit of me. If you remember, the last time you wore it with me
Do you know what I'm missing the most right now? Your lips!
Hey, this morning was so good that my workplace looks beautiful for the first time
Want me to send you a picture of what I'm doing right now?
The best part of today was when you blushed after I called you beautiful
Baby, you are so fine
Girl, you have a body so sexy that it can be hard to think of anything else
Tonight, let's talk about some new positions for maximum pleasure. I have some thoughts
That dress you wore on our anniversary has me going crazy now
 If there's anything I want right now, it's your sexy body on mine
Date night tonight over a video call. Pour yourself some wine
Hey sexy, want to hop on a call real quick?
Wish you could get in my mind right now to see how much I miss you
We should make time tomorrow for a quickie in between your meetings
Send me a picture of you and I'll send you mine. Let's see if we can think straight after that
Tonight, I just want to take every bit of you in with my eyes
Just a fair warning, I have been craving you all day
Be careful with the pictures you send me. Might do things to you
There's beautiful and then there's you, right on top of all those adjectives
You are so gorgeous, I forgot to blink while looking at your picture
Hey, hot steamy girl. Damn, am I the luckiest guy in the world?
We're lucky to have a relationship with love and lust so well packaged
Thinking about you makes my days so interesting
There's a fine line between making me look at your picture and having me hooked!
A look at your face is all I need to get through the day
Related Reading: 35 Long-Distance Relationship Activities To Bond Over
26 Good Morning Texts For Your Long-Distance Partner
Waking up to a romantic text from bae. Ah! Mornings set the tone for the entire day and what better way to start it than to have some sweet good morning text messages from bae and some love sent back their way? Check out these sweet, flirty, romantic good morning texts for your long-distance partner:
Rise and shine, my love!
Dreaming of you all night and waking up to your picture on my phone wallpaper only makes me miss you more. Good morning, baby
Good morning sweets, ready to face the day with you by my side
Wake up baby, had a thirsty dream about you and now you're all I can think about👅
Morning sunshine! Don't forget to send me snaps before you head to work💋
The way the sun shines this morning reminds me of your face and everything else about you
I wish I could wake up next to you every morning. Our video calls are my only saving grace
The best part of my mornings is our video calls and your name popping up on my phone
Have the best morning, my beautiful angel. May today be as special as you
I slept thinking of you and I woke up with the same thought. Boy, what have you done to me!
I know today will be great after the dream I had about you last night. I feel you so much, baby
Good morning, cutie. I love you so very much and I need you to send me a picture of you before getting ready
I thank my lucky stars every morning, just so that I have you as the reason I can wake up to
There is nothing better in the morning than your smile. Good morning, my love!
My prayer this morning is that I can feel your love more every day. Morning, baby!
Wake up, my love, today awaits with so much light and love, just for you!
A good morning text from you is enough to make my entire day
Good morning, baby. Can't wait to exchange sweet messages with you
Morning, love. Can't wait to text interesting details of my day to you
The true love we share wakes me up every morning with a smile on my face
So grateful to wake up to your sweet message
Love the fact that my day starts and ends with your text, baby. Good morning
Have the best day today, my buttercup. Can't wait to hear all about it tonight
The sun rises every morning reminding me of your face and our good morning messages make it better.
Good morning, sweetheart. Call me so I can watch you get ready for work
Good morning, I love you. Have the best day ahead and remember I'm here for you.
Not making an effort to communicate with your long-distance bae can leave your relationship riddled with fights, jealousy, relationship insecurity, and boredom. But with the slightest of efforts, like a text, you can really turn a new leaf. If you are in a long-distance relationship and willing to know what it takes to better the relationship, you already won! We loved penning these long-distance texts for you. We hope you put them to good use.