Love is a feeling that sneaks into your heart without you even realizing it. Graduating from friendship/dating into a relationship is a smooth transition, where the signs of a relationship starting often manifest on their own.
The fuss and thrill of love can be an overwhelming feeling. Let me remind you, there are reasons to call love blind; it can make you overlook the signs a relationship is starting. As you start dating, the honeymoon phase hogs all the limelight. You bask in the glory and grandeur of what seems like love, but under the garb of casual dates, there could be subtle signs your casual relationship is getting serious.
It is not possible to define and label the different stages of a relationship, nor is it possible to put your finger down at its exact moment of commencement or conclusion. What we can do instead is, try to comprehend what the beginning of a relationship feels like.
How Do You Know When A Relationship Is Forming?
Understanding your feelings for that special person can be a bit overwhelming and confusing. Even though you can tap into your heart to check on your emotions, you cannot really gauge your relationship objectively. So how do you pinpoint the signs a relationship is beginning? Read on to find out!
You meet this person who makes you go head over heels. You cannot think of your day ending without meeting that person. Can these be signs you are in a relationship and don't know it yet?
You begin to see each other, hang out more often, lay your heart open to each other and start dating. But soon, both of you are bitten by the love bug and the seeds of a serious relationship start to germinate. The buds of love begin to bloom, leading to an eventual flowering of a beautiful relationship!
Do not miss out on enjoying and reveling in this magical evolution. Be receptive to the signs a relationship is beginning. There could be fine details and understated indications that positively hint at the foundation of a strong relationship.
Related Reading: 20 Signs He Is Not Into You – Don't Waste Your Time!
15 Signs Of A Relationship Starting– Exposed Here
It is important for you to realize what type of pedestal your relationship stands on. Harboring feelings for a person who is not as committed can lead to serious heartbreaks and aches. Restrict yourself from falling into the trap of a one-sided commitment and invest your time and energy in a relationship that deserves it.
Signs a relationship is starting can be both illusive and elusive. Pin down your emotions for your partner to better comprehend what you are experiencing and if it is indeed the beginning of a relationship. Learn the difference between a casual fling and a committed affair by recognizing the signs a relationship is starting:
1. You are comfortable around each other
Dating is a stage of your relationship when you are like a magazine cover: glossy, filtered and impressive. You try to put your best foot forward, to make a great impression and keep the other person intrigued and interested. This might also mean stepping out of your comfort zone to make that impression. But, the day you stop trying so hard and are secure enough to operate from within your comfort zone, you realize things are getting serious.
The beginning of a relationship feels like being comfortable in your own skin! You no longer bother to put up a shiny veneer; you are your best self with no pomp and show whatsoever. One of the signs of a relationship starting are when you shed the artificial cloak and revel in your individuality!
2. You feel like you've arrived home when you meet them
No, I don't mean that they stay in your home; I mean they 'ARE' your home! You feel like you're home in each other's company. Your partner exudes all the comfort, solace, and peaceful vibe that home stands for.
Just as your family is always watching your back, so is your partner a relentless constant. You know they are always there for you no matter what. It is one of the sure-shot signs of a committed relationship when you two harbor an unconditional love for each other that goes beyond any expectations and explanations.
Related Reading: Exclusive Dating: It Isn't Surely About A Committed Relationship
3. One of the signs of a relationship starting is when you know each other's close circle of friends
When Stacy started dating Ash, she felt lost in his circle of friends. Over time though, she started to get a hang of their group dynamics, catching onto all the inside jokes, understanding all the references they dropped and even forging a better friendship with many of them than Ash himself had. She realized this must be what the beginning of a relationship feels like.
People often share their inner circle of friends and family only when they are serious in the relationship. This means that the person is ready to share their entire world with you. Once you know your partner inside out, you realize that the strength of your relationship is at that stage where you can introduce one another to the people who mean the most to you.
4. A sign of a committed relationship is when you open up your past
The past is not always easy to let go of. One cannot simply open up to someone new and lay bare one's past experiences. All relationships might start well in the present, but not all relationships have a future. You may not realize this, but one of the signs you are in a relationship is when you have been taken into your partner's confidence; when you know what upheavals they have been through and what their past held for them.
It takes a lot of courage to be transparent. Owning upto a mistake that you made, like being in debt, sharing past traumas, like coping with a personal loss, or challenges that you have faced, like addiction, are some of the signs your casual relationship is becoming serious. You are okay with being an open book for your SO who can turn the leaves to peep into your past.
5. You know your relationship is forming when you share every slice of your life
Communication is the key to every successful relationship. The beginning of a relationship feels like you know the minute-by-minute run-down of each other's daily schedules. You confide in each other, sharing the ups and downs of your life, be it a tiff with your boss or what your flirty colleague in the office said, an embarrassing moment at a party, or even a run-in with your ex! You share it all and they know it all.
You trust them with your confessions and your deep, dark desires, your ambitions, and your trivialities. You are not shy of opening up to each other when you are sure your relationship is going far. Signs a relationship is developing into something more is when you understand each other's sentiments and are not afraid of acknowledging them openly.
Related Reading: 12 Signs An Affair Is Turning Into Love
6. You know your relationship is starting when you savor the silences
Silence is more eloquent than words. Megan is a chatterbox who can talk incessantly while Rey is a man of few words. Although they get along like a house on fire, there are certain awkward moments of silence between them. Megan being a blabbermouth feels uneasy during such empty moments. However, as their relationship progressed, she has come to appreciate these golden moments when they don't feel the need to fill in the empty spaces.
It is rightly said, "When the silence between two people is comfortable, you know you have found love." Silence conveys a thousand emotions that even words fall short of– signs of a committed relationship being one of them.
7. A stronger sign of a committed relationship: The insistence on meeting each other's family
One of the signs a relationship is starting includes when you decide to get the family involved and try to impress your would-be in-laws. It is no longer a friendly affair and things are getting serious. You decide to meet the family members you have only heard of, but haven't met till now. You have graduated to being a person they want their mama to meet. All signals are green and point to a serious and strong relationship when you go to your partner's home to meet their family.
The day John invited Pam to come over to his house to meet his parents, Pam could detect the signs of a committed relationship. Although surprised, she was ecstatic to know that their relationship was now a lifelong affair, just the kind that she always wanted.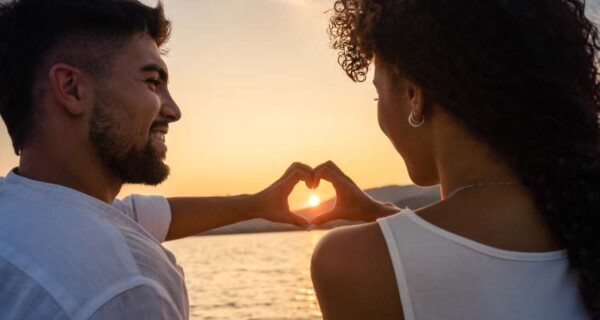 8. You are genuinely happy for the other's achievements
A couple does not compete with each other. You are already like a family, where the achievement of one is a reason to rejoice for the other! You are proud of each other's accomplishments and are never tired of boasting about how good your partner is at something or maybe everything! When success for one spells celebration for the other, you know what the starting of a relationship feels like.
Edward and Liz have been in a relationship for quite some time. Even though Liz has been considering taking things up a notch in their relationship, she is still apprehensive. However, how Edward reacted to her promotion at the office helped her to finalize her decision. Her joy was matched only by his elation. They celebrated the occasion in each other's company, with Liz finally taking the plunge and declaring to herself that she was his, for life. Signs a relationship is developing become crystal clear when such momentous events crop up and you turn up for them, genuinely happy.
9. You have got (y)ears in your relationship
Don't let that one confuse you. A relationship is not as much about the years, as it is about the ears. How good a listener you are, will have its bearing on how strong a relationship you forge. Imagine you have something important to share and are raring to talk to your partner. What is the reaction you're expecting? You would obviously want your partner to listen to you carefully and intently because communication is best when received properly.
Is your partner buried in his phone? Is he pretending to listen? Is he jumping to conclusions without you even finishing? Or is he listening to you, taking everything in, understanding what you're saying and respecting your feelings? These are some of the undeniable and unmistakable signs of a relationship starting.
10. You know when to apologize to your partner
Every couple in a relationship is bound to have some differing opinions and viewpoints. What matters though, is how you handle such disagreements. Discords and conflicts are part and parcel of every healthy relationship. They are fine provided they do not lead to hard feelings and grudges. Accepting your mistake and apologizing for the same can do a world of good to your relationship. A simple "I'm sorry" goes a long way and is one of the distinctive signs of a committed relationship.
There will be days when you have a nasty argument or a strong disagreement. You will get mad at your partner and feel an overwhelming sense of anger and resentment. It will be quite apparent that you are upset. But still, you acknowledge the need to make it work as a couple and you decide to iron out the differences; you resolve to understand and respect each other by choosing to patch up because for you, the relationship comes first.
Related Reading: Real life ways to apologise without saying sorry
11. Gratitude is the best attitude
"Relationships are based on four principles: respect, understanding, acceptance, and appreciation." Mahatma Gandhi correctly summed up the crux of a relationship with this important observation. Appreciating each other is the key to happiness in a relationship. Couples who express their appreciation for their partners are likely to be more satisfied and happier than those who do not. The desire to be appreciated is ingrained in human nature and when in a relationship, one would certainly anticipate admiration from one's significant other.
Small gestures that express gratitude are a simple means of expressing your love to your partner. A partner who acknowledges your efforts is a partner to keep. You know your relationship is developing well when you are grateful to have found each other.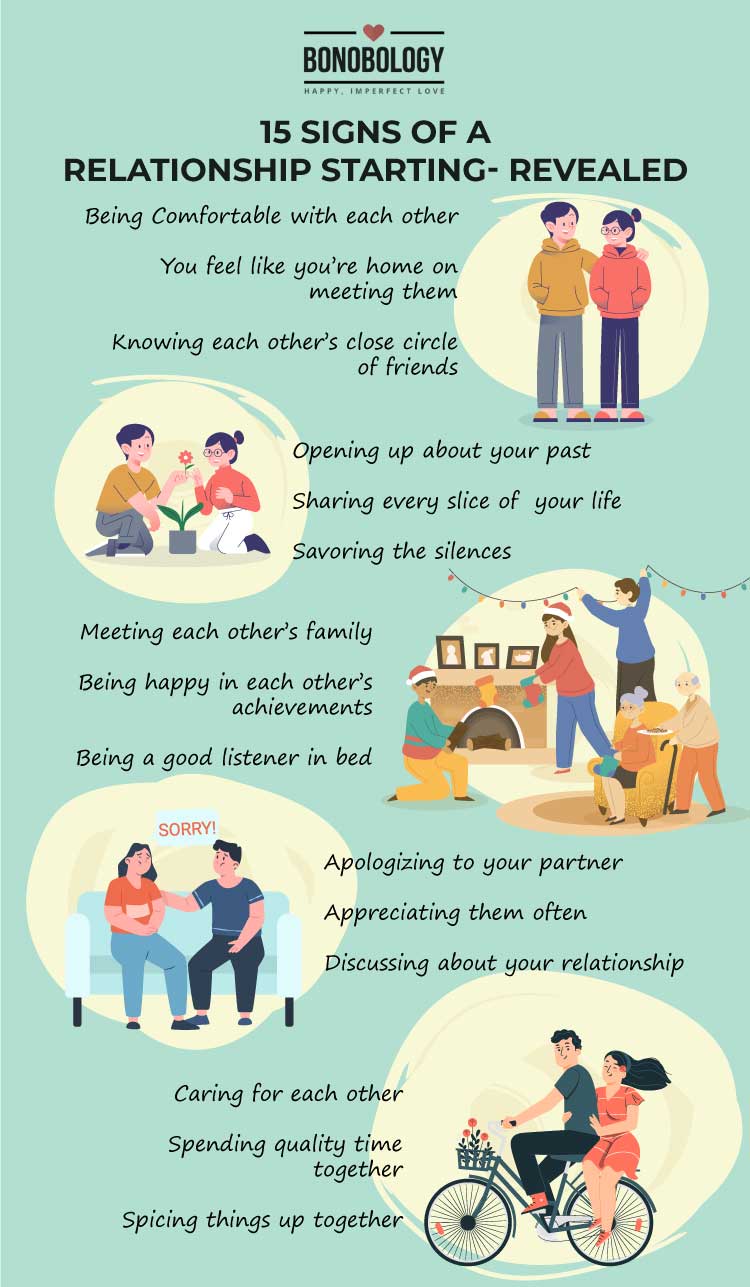 12. Signs of a relationship starting: When you can openly talk about your relationship
Every relationship has its fair share of ups and downs: this is a truth that cannot be denied by a couple. If your partner can honestly accept the strengths and weaknesses of your relationship, you are in for a long-lasting one! Talking candidly about your relationship, discussing how and what can be improved, and making efforts to do so, are some of the strongest signs a relationship is developing.
The fact that you are open to critiquing and accepting your shortcomings is, in itself, a testimony to your seriousness in the relationship. A connection is certain to be strengthened when you are wholeheartedly dedicated and committed.
13. Your relationship abounds in TLC
We all need a little (okay, a 'LOT' of) TLC– Tender Loving Care. This is equally true for your partner. When you realize this and shower them with the required care, you are doing your bit to make your relationship work. For you, nothing is of more importance than caring for your partner. You are frank about your feelings and you are concerned about each other's well-being.
You know each other's likes and dislikes and are ready to walk that extra mile to secure your partner's happiness. Little things that you do bring joy to your relationship. You take efforts to keep one another happy and content in the relationship.
14. You sneak in "us time" every now and then
Emma and Drake make an adorable couple who follow a few relationships rules with spending quality time together being one of them. They have made sure that nothing comes between their "us time" as a couple and that includes personal or professional commitments. They have matured in their understanding of each other and have realized the importance of their time together. Such are the signs of a relationship starting when you concede that there is no stopping you from hanging out with each other.
You take out time for each other, make plans, and stick to them. It is not really about catching up with each other every day as it is about working towards the relationship. You do not negotiate, rather you initiate to be with each other.
15. You can discern the signs of a committed relationship when you try to spice things up
We all know relationships need to have that zing factor to keep the couple happy and content. If you work together to keep that spark alive in your relationship, it is clear that you want it to be a serious one. Every effort you make counts for the strength of your bond.
You might be going to new places, having different experiences, taking up a hobby together, or simply going for long drives; basically, doing things that keep you both engaged and interested in each other are signs of a relationship starting. Exploring new avenues feeds the passion in your relationship, making it fun and adventurous while strengthening the bond.
By now, you must have understood the signs that manifest themselves to indicate which stage your relationship is in. Just be on the lookout for them and cherish the happiness of being in a strong, committed relationship all through your life!
Does She Love Me? Find Your Answer In These 23 Signs A Girl Gives
Emotional Intelligence In Relationships: Make Love Last Forever
How To Know If A Girl Likes You But Is Hiding It – 35 Low-Key Signs