So, perhaps, your marriage isn't working and you've been thinking about separating from your husband. The more you're convinced about walking out of your marriage, the more you're weighed down by the conundrum of how to tell your husband you want a divorce. Thinking about divorce is one thing, but telling your spouse upfront that you want out of the marriage is another matter altogether.
Whatever your reasons for divorce may be, and no matter how well you've thought your decision through, telling your husband that you want a divorce is not going to be an easy task.
Letting go of a person after spending a substantial amount of time with them can be difficult and scary. The conflict and hard-hitting conversation isn't something you would look forward to. The worse is when you have to tell your husband you want a divorce and he doesn't feel the same way. In that situation, you may well be losing sleep over, "How will I tell my husband I want a divorce without hurting him?"
We agree the whole scenario does not look easy. That's why we've brought you these tips on telling your spouse you want a divorce in consultation with lawyer and single mom Laila Zafar. Following these steps will make it easier for you to tell your husband you want a divorce, even when he doesn't.
Prepping Up For Divorce Conversation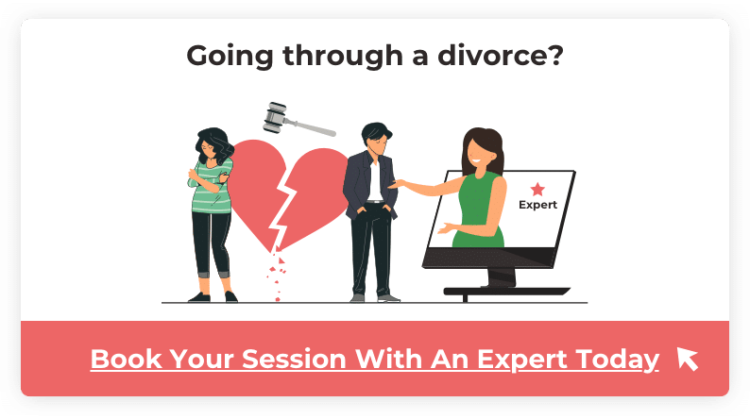 The first thing to do when you have decided to ask your husband for a divorce is to prepare yourself. If he is as unhappy and dissatisfied with the marriage as you are, chances are he will not be too taken aback by this decision of yours.
But if your husband is oblivious to the fact that you have been thinking about a divorce and never saw the warning signs, his reactions can range from surprise to anger, resentment, violence, pain and anguish.
"You need to be prepared for these eventualities and for the discussions that will follow. He may accuse you of spoiling his life and not loving the children, but you need to stand your ground if you are sure of what you are asking for.
"You may strongly feel like defending yourself, retaliating and giving back but restrain yourself from making any statement that makes this messy affair even messier," advises Laila.
He may have not been a good husband or a father, but he is for sure hurt and pained now. The best thing to do in such a difficult situation is to control your impulse to retort. Instead listen, interrupting as little as you can.
Just repeat what you may have already said and make him understand that you have carefully thought about it and you are not going to change your mind. Now, telling your husband you want a divorce also requires careful consideration of when and where. Choose a place and time where it is possible to have a long conversation.
This becomes even more imperative if you've been struggling with the "I'm scared to tell my husband I want a divorce" state of mind. In all likelihood, this could be because you know your husband has a temper and suspect that he may lash out or hurt you when you broach the topic.
If that's the state of your marriage, you need to cover all your bases, secure yourself financially as well as gather moral and logistical support before breaking the news of wanting a divorce to your husband.
Related reading: Here's how you can make the process of filing for divorce easier
When to tell your spouse you want a divorce?
This is vital. Divorce could have been on your mind for a long time but you never had the courage or the mindset to move out. The reasons for this can vary from "I want to divorce my husband but I still love him" to "I want to divorce my husband but I feel sorry for him".
But once you decide on a divorce you need to make some more decisions. You need to start saving to financially get through the divorce battle if he does not agree to a mutual, uncontested divorce.
"You need to see how you are placed financially and what kind of deal you will get if the property and assets are split up. You need to know if you can ask for maintenance and alimony. Also if there are kids involved, the custody and visitation aspects have to be thought about. Have a conversation about divorce with your husband only when you have addressed all these aspects at your end and are prepared for any and all eventualities," says Laila.
Meanwhile, as you prepare for a divorce mentally and logistically, you can start sending him fillers that you wouldn't want to continue in the marriage. Talk to him when he is in a calm frame of mind and be ready that he could react adversely.  You can tell your husband you want a separation first.
Related Reading: 10 Things To Do When You Are Thinking About Divorce
How To Tell Your Husband You Want A Divorce?
If you have carefully weighed all the options, gone over the divorce checklist and have decided that this the best way forward for you, here are the eight most valuable tips on how to tell your husband you want a divorce:
1. Don't escape the matter
"The divorce of a married couple affects the lives of several people. Don't escape the matter by throwing divorce papers on your husband's desk or by simply packing your bags and leaving, especially when you have children," advises Laila.
Getting out of marriage this way is quick but it is not mature. Unless you're trapped in an abusive marriage where your own safety or that of your children is threatened – in which case, you should get out at the first window of escape you find – accord your husband the courtesy of a conversation.
Make a plan about how to tell your husband you want to separate and plan it in a way that doesn't hurt him a lot. You can actually ask for a divorce peacefully.
2. Identify the reasons for your divorce
How to tell your husband you filed for divorce or want to file for one? The answer to this question lies in understanding why you want a divorce. More often than not, your anger, resentment or unhappiness toward your husband clouds your thinking process to an extent that you are unable to see the reasons for divorce with clarity.
Understand that getting a divorce is a huge step and cannot be decided in an overwhelming mental state. You may see red flags all over your relationship and may be certain you want a divorce, but pause to identify the reasons for divorce.
If your purpose is ambiguous, presenting the idea to your husband is going to be a hard task. Ask yourself about the purpose and your intentions. List it down if needed and then take it forward. Once you know why divorce is the right decision for you, telling your spouse you want a divorce will become much easier.
Related reading: How to explain divorce to your children?
3. Look for the right time and right place
Announcing a decision as mammoth as wanting a divorce should not be done in the middle of a heated argument. Take your husband to a quiet place like the bedroom and switch off your mobile phones. Ask the other people residing in your house to not disturb you for a while.
Then, calmly tell him that the marriage isn't working out and you want a divorce. Share with him the reasons behind your decision, and then, give him some time to process the information.
"A sensible, calm approach makes this seemingly daunting process that much easier. A peaceful setting will ensure a better discussion about the matter and give you plenty of time to tell your husband you want a divorce without hurting him badly," says Laila.
4. Practice your reasons beforehand
How to tell your husband you want a divorce? One of the most important aspects of the process is your own clarity of thought. When you're clear on the whys and hows of your decision, you will be able to articulate it well. Before you discuss a divorce, practice what you want to say in front of a mirror.
Breaking the news of divorce could lead to varied responses like anger, shock, weeping and so on. Figure out how your husband might react to the statement and prepare yourself accordingly.
Make neutral statements using "I". "I need to talk to you", "I feel we are not happy", "I think we will be happier apart". "Practicing beforehand would potentially avoid angry outbursts and foul language. You can even consult a divorce counselor to narrow down what you are going to say. This will help you ask for the divorce peacefully," explains Laila.
Related Reading: Can Children Foresee Parents' Divorce?
5. Be patient and direct
Asking your husband for a divorce is not going to be a happy discussion. How you approach the conversation will decide how it will unfurl. Be compassionate and let it out gently. If you begin playing the blame game, your husband is not going to take the news calmly. You need to be respectful and patient.
Nonetheless, be direct and firm. Do not beat around the bush. Also don't give your husband false hopes. If your husband is the manipulative kind, learn to be firm. You have invested a lot of time thinking about the divorce, stick to it.
Don't let thoughts like "I want to divorce my husband but I feel sorry for him" sway you or weaken your resolve, even if your husband plays the victim card or tries to give you a guilt trip about wanting to end the marriage.
6. Prepare yourself for an angry outburst
Chances are that your husband has no idea about your decision. The likelihood that your husband would accept your decision calmly and not retaliate with an outburst is slim. He might shout at you, cry, and blame you for ruining his life.
"Preparing yourself for all of these reactions will help you handle the matter more coolly, with maturity. You could avoid the situation getting ugly with preparation," says Laila.
7. Consider a third party for safety
If you're seeking divorce to get out of an abusive marriage, have a trustworthy third party like a parent, friend or lawyer in the room for safety. A history of domestic violence is proof you cannot peacefully ask your husband for a separation. Always request someone you trust to be with you when you tell your husband you want a divorce.
"Talk to a close friend, who you trust, as feedback on whether you're approaching the situation the right way is extremely crucial. You must also talk to a lawyer to understand what your options are and what is the best way of the situation," says Laila.
8. Take help from a marriage counsellor
Emotions like anger and resentment might cloud your judgment and hinder you from taking the right approach in how to tell your husband you want a divorce. A marriage counselor could help you deal with these toxic emotions in a better manner. The divorce can be approached more peacefully with the help of a counselor.
A divorce coach can also assist in taking the divorce process forward, from getting an attorney to declaring the news to your kids.
Telling your husband you want a divorce can be ugly, especially if you have once loved him very deeply. It takes great courage to make this decision, but you will be much happier once it is all over.
My arranged marriage is not working out but our families want us to reconcile