Ladies, I think we can all agree that getting a bikini wax is not an easy thing to do. While other salon appointments are relaxing, rejuvenating and ones we look forward to, a bikini wax is very different. It fills our hearts with dread to even think of bikini wax pain, let alone walking into the salon.
On days when I muster up the courage to make an appointment, I already know it is going to be my worst day that month. While a silky smooth and hairless bikini area is certainly worth it, having someone spread hot wax on your privates and pull out the hair is nothing short of torturous.
Getting A Bikini Wax – What Is It Like?
Men, you cry about shaving your beard. We just 'waxed' our private parts, okay? Getting a bikini wax is not so simple. It's hard. By this time you might have realized that I recently got myself a bikini wax. Yes, it was for a bikini. No, it was not pleasant.
If you've never gotten one and are wondering, 'What is it like to get a bikini wax?' or 'Does bikini wax hurt?', you can read all about the unpleasantness of the experience here:
1. "Oh God, I am finally doing it!"
Bikini waxes are certifiably naughty. I mean besides the fact that you are letting someone be near your intimate parts, it is also the gateway to incredibly risque clothing. Sexy silk robes, here I come! So, I was very excited. This was because two parts of my bucket list were coming true.
One, I was going to wear a bikini which would look amazing on me. I had been looking forward to it for a couple of weeks. It was a brand new bikini that I had just bought and I could not wait to strut around in it.
Two, I was finally doing something that I had wanted to do ever since I have heard of it – getting a bikini wax! At that time I was not preoccupied with wondering how much does a bikini wax hurt but rather just waiting for the opportunity.
2. "Why does the parlor lady hate me?"
I don't know the answer to this. I mean I have been going to this parlor since I was 17, and I know this to be true, ever since she came at my neck once with the eyebrow thread. I mean there were always the little signs. She laughing at the back of the parlor as I waited for the color to set in on my hair or smirking when I winced in pain, but when it came to getting a bikini wax, she really seemed to have upped the ante.
I don't think anyone has looked at my private parts with so much hatred. She always has so many opinions for me. From what kind of face masks I should use to how often I should wax my legs, and now about when to get a bikini wax. I mean sure, she was doing an excellent job at it, I guess, but, that look on her face made me feel like I was the bahu in a Hindi soap opera.
3. "No more small talk. Please?"
Ladies, you have all been there. That parlor lady looks at you with utter disgust yet continues asking you about everything you have planned. This is the part I hate the most about these salon visits. I mean at least a gynecologist has reasons to ask those questions.
Why does my relationship matter to someone threading my eyebrows or giving me a bikini wax? Worse was when she started discussing her and her husband's relationship arguments from the previous night. I did not want to hear about that.
I mean it's "okay" when it is eyebrows, but, while getting a bikini wax, it was just painful. I stared at her with wide eyes as she continued discussing some movie which I had said I had seen (I hadn't but, it seemed like something I had to say to be accepted), and it became so much more difficult.
4. "Oh lord, why!"
The pain! I mean, when a sister wrote about beauty being a pain, I am sure she was getting a bikini wax as well. Girls, if your boys ask you why it's hard, tell them that it's like someone pouring hot wax over their balls. I mean, I felt like I was going to cry. And sure enough, tears started rolling within half an hour but the pain was so immense that I was not even focussing.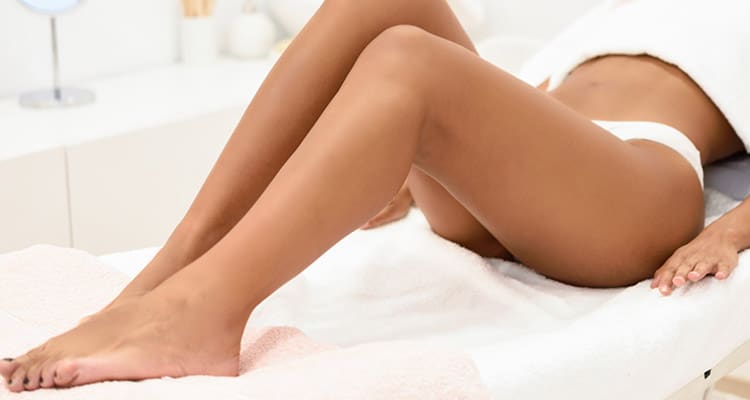 5. "Wasn't worth it"
Does getting a Brazilian wax hurt? Hell, yes. I came out of the parlor feeling all chic and beautiful. However, two hours later, I lay in my bed re-evaluating my life choices and trying to find one proper reason that I was made to suffer through this hell.
So, I made a decision on impulse. All you girls out there, I am selling a bikini right now, hit me up for a bikini that will never be worn, ever, because girls, no piece of cloth is worth this much pain.
FAQs
1. How do I prepare for my first bikini wax?
Just go into it without any second thoughts. Muster up some courage, read up about what kind of wax you think you should invest in, and head in without a doubt in your mind.
2. Is waxing better than shaving?
Both have their pros and cons. Waxing is better as it delays the regrowth of hair far more in comparison to shaving. However, it is far more painful than shaving too.
3. Should I be embarrassed to get a bikini wax?
Absolutely not! You do you. Getting a bikini wax is a personal choice. If you are comfortable then why not. If you are not comfortable, then you do not need to get one.
Planning To Get A Bikini Wax? Here Are 8 Things You Should Never Do!
Our first ever experience of bikini wax and what we learned from it
My Husband Wears Makeup And I'm Finding It Difficult To Accept This