Tell us honestly, are you aware of any dating sites for seniors over 60? Dating or matchmaking for seniors isn't talked about as much as it should be. This disparity is upsetting because everyone needs love. Just because they aren't in the so-called prime of their lives, doesn't mean they don't wish for someone to hold their hands. It can get lonely and blue. That's why romance shouldn't be terminated at any stage or age of life.
In fact, a study has revealed that unmarried or unpartnered older adults are at risk of poorer well-being than the ones who have partners. On the other hand, people who had partners or were cohabiting with another older person were found to have fewer depressive symptoms, less perceived stress, and less loneliness. So, how do older singles meet?
Since the online dating pool has advanced massively over the years, dating is now easy and convenient for senior singles. If you or someone you know is single over 60, perhaps recently divorced or widowed, and ready to let love fill their life with warmth and companionship, now is the best time to look for the right senior match dating site for them.
What Is Senior Dating And How It Differs From What Millennials Do? 
Older people dating again have to overcome various emotional, psychological, and practical hurdles to open themselves up to the possibility of finding love again. When it can be awkward for millennials and zoomers to navigate the cesspool of online dating, it's safe to say that the challenges are far more pronounced for seniors.
For instance, thoughts like "What will my children think of me dating as a grandma?" or "Will it hurt my ex-wife to see me put myself out there so soon after the divorce?" might cloud their desire for finding a new companion. They may want to step back thinking the online dating game is for teenagers, or they might be worried about this: "What am I doing on a date with a person I have never seen before?"
Not only do they have to fight off their own inhibitions and emotional baggage as well as societal stereotypes and prejudices, but they may also have to acquaint themselves with a whole new world of finding love on a smart device. Online dating for seniors is not an easy journey to embark upon. And that reflects in the marked difference between the dating habits of millennials and senior singles. Here are some reasons for this difference in attitudes:
As compared to millennials, older adults hesitate a lot more before uploading a picture of themselves (because of aging)
Young people could be game to meet anyone because they know how to check a person's credibility and authenticity. Senior singles aren't as aware of the dangers of online dating such as catfishing and scamming and may be more prone to falling prey to romance scammers
Their health issues may come in the way of spontaneous meetups and dates
Their dating goals may be different from that of their younger counterparts
Local dating might be awkward for senior single women/men since they might know many people in the vicinity. What if they match with someone like their departed spouse's best friend? Also, they may not want to run into friends and family while on a date
Benefits Of Senior Singles Dating
According to research, in America, approximately 27% of adults aged 60 and older live alone. Within this group, women are more likely than men to live by themselves (20% vs. 11%). A solo life may sound dreamy. You get to watch TV whenever you like, go out shopping as and when your heart desires, and you don't have to cook for another person.
However, this solitary existence can get extremely lonely. There will be times, more often than not, when a person living by themselves will wish they had someone in their life – To cuddle with when they wake up, to share their sorrows and happiness with, and to just be there for them. Getting back on the dating scene can make this dream a reality.
If you can relate to this longing for an intimate human connection but are still on the fence about giving love another chance, some physical and mental health benefits of senior dating may help you make a decision. Here are some reasons to reconsider giving up on love:
Dating improves mood and attitude 
Boosts social skills
Keeps you more active
Offers you a support system
Gives you something to look forward to 
Related Reading: How To Write A Dating Profile – 8 Tips To Make It Stand Out
12 Best Dating Sites For Older Adults Above 60
Online dating and dating sites can be complex and confusing at any age. Even zoomers and millennials who came of age in the midst of disruptive technology find themselves losing sleep over finding dating apps that work for them. Naturally, the prospect of finding love and companionship over an app can seem ever more daunting for seniors over 60 who need to know both the advantages and disadvantages of online dating.
That's why your very own dating coach, Bonobology, is here to help you find the best dating site for an older age group where you can be yourself and find love. This comprehensive list has everything you need. From membership prices to features, pros, and cons. Let's take a look at the top 12 exciting dating sites for seniors over 60 that you can sign up on without any inhibitions.
1. What is the safest dating site for seniors? SilverSingles
Is there a dating site for seniors that promotes romantic relationships? SilverSingles is the answer to your question. It's among the most bankable and impressive dating apps for older people. Working in a super niche space, it does a fantastic job of creating quality matches, especially for those seeking a second chance at love. It is one of the best senior dating apps that matches people based on an in-depth personality test.
| | |
| --- | --- |
| Pros | Cons |
| An extremely safe space for senior singles where they can feel accepted, as this dating app is 100% dedicated to people over the age of 50  | If you want to meet younger people, this isn't the right dating app for you as it only caters to seniors |
| Easy-to-use interface and has both paid and free access to the website | Comprehensive questionnaire which may be time-consuming |
| The biggest SilverSingles advantage is that you can get a professional to assist you with setting up your profile | Cannot see user photos unless you are a paid member of the Silver dating site |
Features
You get 3–7 compatible matches every day
You can send and receive cool ice-breakers to start chatting with other mature singles
Facebook pictures can be directly uploaded to your dating profile
The open search function helps you scan more accounts
Premium features include the Like List and being able to see who visits your profile
Pricing
Has a free version
Premium: 3 months – $57.80
Premium: 6 months – $23.62
Premium: 12 months – $18.70
Related Reading: 11 Dating Sites And Apps For Widows – 2022 Updated
2. SeniorFriendsDate – A free dating site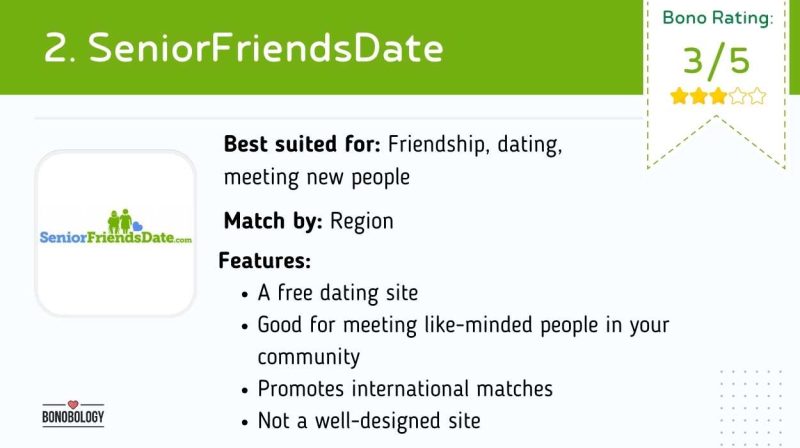 Over 60 dating is now a cakewalk with SeniorFriendsDate. If you're still on the fence about the whole experience and looking for completely free dating sites for over 60s to test the waters, this is a great place to start. This platform boasts a broad user base, which translates into an exclusive community of like-minded seniors with similar goals.
| | |
| --- | --- |
| Pros | Cons |
| This dating site is a great way to connect with local seniors in your vicinity | SeniorFriendsDate doesn't have an app yet |
| The interface is extremely user-friendly and intuitive, designed keeping in mind the needs of the senior user base | Not one of the very safe dating sites for seniors as there's no proof of identity verification. Hence, you need to be wary of scammers |
| Even though there isn't an app, this senior online dating site runs well on your mobile browser | All the profiles are public. If you are a private person, then this may be unfavorable for you |
Features
Singles over 60 meetup is made easy with the search filter based on region
You can use the blocking option to avoid unwanted people and attention
There is a free in-built messaging service to help you connect and take things forward with your matches
They focus on travel interests which promotes people from different countries connecting through the site
Pricing
If you're looking for completely free dating sites for over 60s, this is the one. Unlike other senior dating sites, this online dating website doesn't have paid add-ons or payment plans and no trial plans either.
3. SeniorSizzle
Just because you've reached a certain age does not mean that you're necessarily looking for your religious beliefs and age range to match completely. You might not want a mature relationship at all. This could be the right time for something casual.
Which dating site is best for over 60 if you're looking for a hookup? Keep SeniorSizzle on your radar. It made it to our list of recommended dating sites as it has some of the best success stories of older adults who aren't looking for serious relationships.
| | |
| --- | --- |
| Pros | Cons |
| This dating website offers a more extensive user base  | No mobile app for SeniorSizzle |
| User-friendly interface and design for over 60 dating | The site does not do a background check for criminals, fake profiles, and scammers for active members  |
| You can browse through profiles with free memberships | Not suitable for people looking to have serious relationships  |
Features
This mature hookup site offers model webcams to watch a live model or even join a model's fan club in the paid version
It has many interesting communication features like live model chats, voting and participating in contests, and public chat rooms
Paid memberships allow you to send virtual gifts
Pricing
Has a free version
Gold: 1 month – $40 
Gold: 3 months – $27
Gold: 12 months – $20
4. OurTime is a great senior dating site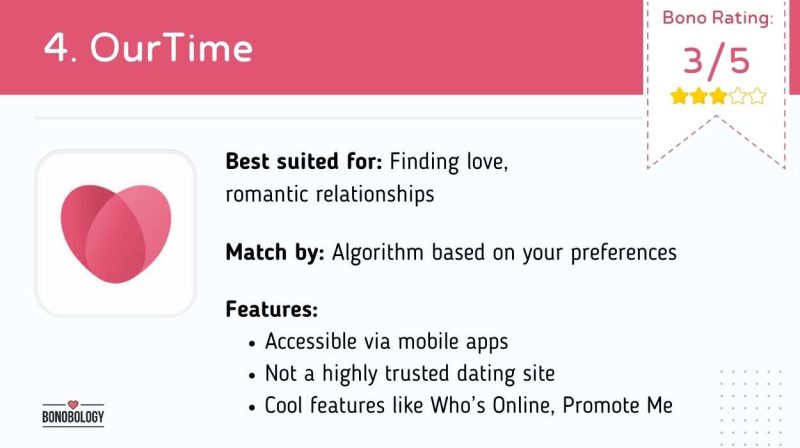 This dating site caters to people who are dating in their 50s, that includes people in their 60s and beyond. It is one of the essential dating sites for seniors over 60 who are seeking romantic connections at a later stage in life. As the name suggests, the dating platform is rooted in the idea that it is never too late to find love and meet someone special.
| | |
| --- | --- |
| Pros | Cons |
| It has apps for both iOS and Android mobile platforms | No verification process, which can make it difficult for verified users to establish trust |
| Profile pictures are visible to all the members regardless of their membership status | You have to be a paid member to send and receive messages  |
| You can search for users near your location and sort the results from the "Who's online" list | The paid membership doesn't have any additional benefits  |
Features
Paying for the Promote Me and Boost features unlocks many bonus features like increasing the visibility of your profile
With the Notify Me option, you can apply a login tracker on someone and receive a notification whenever they log in to the site
You can buy Tokens in bulk that are used for in-app purchases and features like Match Me or Promote Me
Pricing
The free app version has limited features
1 month – $24.99 
3 months – $17.99 
6 months – $11.99
Related Reading: Online Flirting – With These 21 Tips You Will Never Go Wrong!
5. DateMyAge review
DateMyAge is a stellar choice among the very few FREE dating sites for seniors over 60 out there. While this dating platform was curated for singles looking to date in their 40s, it is open to both younger and older users, thus comprising a vast, diverse community of people looking for love and mature relationships. If you know someone in your social circle who's single over 60 and is ready to get back into the game with free dating sites for seniors, definitely recommend DateMyAge to them.
| | |
| --- | --- |
| Pros | Cons |
| Profile verification of free members | Credits are expensive |
| Has dating apps for both Android and iOS users | It's not an algorithm-based dating site |
Features
Offline chat is a great feature to keep in touch with someone at all times
Unlike many senior dating sites, DateMyAge enables you to get on video calls for more intimate conversations
You can send stickers, smilies, and gifts and use the Let's Mingle feature to text multiple people at the same time
DateMyAge reviews give this platform a good rating generally
Pricing
Has a free version 
150 Credits – $22.99 
400 Credits – $144.99 
950 Credits – $269.99 
6. SeniorMatch dating site
As one of the best reviewed dating sites, SeniorMatch is another good choice for older adults looking for love. It's a great site to meet people of the same age group and mindset and interact with them. This singles over 60 meetup platform works to help users connect in real life too, as the matches are suggested based on geographical location and proximity.
| | |
| --- | --- |
| Pros | Cons |
| Promotes real-life connections | There is a slight gender disparity with male users accounting for only 40% of the user base  |
| Exclusive for senior singles  | Not all features are free  |
Features
The Spark feature shows one profile picture and a small bio for a quick review and allows you 50 swipes like this per day
By playing the Fun Questions Game, you can tally your answers in the More About Me section with other users
Friendly Senior Jokes is a great space to visit for your daily dose of humor
Sending winks is a fun substitute for messaging first and showing your interest in someone
Pricing
Has a free version 
Premium: 1 month – $29.95
Premium: 3 months – $19.95
Premium: 6 months – $15.95
7. EliteSingles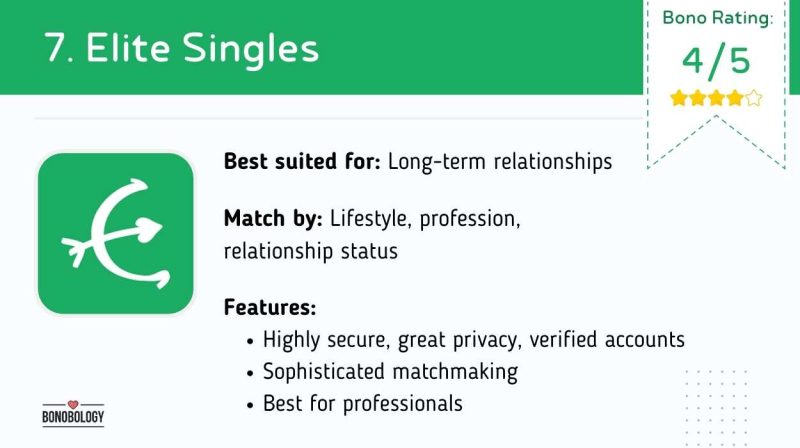 Which dating site is best for over 60 folks who are still ambitious, driven, and pursuing new career goals? Say hello to EliteSingles. This dating app for professionals has been curated to help people match with potential partners based on the similarities in their lifestyles. With a focus on career and financial stability, it matches members based on whom they'd be comfortable assimilating their assets with in the future.
| | |
| --- | --- |
| Pros | Cons |
| Suspicious accounts are immediately banned | Has a limited free trial |
| Comprehensive, realistic questionnaires | Customer service is unresponsive at times |
| Great privacy, filtering, and verification options | No free profile searches |
Features
The app shows you a curated list of potential matches based on your preferences and that too all at once
Also, the Have You Met feature expands your horizon with more user profiles that you can scroll through and like or dislike
The premium membership increases your profile visibility and also lets you see your profile visitors and get read receipts for texts
Pricing
Has a free version but it has very less features
1 month – $54.95
3 months – $37.95
6 months – $27.95
Related Reading: Elite Singles Reviews (2022)
8. MatchSeniors review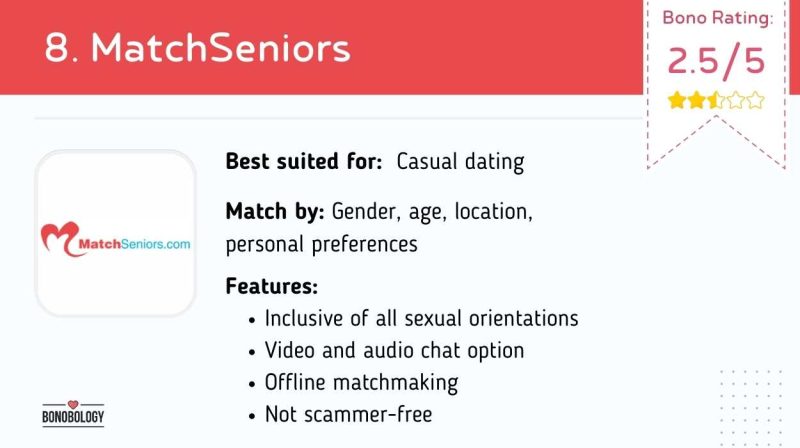 In your search for senior dating sites, you can totally count on the Match Group – A pioneer in the online dating space. This is a flexible and open platform catering to the needs and interests of seniors of different genders and sexual orientations. In short, it's a one-stop solution for all senior dating needs. No matter what you're looking for, MatchSeniors is a bankable answer to "What dating site is best for seniors?"
| | |
| --- | --- |
| Pros | Cons |
| Specifically for senior singles aged 50 and above   | Lack of customer service  |
| Online and offline dating capabilities  | Features vary depending upon the membership service  |
Features
Live chat option is available on MatchSeniors
You can block and report spam profiles
You can invite potential matches to a private chat with you or enter theirs
Pricing
Has a free version
1 month – $36.27
3 months – $60.51
6 months – $96.81 
9. MatureDating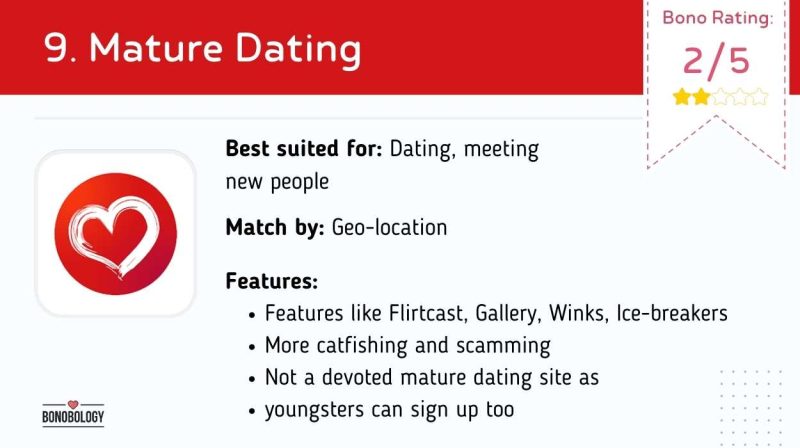 If you are looking to date online successfully, try this dating website. Much like SilverSingles and SeniorMatch, MatureDating is geared toward serious relationships. To help users take their online connections forward in the real world, MatureDating also uses geo-location to help you find a compatible match in your vicinity.
They are also deeply invested in weeding out fake profiles, for which the platform deploys a well-rounded verification process. It sure is one of the most mature dating sites in the true sense of the term as you can look forward to only meaningful connections without the drama of unwanted attention and texts.
| | |
| --- | --- |
| Pros | Cons |
| People in rural areas can expand their search radius if they want  | Not for casual dating and hookups  |
| Lots of tools available to help as conversation starters  | Known to be infested with catfishers and scammers |
Features
With the Flirtcast feature, you can send an introductory message to a lot of matches at the same time
The Like Gallery presents just the profile picture for you to like or dislike instead of combing through full profiles
There are ice-breakers, winks, favorite lists, and a bunch of other cool features to explore
Pricing
Has a free version 
1 day – $1.29
1 week – $8.22
1 month – $30.50
3 months – $83.50
10. LoveAgain.com
LoveAgain.com is among the premium dating sites for seniors over 60. Although it caters to senior dating, anyone above 18 years of age is welcome to join the platform, making it a great choice for those inclined toward May-December relationships. If you are open to dating someone who's your junior by many years or even decades, and you're not a creep, LoveAgain.com is the right platform to get started.
| Pros | Cons |
| --- | --- |
| The sign-up process is quick and simple | You need to be a paid member to access a majority of the features |
| Has robust security features, including profile verification and vetting | No free demo trial account and no mobile app |
Features
LoveAgain.com has very similar features to MatureDating like favorite lists, winks, and browsing profiles
You only receive five chats daily with the free version
You get access to various interactive chat features like Flirtcasts with the paid version
The Who's Online feature is great to know who might be up for a conversation
Pricing
With a free version, you can only browse profiles
3-day membership – $3.15 
1 month – $24.99
3 months – $45.00 
6 months – $72.00 
11. What dating site is best for seniors looking for long-term bonds? Try eharmony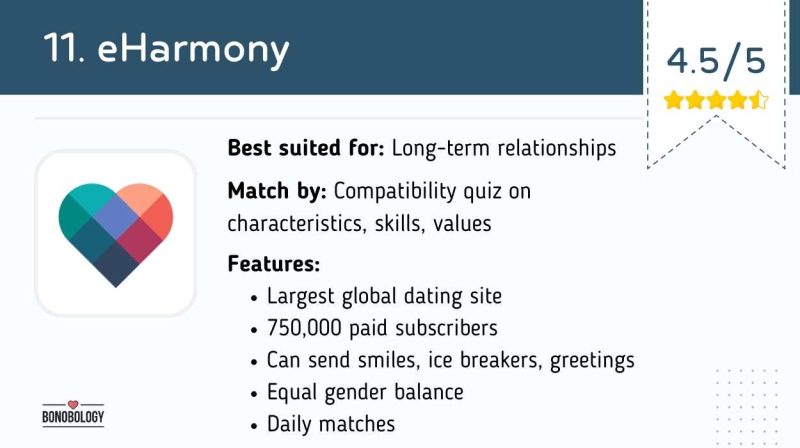 Solely meant for commitment and serious relationships, eharmony is among the most exclusive dating sites for seniors over 60. It is one of the best options available for seniors looking to venture into online dating. As a leading name in the industry with many success stories and a huge membership base of almost 30 million in the US alone, this is a go-to choice for anyone looking to diversify their dating options and connect with like-minded people from different age groups and walks of life.
| | |
| --- | --- |
| Pros | Cons |
| Compatibility test increases the chances of matching with the right person | The sign-up process is long and time-consuming |
| Provides daily matches | No search option available to look for a profile |
| Saves the time and effort that goes into browsing profile after profile | Free membership doesn't give you access to a match's photos |
| One of the best mature dating sites for long-term and serious relationships | Not the best choice for people from the LGBTQ+ community |
Features
The free version lets you see who visited your profile and limited information about those people
It has all the cool features like smiles, ice-breakers, and greetings
The premium version allows you to view photos and check who all have added you to their favorite list
Messaging is unlimited in this version, plus, you receive match recommendations outside your preferences
Pricing
Has a free version 
6 months – $65.90
12 months – $45.90
24 months – $35.90
Related Reading: eharmony Reviews 2022: Is It Worth It?
12. Zoosk
Zoosk has emerged as a leading name in the online dating space owing to its single-minded focus on bringing compatible senior singles together. Senior dating is flourishing on Zoosk owing to the flexibility it offers. Rather than focusing on dating and relationship goals, it helps people connect based on their like-mindedness and commonalities.
| | |
| --- | --- |
| Pros | Cons |
| Easy and quick sign-up process  | Limited free trial period  |
| Multiple filtering options  | You need to be a paid member to send and receive messages  |
| Uses smart technology to make matchmaking easier  | A lot of dead or inactive accounts  |
Features
The Zoosk SmartPick technology finds potential matches for you by studying the kind of profiles you like
With the Hide and Seek features, you can change your profile's visibility by picking 'hide,' 'seek,' or 'sneak'
The Carousel feature gives you a list of 'meet' and 'match' suggestions to choose from
Unlimited messaging and incognito browsing mode are both available with a paid membership
Pricing
Has a free version but it is packed with ads
1 month – $29.99 
3 months – $59.99
6 months – $75.99
12 months – $149
Thumb Rules To Follow For Senior People On Dating Websites
Romance scammers are everywhere these days. That's why it's crucial to practice safety before you splurge on looking for love. It's not just about finding free dating sites for seniors over 60; your work doesn't end until you verify how trustworthy they are. Given that smart devices are not a convenient territory for senior people, we are obligated to offer some must-know safety tips for our dear readers. Here are some important things to remember:
Meet in a public place first: Don't opt for a private place or agree to meet a new person at their place on the first date. Remember, your safety should be your first priority
Stick to your boundaries: You don't have to act or dress a certain way to impress your potential matches. You don't have to compromise your principles just to look cool or up-to-date 
Discuss sex right away: It might be awkward but it's best to discuss sex with a potential date even before meeting them in person. If you don't want to get physically intimate right away, let them know
Be prepared if you are having sex: If you and your potential partner decide to have sex, be prepared with protection. Your age doesn't protect you against sexually transmitted diseases, so don't compromise on safety
Don't share too much personal information: Steer clear of divulging details such as bank account number, credit card number, where you live, or where your children live. If a person asks for the first two things, consider it a red flag. If they ask for your address without creating a bond with you, it's also a red flag
Do not send or receive money in the first few dates: The online dating space is filled with scammers and fake accounts. It's best to stay cautious and refrain from sending or receiving money to anyone, even if you really like them
Alternate Ways To Meet Potential Partners
If you are not comfortable with the idea of online dating, don't lose heart. It doesn't mean you have to give up on your desire to find love again. You can still meet a new person the old-fashioned way and we are here to provide you with alternatives to meeting people without dating apps. Here, you don't have to go through the pain of a comprehensive personality test to create a dating profile and you get to avoid the constant left and right swiping.
Attend events: It could be a fundraising event or an event exclusively dedicated to older adults finding love 
Ask a family member to set you up: Your friends or family members may know someone who is single. Ask them to set you up
Join a yoga class: Yoga is a great way to relieve stress. You can also make new friends and find a potential match here 
Join hobby classes: Pursuing your hobbies or exploring new interests can be a great way to meet new people. Sign up for classes in your vicinity to connect with like-minded people
We believe that you're now equipped with all the cards up your sleeve, from free dating sites for seniors to a list of safe apps and sites for senior singles dating. Since you have a lowdown on the right dating sites for seniors over 60, there is only one thing left to do – Get off the fence and into the arena. Whether you're looking for a serious relationship or the thrill of casual dating, we wish you success and smiles.
Ask Our Expert
You must be Logged in to ask a question.