The emergence of dating sites for seniors over 60 is proof that more and more people are seeking to spend their golden years living life to the fullest. They are seeking companionship, love, fulfillment, and age does not impede their pursuits. In today's tech-driven lifestyle, it also means wading into the waters of online dating.
Online dating can be complex and confusing at any age. Even Gen-Zers and millennials who came of age in the midst of disruptive technology find themselves losing sleep over finding dating apps that work for them. Naturally then, the prospect of finding love and companionship over an app can seem ever more daunting for seniors over 60 who need to learn the ropes of online dating at an advanced stage of life.
That being said, seniors definitely have a few things going for them that their younger counterparts don't – they have greater clarity on what they seek from their dating experience, they have been navigating the maze of love and relationships longer than people in their 20s and 30s have been alive, and they are more straightforward in their approach. As it turns out, the odds aren't as daunting as they first seem to be.
Sure, the senior dating pool may not be as exhaustive but with the right dating sites for seniors over 60, you can surely find someone who's the right fit for you. So, let's get started.
12 Best Dating Sites For Older Adults Above 60
Which dating site is best for over 60? You may have found yourself asking if you have been considering getting back on the dating scene. Arriving at the right answer requires factoring in not just your dating goals but also the credibility and security of the dating platform you're signing up on.
With so many romance scammers and catfishers lurking in the webspace, actively looking for unsuspecting victims, you can never be too cautious about protecting your heart and also your life's savings. With that in mind, let's take a look at some of the 12 best dating sites for seniors over 60 that you can sign up on without any inhibitions:
1. SilverSingles
SilverSingles is among the most bankable and impressive dating sites for seniors over 60. Working in a super niche space, it does a fantastic job of creating quality matches, especially for those seeking a second (or third or fourth) chance at love. The matches are based on in-depth personality surveys, resulting in great odds for connecting with someone truly compatible with you.
You can count on SilverSingles if you're looking for someone to build a strong, lasting relationship with. Although it is not among the free dating sites for seniors and comes with a pricey premium subscription, the ultimate online dating experience you get in return makes it worth every penny.
Related Reading: 11 Dating Sites And Apps For Widows – 2022 Updated
You can get started with the free trial account, however, to unlock functionalities like unlimited communication, ability to view other users' photos and see your profile visitors, you'd need to upgrade to a paid membership. If you're seriously looking for a genuine connection with an educated, intelligent, well-established and like-minded person, SilverSingles ought to be at the top of your list of dating sites for seniors over 60.
USP: In-depth personality surveys to find quality matches
Verdict: Great for people looking to date seriously. 9/10 
2. SeniorFriendsDate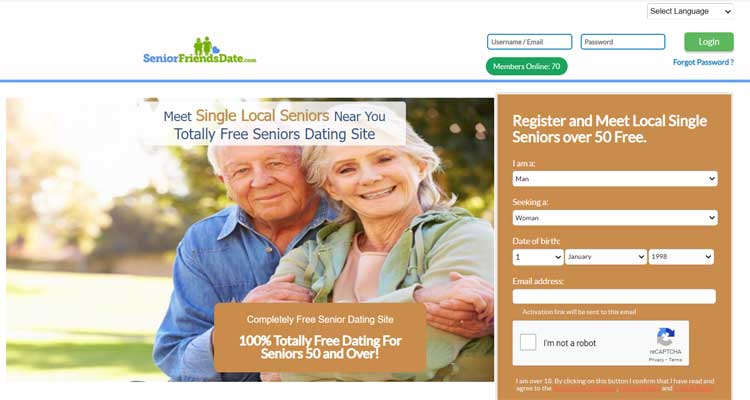 If you're still over the edge about the whole experience and looking for completely free dating sites for over 60 to test the waters, SeniorFriendsDate is a great place to start. This platform boasts a wide user base, which, in turn, translates into an exclusive community of like-minded seniors with similar goals.
This dating site is a great way to connect with local seniors in your vicinity. What's more, SeniorFriendsDate isn't solely a dating site and also offers avenues to forge friendships with like-minded people. They also perform regular audits of their user base to weed out inactive or fake profiles, thus enhancing the user experience and addressing concerns regarding internet safety while dating online.
The interface is extremely user-friendly and intuitive, designed keeping in mind the needs of the senior user base. You simply need to register, complete your profile, add a few photos, and you're ready to match with other singles near you. There is a free in-built messaging service to help you connect and take things forward with your matches. The only limitation is that this dating platform doesn't have an app yet.
USP: Completely free dating site to connect with seniors in your vicinity
Verdict: User-friendly dating site for meeting other seniors near you but could benefit from a mobile app. 8/10
3. SeniorSizzle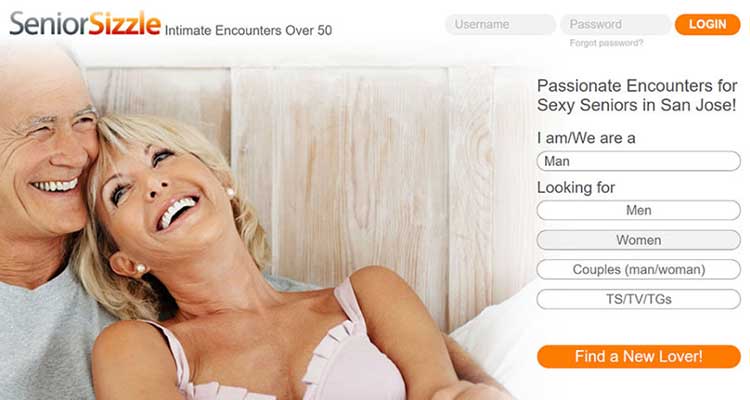 Which dating site is best for over 60? The answer to that question also depends on what you seek from the dating experience. Just because you've reached a certain age does not mean that you're necessarily looking for something stable and long-term. In fact, on the contrary, the 60s are a great time to explore fun relationships and experiment with different forms of romantic connections after you've been through the experience of marriage or long-term relationships.
SeniorSizzle recognizes and caters to that. This is among the rare dating sites for seniors over 60 that focus on casual relationships. It brings the trends of hookups and casual dating predominant among the younger generations to the senior dating space. That's truly refreshing.
It is also extremely straightforward and user-friendly in terms of interface and design. All the features are easy to access and explore, and users can find their way around this dating platform even with the most basic computer skills. SeniorSizzle too isn't one of the free dating sites for seniors over 60, however, its paid subscriptions are not too steep.
USP: Senior dating site for casual relationships
Verdict: Worth exploring for seniors looking to keep things casual. 8.5/10
4. OurTime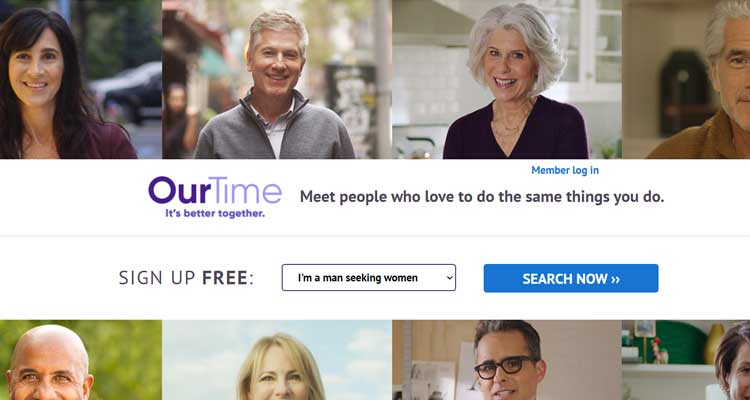 OurTime is yet another niche platform exclusively catering to senior dating. Although it caters to the dating needs of singles over 50, that does include people in their 60s and beyond. It is one of the essential dating sites for seniors over 60 catering to the specific needs of people seeking romantic connections at a later stage in life. As the name suggests, this dating platform is rooted in the idea that it is never too late to find love and meet that someone special.
What truly sets OurTime apart is its all-encompassing outlook on intimate connections between two people. Rather than cater to just those looking for long-term commitment or casual relationships, it helps you find that perfect companion in whatever form you desire. Whether you're looking for a pen pal, a friend, a companion, a long-term romantic partner or even a spouse, OurTime matches you with people who're seeking the same thing as you.
Related Reading: Online Flirting – With These 21 Tips You Will Never Go Wrong!
With a user base of over 8 million, you can count on this dating platform to turn your dreams of finding that special companion into reality. While it's not one of the free dating sites for seniors, it's definitely worth investing in.
USP: Caters to all kinds of dating and companionship needs
Verdict: A versatile dating site for seniors. 9/10
5. DateMyAge
DateMyAge is a stellar choice among the very few completely free dating sites for over 60s out there. While this dating platform was curated for singles looking to date in their 40s, it is open to both younger and older users, thus comprising a vast, diverse community of people looking for love and relationships.
Given its global presence and wide user base, DateMyAge is a great platform to widen the horizons of your search for a romantic connection. Who knows you may end up clicking with someone much younger and that too from a different side of the world! For all those embracing a carefree outlook and seeking out new experiences, DateMyAge is the right platform to truly soak up that vibe.
It also provides a rare combination of credibility and affordability, being one of the few leading dating platforms that still offer its services for free. It has a quick and hassle-free signup process and a simple user interface.
USP: Diverse pool of dating options
Verdict: Credibility meets affordability in this leading dating platform that's free to use. Users from all over the world and of all age groups mean you can truly broaden your dating avenues. 8.5/10
6. Senior Match
Senior Match is another good choice among dating sites for seniors over 60 for meeting like-minded people and interacting with them. This platform works to help users connect in real life too, and that's why the matches are suggested based on geographical location and proximity.
One limitation of Senior Match is that the pool of options can be quite limited, depending on your location. For example, if you live in a small town or the countryside with not too many single seniors in the vicinity, your chances of finding a match can be slim.
Nonetheless, it's a bankable choice for those looking to form a connection that transcends from virtual space into real life. If you're looking to go from meeting online to a first date, Senior Match is a good place to start looking for potential matches.
USP: Promoting real-life connections
Verdict: Can be a great way to meet local singles, provided there are any in your vicinity. 7/10 
7. EliteSingles
Which dating site is best for over 60 who are still ambitious, driven and pursuing new career goals? Say hello to EliteSingles. This dating app for professionals has been curated to help people match with potential partners based on the similarities in their lifestyles. With a focus on career and financial stability, it matches members based on who they'd be comfortable assimilating their assets with in the future.
It is a mature dating space for ambitious people, and seniors over 60 who have not only peaked the arc of success but continue to be driven to pursue new goals make the perfect fit here. If you're a workaholic you can't remember the last time they took a day off and want to continue on the path through your 60s and beyond, EliteSingles is a great place to build romantic connections on a strong footing and sans surprises.
USP: Connecting ambitious, career-driven people
Verdict: Can be a great place for wealthy and professionally successful seniors to connect with someone like-minded but it's not a dating platform for everyone. 6.5/10
8. MatchSeniors
Speaking of the best dating sites for seniors over 60, you can count on the Match Group – a pioneer in the online dating space – to have a stellar offering up its sleeve. That's exactly what you find in MatchSeniors, a dedicated platform for seniors looking for commitment and love.
This is a flexible and open platform catering to the needs and interests of seniors of different genders and sexual orientations. In short, it's a one-stop solution for all senior dating needs. No matter what you're looking for, MatchSeniors is a bankable answer to which dating site is best for over 60.
Related Reading: Virtual Dating – Is It Here To Stay?
Users have the option to connect with fellow users based on their preferences, goals, age, and location. While it offers a host of features, the core functionality is matchmaking that eventually leads to offline dating opportunities. And did we mention it's among the completely free dating sites for over 60?
USP: Matchmaking that translates to offline dating opportunities
Verdict: A one-stop solution for all senior dating needs from the most reliable name in the online dating space. 9/10
9. Mature Dating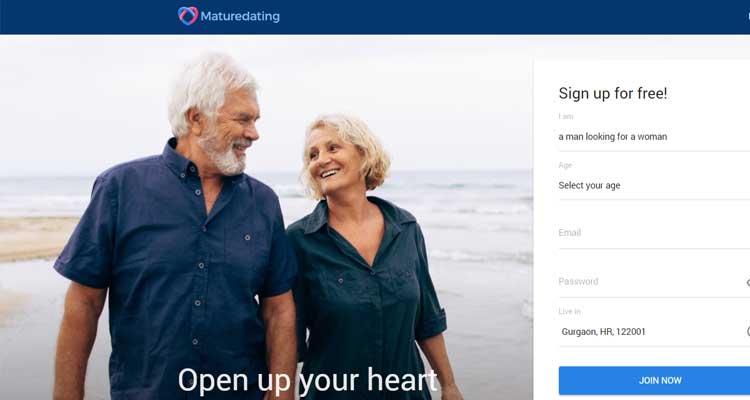 Mature Dating is among the more popular choices of dating sites for seniors over 60, especially in the US. Although the dating platform caters to seniors over 50, that by default covers those in their 60s and beyond too. Much like Silver Singles and Senior Match, Mature Dating is geared toward serious relationships.
To help users take their online connections forward in the real world, Mature Dating also uses geo-location to help you find a compatible match in your vicinity. However, it offers the option of expanding the search radius if you're unable to find quality matches around you. They are also deeply invested in weeding out fake profiles, for which the platform deploys a well-rounded verification process. If you've been wondering which dating site is best for over 60 from the security point of view, keep Mature Dating on the radar.
It also offers a lot of tools to help seniors get acquainted with the interface and start conversations with their matches. All in all, a bankable choice to foray into online dating successfully. While it's not one of the completely free dating sites for over 60, you can get limited access free of cost. To make the most of this dating platform's features and find suitable matches, signing up for paid membership is recommended.
USP: Promotes serious, long-term relationships
Verdict: A safe online dating avenue for those looking for a meaningful connection. 8/10
10. LoveAgain
LoveAgain is among the premium dating sites for seniors over 60. Although it caters to senior dating, anyone above 18 years of age is welcome to join the platform, making it a great choice for those inclined toward May-December relationships. If you are looking to date someone who's your junior by many years or decades even, LoveAgain is the right platform to get started.
The signing up process is quick and simple – you enter details like age, gender, interest, postal code and so on, confirm your email, and are ready to start exploring potential matches. However, since the platform offers automated match suggestions based on the information you share, the more accurate your profile, the better the quality of matches.
Related Reading: How To Write A Dating Profile – 8 Tips To Make It Stand Out
LoveAgain comes loaded with interactive features like winks, in-app messaging, and pre-set template messages called flirtcasts, and also robust security features that include profile verification and vetting. All of these functionalities do cost a pretty penny though. This isn't one of the free dating sites for seniors.
USP: Senior dating site that accommodates users above 18
Verdict: Can be a great place for age-gap matches, comes loaded with features but at a premium price point. 8/10
11. eHarmony
Although it's not among the exclusive dating sites for seniors over 60, eHarmony is without a doubt one of the best options available to seniors looking to venture into online dating. As a leading name in the industry with a huge membership base of almost 30 million in the US alone, this is a go-to choice for anyone looking to diversify their dating options and connect with like-minded people from different age groups and walks of life.
eHarmony is also a site meant solely for people seeking commitment and lasting, meaningful connections. If you're serious about finding love again, this is a dating site you mustn't let slip off your radar. It is, however, imperative to be invested in the process and take the time to complete the matching quizzes and personality surveys to find quality connections.
While the process of signing up may be somewhat long drawn out, it is in no way complex. Even someone with the most basic tech capabilities can navigate minimalistic and contemporary design.
USP: Quality matches for serious relationships
Verdict: A reliable name in the online dating world you just cannot go wrong with. 9/10 
12. Zoosk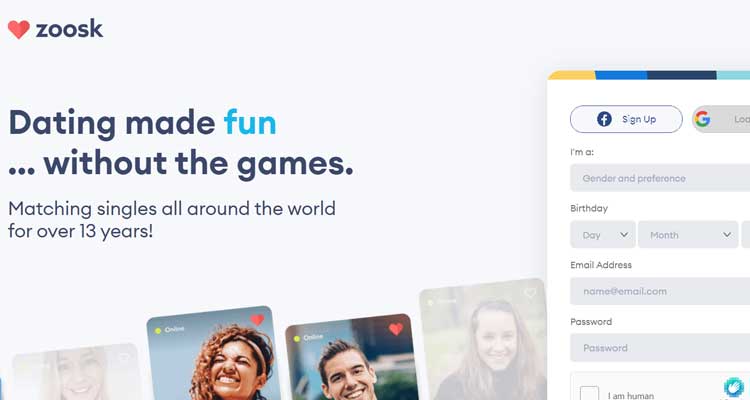 Zoosk has emerged as a leading name in the online dating space owing to its single-minded focus on bringing like-minded people together. This is also the reason why it's fast becoming a preferred choice for seniors looking to turn a fresh leaf in their dating life.
Senior dating is flourishing on Zoosk owing to the flexibility it offers. Rather than focusing on dating and relationship goals, it helps people connect based on their like-mindedness and commonalities, leaving it to them to decide what kind of relationship they're interested in. Another drawcard that makes Zoosk rank among the dating sites for seniors over 60 is its Behavior Matchmaking.
Related Reading: 18 Dating Tips To Find The Right Person
The platform understands its users not based on the information they share but their online behavior – the people you search for, the profiles you respond to and the kind of messages you send all determine how your behavior profile shapes up. Zoosk relies on these behavior profiles to suggest matches for its users. This means the more active you are on the platform, the better your odds of finding that 'perfect' match.
USP: Behavior Matchmaking
Verdict: The right fit for different dating goals, flexible and versatile. 8.5/10 
Now that you have a detailed lowdown on the right dating sites for seniors over 60, there is only one thing left to do – get off the fence and into the arena. Whether you're looking for love or the thrill of casual dating, we wish you success and smiles.