The Origin of Galentine's Day
This holiday was started by the fictional character Leslie Knope from NBC's award-winning comedy Parks and Recreation to celebrate the women in her life. Leslie was famous for loving, respecting and appreciating all women in her life. She expresses her feelings about the special women in her life through quotes like
Hoes before bros
Uteruses before duderuses
Ovaries before brovaries
So you can see she does not mince her words.

Related reading: 5 women share their experience of one-night stands
Adapted to real life
Lately, this beautiful festival has been spilled over to real life and more and more women are celebrating Galentine's Day with all the women in their lives, they are thankful for. The day is a beautiful combination of female camaraderie and appreciating each other.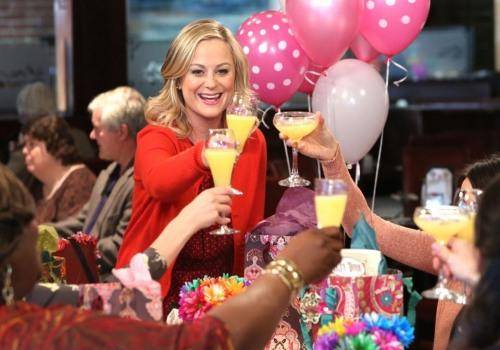 When it is celebrated
The day you celebrate your romantic love for your partner is 14th February, the Valentine's Day. Before celebrating your love you must celebrate the person you are and the women who have been helping you in becoming that person. So Galentine's Day is celebrated on 13th February.
How about starting to plan out a Galentine's Day party right now!

Related reading: 5 things men can do for better foreplay!
Where to celebrate
Leslie used to celebrate it in a restaurant over breakfast. You can do that.
Or you could play around with your own ideas taking into consideration your budget and the available time at hand for everyone.
At your home
At a spa over massage or mani-pedi
A slumber party involving movies/TV shows celebrating girl power or/and making you drool over few hot bods.
Over a short trip to a nearby get-away 


Related reading: Top 5 qualities women admire in their men
How to celebrate
The overall party planning depends on your individual style. Here are a few suggestions to help you out.
The lady guests can be welcomed with a welcome drink and innovative names like Ma'amhito
After the drink they can be handed out a tiara or a crown saying something fun like 'The Princess' or 'My Galentine' or 'The Slayer'
There can be a gift exchange system like the 'Secret Santa' where all ladies may bring a gift of a fixed amount and keep it inside a big box. At the end of the party all can collect one gift each from the big box
You can play party games, which will involve your relationship. You can test if they remember when they met each other for the first time. Or if your female colleague can guess your office crush?
Using your skills to do nail art on each other's nails is a great idea too
To thank everyone for being an inspiration to you, like Leslie you can write a personal letter to each girl. They can read the letters in the party so that you will see their reaction.
The Galentine's Day is never complete without the gift bags. You can buy some gifts for each bag keeping in mind the respective receiver's choice. Or you make something to give it a personal touch. You can bake something or knit something depending on your choice.

The guest list of your Galentine's Day party:
This day is not for your girlfriends only but for all the women you admire and love in your life. The guest list should reflect this idea. It could have the following mix of people:
Girlfriends
Female colleagues
Female relatives
Any other women you admire like the checkout girl at the grocery store or your child's teacher
Have a smashing Galentine's Day, girls!