Arjun Kapoor and Malaika Arora made their relationship official recently. The stigma associated with older woman younger man relationships hardly has any weightage in today's world. One study has found that age difference does not matter to the couples as much as it matters to other people outside the relationship1. Despite the insecurity associated with such a relationship, women desire younger men for their vitality, whereas men desire older women for their maturity and poise. Interested to know more such facts about the relationship between older women and younger men? If yes, then read on.
12 Facts Of Older Woman Younger Man Relationships
It is surprising to know that one third of women between the ages of 40 to 69 prefer dating a much younger man. An AARP poll in the US came to the conclusion that one sixth of women who are in their 50s preferred being in a relationship with men who are in their 40s2. The same goes for men as well. Even they love being with a woman who has a strong character, is responsible and well established in life. For many the older woman younger man relationship works wonders. Let us help you get acquainted with 12 facts of older woman younger man relationships.
1. Sexual compatibility of such a relationship is impeccable
Research has shown that women reach the peak of their sexual life when they hit their 30s and 40s and men when they hit their 20s. This means that sexual compatibility between younger men and older women is usually impeccable. In fact, this is an older woman younger man relationship advice many psychologists and sociologists give.
Men obviously get attracted to the idea of being with a woman who is passionate, sexually free and knowledgeable as well.
2. Economically older woman younger man relationship survive smoothly
In recent times, the wage gap between men and women has narrowed down to a great extent. A majority of men are comfortable with the idea of the older women earning more and being more focused on their careers. In the same way, women are not that bothered with the fact that their younger boyfriend/spouse is earning less. Both are able to respect each other's professions and their economic life tends to be smooth. For men, this is one huge advantage of dating older women! There is no denying the fact that an older women is financially secure and that gives a greater security to an old woman young man relationship.
Related Reading: 10 Must Watch Younger Man Older Woman Relationships
3. Health-wise also, older woman younger man relationships are suitable
Life expectancy of women is five years more than men, and according to a BBC study, this particular trend is caused by lifestyle changes, not by biology. This is an older woman younger man relationship advice that is often given. By choosing an older woman, a man ends up being with a person who is his physiological equal and health peer.3
4. Such relationships cross dominantly held social boundaries
Societal norms and boundaries created by notions such as caste, race, religion, etc. do not seem to bother the mature female and young male couple 4.
They are most of the time willing to cross the social boundaries to give the message to everyone in the world that love is more important than these divisions of the society.
Despite facing hardships, the couple keeps persevering to keep their bond alive and strong. In an older woman younger man relationship the couple works harder on the relationship to keep things going.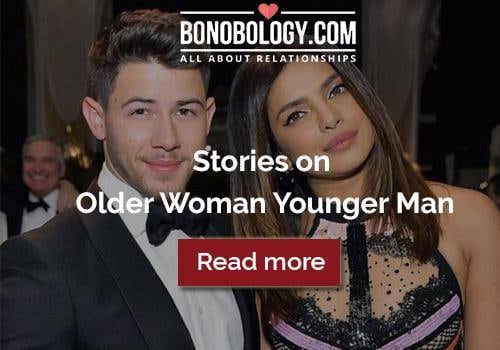 5. The couple still has to face many criticism and questions from society
An older woman younger man couple show the courage to be together with each other. But alas, old prejudices associated with such a relationship do not actually leave them alone.
People around the couple keep showing red flags and making insensitive comments about their relationship. Some people even refuse to socialise with the couple just because they did not follow the societal norms.
6. Clashes regarding career or commitment are common
There is a possibility that in older woman younger man relationships after a point of time they are not interested in continuing. This means either the man is not ready to commit seriously to the relationship or the woman is focused on her career and thus is failing to be serious in the relationship. So, unfortunately, such a relationship is characterised by clashes related to career or commitment. This could be a flaw in a older woman younger man relationship that needs to be worked on.
7. Older woman in the relationship generally has to face a lot of dilemmas
First of all, she has to face the brunt of the society more than the man. Second, she is always living in this fear that the man will leave her for a younger, sexier woman.
And last but not the least, she has to be the responsible one most of the time, making it really difficult for her to understand her role in the relationship. She keeps wondering if the guy will be able to understand her point of view or not.
Older women also understand that it may be difficult for them to find someone else, and sometimes continue to be in the relationship just for this reason.
8. No useless drama characterises the relationship
When an older woman and younger man get together to start a new relationship, one can be confident about the fact that useless drama will not characterise their relationship. They both know what they exactly want from their life and the relationship. There are no unimaginable expectations from each other and communication between the two of them is usually straightforward and smooth. This ensures that an older woman younger man relationship remains strong and devoid of unnecessary drama. Even when in a long distance relationship, they make it work.
9. Life of such a couple is exciting and fun at all times
Both older woman and younger man are free of any inhibitions, due to which they are able to enjoy their lives together to the fullest. The couple does not shy away from exploring new places, meeting new people and trying out new hobbies and pursuits. Through all this, the couple gets closer to each other and achieves fulfillment in their lives in older woman younger man relationships.
Related Reading: 8 Relationship Problems Faced By Couples With Huge Age Difference
10. Older woman and younger man learn a lot from each other
When in a relationship with an elderly lady, the man tends to learn to grow and become a better person under her guidance. He gets to know how to behave as a mature man. On the other hand, the woman also learns about the ways of the modern world by enjoying the young man's companionship. This is the best part of an old woman young man relationship.
11. Satisfaction in the relationship might decline after 6 to 10 years
While the relationship between the young man and older woman is able to survive the test of time, it is likely to experience decline in satisfaction, after, say, 6 to 10 years. This is because the couple has not really learned to cope with challenges and negative shocks that life has to offer. A study has found that those having a 10-year age gap have 39% chances of divorce, whereas those having a 20-year age gap have 95% of chances of divorce.
12. Couple usually faces the problem of starting a family
Probably the couple is thinking of starting a family. But this might become an issue because of the woman's age and biologically the woman's fertility might not be suitable for her to become a mother. Sometimes the woman or the man might not be interested in starting a family, whereas the other partner might be interested. This can cause a lot of resentment between the couple. This aspect is one of the biggest downside of an older woman younger man relationship.
We hope that through this article we have given you a clear picture about why a young man would be attracted to an older woman and about the relationship they are likely to share with each other. Remember, it is only through perseverance and strong bonds of unity that such a relationship is able to last long.
6 Bollywood Movies Where The Lead Characters Have Had A Huge Age Difference