Today, we will walk you through one of the most unbiased Feeld reviews. But before that, let's share a story to make you feel a little at home with the whole idea. A long and happy marriage later, Michelle and Ethan realized boredom is taking over their bedroom. The same old act night after night, it was missing that extra spark. "What if we invite another person between us?" one of them finally suggested, and they instantly found themselves on the same page!
Well, they didn't want to weird out or spoil their friendships. Neither did they want to put up with the critical frowns and statements of "How can you even propose something like this? This is preposterous!" So, after some digging on the internet, they found their paradise. Enter Feeld, the happy place for all sex-positive singles and couples. 
We can see a bag full of questions shot our way. What is Feeld? Is Feeld legit? How to be successful on Feeld? Is it a couple dating site or singles can sign up too? Does Feeld work the way they advertise? If you have chosen ours out of all the Feeld reviews out there, rest assured, your curiosity will be thoroughly quenched. Sit with a cup of coffee and we will start right away.
What Is Feeld?
Let's face it, it's the 21st century and we shouldn't have to look for inclusivity in a few specific dating apps but sadly, here we are. If you are gender fluid and mention that on your online dating profile, some users might ask you to explain it on regular dating apps. On that front, the Feeld dating app would beat the competitors any day now! 
Feeld app welcomes 20+ gender identities and sexual orientations and provides the safest space to those singles and couples who are in search of an alternative dating experience. As per the Feeld reviews, unlike the rest of the world, this community doesn't judge you for who you are. In fact, the more explicit and precise you are about your preferences, the better your chances of success on Feeld. 
Back in 2014, when the Feeld app was first launched in London, it was called 3nder for a short time. They had to rebrand the 3nder dating app as Feeld soon after, followed by a dispute due to the uncanny similarity of its name with Tinder. However, the founders, Ana and Dimo, claimed that they hardly had any intention to go down the same road as Tinder. Rather, they wanted to present a secure platform for open-minded singles and couples to be upfront about their fantasies and desires and find matches with legit Feeld profiles. 
Some may label 3nder Feeld as a threesome dating site or a hookup app but it's so much more than that. What is Feeld then? This dating site for couples and singles promotes kinky romance, ethical non-monogamy, alternative relationship structures that go beyond the heteronormative script, and above all, authenticity. If you read any Feeld app review on the internet, you will see that people are candid and communicate openly on this platform. Whether it's a genuine suitor that you're looking for or a one-night stand with another couple, the Field dating app won't disappoint anyone. 
Related Reading: eHarmony Reviews 2022: Is It Worth It?
How To Sign Up On Feeld Dating App
You're wondering, "What's all the hype with the Feeld reviews online? Does Feeld work as well as they say it does?" Well, why don't you give it a shot for a couple of months and see the results for yourself? 3nder (Feeld) is available on both App Store (iOS) and Google Play Store (Android). It won't cost you a single penny to install and register on the Feeld dating app. 
Sign up using your email address 
Start the signup process by confirming you are an adult (18+)
On the next page, select whether you want to enter via email or Facebook 
Type out your email address 
You will receive a link on your email account 
Click on it and you will be directed to your brand new Feeld app account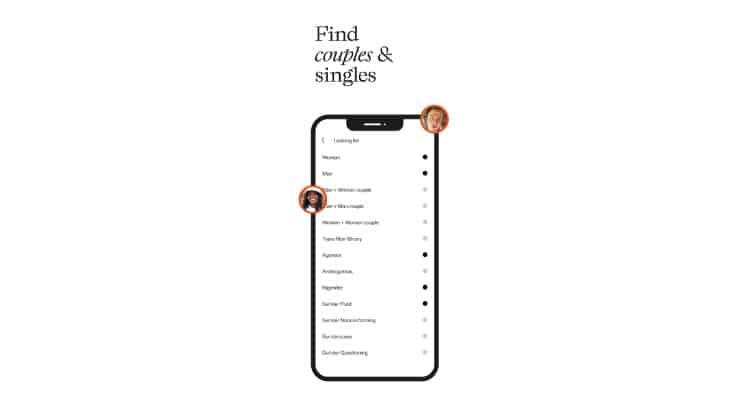 Sign up using Facebook
Start the same way and choose FB instead of email this time
They will ask you to log in on Facebook from the app 
You will receive an authentication message from FB to confirm you want to continue to Feeld 
Once confirmed, you will land on your Feeld account
Wasn't that simple enough? Now that you are officially on the field, it's time to vamp up your profile. Do you know what attracts people to your profile like moths to a flame? A decent headshot. If you are not sure how to be successful on Feeld, start editing your Feeld profile by choosing the right profile picture and then move on to the About section. Here, be specific while describing yourself and select your gender and sexual orientation, as well as who you are interested in. There you go – all set to hit the first match!
Feeld Dating App – Pros And Cons
And we have reached the most fun part of our Feeld dating app review. Let's find out what makes this couple dating site amazing, and why it yields so many stellar Feeld reviews. Plus, you get a reality check on Feeld's shortcomings as a hookup app too. 
| | |
| --- | --- |
| Pros | Cons |
| Your sexual orientation would be completely private | Video calling, GIFs, etc. are not available on the chat option |
| Couples can create paired profiles and polycules can create group chats  | Feeld doesn't have a web version  |
| Strict verification process to provide you with a safe dating space  | Not the most ideal place if you are looking for a serious relationship |
| Find your potential matches from a  non-judgemental, open-minded community  | Comparatively smaller user base than other popular dating sites  |
| Open to all sexual orientations and gender identities  | The app still has some glitches |
| You will receive profile suggestions from people of all gender identities | There are more male members than members of other gender identities  |
| For singles, it's a great place to explore and experiment with their sexuality | Some profiles with fake pictures might arouse suspicion  |
| Individuals and couples can enjoy the experience of alternative relationships and ethical non-monogamy | Feeld is not for you if you are queerphobic |
| Very user-friendly interface, nothing complicated at all | Lesser number of matches as compared to other popular apps |
Quality Of Profiles And Success Rate
The New York Times says, "Feeld is a dating app with options that put the Kinsey scale to shame." Let's dive deep into Feeld reviews and check whether they provide what they promise. Is Feeld legit or are you still at risk of falling prey to a Feeld scam? 
Well, I guess we can't entirely rule out the possibility of having a certain percentage of creepy accounts on every dating app. It's all about being extra careful to dodge the obvious dangers of online dating. But on average, this dating site for couples is studded with genuine users with a 60% density of couple members. You will come across many attractive bios on a regular basis. 
Their two-step verification process eliminates the number of fake accounts to a great extent with a high response rate. 3nder dating app claims to have sealed over 2 million matches and around 30 million text messages are exchanged on this platform every month.  
One thing you should know about Feeld is that they are still growing their association in certain places. So if you are not from a big city or located near the Feeld Cores, you may notice a scarcity in the number of potential matches. 
Related Reading: 20 Valuable Tips For A First Date After Meeting Online
On a good note, Feeld is highly sensitive toward discrimination. Many Feeld reviews suggest that members can get banned from the app for violating their community guidelines. Plus, you would hardly spot any nudity or obscene content even though it's a kinky threesome dating site. The app takes consent and sex positivity seriously, as most kink communities do.
Feeld Dating App's Best Features
We promised you an unbiased Feeld review and we can't overlook the downsides of this application for the sake of impartiality. The Feeld dating app may excel in inclusivity and community-building, but when it comes to exciting features on the app to make it more attractive, Feeld takes a back seat. It only offers the bare minimum to enable people to connect with like-minded fellow Feelders. If you are a glass-half-full kind of person, you will find it less complicated and user-friendly. We will take a quick glance at the features to get you used to the concept of Feeld and how it works: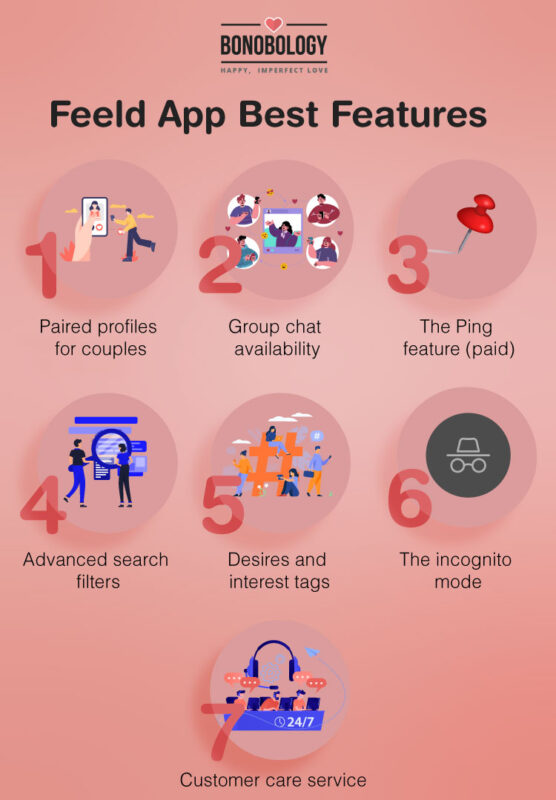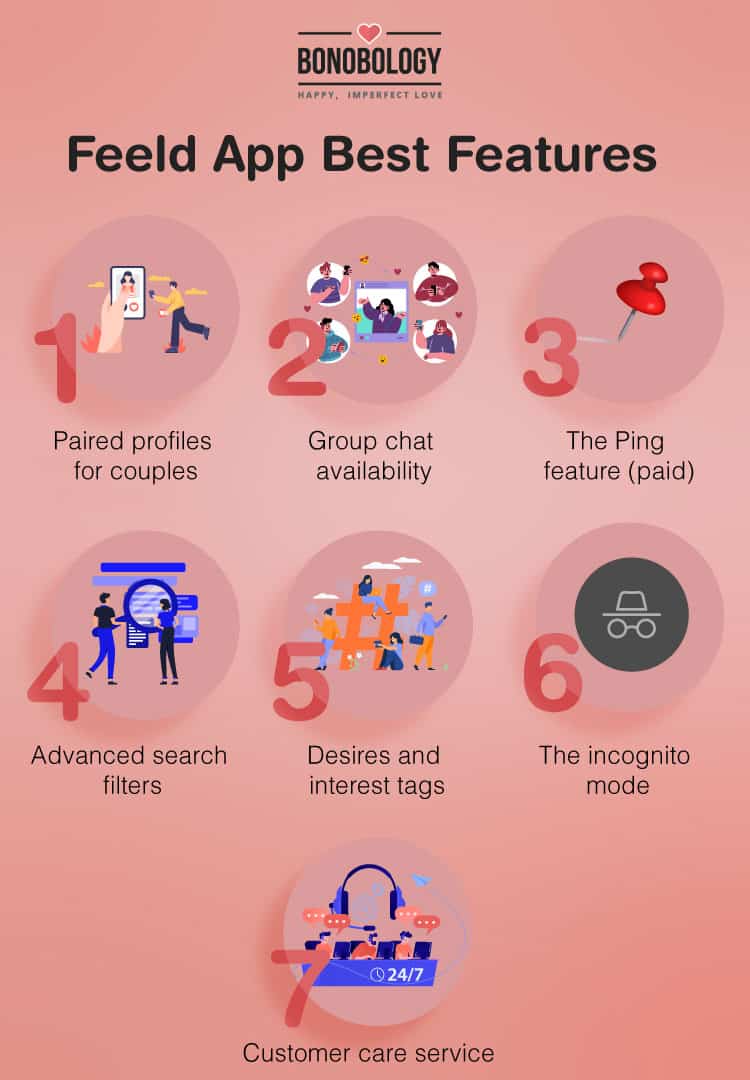 Paired profiles and group chats 
There is a reason the Feeld app is an effective dating site for couples. It will be convenient for a couple to chat together with a new person when they are looking for a threesome mate. And that's exactly what Feeld lets you try – two partners or spouses can link their profiles to explore the app in pairs. 
When a single person is trying to join a couple for an open relationship venture, the group chat feature comes in handy. Here, you can add your partner to the chat so that the three of you are comfortable with each other from the get-go and there is no element of surprise when you finally meet in person. 
Search filters 
There are many dating apps that don't offer you the steering wheel to drive in different directions and search for your perfect match – well, at least not for free! In the Feeld app, you can customize the search settings just as you like and find out a tailored match with desires and interests the same as yours. So, what can you control under the search filters? 
A distance range of 4 mi-249 mi, an age bracket for your potential matches, and your gender preferences. You can filter Feeld profiles by their desires and their 'last seen' for better chances of success on Feeld although this particular one is a premium feature. For a larger pool of members, you can select a Feeld Core and meet more people every day!
Related Reading: 21 LGBTQ Flags And Their Meanings – Know What They Stand For
Chat 
The chat box on Feeld is completely free to use after you have connected with another member or a couple. Its sole purpose is to let you send and receive messages. You don't get the privilege of video chat or using GIFs and other graphic elements. However, you can record and share short 15-second videos with your connections if you wish.
Desires and interests
With this setting, you can add specific desire and interest tags according to your choices for better visibility and chances of making more relevant connections in a rather short time. 
Ping 
So, you are scrolling through the profiles on the Feeld app Discover page and say, you stumble on a specific one. Now you can either swipe and skip to the next profile, 'like' this person by tapping on the heart sign, or 'dislike' by pressing (-) to dismiss them from your feed. 
Here comes the Ping feature which is kind of a substitution for the 'like' button. You are restricted to like only 40 profiles per day. And unless those people are premium members of Feeld, they won't be able to see your likes until they like you back. 
But if you purchase a bunch of Pings, you can send them without a daily limit and anyone can see that you have shown an interest in their profile, regardless of whether they are a premium or free member. 
Customer support
Given that you are having trouble navigating the app or have faced a Feeld scam, you can report the issue to their helpful customer care service. All you have to do is send a message elaborating on the problem at hand. To make a strong case, you could also share a few screenshots or screen recordings and Feeld will troubleshoot your issue on top priority. 
Subscription Pricing
The free version is good enough to draw many positive Feeld reviews from their members. If you are willing to take your dating game a notch higher and access the premium features for a more discreet experience, the Majestic membership is so meant for you! Not to worry, you don't have to pay a fortune for this royal adventure. 
| | | |
| --- | --- | --- |
| Membership duration  | Cost/month | Total fee |
| 1 month | 11.99 USD | 11.99 USD |
| 3 months  | 8 USD | 23.99 USD |
We can't wrap up our Feeld dating app review without giving you a clear idea about the free and premium features. Since Feeld doesn't offer a string of useful features, you may want to consider if the Majestic subscription fee is worth paying for. So, here goes:
Related Reading: Plenty of Fish Reviews – Is It Worth It In 2022?
Feeld dating app free membership features:
Registering on the app
Like or dislike other profiles 
Use the search filters 
Discover potential matches
Send and receive messages
3nder Feeld premium features:
Find out which members have already liked your profile
See when your connections were last active on Feeld 
Avail the incognito mode to hide your profile from your Facebook friends or someone known to you
Opt out from displaying your profile info on the Discover page
Keep your pictures private so only your connections can see them
Our Verdict
We believe that out of all the Feeld reviews you come across, this one gives you a little bit of everything to help you make an informed decision. So what do you think, is the app compatible with your dating style? In a world full of taboos, Feeld is promoting sex positivity. We think that deserves a round of applause. Plus, they are inclusive of the LGBTQIA+ community, a bare minimum that every dating app needs to follow.
You don't have to be an expert on kinky encounters or ethical non-monogamy (or polyamory). There is a first time for everything and Feeld gives you the opportunity to discover a whole new side of relationships and mating ventures. On a regular dating site, you might shy away from expressing your desire for threesomes or a particularly saucy sexual act. But the Feeld community is all about acceptance and inclusivity. 
There is absolutely no space for judgment here about your quirky fantasies. In short, Feeld dating app is another name for freedom, authenticity, and honesty. Being desired by so many fascinating human beings is bound to give you that extra boost of confidence that will bring a flair to your personality and help you enhance your dating game in real life as well. To round up, we believe, Feeld is a must-try for all the sex-positive singles and couples out there. So what are you waiting for? Go ahead and play the field!
FAQs
1. Is Feeld good?
Feeld is an amazing dating app for singles and couples if you are willing to explore your sexuality, meet new people who are interested in kinky stuff and venture into alternative relationship structures. 
2. Is Feeld anonymous?
Feeld's Majestic membership offers an incognito mode where you can hide your profile from the Discover page or from people who might know you on Facebook or in real life. 
3. What does M mean on Feeld?
If you notice an M badge beside a person's name on the Feeld app, that suggests they have a Majestic membership.
4. What are the desires on Feeld?
On Feeld, 'desires' imply what you are looking for in a potential match. It could be a threesome experience, a long-term relationship, or even a friendship. 
5. What does terminated mean on Feeld?
If you are trying to send a message to one of your connections and it shows 'terminated', it suggests that the person's profile is temporarily or permanently unavailable.