Woman doing sex chat
I am a 36-year-old housewife. I know the word housewife is not very attractive. But this is how it is. I am married for the past 15 years. I am blessed with twins who are 14. My husband has a stationery shop. He is 37 years old. In brief that is my life, as of now. And I am addicted to online sex chats with younger men. Now, you find me interesting, don't you?
How did I come to online sex chats?
Before I tell you about my online sexual rendezvous, let me take you to my background. I come from a very middle-class conservative family. I married when I was 21, it was an arranged marriage. My husband was 22. I graduated a month back and the next thing I knew was that I was married.
At 21 and 22, my husband and I were too young to take the responsibility of marriage. But we tried. He had a small stationery shop then. He worked hard to make ends meet. We lived alone as the shop was at the other end of the town from where our in-laws lived. The arrangement was; we lived in the flat above where our stationery shop was built.
That is how my life began at 21. Not much has changed. Just that after a year, 10 months to be precise I was the mother of twins; both were sons.
Motherhood was overwhelming
Once our sons were born, it was overwhelming. We both were young parents with no clue how to do it right.  But I must say my husband did whatever he could. He would babysit one child in the shop as I bathed and fed the other. Many nights when I would be exhausted, he would take care of the boys. We did not have enough to hire a full-time house help.
We had a part-time lady who would clean the house and do the utensils. Yet we were always sleep-deprived. My husband too stopped going out much with his friends. In short, the first few years of our married lives were just spent raising our sons. Until they started going to school, we hardly had time to breathe.
I also started taking tuitions then. I would teach from 3:30 pm to 5 pm. That also meant that my two sons also studied and finished their homework. Post that they never opened their books. This went on till they were around 12 or 13. Till then they constantly needed me around. My life revolved around them. But then, they started having their own lives; their circle of friends, their video games and television shows. I was suddenly not needed much. They mostly needed me when they were hungry.  My Husband was always busy in the shop. Suddenly I had the whole day to myself. And I started feeling lonely.
My virtual sex life began
I was already 33 then. This loneliness drove me to the Internet. I started talking to random men on chat sites. Most you know we're looking for sex. But those conversations gave me a sense of being surrounded by people.
The Internet has the gift of anonymity. I could open up a lot to faceless men. No, I never revealed my identity. I would say I am married. Rest maybe no one bothered.
But I started feeling better about myself. Before that, it was only in the family where I had an identity. You start talking to a few, and then only one or two you keep in touch. I have talked to a lot of men. The commonality is that most stay away from their homes to work and are lonely. Or men who are married and still looking out.
Of course, there are the creeps who would call themselves uncle and want only sex.
But let me be honest. I am a very average looking Indian woman. Till I was married, no guy had ever shown any interest in me. I often lied to my husband that I had a lot of male attention, but never looked out because of my family. But the truth is that I never had any. I went to a girl's school. But my friends always got a lot of proposals from the boys; I was mostly the one through whom, the boys sent messages to the other girls. But then, I thought maybe in college things would change. Though I went to a co-ed college, nothing changed. Boys were nice to me. But they did not notice me like they did my friends.
I was as invisible as the air around. I so wished someone noticed me.
Then marriage happened.  As my kids grew up I started feeling jealous of my old friends. At least they had great breakup stories. At least they were loved, noticed and wanted. I was the "Good girl." But what choice did I have? With my online rendezvous, I had the chance to live those unlived parts of my life. I could act for any age. I would send my pictures of my private parts and make a man beg to hear my voice.

I was careful enough never to send my face. I have also noticed how these affairs made me gentler, softer and kinder to my husband. I was otherwise always angry.
The innumerable online affairs
So, I started these online affairs. From the age of 25 to 45, I had men I was talking to. I would talk either on Gtalk or Kik. To married men, I would always talk with the line, if I were your girlfriend/wife. And act as one. And talk of things we would do. Like hugging, cuddling, going to movies and making out everywhere. I would create that make-believe world.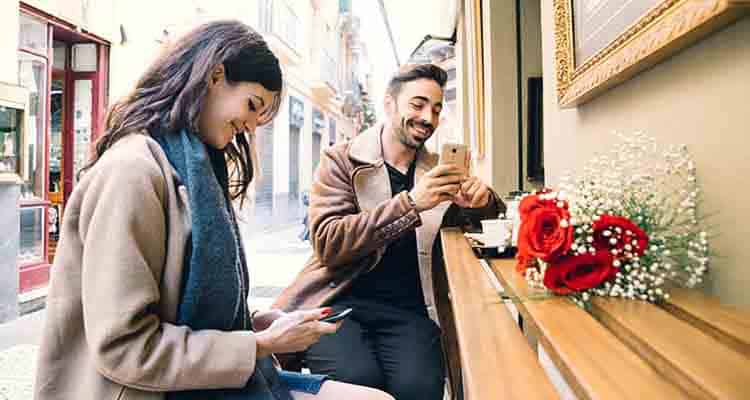 Then we would have some video sex too. I have seen more men's private parts than I can remember. Men would moan before coming. I liked that. Some would thank me. And then go back to sleep. It's nice to know, that I become their lover and sex Goddess too. Making them the desire and moan gives me a strange satisfaction.

Most affairs lasted not more than 3 months. Deep down we all knew it was a make-believe reality. But this is my soothing balm. Over the years, I always felt so frustrated. I feel so much better now. I am almost addicted to one affair a day, now.
The way ahead
In this real-world, now, I am a middle-aged woman slightly overweight. Not someone you would notice if I walk past you. Most people I meet call me aunty. I am just a mother and wife at home. I am not delusionary in life. I understand that reality is difficult. My college friends at 36 still make heads turn. They are still called, "Yummy-Mummy." They work too. I feel inferior. I only see them on social media. But once I am with my online lovers, I transform into the woman I dream of. Gorgeous, confident and someone men would die to have a date with.
My life is mundane I know. I am ordinary. You won't miss me if I am not around. But in my online world, I am living my dream that makes my real-life beautiful too.
I need to go now; I have an online lover waiting. I want to steam up the conversation. He is 27.
(As Told to Paromita Bardoloi)
Online dating: 8 must-follow relationship tips to make it work
6 Zodiac Signs Who Are Good At Investigating And Unravelling Mysteries