If you're here searching for Match com reviews, then I'm glad to inform you that your search ends here. In the busy and individualistic world of today, finding a partner by yourself gets more than a little hard. That's where dating apps come in. With their array of features, these platforms assist in finding someone for you. In this article, we're going to look at several aspects of Match com such as: how does match com work, what are its features, its pricing details, and more. 
What Is Match.com?
Match is one of the oldest dating apps out there and was launched way back in 1993. It boasts of the largest number of paid users across the US and has a high success rate. Its glowing testimonials and quality of matches are the reasons it's still thriving after all these years. With the comprehensive Match com reviews here, you are sure to reach a decision on whether you should subscribe to the platform or not. So, is Match com worth it? Let's find out.
Sign Up Process
The signup process on the platform is fairly simple, quick, and yet, detailed. The profile and dating questions asked during the signup process help in setting up your profile and finding a compatible match. By following the steps given here, you can create your Match profile in no time. Though you don't have to answer every question asked, answering more questions helps create a more comprehensive profile that, in turn, helps you get matches easily. You can always change your preferences later through the site settings.
The first step requires you to fill in your basic information for registering on the platform. You have to enter your email address, password, and birthday 
After this, you get a bunch of questions that help the platform classify your profile and find relevant profiles for you
There are several multiple-choice questions about the kind of relationship you're looking for, your physical traits, your relationship status, education level, smoking and drinking habits, ethnicity, religion, salary, interests, and anything specific you might be looking for. You also have to write about yourself for any interested profile to get a fair idea about you
The last thing you're required to do after the above step is to upload a picture of yourself, though this is something you can skip for later. And with that, your profile on Match will be created
Related Reading: Coffee Meets Bagel Review – Everything You Need To Know
Pros And Cons Of Match.com
In this section, we're going to look at the different aspects of the site, both the good and the bad. Through this, you can decide for yourself the answer to the question: is Match com worth it? The different points here are gathered using our own experience of the site and the different Match com reviews. 
| | |
| --- | --- |
| Pros | Cons |
| Large community of active verified members across several countries | The membership cost is quite expensive relative to its competitors |
| You get profile recommendations based on your preferences | A new profile can take a while to get approved |
| The different platform features aim for a longer, deeper, more compatible relationship | The compatibility tests are not as exhaustive as some other platforms like eharmony |
| Multiple filtering tools make it easy for you to browse through the thousands and millions of profiles on the app | Some users complained about billing issues and getting spammed by dating mails |
Match.com Features
There are a whole lot of features provided on this platform and the tons of satisfied match com reviews only indicate that. In this section, we're going to look at several of the offered features which will help you make a decision on whether to become a member or not.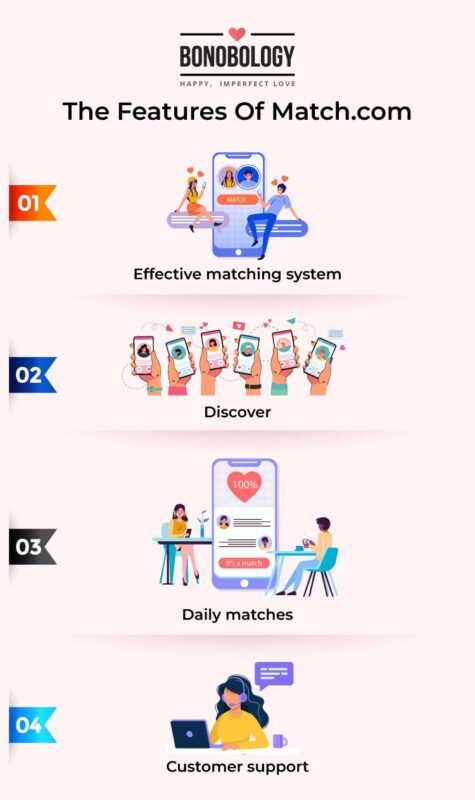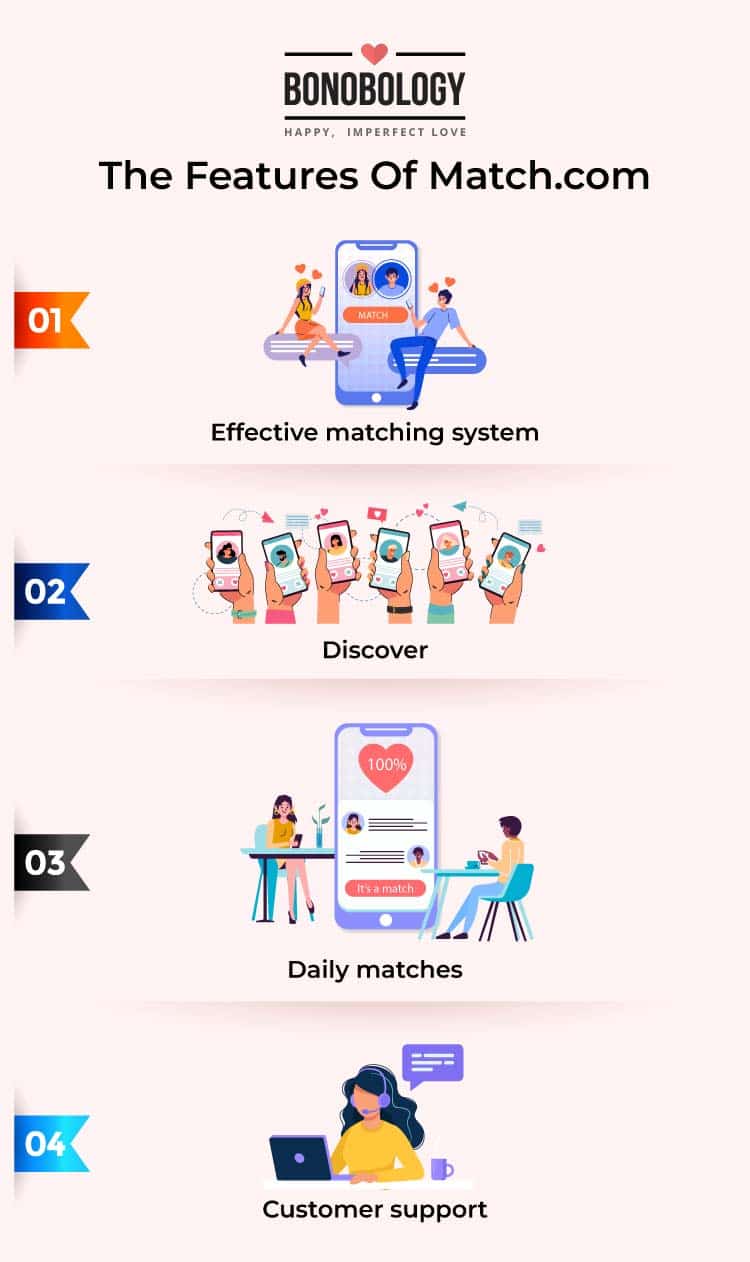 1. Effective matching system
With Match creating detailed dating profiles, chances of finding a partner who's compatible with you are higher. The site largely focuses on your traits and preferences to find profiles that are suitable for you. 
2. Discover
With their simple and useful discover tab, you can sort your different matches as per several criteria such as age, activity date, distance and more. Not just that, you can also view reverse matches through which you get to view profiles that have preferences that match your details. Such an exhaustive set of filters help you find users that suit your needs perfectly. 
3. Daily matches
The platform sends profile recommendations every day based on your compatibility ratings, and you can choose whether to connect with the profile or not. These daily matches sent to you are highly effective as they keep in mind many factors based on your preferences.
Related Reading: Elite Singles Reviews 
4. Customer support
Before you contact their customer support, you can browse their large catalog under FAQs. It contains the answers to most of the common queries and disputes that arise on the platform. If it doesn't help, you can always contact their live chat support. The customer support is very helpful and supportive as per the several match com reviews and you can easily resolve your queries through them. As per one customer, "I have been extremely impressed with the customer service on Match. Thank you."
Pricing
We'll look at match com cost in this section and the different package options available on the site. Using this data along with our match com reviews, you can decide is match com worth it or not. There are two different membership types offered on this platform and both the plans are further offered in three different periods each.
| | |
| --- | --- |
| Package | Price |
| 3-month standard membership | $95.97 (comes to $31.99 per month) |
| 6-month standard membership | $137.94 (comes to $22.99 per month) |
| 12-month standard membership | $227.88 (comes to $18.99 per month) |
| 3-month premium membership | $104.97 (comes to $34.99 per month) |
| 6-month premium membership | $149.94 (comes to $24.99 per month) |
| 12-month premium membership | $239.88 (comes to $19.99 per month) |
Match.com Pro Features
Under this section, we're going to look at the different features that you can access only when you're a paid member of the platform. If the dozens of match com reviews are to be believed, the site helps you find a compatible relationship for yourself and these features are a large reason for it. 
1. Events
This is a unique feature that builds a sense of community on the platform. Through Events, the experience of dating is taken offline. From webinars to local events to trips, these events help you meet new people and form unique experiences. And who knows, you might find the partner you've always been looking for?
2. Highlighting profiles
When you visit someone's profile and click the 'Match Me' option there, it takes you to the top of their suggestions list. This dramatically increases your chances of being matched with each other if the other profile is interested in yours.
Related Reading: Dating apps: Great to find real fake people?
3. Messaging
Match provides several ways to contact a profile you have a match with. If you're a paid subscriber, you can see all the profiles that have liked you and can find potential partners from there. You can call a profile through a customized number created by Match and see if you'd like to take things further with the other person. You can also interact via video chats with someone you've been talking to for a while. Like one user said, "Super easy, quick and efficient! I wish all sites, whether it be dating or not, were like this! Thank you."
Quality Of Profiles
This is usually one of the topmost questions in the mind of anyone looking up a dating site. When it comes to the quality, most of the profiles you'll come across would be of high quality, with pictures and comprehensive details of the profile. Some have missing information, but that does not necessarily indicate that they are scam accounts. The platform does a good job of screening and removing any fake profiles. One user said, "Outstanding…if I look for a dating app in the future I would certainly look to Match again."
Besides, messaging is exclusively a paid feature that keeps the scammers away from the platform, as they won't be able to lure members in without paying first. Moreover, you can always report an account if it seems suspicious. The platform conducts a thorough investigation of the reported accounts and if it finds anything harmful, it can remove the platform from the profile as well. 
If you're curious about what is the success rate of match com, it is one of the most successful dating sites and the frequent testimonials posted regularly on its platform only serve to highlight it further. This is because of the features of the site that focus on the compatibility and preferences of the members, leading to successful relationships. According to one user, "I think Match offers an extremely good service. I will, without doubt, recommend it to my single friends."
Match.com vs. eharmony
Both Match and eharmony are designed for those looking for serious dating and have a lot of common features. These include their detailed questionnaires, compatibility matches, and more. But if we look at match com vs eharmony purely from the perspective of finding serious relationships, eharmony comes out as the better option. This is because of eharmony's more focused approach toward serious dating, not to mention the rising popularity of Match amongst younger users looking for casual dating.
Related Reading: HUD App Review (2022) – The Full Truth
Match.com Alternatives
If you're looking for alternatives to this site, we've provided a list of apps for you here. These apps also have a large user base and can help you find that one special person for you. You can check out their features and other aspects to ensure you're making an informed decision regarding the dating app you want to use.
Bumble
An app designed for women who are headstrong and want to have power in their hands, Bumble is one of the largest dating platforms worldwide. If you're someone who's cool with the woman deciding her interactions, this is a great app for you. By letting the woman control the interactions, the app adds another layer of security that ensures a more seamless experience.
Tinder
Probably the first name that comes to anyone's mind when they think of online dating is this. Its simple interface and a huge member base are the reasons behind its ever-increasing popularity. The basic application is completely free to use and it provides an entertaining experience that has you coming back every time for more.
OkCupid
One of the most inclusive and detail-oriented apps, the platform has grown exponentially in the last several years. With its detailed questionnaires, much like Match, the platform provides relevant profile suggestions that help you find someone more compatible with your personality.
eharmony
It has a large base of members, most of whom are looking for serious relationships. Using its proprietary matching system, it helps you find highly compatible partners. Founded in 2000, it's been in the dating industry for a long time. 
ChristianCafe.com
The platform is for all those Christians who're looking for partners who have the same beliefs as them. Unlike Match, which is built for everyone to join and use, ChristianCafe.com is specifically directed toward single Christians. It is also one of the oldest Christian dating websites still operating today. 
Is There A Match.com App
While the platform only had a website version for several years after its inception, it now has applications for both iOS and Android devices. The app versions have all the features that are present on the desktop site, making the navigation an even easier process. The interface is cleaner and more accessible than the desktop version.
Related Reading: Zoosk Reviews: A Balanced Analysis Of The Popular Dating App
Our Verdict On Match Com
As we come to the end of the Match com reviews, we can safely say that this is one of the best dating platforms out there. One of the oldest and most trustworthy sites, Match com has a large community of members who you can interact with. Their questionnaires, advanced algorithms, and different filtering options help you find a partner who's compatible with your traits and preferences. 
This is the reason the site observes a high success rate and successful relationships that last for a long time. While the subscription options can be a bit costlier than the other major dating sites, if you're serious about finding a partner, purchasing a subscription would be recommended. There are multiple options available for initiating a chat and interacting with profiles.
If you're searching for a meaningful and lasting relationship, you can't go wrong with Match com. "First time using the service and overall first-class service and satisfaction. Thank you," one user said.
Final verdict: 9.5/10
FAQs
What is the success rate of match com?
While there aren't direct statistics available for such a question, different surveys and data points have suggested that a majority of relationships and marriages that have taken place in the US via online channels are due to match com. The platform has been in the dating market for a long, long time which further helps in establishing a large community of members.
Which is better, Zoosk or match com?
While Zoosk has a modern platform with several cool features, Match is more conventional in comparison with a large community of members. If you're someone who likes to find a partner completely by yourself, Zoosk might be a better alternative for you. However, if you want your suggestions to be curated as per your profile and your preferences, Match com is the place to go.
What age group uses match com?
You can find members of all ages on Match com. From 18 to over 55, there are members of all ages present on this platform. The largest percentage of members fall between the age group of 35 to 44 on Match com.
Which is better, match com or OkCupid?
While both platforms use a similar technique of using your profile details and preferences to find you partners, there are some fundamental differences between the two apps. While OkCupid is largely a free platform to use, it's hard to use Match com and find partners without paying first. While OkCupid aims to help you find a compatible partner, Match com tries to help you find a spouse. When it comes to their respective matching systems, however, Match com comes out superior.
Best Dating App Conversation Starters That Work Like A Charm
11 Best Dating Sites For Nerds, Geeks, And Other Sci-Fi Lovers