Coffee Meets Bagel app
Are you sick of relentlessly swiping through pictures on regular dating apps? Your DMs are flooding with cheesy messages from people looking for erotic adventures. And, it's getting incredibly frustrating to be ghosted by actual potential matches. Cheer up, my friend, because we have found a hidden gem for you! We bring you a detailed Coffee Meets Bagel review, so you can be excited about online dating again.
At one point or another, we have all given online dating a shot to try our luck at finding a suitable partner. Tell me honestly, haven't you felt a little lost amidst this crowd of dating apps with so many new features coming up every day? Sometimes, it becomes difficult to keep up with the fast-paced online dating world. "Which app should I go for if I want a serious relationship?" "Which one is more inclusive of the LGBTQ+ community?" I know, it's a real toughie. 
Here comes Coffee Meets Bagel to your rescue. Before you give up on online dating, find out what makes the CMB app stand out among the other fish in the sea. Is Coffee Meets Bagel good? How much is Coffee Meets Bagel worth? What are the best features of this coffee dating app? Read on to get all your answers. You never know, it may change your mind about dating apps.
What Is Coffee Meets Bagel?
Getting all decked up, going to a fancy cafe, and having a good conversation – don't we all dig this concept of a first date? But let's take a step back and think about the part where we wait patiently to find that one person who will be worth spending this time with. 
If you wish your first date after meeting online to be less awkward, you are at the right place. CMB is a real game-changer as its motto is to empower people with healthy dating habits. This self-proclaimed matchmaker site has been holding on to its stellar reputation for quite some time now.
Back in 2012, the sister trio from San Francisco, Dawoon, Soo, and Arum Kang had their eureka moment as they realized swiping-based dating apps are draining people of their energy. To make the whole process clutter-free and as simple as possible, they launched the Coffee Meets Bagel app. 
Have you by any chance watched the Coffee Meets Bagel Shark Tank episode? The Kang sisters went looking for an investment of $500,000 in lieu of 5% of their company share. Things took a fascinating turn and they left the show, declining Mark Cuban's offer of buying CMB for $30 million. How cool is that!
Related Reading: Is Online Dating Easier For Women?
So, what makes CMB dating app so special that it's giving tough competition to Tinder, OkCupid, and Bumble? Number one, 90% of users of this coffee dating app are looking for a meaningful connection. If you are done dealing with the commitment-phobes in your life, CMB is your best resort. 
Number two, their main USP is to replace the swipe feature and instead, play cupid for the interested daters. The CMB algorithm takes matters into its own hands. Men get to explore up to 21 matches on a regular basis. If they like a profile within a day, the CMB app sends them as a suggestion to the woman who can then either like and start chatting, or pass. Coffee And Bagels dating style is less complicated for women as they receive 5-6 handpicked quality matches every noon. No wonder, it has a 60/40 women to men ratio.  
But remember, the CMB clock is always ticking. If you don't make a move on a guy within 24 hours, you may miss out on great matches. Oh, before we go ahead with our Coffee Meets Bagel review, here's a cute little bit of information – your potential matches on this app are called Bagels!
How To Sign Up On Coffee Meets Bagel?
Now, let's skip to the good part and see how you can set up a kickass online dating profile with the Coffee Meets Bagel app. First things first, download the application on your device. The CMB app is available across all operating systems like Android (Google PlayStore) and iOS (App Store). You can access their Coffee And Bagels dating website as well for general information.
Whether you choose to use a phone number or enter via your Facebook profile, you have to go through an authentication process. Apparently, your chances of finding more effective and like-minded matches escalate if you opt to connect your social media account with this Bagel dating app. 
"What's the secret behind it?", you may wonder. Well, their algorithm extracts information (friends of friends circle, likes, and comments, your opinion on different matters) from your profile. And, based on that, they curate a fresh collection of bagels for you every noon. But you can be assured that the Coffee And Bagels app doesn't post anything on your behalf and does not sell your personal data. 
Related Reading: Zoosk Reviews: A Balanced Analysis Of The Popular Dating App
Here's your step-by-step guide to signing up using a phone number: 
Use the 4-digit code sent to your number and complete the verification
Enter your full name, email ID, and birthday
Mention if you are ready for a committed relationship or need something casual 
Tick your sexual identity and whether you are interested in a male, a female or both
Update your location and a radius to specify the zone where you would like to meet people
Mention your preferences for – ethnicity, religious views, age, and height 
Upload your display picture to get started
And, you are all set to meet your first bagel
Later on, you can enrich your profile with picture captions, ice breakers, and prompts (we will get into that soon!)
The sign-up process is pretty much the same if you pick Facebook. You just have to give the required permissions to the Coffee And Bagels app to link both accounts.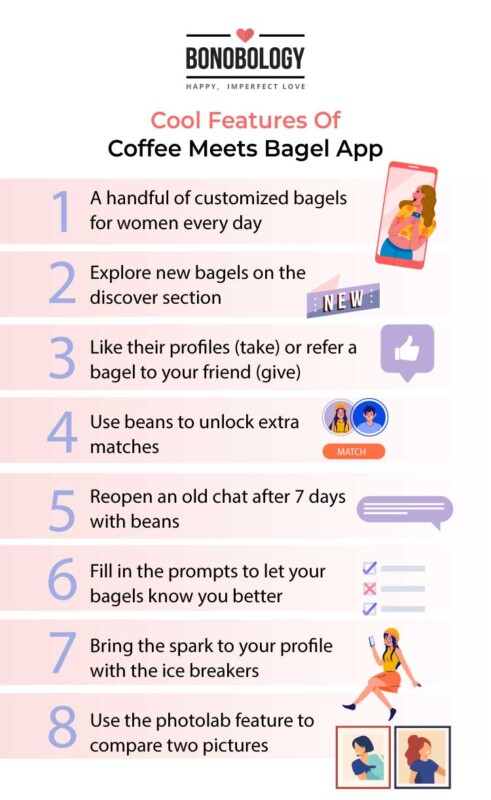 Pros And Cons
Drum roll, please! Ladies and gentlemen, it's pros and cons time in our Coffee Meets Bagel review. We will throw light on the positives and negatives of the app, so you know beforehand what you are getting yourself into. Take a closer look at how to date online successfully and find your ideal partner:
| | |
| --- | --- |
| Pros  | Cons |
| Intuitive and user-friendly app design  | Not the right place to find hookups or casual relationships |
| CMB believes in quality over quantity  | Majority of the users are above 25. So, it's not a very happening platform for teenagers |
| Most of the features are available on the free version | Lesser number of features compared to other dating apps  |
| Only a handful of matches every day to manage more efficiently  | Some people may not be satisfied with such a limited number of daily matches  |
| Earn beans by signing in daily and completing fun activities  | Chats expire within 7 days  |
| Quick sign-up process – no need to fill an extensive questionnaire to get approved  | No option to search for people by name  |
| Good for women who are selective about their choice of mates | If signed up via Facebook, you may end up meeting someone from your known circles, which can be awkward  |
| Fewer chances of getting ghosted  | The Bagel dating app doesn't have a web version |
| CMB only promotes active users in the app as matches  | You can upload only 9 pictures |
Quality Of Profiles And Success Rate
Coffee Meets Bagel review will be incomplete without mentioning the standard of user profiles on this app. In our opinion, it looks pretty promising. First of all, Coffee Meets Bagel scrutinizes every shady activity and disputed accounts. They won't allow you to upload a blurry snapshot or a picture where your face is covered by a big hat. Transparency is their number one priority. 
In 2018, the app went through a makeover and introduced a minimalistic interface and a technology to detect romance scammers. Unlike others, the Coffee And Bagel dating app lets you read the detailed profile before you seal the deal. They focus on educational qualifications and professional designations of the users to highlight authenticity. 
Overall, you can expect a wholesome mindful community greeting you with love and respect. The Coffee And Bagels app has closed more than 150 million matches till date. You could end up going on their wall of success stories too! Who can tell?
Related Reading: Online Dating Advice – 23 Important Tips
Best Features Of Coffee Meets Bagel
Is Coffee Meets Bagel good? There are two ways to figure that out. Either you read some of the Coffee Meets Bagel reviews online or you install the app, explore a few potential matches and decide for yourself if it's worth your time. 
We are here to give you an outline of the most common features of the CMB dating app, after testing the Android version. Unlike other popular dating sites available online, the Coffee And Bagels app doesn't overburden you with a plethora of unnecessary technicalities. Now, whether it is a boon or a bane, that's up to you to decide. 
1. Suggested (#ladieschoice)
In this section, you receive your daily dose of love matches. By tapping on the icon, you can go through the profiles one after another and either like or pass. The Coffee And Bagel dating app suggests only those people who have already shown interest in you or the most compatible ones based on your preferences and profile information. Curious about someone in particular? Send the first message right away to start a delightful conversation!
2. Discover
Let me offer you a relevant instance to clarify this feature. Just like the discover page on Instagram shows pictures and reels based on your choice of various subjects, the same thing happens with Coffee And Bagels dating app.
Their discover page displays a list of matches who don't exactly fit your criteria but are close enough in some aspects. If you like any of these profiles (which is called 'Take' in CMB terms), it will cost you beans. You can also refer this match to a friend (as CMB calls it 'Give') to earn some beans in return. 
3. Beans
Beans are basically Coffee And Bagels dating currency with multiple functions. For instance, do you want to unlock extra bagels? Redeem your beans! Also, they come in handy when you want to take a bagel from the discover page or reopen an old chat after 7 days. 
You can organically earn these beans by logging into the CMB app every day. You can also score free beans if you are willing to follow them on Twitter and Instagram and by inviting your friends. Still running short of beans? Buy a bag of 3000 beans for $24.99 anytime. 
Related Reading: eHarmony Reviews 2022: Is It Worth It?
4. Photolab
With this fun feature, you can run a poll between two of your pictures. Other members would vote for the better choice and you have to spend a few beans to unlock the result. 
5. Prompts 
Prompts are an amazing way to make your dating profile stand out. In the 'edit profile' section, you will find a wide range of intriguing prompts to fill in, such as – 'your favorite weird food combo' or 'if you could create a holiday, what would it be?'
6. Ice breakers 
Here's your chance to spice up your bio a little bit with 3 short one-liners about yourself. It could be anything like an unusual skill you have mastered or bragging about your limited edition Lord of the Rings chess set. Get as creative as you like!
7. Reopen chat 
As a Coffee And Bagels dating app user, you should know that they close a chat after 7 days. If you have left some things hanging with a bagel, you can reopen the chat anytime over a period of 30 days, in exchange for beans. 
8. Customer support 
You may call it a drawback that they don't provide any email ID or phone number to contact their customer service representatives instantly. You have to raise a complaint/request with a detailed description and attachments and wait for them to get back to you. 
Related Reading: Top 15 Best Alternatives To Tinder – It's 2022!!
Subscription Pricing
It's time to talk about the Coffee Meets Bagel price range. You may ask, "Is Coffee Meets Bagel free?" Well, in a way it is because all the major features to run the app successfully are available with the free version. You may opt for the paid membership to give your profile a further boost and enjoy the added perks.
| | | |
| --- | --- | --- |
| Subscription Type | Duration | Cost/month |
| Free membership  | Lifetime | $0.00 |
| Premium | 1 month | $34.99 |
| Premium | 3 month | $25.00 |
| Premium | 6 month | $20.00 |
| Premium | 12 month | $15.00 |
Now that you know how much is Coffee Meets Bagel worth, I am sure you would like a sneak peek of the premium features. 
You can see all the profiles who have liked you at a time and start matching 
Get access to more preference options like relationship goals and smoking habits
3 profile boosts per month to increase your visibility by 5x than before 
Check activities and chat statistics to choose your perfect match
Get read receipt notification 
Receive 6000 beans per month
Related Reading: The Ultimate Funny Online Dating Questions
Our Verdict
Alright, folks, we are about to wrap up this Coffee Meets Bagel review after analyzing the pros and cons. The Bagel app, by all means, is a real timesaver. It doesn't take forever to sign-up on the app as they don't exhaust you with a detailed questionnaire. But you can always amp up your profile later by updating more personal information. The ice breakers and prompts are an amazing way to impress potential bagels. 
If you are a workaholic who hardly gets time to scroll through hundreds of profiles on dating apps, pick Coffee Meets Bagel for quality and authentic matches. And, ladies who love to keep the steering wheel under their control, this app is tailor-made for you. Like we said, no annoying text messages until you hit like on a bagel.
Do you know someone who is not so tech-savvy? The simplified UI and limited features of the CMB dating app would be a blessing for them. Only 12% of CMB members are curious about casual dating, which offers a broader spectrum for those looking to pursue a loving committed relationship. 
To sum up, it's a big thumbs up from us. Don't let the negative reviews fool you until you try and test it yourself. To simplify your online dating experience, give Coffee Meets Bagel a chance – you won't be disappointed!
FAQs
1. Does the girl have to start the conversation on Coffee Meets Bagel?
Yes, very much so! Coffee Meets Bagel has a women-friendly design to filter out all the creepy scammers sliding into their DMs. So, the ball is in the woman's court. Until they make the first move and send you a message, there is nothing you can do. 
2. Is Coffee Meets Bagel ideal for a serious relationship? 
Absolutely, the Coffee Meets Bagel dating app is tailor-made for serious daters who want a long-term relationship. 
3. What age group uses Coffee Meets Bagel? 
They have crowds from a wide range of age groups. The majority of the users belong to the age bracket of 25-40.
4. Do they have a free trial?
Yes, CMB has a free version that pretty much covers all its features. You can always upgrade to the premium membership to give your profile a solid boost and enhance your visibility. 
5. Can I cancel my subscription anytime? 
Usually, the Coffee Meets Bagel subscription renews automatically after the end of the term with 3-days notice. However, you can cancel anytime by choosing the option in the profile settings or raise a request with their customer care service. 
6. Can you unmatch on Coffee Meets Bagel?
Yes, you will find an option to unmatch or report the profile in the respective chat box from where you can unmatch a bagel.