Hi folks! Pride month is knocking at our doors again. And we cannot stay calm! Are you exhilarated just thinking about all the events and parades coming up? You must be already searching for some cute pride-worthy gifts for your LGBTQ friends and family members. It's also that time of the year when you have an excuse to revamp your closet in rainbow outfits and accessories. This year, you can choose to spread your love around with an assortment of stylish LGBTQ bracelets.
Whatever your plans are for the month – joining a queer community for volunteer work, organizing a rainbow t-shirt design contest, or simply throwing a party at home to binge-watch LGBTQ TV series – wearing and sharing pride bracelets would be a remarkable gesture. 
"Will I be assumed to be a gay or lesbian wearing the LGBTQ pride bracelet?" you may ask. Well, no. First, the umbrella term embraces bisexuals, transgenders, and questioning people not just gays and lesbians. Second, any allies of the LGBTQ movement, who are willing to be vocal about the discrimination against this community, can wear an LGBTQ bracelet to show their solidarity.
If you are not sure which LGBTQ bead bracelet would complement your look the best or wish to buy a bunch of LGBTQ friendship bracelets to spread awareness, your hunt has landed you in the right place, my friend! Let's shop online for some pride bracelets together. 
LGBT Pride Bracelets – Gay And Lesbian Wristbands
Let's take a quick look at the history of the origin of the rainbow flags. Back in 1978, a few years after the Stonewall Riot, the artist Gilbert Baker was encouraged by Harvey Milk to design a flag that will represent the pride and spirit of the gay community. 
Baker sourced his inspiration from the diversity of colors in a rainbow and transformed them into a fearless symbol of visibility for all people under the LGBTQ+ sexuality spectrum. There are multiple variations of the pride flag for different sexual orientations. As a matter of fact, one of them incorporates black and brown colors to be more inclusive of the people of color. 
Remember, pride is not only about the members of the LGBTQ community. You are most welcome to join the parades as an ally to show your unconditional support. Now, allow me to come back to the point of spreading love and support via LGBTQ bracelets. We have listed our top 10 choices of LGBTQ rainbow wristbands to make the selection process easier for you. They are super cute and trendy. Care to explore?
Related Reading: 15 Essential Men's Fashion Accessories – The Ultimate List
Gay Pride Bracelets And Wristbands
Although we do not prefer to conform to any traditional gender or sexual identity, we took the liberty to pick these LGBTQ pride bracelets keeping in mind our gay audience:
1. Cuff style gay bracelets
You know how any rainbow accessory attracts the attention of a like-minded crowd. If you are very much of a people's person, wearing an LGBTQ bracelet might work like a charm. It will serve as a conversation starter and you will make a few more acquaintances on the street, or in the bookstore more often than before. Take a look at this funky cuff gay bracelet and tell me if you are not sold already!
The bracelet is made of pure stainless steel without any lead or nickel
It is hypoallergenic and suitable for all skin types including sensitive
The colors and the vibrancy of the bracelet won't fade  despite prolonged exposure to a moist environment
2. Stringed LGBTQ friendship bracelet 
As a member of the queer community, you believe love should never mean having to live in fear. Love has no gender, no religion, no race. You wish to spread unconditional love and wish for people to be more compassionate toward every individual's choices. Give this hope a tangible shape. You can share these beautiful LGBTQ pride bracelets in the parades as an offering of friendship and a symbol of love.
This handmade rainbow bracelet is crafted from 6 colored waxed cotton cords
It locks with a silvery clasp closure
You can pick yours from a range of different sizes
You will receive the wristband in a cute gift box for gifting purposes
3. Parachute cord bisexual bracelet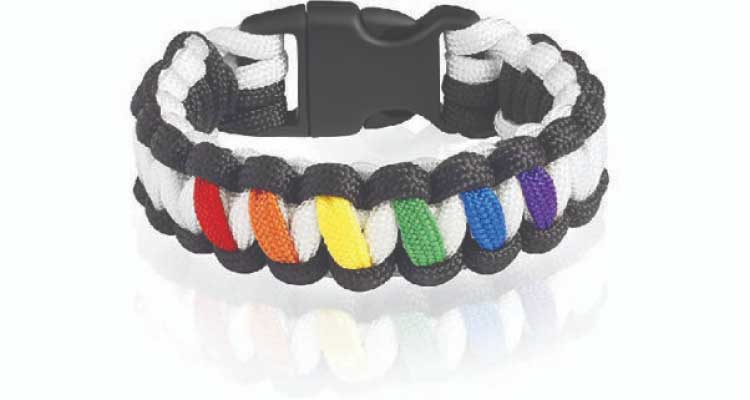 An LGBTQ bracelet is a vivid representation of a person's sexual identity and orientation. It speaks for who they are and how they desire to be treated and addressed. When you reach work exhibiting a rainbow bisexual bracelet, it provides you an opportunity to express your feelings and point of view more effectively. In a word, you feel more confident and bold. 
The powerful parachute cord can sustain heavy weights so there is no chance of breakage or damage
This band has many survival benefits like fixing shoelaces when you are traveling 
It has a creative braided design with a high-quality fastex closure
Related Reading: Accepting Bisexuality: Story Of A Single Bisexual Woman
4. Silver gay pride bracelet
There are still many stigmas prevailing in our society regarding homosexuality. People like to bottle up others and fit them into familiar shapes they are comfortable with. Even those who don't conform to the traditional gender binary cannot escape from this stereotyping. For instance, a common myth about gay men says all homosexual men are feminine. It couldn't be farther from the truth. If you seek to be comfortable and accepted irrespective of your sexual orientation and how you choose to represent it, go to the June parades wearing this rugged silvery gay pride bracelet and hold your ground. 
High-grade stainless steel bangle which is effectively scratch-resistant
You don't need to worry about rusting or tarnishing
Elegant and stylish design, great for daily wear 
It comes securely packed in a jewelry gift box
5. Magnetic leather pride bracelet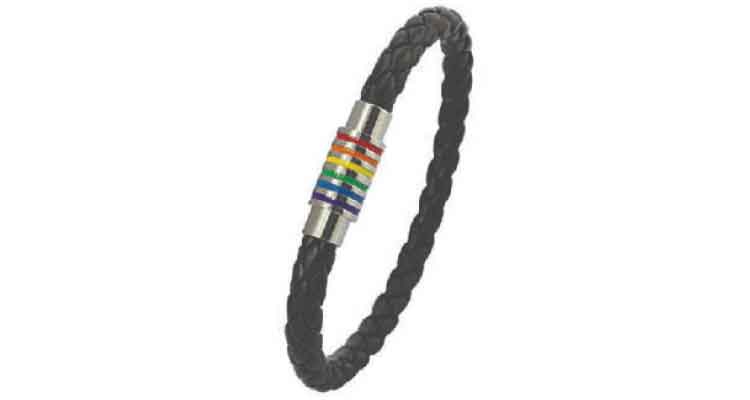 Are you still not sure about the specific type of sexuality you belong to? Are you exploring and trying to figure out your unique path? You are still a part of the sexuality spectrum as you probably identify yourself as questioning. Here's an LGBTQ bracelet that will be perfect for everyone even if they are only an ally. Check it out:
This bracelet is made of top quality faux leather
In the middle, there is a stainless steel section that is striped with rainbow colors
It has a cool magnetic closure around the silver part
Multiple size options are available to fit your wrist 
Related Reading: How To Build A Healthy Gay Relationship
Lesbian Pride Bracelets And Wristbands 
Hit the parades this year with your lesbian life partner in these gorgeous LGBTQ bracelets from our selection:
6. Infinity collection lesbian bracelet
When you walk down the streets or enter a party in an LGBTQ bracelet, it makes you a lot more approachable. If a person is being discriminated against or denied a service due to their orientation, they might easily come up to you looking for assistance. Bring joy to the world with this stunning Love Wins lesbian bracelet. 
This bangle is a unique combination of braided and plain silicone and leather stripes
There are three metal charms attached to it enhancing its beauty – an infinity loop, two heart symbols, and a lettering 
You can fit this adjustable bracelet for wrists between 5"- 8.5"
7. Lesbian couple bracelets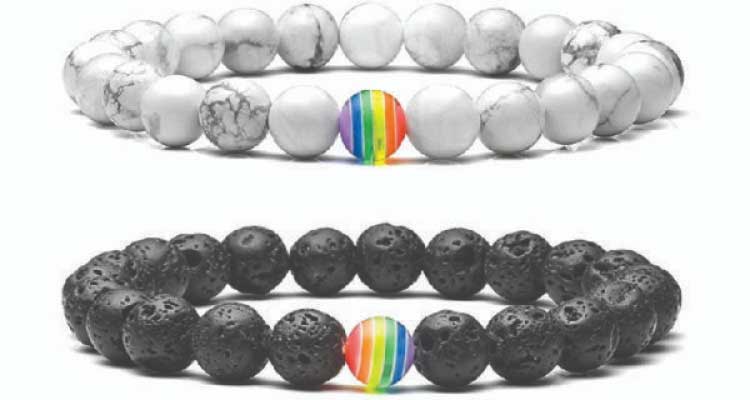 Is this your first year to celebrate pride month after coming out of the closet? And, that too with your darling girlfriend? I can only imagine how exciting that can be! If you are looking for color-coordinated lesbian couple bracelets, we have a great option for you. Let me know what you think of this pair of LGBTQ bead bracelets, whether they match your personality or not. 
These gorgeous wristbands are produced with precious lava rock and white howlite
They come in contrasting black and white colors with an enamel rainbow bead in the middle
Very strong elastic makes it good for long-term use
These bracelets have a special quality of absorbing diffused essential oil if you wear them during meditation and aromatherapy
8. Silicone balls pride bracelet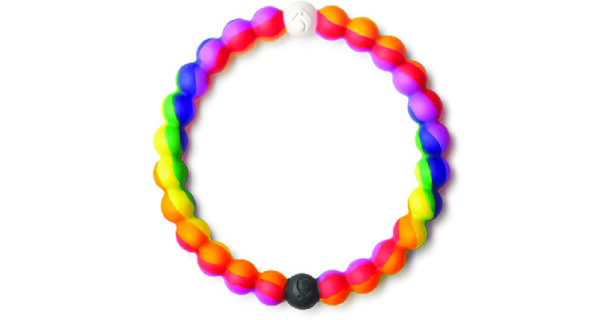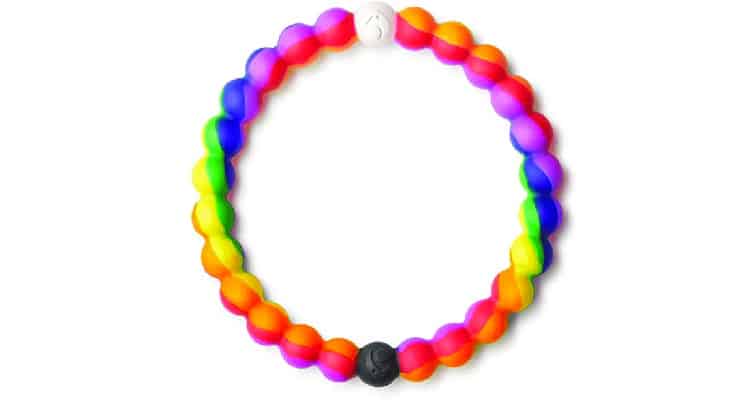 Another reason to wear an LGBTQ bracelet is that you can be the source of hope to a friend who has almost given up. When they see you owning your style so confidently in this gorgeous LGBTQ pride bracelet, they will find a fighter and a supporter in you. That, my friend, is worth more than anything!
Rainbow silicone bracelet with a 6" circumference 
No need to lock and unfasten every time, you just slide them on 
Most interestingly, the white bead is infused with water from Mt. Everest and the black one is made of The Dead Sea mud to help people stay hopeful and humble in life
The brand donates 1$ from each bracelet to the world's biggest LGBT suicide prevention project
Related Reading: 10 Best Lesbian Dating Apps For 2022 To Chat & Meet
9. Rainbow lesbian friendship bracelet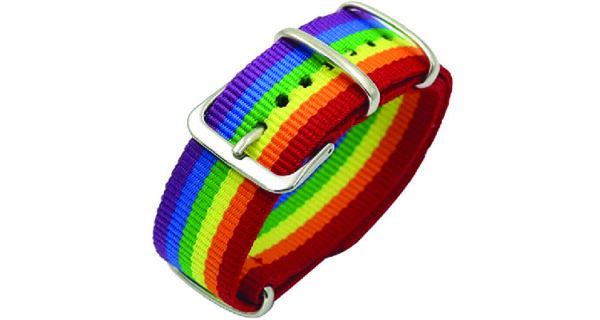 Are you at a stage of life where choosing friendship over love seems more practical? Fair enough, if that is promising for your mental health. Perhaps, you would like to make an attempt to strengthen the bond with your girly gang and your drag queens. Share this pretty lesbian friendship bracelet with all your lovelies. How about a couple of twinning selfies from the parade street? Sounds fun, no?
It is made of durable nylon, so stays intact after multiple washes
The band closes with a stainless steel buckle
There are holes stapled in the band to adjust to different wrist sizes
Pretty and simple design which is good to go with both casual and formal outfits
10. Rainbow charm LGBTQ bracelet 
We saved this LGBTQ bracelet for the last because just look how cute it is! Won't you love to dazzle the pride events in a super cool outfit paired with this elegant pride charm bracelet? I am sure the answer's got to be very positive. So grab the deal before it goes out of stock. Hurry!
This stunning bracelet has a sleek and classy design 
The cute rainbow charm is a representation of hope and dreams coming true
It is made of nickel-free brass and copper alloy
The brand's patent sliding mechanism instead of traditional closure expands the size range from 2" to 3.5"
So, we hope this guide to buying pride bracelets was thorough and insightful for you. Our purpose was to give you a perspective on the gravity of a rainbow accessory apart from its fashion statement. Choose love over all the banalities and evils of this world. Happy Pride 2022!
FAQs
1. What are the LGBT colors?
The very first version of the LGBT flag designed by Baker had 8 colors. Later on, hot pink and turquoise were eliminated due to some mass production issues. At present, the most standard version of the flag has 6 colors with the following symbolisms: Red – life, Orange – healing, Yellow – sunlight, Green – nature, Indigo – serenity, and Violet – spirit.
2. What should I get a friend for pride month?
Get your friend more rainbow-themed gifts for the special month such as phone covers, t-shirts, trans symbol jewelry, parade shoes, products with cool pride hashtags, stickers, socks, books, and movies on LGBTQ culture and history. 
3. What does it mean when someone wears rainbow colors?
When you see someone wearing rainbow color outfits or accessories, don't quickly speculate o that they are either gay or lesbian. All communities falling under the LGBTQ spectrum can dress in rainbow colors. Even allies choose to wear them to extend their support for the movement.