Proposals hold a profound emotional and philosophical significance in relationships. Asking yourself, "Should I propose before or after dinner?" or "Is this ring good enough?" before popping the question is a personal agony but also fairly common. You might also often wonder, "Is everything exactly according to the plan?" Well, we are here to help you determine the best possible choice to make this important moment easier.
A study published in 2017 showed that 45% of proposals are public. Choosing to go for a public or private proposal is something you should think about in more detail before moving on to ironing out the details for the rest of the unforgettable proposal.
A good thing about going with dinner proposal ideas is that it gives you the option of keeping it public or private. It can be a bit abrupt to think that one meal means so much and can make a difference to a life-long commitment, but that's what we're here to help you with. Let's do a deep dive into understanding the plethora of options and finding out exactly how you should pop the question!
Proposing Before The Dinner
When you ask yourself, Should I propose before or after dinner, consider this advice from a Reddit user, "If you're thinking of proposing at the perfect restaurant, DO IT BEFORE THE MAIN COURSE!"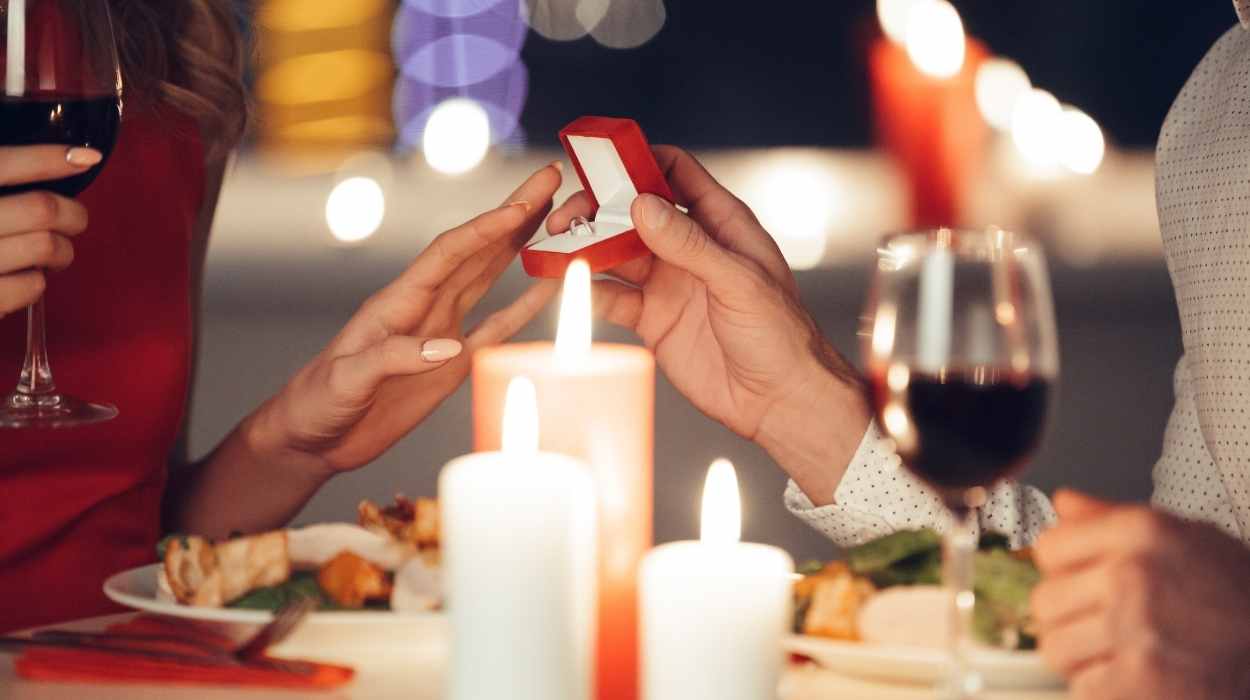 Here are a few reasons behind proposing before the meal:
If you propose before the dinner, it turns into that one special meal you will never forget. Make your memory a long-lasting one, which both of you will enjoy and celebrate
You can have more flattering pictures taken before you start eating
A momentous occasion such as this befits a bottle of champagne when your partner says 'yes'. Champagne is almost always delicious, but much better at the start of a meal rather than later
It's less likely to go south if you both start off in a joyful, celebratory mood. Plus, if they say 'no' to the proposal, you can just leave. We're sure the entire restaurant will understand
Let's say something goes wrong during the meal and you argue. It will probably not end the relationship but will certainly ruin the perfect moment for your special night. So, you might decide to postpone your perfect dinner proposal, leaving you with a huge expense and a less-than-perfect proposal
Related Reading: The 15 Most Creative Outdoor Proposal Ideas
Proposing After The Dinner
If you're sure your to-be new fiancé is a dessert person, proposing right after your delicious meal and before the sweet dishes are served may be the best move to make. Here are a few proposal ideas to consider if you're waiting to propose until you're done with your dinner:
Proposing after you eat dinner can be a romantic and unexpected way to conclude a lovely evening. It can create a memorable finale to an already special occasion
After dinner, the restaurant may have fewer patrons, offering a more private and intimate setting for the surprise dinner proposal, allowing for a quieter and more personal special moment. The pressure that can come with a public surprise proposal during dinner may be reduced when you propose after dinner, as the focus shifts to just the two of you
You can choose to propose inside the restaurant or take the moment outside to a more private location when you're proposing after dinner. Any quiet place, such as a garden or a scenic spot, depending on the restaurant's surroundings, may be apt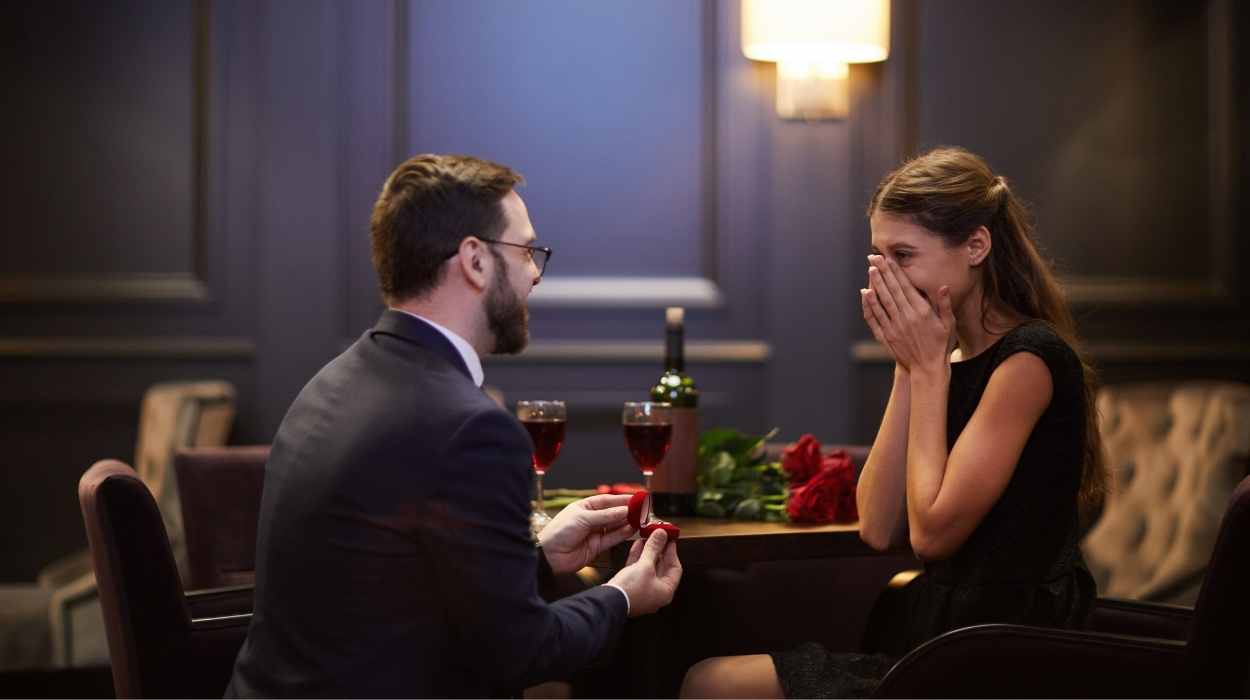 Should You Propose During The Dinner?
This can become a roller coaster of emotions and go many ways. Generally, when someone decides to propose in a fancy place, they either opt for a before- or after-dinner proposal. But there are certain things that make proposing during dinner a good option too. For instance:
Related Reading: 15 Romantic Valentine's Day Proposal Ideas That'll Make Your Girlfriend Say Yes
Proposing during the dinner can be an option if you want to wait and see how the evening progresses, to check if everything is falling into place nicely
Waiting till the next course is served, hiding the ring in the dessert, or dropping the ring in the champagne are great ways to set up your surprise proposal
Though these are good points to ponder on, nothing can beat a 'pros and cons' list to ensure you've got all your facts straight before making the decision. So, let's get out those notepads and get to work. The answer to your question "Should I propose during or after dinner?" might be almost certain after going through the list below:
Scenario
Pros
Cons
Before The Dinner
1. There are many benefits, such as the entire dinner after a successful proposal becoming celebratory as well as the drinks and desserts
2. You get great pictures without dishes or glasses when proposing before dinner
3. There is less chance of the proposal getting postponed and less nervousness, and it sets the mood for the rest of the night
1. Though less likely, if your partner finds out about your plans to propose, they might stand you up for the dinner or give the 'wrong answer' publicly
2. If the weather and location during your pre- dinner proposal is compromised in any way, it can ruin the whole plan
3. If you pop the question without having discussed the chances of getting married, it can ruin the rest of the whole evening
During The Dinner
1. You can hide the ring in your partner's favorite dish or drink 
2. You can ease up to the momentous occasion after getting both of you a few drinks 
3. The desserts that follow become celebratory and, in many cases, complimentary
1. If you give the ring to the wait staff, they might end up losing it accidentally or sending it to another table by mistake
2. You might risk your partner choking on food or drinks, leading to a medical emergency
3. It can be especially expensive if you decide to hide the ring inside a glass of champagne or some pricey dessert and you might end up paying so much for nothing
After The Dinner
1. It can be a romantic and unexpected way to conclude a lovely evening if everything goes right
2. You can get a more private setting if it's a little later than usual, when most guests have left the restaurant
3. You can have more control over the timing and the execution of the memorable proposal after you've assessed your partner's mood during the whole meal
1. You can both become too tired by the time the desserts are over, and you may already have decided to postpone the after-dinner proposal 
2.Waiting too long to propose can result in the restaurant staff cleaning up and closing down as you get on one knee and may end up ruining the moment
3. There is a risk of getting your photos ruined by the used glasses and dirty dishes if you propose after the dinner is over
Table on how to time your proposal
Besides the pros and cons of when to pop the question, there are about a dozen things that you need to think about. Let's get into the extra tidbits that you need to have figured out on the day of your proposal.
Things To Consider When Proposing During A Dinner Date
Proposing can be a nerve wracking and emotional moment, but careful planning can help ensure that it goes smoothly and is the best moment of your life. Here are some important considerations for romantic dinner proposal ideas, including where to keep the ring, managing nervousness, and choosing the right restaurant:
1. Choosing the ring
Set a budget and determine the gem and band options for the perfect engagement ring
Pay close attention to your partner's jewelry preferences and style. Or take help from close friends of your partner to determine exactly what kind of ring they would like the most
Explore options other than a diamond engagement ring if it's out of your budget or if your partner isn't set on a particular style
A few tips for getting the ring right are researching different ring settings, visiting jewelry stores, and considering customization options to find or create the perfect ring. Or you can buy the jewelry online. Don't forget to research your partner's ring size and skin allergies/reactiveness to certain metals
Related Reading: 14 People Shared Tips For How To Figure Out Girlfriend's Ring Size
2. Where to keep the ring
Stick with the classic 'ring box in your pocket', as it's always a great idea. When you buy an engagement ring, you mostly get a beautiful ring box to house it. You can keep the ring safely in the box until it's time to propose. Make sure it's secure and easily accessible when you need it
If you prefer not to carry a bulky ring box, consider asking the restaurant management for some help. We highly suggest going with a reputed restaurant (with trusted staff) ahead of time for this. They will help ensure it's in a secure location and not easily misplaced
If not the restaurant staff, consider asking trusted friends and family members. If you're worried about accidentally revealing the ring or losing it, you could ask a close friend or family member to hold onto it until the proposal moment. You can ask them to come to the restaurant after you and your partner are already seated and ready for the evening and wait for your signal to bring the ring your way. A bonus of asking friends/family members is that they can also help with clicking pictures of the moment
You can also hide the ring box in a bouquet, a hollowed-out copy of a book your partner wanted, a gaming box/CD case, or anything more personal to both of you
3. Managing nervousness
Practice what you want to say and do before the proposal dinner. This can help reduce anxiety and ensure that you feel more confident during the moment. You can try doing this in front of a mirror and when you're sure you have your routine down pat. You can also ask a friend or family member to help you practice before the big day
Deep-breathing exercises can help calm nerves when the question "Should I propose before or after dinner?" rattles you and you're too nervous to decide. You can excuse yourself to go to the washroom at the restaurant for a quick deep-breathing exercise and ground yourself
Related Reading: 11 Expert Tips On How Not To Be Nervous On A Date
Focus on your partner and what made you want to consider proposing. Concentrate on the connection you share with your partner and the fact that you are deeply in love with them rather than dwelling on your nerves
Choose a fancy restaurant or an upscale place with a comfortable setting and six-course meal options. Select a location where you feel comfortable and at ease. A familiar or meaningful place can help reduce anxiety. Avoid trying to make a swift exit after proposing and try to savor the moment and the environment you're in
4. Choosing a good restaurant
To choose a nice restaurant for proposal, consider your partner and your shared favorite foods and drinks. Think about your partner's favorite cuisine or type of restaurant. Choose a place that reflects a combination of both of your preferences. You might even consider your partner's favorite restaurant or fine-dining place
Look for a restaurant with a romantic ambience, dim lighting, and a cozy atmosphere to set the mood for the marriage proposal
Consider the location of the restaurant. Is it conveniently located for both of you? Is it in a safe area? Also, remember to look up reviews of the restaurant's food and staff in general to avoid disappointments on your big day
Make sure to get a reservation well in advance to ensure you have a table at the desired time. You can also make a request for a specific table for the restaurant proposal
Mention any special requests for the proposal plan to the restaurant staff, so they can assist you. Additionally, you can inquire if they would agree to personalize the menu if there are any dietary restrictions. This is important to make your romantic marriage proposal ideas more successful
In case your partner wants a low-key celebration of your engagement then opt for asking restaurant staff for help and request them to keep their involvement to a minimum in your routine
Related Reading: 25 Questions You Should Ask Before Getting Married
5. Capturing the moment
Slyly, find out if your partner would prefer the proposal to be videographed and photographed. After that, consider arranging for a photographer or videographer to discreetly document the proposal. Or simply ask a friend to help capture your priceless precious moments.
6. Considering low-key settings
Consider arranging a proposal dinner at home if your partner is not a big fan of public proposals. This also makes the dilemma of 'should I propose before or after dinner' easier to handle
Related Reading: Surprising Psychological Benefits Of Women Proposing To Men And 19 Ways To Do It Right
Plan an at-home candlelit dinner proposal or choose the spot of your first date or a place of great significance to your relationship if that's more suited to your partner's wishes. Go in with the acceptance that there is no right or wrong answer to a proposal dinner at home or in public, and no matter what you choose, it will all work out because you and your partner love each other
Key Pointers
Only plan on proposing if you've talked about getting married to your partner beforehand and they are on board with the idea. Avoid making a public proposal if it is something your partner doesn't seem too excited about
Remember to pay attention to the seemingly less important stuff, such as proper light, music, ambience, and the overall atmosphere of the place you decide to propose in
Don't hesitate to ask friends and family to help you out with executing your plan to propose to your partner
Research your partner's jewelry style, ring size, skin allergies, and gem preferences, and take the help of a trusted friend/family member who might know more about it
Remind yourself of the pros and cons of every scenario (before, during, and after dinner) and make the choice best suited for both of you to pop the question
To conclude, be especially sure that your partner will be thrilled to get proposed to in public. Otherwise, it might make them feel trapped and coerced into saying yes to avoid coming off as rude or ungrateful to onlookers. Remember that the most important aspect of the proposal is the love and commitment you're expressing to your partner. You are saying I love you in the best possible way. Plan in a way that feels authentic to your relationship, and don't be afraid to seek assistance from friends, family, or the restaurant staff to help give the moment special meaning. It's a unique and personal experience that should reflect your bond and your partner's preferences. Now that you're ready, we wish you good luck. Break a leg!
7 Things A Girl Should Do With Her Bestie Before Getting Married
When You Meet The Right Person You Know It – 11 Things That Happen
Ask Our Expert
You must be Logged in to ask a question.