Who doesn't dream of having the most magical proposal that you can tell your friends about with a dreamy sigh even years after it had happened? Don't we all want that perfect story to tell our kids about how one's mom and dad came together? However, it's not that simple. Thinking long and hard about the perfect marriage proposal ideas is where the real challenge begins.
The day of the proposal is the second most important day of any couple's life after their wedding day. Hence, it is obvious that we desire it to be the perfect moment that will forever be etched in history. And because of its infinite significance, it also comes with a lot of pre-proposal anxiety. 
It's not easy planning the most perfect proposal for your future wife because it will be a day you talk about for years to come. Trust us, the anxiety and jitters are normal but we are here to lessen your troubles with the best marriage proposal ideas out there.
Yes, the idea of a special, unique, dreamy or magical proposal is different for every couple. However, we have created a list of the greatest marriage proposal ideas that will make anyone swoon, no matter what kind of couple you are!
35 Most Romantic Marriage Proposal Ideas
Everyone wants their marriage proposal story to be the best and most romantic of all. But thinking of unique marriage proposal ideas can be difficult. But nobody said it's impossible! Fret not, for we are here to help you with the 35 most romantic marriage proposal ideas that are guaranteed to get you a whopping yes from the love of your life!
So without further ado, let's get right into it.
1. Propose to her where you first met
For most couples, the place where they first met is one that holds a lot of significance. Since that's the exact spot where their story began, it could be a romantic and nostalgic idea for a couple. If you're one of these couples, then this is one of the dreamy marriage proposal ideas for you!
Take the love of your life to the place where you had your first date, ask her to close her eyes and get down on one knee to pop the question. You can even blindfold her for some extra suspense and decorate the place with flowers and confetti. This is definitely one of the creative marriage proposal ideas that is bound to be a great success.
2. Take her out on the ultimate date
Plan the perfect day out for the two of you. Don't just take her out on a normal date, plan the ultimate date that she's going to love and this could be one of the perfect proposal ideas for her.
Start off with a brunch date at your favorite restaurant. Some delectable delights and mimosas can make for a perfect start to the day. Follow this up with any activity you both thoroughly enjoy as a couple like watching a movie, bowling etc. Post this, treat yourselves to a relaxing spa session followed by a candlelit dinner at a romantic spot.
After this, go out for dessert and take her to a romantic spot and pop the question!
This one is again very subjective but involves a lot of scope for creativity. You can tailor it however you want! This is truly one of the most magical marriage proposal ideas.
Related Reading: 15 Characteristics Of A Healthy Relationship
3. Pop the question at a concert
Now, we know what you're thinking. Yes, concerts are crowded and noisy but trust us when we tell you that they can be one of the most romantic spots for a proposal too. This is one of the most unique marriage proposal ideas in public places, especially if going to a concert is one of your romantic firsts!
Picture this; you're both at a concert that you have been planning to go to since forever. Your favorite band is playing your favorite song, the lights are magical and the vibe is simply ecstatic. You hold your partner's hand and drop down on one knee and ask her to be yours forever. Could there be anything more perfect? We seriously doubt it!
Another pro to this is that you don't have to spend time decorating the area because everything is perfect anyway. This is one of the super romantic proposal ideas that she will cherish as a memory forever.
4. A Sherlock style proposal – funny marriage proposal ideas
If your spouse is the mystery-solving type, this one is bound to get her excited to no end! Need cool marriage proposal ideas? This won't disappoint you. Make a clue solving game out of your proposal.
Leave her a note explaining to her how the game works. But remember, the clues should lead up to something super special. For instance, the first clue can lead her to the nearest Starbucks where she will present it to the cashier who will give her her favorite cup of coffee, with the next clue written on it.
This clue can lead her to a bookstore where the owner of the shop gives her the next clue in the form of a book quote from a cherished book. And so on! The final clue will lead her to you with a ring in your hand. (This is going to be a major awww! moment)
Be as imaginative as you like with this idea. This is one of the most creative marriage proposal ideas out there!
5. Propose to her in the rain
No one can deny that there is definitely something magical and romantic about the rain and it just becomes 10x more magical and romantic with your special someone by your side. The smell of rain and some chair hot chocolate in your hand coupled with the love of your life right next to you, is the perfect concoction for a very special marriage proposal.
This is one of the more simple marriage proposal ideas but that does not make it any less special. Beauty lies in simplicity. 
6. A musical evening – proposal ideas for her
If you're someone with musical talent, then this is one of the dreamy marriage proposal ideas for you! 
There's nothing like a beautiful proposal in song form. Compose a special song for your partner or just sing your version of your favorite song as a couple. Decorate the area with some gorgeous fairy lights and scented candles, split open your favorite bottle of wine and give her a performance with an extra special ending. 
But if you're looking for marriage proposal ideas with family, we can tweak this a little. If you're an actual performer, a great way to propose would be to dedicate a song to your love and ask her to marry you in front of a crowd or her family. This will be an extra special moment for her since she will know that you're proud to show her off even at a public gathering! 
Related Reading: 7 Good and Awful Reasons to Get Married
7. Fake an emergency
Now this one of the funny marriage proposal ideas which is not for the weak-hearted so make sure you don't do this one if you have a very sensitive partner. 
For this proposal, call your partner and fake an emergency like a minor accident and ask them to come to a particular address. When they get there, instead of an emergency, surprise them with a wonderful proposal, complete with gorgeous decorations and a heartfelt confession of love. 
Your partner will be relieved and overjoyed at the same time as this would be completely unexpected and the best kind of surprise. 
8. Propose to her with the first snowfall of the season – romantic winter proposal ideas
Are you and your partner one of those people who have just to go out and play in the first snow of the season? It doesn't matter if it's basically a blizzard, the two of you will step out for a few moments and enjoy the snow. If yes, then this is one of the most playful proposal ideas for you and also one of the most romantic winter proposal ideas.
The first snow of the season holds a special meaning for many of us. It means beauty magic, hot chocolate, the arrival of Christmas and the almost-conclusion of the year. Hence, this can be the perfect time to ask your loved one to take your hand forever. 
Go out for a little snowball match and a walk in the snow and then take them to a quaint spot where you get down on one knee and ask them if they would like to see the rest of the first snowfalls by your side, forever. 
9. The happiest proposal on Earth
Such proposal ideas for her simply cannot disappoint. Yes, you guessed it right! A proposal in Disneyland! You can literally have a fairytale princess proposal there and start making memories that will last you a lifetime.
If your partner and you are Disney fans, there's no place better than Disneyland to propose. This is guaranteed to be one of the most magical marriage proposal ideas ever! 
10. A sporty proposal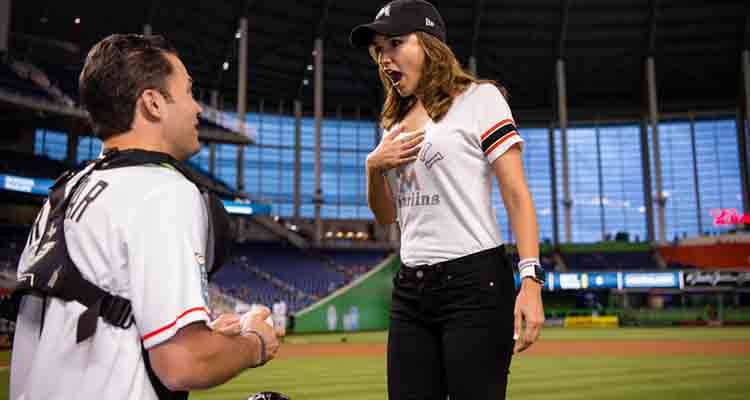 Now, this is one of the playful marriage proposal ideas for couples who are total sports buffs.  If you and your boo enjoy sports together as a team, then go ahead and buy two tickets to a game you both enjoy. Preferably, one in which your beloved team is playing! 
First, surprise her with these tickets and then, right after a big score, celebrate with not just an excited hurrah, but an unforgettable marriage proposal that no one can refuse.
11. A recreation of all your favorite moments
When you have been together for a while, you tend to have a lot of memories together. But there are some that always stand out more than the rest like that time you had ice cream at a quaint and cute place after a tiring day or that time when you found solace in each other at your favorite bar and kissed for the very first time. 
There are such significant moments in every couples' relationship. The perfect proposal could be one in which you try and recreate these special moments for your loved one by going back to these places and reliving your beautiful memories. You can pop the question at the end of the night after a good dose of romance and nostalgia.
12. Proposal ideas when she knows – sunrise and sunset proposals
Sunrises and sunsets are the most beautiful parts of the day, everyone agrees. They teach us about endings and beginnings and about how no matter what happens, life goes on. So many love stories often commence or end with a sunrise or sunset. Needless to say, these times of the day hold strong significance in many of our lives and are gorgeous and romantic at the same time. 
If you think she already knows that you two have been dating for marriage long enough and she's now only waiting for you to ask her and finalize the deed, then this simple idea is great for your situation. So, get a bottle of bubbly to split with your loved one, set the mood and drop down on one knee and ask her to marry you. 
Related Reading: 7 Things A Girl Should Do With Her Bestie Before Getting Married
13. A proposal in a hot air balloon
Ever seen those magical proposals that take place on a hot air balloon with the beautiful countryside sprawled underneath and a gorgeous sunset that you could almost touch if you reached out? Well turn that experience into one of the most cool marriage proposal ideas!
A hot air balloon proposal is definitely one of the most magical and scenic marriage proposal ideas that you could easily execute. You can find these gorgeous hot air balloon rides in magnificent and beautiful countries like Spain, Italy, Turkey and even India. So pick a place and get ready to propose! 
14. Propose to her at the end of the hike
If you and your partner are the outdoorsy type, are one of those couples that love to workout together and love to hike and trek, what better way to ask them to marry you than on top of a beautiful peak?  
It has been rightfully said that the most beautiful view comes after the toughest climb and what better way to make that an even more memorable moment by asking your partner to marry you right then and there?
This is definitely one of the more unique and adventurous marriage proposal ideas that your partner will love if she loves to climb. 
15. The most paw-dorable proposal ever
Hear us out carefully now. A proposal with a puppy can make for one of the most adorable marriage proposal ideas ever, if you and your partner are total dog lovers. Just the thought of it makes us all mushy inside. If you already own a dog, feel free to take his/her help too. 
A dog has rightfully been named a human's best friend and wingman at the same time. Tie a note to your puppy/doggy that says a simple "will you marry me?" and have it delivered to your partner. They won't be able to refuse in a million years.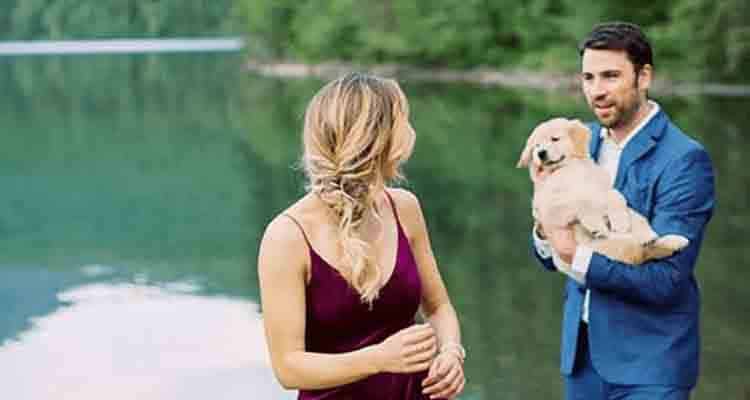 16. A surprise proposal at the workplace
Now this one can work even if you're not coworkers. Although it might be even more special if yours was an office romance. But if you are looking for proposal ideas at work then this is it. One of the more simple wedding proposal ideas, the surprise element of it totally takes the cake!
You can involve your coworkers in your plan and take their help to make this proposal even grander. Surprise her with a proposal in a beautifully decorated conference room! Especially if you met at your workplace like Jim and Pam from the Office, this moment will hold a lot of significance for you and your partner. 
17. A quaint proposal – surprise proposal ideas at home
The superfluous and over the top marriage proposal ideas aren't for everyone and we realize this. You might be a couple of homebodies and want to have your special moment in the comfort of your home. Well, that's just fine too. And with these proposal ideas for her, we can make that happen.
For this simple marriage proposal idea, get some dim lights and her favorite music playing. Set the mood with some good wine and make her favorite food (or order her favorite dish). It could be home made too. Treat her like a queen before going down on one knee and asking for her hand in marriage. This one can be a simple but magical proposal idea and her reaction will be seen only by you.
18. Propose to her at a family event – marriage proposal ideas with family
So you have been dating for a few years and attend family events with each other all the time. From thanksgivings to Sunday brunches to birthday parties – you're basically part of each other's families by now. So what better way to propose to your partner than in front of all your loved ones? 
This is one of the best marriage proposal ideas in public places! This one proves to your partner that you are proud of them and want them to be a part of your family. This will even impress your future in-laws!
19. A proposal with a little help from your friends
Who knows your partner better than you? Her BFFs! If there's anyone who can help make your proposal perfect, it's them. So count on them to give you a dose of cool marriage proposal ideas.
Plan the perfect proposal with her friends. A surprise dinner party with all her loved ones that ends with a big romantic proposal is sure to make her squeal with joy and shed some tears of happiness. 
Related Reading: Is Your Family Emotionally Blackmailing You To Get Married?
20. A tropical proposal
A proposal in Hawaii is sure to be on the top tier of the best marriage proposal ideas. The crystal clear waters, gorgeous beaches and breath-taking volcanoes and mountains make Hawaii the perfect spot to ask for someone's hand in marriage. 
Be it on top of Mount Tantalus or at the Hanalei Bay in Kauai or even next to the waterfall in the Akaka Falls State Park, there are endless picture-perfect spots for a magical proposal in this god-blessed land.
21. Ask her at her favorite spot
Hawaii sounds great but it's not really feasible and accessible for everyone, especially people staying on the other side of the world. When a destination proposal is not possible, don't underestimate the impact and meaning of your own city. Everyone has a favorite spot in the city where they like to go when they want to be alone.
If you've seen How I Met Your Mother, you've probably seen the scene where Barney proposes to Robin on top of the World Wide News building, her favorite spot in New York. It's a simple but incredibly powerful proposal that has made television history and shows how deeply in love they were. You can choose to do something similar. Take your girlfriend to her favorite spot in the city and decorate it and turn it into the perfect spot for a proposal.
This is one of the most magical marriage proposal ideas that she will remember forever! 
22. Just wing it – simple wedding proposal ideas
Sometimes, no matter how hard and long you plan, nothing feels just quite right. You spend days being anxious and thinking about the perfect way to propose to the love of your life. 
At the same time, you're impatient and don't want to wait too long. In such a situation, follow in Jim's footsteps from the Office. He spent days thinking about the best proposal and then just ended up asking Pam to marry him in the rain on the highway. Sounds simple, right? 
It might sound like one of the simple wedding proposal ideas but the love between them was so strong that it turned out to be a very special moment nevertheless. So, if you're facing a similar issue, sometimes it's just best to wing it. You know you want this person around with you for the rest of your life, so why wait, right? 
23. Propose to her at one of the 7 wonders of the world
What can be more magical than a proposal at one of the 7 wonders of the world?
You can choose from the Taj Mahal (Agra, India), the Colosseum (Rome, Italy), the Chichen Itza (Mexico), Machu Picchu (Cusco, Peru), Christ the Redeemer (Rio De Janeiro, Brazil), St Petra (Jordan), and the Great Wall of China (China).
Going to any of these places makes for an amazing vacation and inarguably the best spots for a perfectly dreamy marriage proposal.
24. A mid-air proposal
This is one of the most playful marriage proposal ideas out there. You can even involve the cabin crew in this! 
Propose to your loved one on a flight. Ask the cabin crew of the flight to do a special announcement for you and your loved one. If you're lucky, they may even let you propose on the intercom. How cool is that?
This is a fun and quirky proposal idea that neither of you will forget for the rest of your life. This is also one of the non-cliche proposal ideas which makes it very unique. 
Related Reading: 6 people confess what they wished they had known before getting married
25. Catalina island proposal
Catalina Island is a gorgeous island off the coast of southern California. This island has the most gorgeous beaches and hiking spots with breath-taking views if you two are beach lovers!
It's basically THE place you want to choose if you both love the seaside. Pop the question while relaxing at the beach with a candlelight dinner after an eventful day or on top of Mount Orizaba, the highest peak of the island. 
No matter what spot you choose, anywhere in Catalina is bound to be magical. 
26. A proposal for bookworms
If you are dating a bookworm or are one yourself, you know for a fact that these people love nothing as much as they love books. 
So why not use a book to propose? Like our creative proposal idea? Gift your partner a coveted edition of one of her favorite books that has been beautifully hand-wrapped. Write a beautiful quote inside the book and not just that, conceal a note inside the pages of the book that says something on the lines of "will you marry me?" When she looks away from the book and towards you, get down on one knee and propose to her. 
Related Reading: 15 most creative ways to propose marriage
27. Proposal ideas when she knows – take her to her favorite restaurant
This is one of the more simple marriage proposal ideas but it can be made very special nonetheless. 
Order her favorite food and enjoy your date night. Finish off with some rich dessert and just when she thinks the night is over, order two glasses of their best champagne and go for the classic slip the ring in the glass of champagne trick. 
It's simple enough and still one of the greatest marriage proposal ideas out there. This is especially one of the perfect proposal ideas when she knows you have a plan and is expecting it!
28. Super romantic proposal ideas – A proposal at sea
A proposal on a yacht or a cruise is something truly exceptional. The cheer, the luxury and gorgeous views while at sea make for a relaxing respite from the routine life. It's the perfect way to de-stress and get your partner in the best possible mood before you propose. 
Pop the question while you both are happily at dinner one night after a successful day of loosening up. Or even on the dance floor. You can also ask the crew to help you with a flash mob proposal or the in-house band to play a song for you both. 
This is bound to make a dreamy marriage proposal undoubtedly.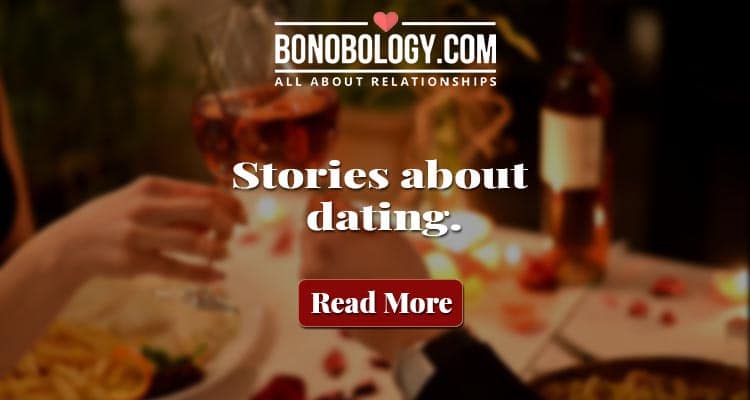 29. Ask her the question on a road trip
Road trips are bonding experiences that bring you both closer together. If you've been on a road trip before, you know the many joys of one. 
The adventure, the scenic views, the highway McDonald's, it all has its own charm. Especially if you both have been road-tripping together a bunch of times, you know this can be the perfect moment to ask her to marry you. 
Take the car around to a quaint spot with the best view and get out of the car and ask her to do the same. She's probably going to assume it's just to enjoy the view but you will have something to make the view even more remarkable and memorable. 
30. Hire a band
When you meet the right person you know it. And if she's the right one for you, then don't delay this proposal and ask her right away!
Hire a band in secret and take your partner for a walk in a beautiful park. You'll be there just enjoying the moment and suddenly you hear music. The band starts playing the cover of her favorite song. She might wonder if it's a coincidence but you lead her to the spot where the band is playing. You get up on the stage and give a heartfelt speech about how much you love her and ask her to marry you. 
Can you picture anything more adorable? A beautifully decorated spot, good music and you and the love of your life slow dancing together, with no care in the world. 
31. Cool marriage proposal ideas – propose to her under water
If you are looking for a creative and magical way to propose to your girl then take her under water. If you are both scuba diving enthusiasts then this is the best proposal idea we can imagine.
But in case scuba is not for you, go for an under se walk or even snorkeling can work. Make her dive underneath to see the amazing aqua life and then fetch out the ring. We can already see the amazement on her face. Make sure you get this scene clicked. You can show the kids to impress them later.
Related Reading: 25 Questions You Should Ask Before Getting Married
32. Create a customized crossword puzzle – funny marriage proposal ideas
If you are looking for a playful, funny yet nerdy idea to propose to your girlfriend then get a customized crossword puzzle where she would herself end up writing "Marry Me".
If she is a crossword puzzle geek then slip it on her breakfast tray and hand it to her. Imagine her surprise when she unravels all the words. This is the best way to show a girl you love her.
Don't forget to keep the ring handy!
33. Leave the ring in her drink
You can do this anywhere, at an event, at a party, at the restaurant. Just ensure she doesn't drink it up. Haha, kidding.
If you are looking for proposal ideas in public places then this one can be rather creative and can spring a surprise on her.
Throw a surprise party for her maybe on her birthday. Imagine she is talking to someone at the party and having her wine and then out comes the ring in her glass. And the next moment you are on your knees. It's indeed a creative proposal idea.
34. Skywriting proposal – cool marriage proposal ideas
Want to talk about marriage with the girl you love but don't know how? This is something many companies will do for you if you want to do a grand proposal for your girl. Look up a good company and give them the responsibility of using a plane and doing a sky writing proposal for you.
For a skywriting proposal the weather has to be right and a make sure you have the right view from the spot where you stand with her.
As soon the writing is done in the sky go down on your knees and hand her the ring. She would just fall for your magical proposal idea. If you want the whole thing to be a bit geeky or techie then try drones or hologram technology.
35. Destination marriage proposal idea
Like destination weddings, destination marriage proposals are also a great idea. Choose a famous monument or a famous place that would be the perfect backdrop for your proposal.
You can do it in front of the Eiffel Tower in Paris or choose the monument of love Taj Mahal at Agra to put forward your diamond ring. She would be over the moon for you thought so grandly and planned a destination marriage proposal.
There can be a billion ways to ask someone you love to marry you and you can make it as special as you want with these marriage proposal ideas and a bit of your creativity. 
Don't be afraid to go all out and go a little crazy with your imagination. Trust us, she's going to love it! You know she's the one for you, so why wait it out? Plan your proposal today and live your happily ever after. 
FAQs
1. What do you say in a marriage proposal?
In a marriage proposal you ask your lady love to marry you. If you think just two words won't do for you, you can write out a poem or a small letter to her telling how you feel about spending the rest of your life with her.
2. What's the most romantic way to propose?
That is subjective. Anything you do with all your heart and when you want to show her you care will turn out to be romantic. Trust us.
3. How do you begin a proposal?
You can drop some hints to your girl, who you are planning to propose to gauge how she feels about it. Then on D-Day begin by telling her how you want to spend your life with her.
4. What is the best day to propose a girl?
Any day is best day. Just ensure she is not to stressed out by work or any other issue and is generally in a relaxed and happy space.
5. What should we give to a girl while proposing?
A ring, of course. You can add flowers or a gift to that.
8 Signs You Are Rushing Into A Relationship And 5 Reasons You Shouldn't