What turns a woman on? Woman's sexuality is a mystery to men. Well, that may be because you are not listening. Only 30 per cent of all women can sometimes achieve orgasm with just simple intercourse. That is because the clitoris has around 8000 nerve endings, while the walls of the vagina have none. Fun fact: a clitoris has 200% more nerve endings than the penis. So when we say we feel more, we mean it. That's why they can happily use household items for masturbation. Also, the G-spot or sweet spot inside the vagina lies near the deep end of the clitoris and that's where the pleasure from penetration arises. But as you can see, women don't really need penetration to have an orgasm. They can arouse the clitoris and get an orgasm on their own. 
As we all know, orgasm, especially for woman, doesn't just happen between two legs but also between two ears. We don't need to beat our junk to cum. Conversations, music, atmosphere, dancing, even a well-cut suit may arouse us and make us wet: but you will never know. That's our superpower.
Related Reading: He Knew Things About My Vagina That I Did Not Know Myself
During particularly raunchy sex chat, women sometimes don't even need to touch themselves to reach orgasm. Put your hands up girls who have reached orgasms even without touching yourself: I think it's all of you. And when it comes to masturbation they don't really need to go for expensive sex toys there are plenty of household items that can give them pleasure.
Household Items For Masturbation
It is a known fact that with a bit of relaxing music and the right position women can use their fingers to arouse themselves and come up with body-wracking orgasms. But sometimes for variety it's fun to try all the things that are there around the house and these household items are perfect for women's masturbation.  So here are a few household things that arouse women. I am assimilating a few secret confessions, so I'm not mentioning names here. Let me know which is yours.
1. Bidet shower (health faucet)
The bidet shower or health faucet is one of the greatest inventions of our time. It's the hand-held targeted nozzle spray that hangs near the commode. Yes, that is what it is called. I know you always wondered.
But I don't think any of you have missed a chance to use it on your clitoris. After a really hard day you just want to hit your clitoris and the vaginal area with a strong targeted water flow: All that bubbly water hitting all the right spots that even tongues and fingers can't do justice to can work wonders.
You just want to sit there and let the water do its work: wash away your day and give yourself an orgasm that you deserve. Go for it, girl! The bidet shower is one of the most common things available at home that you can use for masturbation.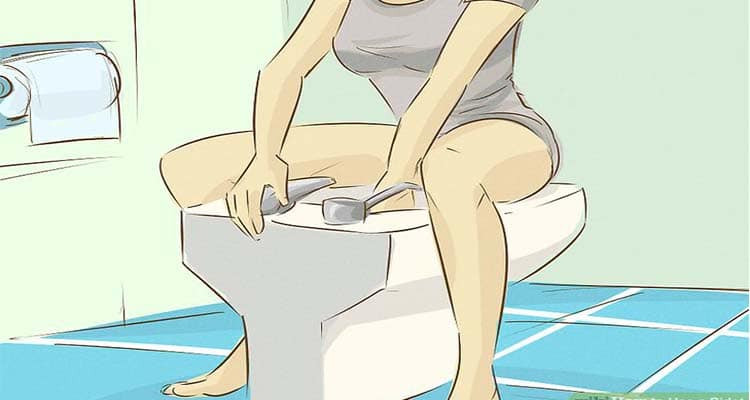 2. Mills and Boons
Nineties' kids would know what I'm talking about. Growing up, boys had their porn DVDs and later porn sites. But most pornography is problematic for women, as it is mostly made from the male perspective and women are just functional there. This is where Mills&Boons came into play. For those who don't know, Mills&Boons are a series of erotica where the hot guy always ends up with the girl even under impossible circumstances. Yes, it gave us impractical ideas of romance, but porn gave men impractical expectation about sex: so it's okay.
Women have vouched that they discovered what an orgasm meant in their teenage while reading one of these books on a hot sweaty summer afternoon or a winter night between the sheets.
Oh! They don't make men like that any more… And Mills and Boons is indeed an ietm that's most easily available on your bookshelf. If you like something more mature you can try 50 Shades of Grey and some household items for masturbation.

3. Partner's T-shirt
If your partner leaves behind the t-shirt that they were wearing, then it is yours. Wear it, cuddle it, go to sleep with it: it has your partner's smell and you got to be in love with your partner's smell. Having that around you, touching your skin, you can remember all the ways they have touched you and imagine all the ways they can touch you. Let your senses take in the aroma while your hands are going through the motions. How to pleasure yourself with household items? Ah…well your partner's shirt smelling of his cologne is sitting right there in the cupboard.
Related Reading: My Sex Life With My Husband Is Good But I Still Feel Like Masturbating
4. Side pillow
Those who don't use side pillows don't know what they're missing. Quiet and submissive side pillows are better than any partners, especially if you are sleeping alone. Put them between your legs and ride them into the night: You can have as much friction as you need. The side pillow is actually a household object that feels like a tongue.
Some women give side pillows credit for finding their pleasure centres. Some even confessed that agonies of teenage hormonal cravings were satisfied best by the side pillows. A married woman I know calls her side pillow her first boyfriend and I bet it was because I know she was saving it up for her marriage.
Related reading: Top reasons why all women, whether married or not, must masturbate
5. Vibrating apps
Did you know that there are apps that can set your phone in constant vibration even when the screen is turned off? If you can't afford a vibrator or are too embarrassed to buy one, here's your solution. Download one of these apps, there are quite a few. Install this app and choose your setting. Wrap your phone with a towel or old clean sock and put it between your legs.
If you are concerned about your phone or hygiene, you can put it in a zip bag or a condom. (Yes, they stretch, don't sweat.) While dildos broaden your vagina, clitoris stimulator or clitoris vibrators keep the whole area healthy. A phone on vibration mode does just that. Did you ever think a household object like the phone had so much potential to bring you pleasure?
Household items can give you immense pleasure and as a woman you can use those and masturbate regularly. What are you waiting for? Just go ahead and try it.
Related reading: Why are women still embarrassed to admit they masturbate
Strictly avoid thoughts of suicide when you face rejection in love