Married life does not have to be a dying flame. You can romantically flirt with your spouse and bring back the romance in your life. It's possible to go back to those honeymoon days and feel the ripples in your stomach every time you look at each other.
Do you often think about the days with your spouse when you were newly married – all the flirting, the excitement, the butterflies, lots of lovemaking and the constant need to be around each other? Unfortunately, in most cases, these feelings turn into memories as life progresses with responsibilities and the habit of living together in the same house.
Sometimes, it is not even the habit, but the unceasing distraction of work, children, household, ageing parents and several such factors that snatch away romance from a married couple's life. We all know how to be romantic before marriage, but what about being romantic after marriage?
10 Ways To Romantically Flirt With Your Spouse
If you're one of those couples that feel sad about the dying romance, you do not have to worry. Sometimes, it takes as little as one romantic song to bring the flame back into your lives. The best part of marriage is having a boyfriend or girlfriend for life.
Someone you can trust, constantly be around and still not be bored with each other. The ability to say flirty things to your spouse and not worry about the response is also an additional bonus.
We have listed ten different ways how you can turn your regular married days into some extraordinary moments by doing these small but extremely romantic things to flirt with your spouse.
Related Reading: How Do Introverts Flirt? 10 Ways They Try To Get Your Attention
1. Send romantic messages at work and flirt with your husband
There is no greater joy than to hear your phone beep thinking it would be a work-related message, only to find a sweet text from your spouse saying that they are thinking about you. Flirt with your husband or wife through text. You get additional brownie points if you make it more creative as well.
Usually women send messages like, "Did you eat?", "Did you finish the meeting?", "When will you come home?"  But a great way to flirt with your husband at work is just send him one single message, "I am in the black lace negligee that you got me on our honeymoon." Then see the impact.
Here's how to flirt with your husband through text: send them a text that says, "What is it about you dumbo that still keeps me thinking about you after all these years? I love you!". They might not be able to stop smiling at work after such a message and possibly get in trouble, but it is completely worth it, right?
Related Reading: 16 Romantic Things To Say To Your Husband
2. Wear her favourite outfit to flirt with your wife
When you're married to someone, you're used to seeing your spouse in a baggy t-shirt, boxer shorts and dishevelled hair every day. Imagine the absolute happiness on your significant other's face when they come home after a long day at work and see you wearing the black sexy shorts or the blue shirt they adore a lot.
Every couple has an outfit they love to see their partner wear. Come on, guys! Flirt with your wife and make her happy. Wear that hot black shirt for them, and prove that you still love them and like to get dressed for them.
(They might undress you immediately, though. If you know what we mean!)
3. Flirt with your spouse by slow dancing in the living room
There can no bigger romantic but flirty gesture like spontaneously pulling your partner in for a slow dance followed by a soft kiss. Yes, a little dirty dancing in there!
Make a playlist of your favourite romantic songs, or songs that you and your partner have enjoyed over the months of your married life, put them up on the stereo or your regular Bluetooth speaker and simply pull them towards you for a romantic dance session as they are going about their regular work.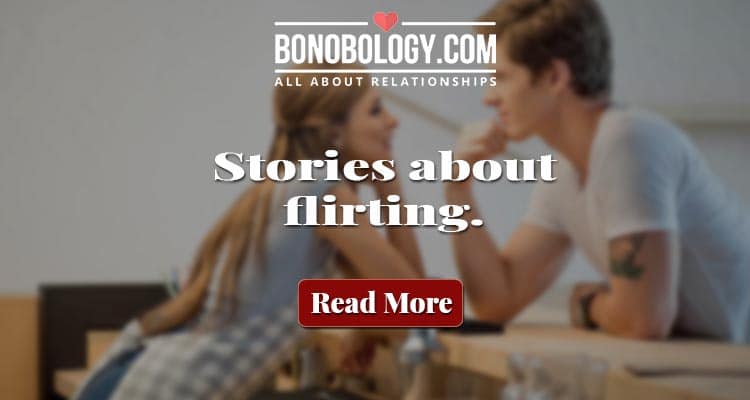 Men always love it when women make the first move. So ladies, prep yourself to flirt with your husband. You don't have to limit the dancing to the living room. You can even do it in the kitchen while they're arranging the dishes or in the bedroom as they get ready.
Make any area of your house a spontaneous dance floor and see your romance rekindle! This is the best way to get romantic after marriage trust us.
Related Reading: 5 Ways Harmless Flirting Can Save Your Marriage During this Lockdown
4. Write love notes and paste it where they least expect it
You know how you can flirt with your spouse through text. Whatever happened to the good old exchange of love letters? It's time to bring back the classics by giving it a modern touch.
Have some flirty things to say to your partner? Write romantic messages on sticky notes and paste them where your partner is likely to go often but not likely to find it there. You may have many flirty things to say to your significant other.
This is your chance to say them whatever has been on your mind, through love notes.
You can try and create a trail of love notes too! Paste one on the mirror of the bathroom as they wake up, another next to their cup of coffee, the third one on the dining table or sofa, where they eat their breakfast, fourth one in the cupboard and the last one on the dressing table or the main door as they get ready to leave.
You will undeniably see your significant other smile foolishly with a very childlike glee as they go about their boring day.
5. To flirt with your spouse kiss them unawares
Married couples tend to forget the classic signs of love like kissing and hugging. Lovers, just kiss your partner already. See them doing there mundane job, hold their face and plant a long, tender kiss on their lips.
This is the most obvious, yet the sweetest way of flirting with your spouse and being romantic after marriage. Not to mention it will definitely leave them wanting more, and your day might go differently than planned.
Related Reading: 12 Lesser Known Erogenous Zones In Men
6. Caress their hair while playing a romantic song in the car
Make your boring car rides more interesting by playing romantic songs. Additionally, caress your spouse's hair or their arm as a really good song comes on and smile at them. As you stop at the red light, lean in to give them a light peck on the cheek.
You can increase the intensity gradually, too. After the peck, nibble on the ear lobe and lightly bite it. At the next red light, give them a full-fledged but short kiss.
Flirt with your husband if he is driving and make him go wild in the car so that he cannot wait to get home and be all romantic with you.
7. Make them their favourite breakfast and wake them up with a kiss
You cannot deny food is surely the way to someone's heart. Wake your spouse up on a Sunday morning with a kiss and serve their favourite breakfast to them along with a hot cup of coffee or tea.
This might mean you will have to wake up earlier than usual and prepare the breakfast, but this romantic gesture will completely be worth it when your husband or wife will wake up to a beautiful morning with the biggest smile on their faces!
The breakfast need not be elaborate. Just one dish like idli, omelette, or pancakes, plated nicely with a cup of beverage would simply do wonders. Food is the recipe for romance.
Double the romance by having breakfast in the balcony and complimenting your spouse as the rays of sun kiss their face. If the wife generally cooks the meals, the husband should totally flirt with the wife to display the adoration for everything that she does.
Related Reading: 60 Ways To Celebrate Spouses Day
8. Call them. Say 'I love you'. Disconnect the call
This is the briefest, yet one of the most romantic ways to flirt with your spouse. All you have to do is call them in the middle of the day when they are least expecting your call, say that you love them, cut the call, and imagine them laugh goofily at their workplace.
This will not only brighten up their day, it will also ensure them that even after years of spending their lives with you, you still think about them in the middle of the day and would express your love to them in new ways.
9. Stare at them without any reason and smile or wink
We don't know why staring is only exclusive to new relationships. Who said you can't stare at your husband or wife of 25 years and wink as flirtatiously at them as you did when you newly got married?
Imagine the spark it will ignite when you stare romantically at your spouse and smile or wink at them as you have having your meals or going about a normal routine conversation. It will also make them feel that they've still got it in them to leave you in awe. Can being romantic after marriage get any better?
Related readig: 5 things to do with your partner to rekindle your love life
10. Have food sent to their workplace with a cute note
An overload of work and skipping of meals is a major reason for irritability and dying romance in a relationship. If you know that your partner is going to have a long day at work that they are dreading to go through, have their favourite meal delivered to them at their workplace during lunch time.
Ask the restaurant to write a cute little note that says things like, "I care about you", or "I'm thinking of you", or "I will be there with you when this tiring day ends".
Your wife or husband will definitely feel more relaxed and even give you a better surprise in the near future. Food is probably the best way to flirt with your spouse!
There have been innumerable instances where married couples complain that their spark is dying, or the relationship is getting boring. As the couple grows old, they stop making efforts in the little ways that they used to. Being romantic with your spouse does not have to be a tiring task. Just follow these tips and see it become a great start to reignite the old flame of love. Eventually you can get as creative in romantically flirting with your spouse as you want.
Healthy Flirting Isn't Damaging But Are You Crossing The Line?
Has Your Husband Checked Out Emotionally? 12 Signs Of a Failing Marriage