Every couple loves to be cheesy in love, but nobody ever admits it. If you ask me, I'm never going to accept that most of my social media posts are indicative of my PDA for my partner. But essentially, they are!
I'm not the only one!
Yes, that's my biggest excuse. Every couple does a few super cheesy things when in love that makes them go aww for each other and nark others. Here are a few examples of being cheesy in a relationship.
1. Stupid, mushy pet names
From Janu, Koochi pooh to honeybun and sweet pumpkin pie, the list of mushy pet names that couples in love give each other is endless. These pet names follow no grammar whatsoever and are purely random in nature. The people in love find their heart turning pinkish when their loved ones call them in these pet names while the rest of the world feel nauseated.
Also read: 5 mistakes couples make in a long distance relationship
2. Go matching – matching
From matching tee shirts to matching phone covers, desktop and mobile home screens – the new age couples in love find many ways to show the world how they love having similar taste.
3. Social media PDA
From sharing romantic posts to a truckload of wefie updates, there are many ways couples jump onto the social media bandwagon of PDA. They dedicate social media updates for each other, share cute romantic quotes and poems on each other's walls.
Also read: The sizzling chemistry of these reel couples makes us believe its real!
4. 'Good night' calls before going to bed every night
Now this is not only a cheesy act, but a mandatory responsibility when in a relationship. Even if you are out late for girls or guys night out and came back drunk as a dead rat, you must never forget calling your honeybun before going to bed.
5. And saying 'I love you' before hanging up
This is also a must do for couples in love during the initial years of relationship, unless they are in a fight. And no, even a grumpy person can't ignore this love ritual when in a relationship.
Also read: Constant dialogue is a must when couples don't share the same beliefs
6. Talking like babies
Ah, the most stomach-churning cheesy thing that every couple in love does! 'Ale mele baby ko kya hua?', 'You are my wooghly googhly sweetie' and so on. No matter how cool the couples behave, everyone does it. And even if you find it annoying as a single person, you are going to do the same once in love!
7. Random anniversary celebrations
From love-versary, month-versary, kiss-versary, hug-versary, the list of random anniversary celebrations continues for couples during the initial few years of their relationship. Along with this come the social media posts with anecdotes of their special day.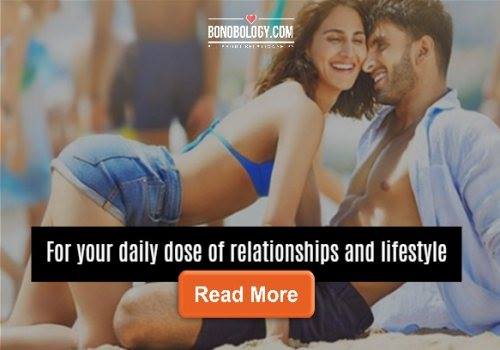 8. Singing romantic songs to each other
In parties, on Facebook and Whatsapp, during functions, in whispers people in love sing lovey-dovey romantic songs to each other. This especially happens when they are drunk and don't care a hoot if they are pathetic singers.
9. Saving random memories
From tickets of the first movie they have seen together, gift papers, the first souvenirs or love notes from the past – everything that smelled like romance are worth saving for people in love.
10. Brag about each other
You gotta show the world when in love, and that's why couples like to talk about their partner with pride in front of the world. It's a wonderful cheesy act for the lovers and a quite annoying thing for others. But it makes the person who they brag about feel wonderful and appreciated.
What cheesy things you and your partner do that make others go aww? Don't be shy, tell us about it in the comments below!