I have been in relationship with a girl for one and a half months. She broke up with her previous boyfriend after a one-year-long relationship and she doesn't want to tell me about her previous relationship. I don't want to push her but what questions should I ask my girlfriend about her ex?
What Questions Should I Ask My Girlfriend About Her Ex?
I have realized that something about my girlfriend's past relationship is bothering her. She's with me and my family for the last 22 days. I can see in her face that she's nervous and quite afraid to get familiar with my family and me as well. I know I need to find out about her ex but I don't know what questions I should ask her. I don't know if I should ask her about her past at all.
Related Reading: 10 Questions To Ask Your Boyfriend About His Ex
Is it okay to ask about exes?
I just want to see her real smile I want to make her happy and see her relaxed and free. Somehow I think that she's still feeling some kind of regret about her past relationship and she is carrying the emotional baggage of that relationship.
But I don't know how to make her comfortable in talking with me. I don't know how to broach the topic of her ex.
How do I talk to my girlfriend about her ex?
Actually my point is it okay to ask her about her ex? How was he? How did she break up with him? What's the reason of their separation? Are these the right questions to ask my girlfriend about her past?
Though I feel I can help her out and free her from her emotional issues with her past, I don't know how to do it.
My girlfriend broke up six months back and her relationship with me could be on the rebound but I want to help her get closure. 
Please help me.
Related Reading: 15 Reasons Why Being Friends With Your Ex Doesn't Work
Dear Worried Boyfriend,
I appreciate your decision to ask a professional before making a decision about speaking with your girlfriend. I understand that you're feeling upset about her not being at ease with you and your family but you also need to understand that this is something that she has to be prepared to share with you on her own.
Provide her a safe space in the relationship
Your concern is justified but her relationship with her ex may have had some factors that might need her to meet a professional counselor instead of telling you all.
My recommendation would be that for now, all you can do is to provide her a safe space in the relationship and wait for her to be comfortable to share with you the details of her past relationship.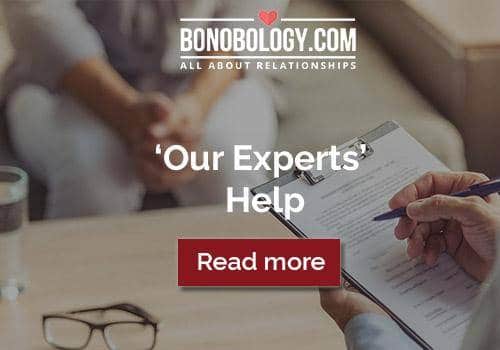 Give her patience and support
I wouldn't say this is the right time to ask her questions about her past or her ex. When she feels more comfortable with you she will share the details of her life with you.
If in the course of her sharing with you, you feel like there are aspects that she should share with a professional, then you can encourage her to seek help. Two words for you for now: patience and support. That will help her heal.
Don't ask her questions about her ex
Asking her questions about her ex will do more harm than good right now. She might think you are being nosy and intrusive and might not realize you are trying to help. Let things be. Giver her space and let your relationship grow. Things will fall in place.
I wish you all the best!
My Ex Boyfriend Is Blackmailing Me, Can I Take Any Legal Steps?
https://www.bonobology.com/dark-pantry-office-romance/