What to expect on a first date? What to do on a first date with a guy? What should your first date conversation be about? What should a girl do on a first date? Yes, we know you have a host of questions on your mind when you are nervous about your first date. Fret not. Just go through our first date tips for girls and you will be that confident gal, who knows how to rock a date.
Firsts are always special. Be it the first date or the first kiss or the first lovemaking session, everything remains etched on your mind. There are some dating rules you should follow on your first date, and some things you should not do on a first date. Pair our tips with the right outfit, and you are all set.
Sure, it sounds easy on paper, but when you're actually out there trying to think of things to say to avoid the next awkward pause, your brain might just bail on you. Even though it may seem like the hardest thing in the world, what to talk about on a first date with a guy isn't too hard to figure out. We've got some tips so you don't end up staring at each other.
12 Best First Date Tips For Girls
As the world of dating gets more complex by the day, putting yourself out there can be scary. After all, we've all heard of the first-date horror stories that make us want to swear off the experience altogether. When you're texting a guy, you can always take your own time to reply, hoping you'll eventually come up with a response witty enough to keep him interested.
But when you realize there will be no Google or a best friend you can text to help you out when you're on your date, figuring out how to make a guy fall for you on the first date becomes a daunting task. Though it might be scary, don't let your nervousness get to you. You don't want to be sweating when he meets you for the first time.
That's exactly what Angie, a 24-year-old lawyer did on her first date. "At first, I was way too scared at just the idea of meeting this guy I'd already started falling for. What if I run out of things to say? But once we met and we started clicking, I realized the entire onus of the conversation wasn't on me. It takes two to tango," she tells us.
Even though you're one half of the equation, it's still enough to influence the end product. When a date goes wrong, people are quick to blame it on the other person – in some cases, rightfully so. But they don't realize that they too may have contributed to the disastrous experience, albeit unwittingly. So then, what to expect on a first date? With these 12 best first date tips for girls to fall back on, rest assured that you will be totally geared for your first date. 
1. Know what to expect on a first date
Knowing what to expect on a first date is half the battle won. Clarity on how things are likely to progress helps keep the anxiety in check and keeps you in the right mind space to focus on your date. The idea is to have a good time and try to get to know each other better without venturing into potentially uncomfortable territory.
If you're expecting an instant connection and never-ending laughter, you might be a bit disappointed when the inevitable awkward silences come your way. Perhaps the best first date advice for girls is to not expect him to sweep you off your feet, connections can take time to build.
There is also a good chance that both of you are nervous on your first date, so one of the best dating advice for girls is to embrace the nervousness instead of trying to fight it off. 
It's also perfectly normal to think about whether or not you'd like to go out with this person again. However, you don't have to necessarily take that decision right then and there. If that thought is adding to your nervousness, put it off until you're in your comfort zone again. 
Related Reading: 21 Questions To Ask On A Second Date
2. Choose a location you're comfortable with 
Before you jump to what to do on a first date with a guy, focus your energies on deciding where you want the date to be. It's vital to choose a location that you're comfortable with so that the setting of the date does not add to your anxiety or awkwardness. 
If we had to pick one of the first date tips for a teenage girl (women too, for that matter) to swear by, it'd be meeting at a public place. A restaurant, a museum, a shopping mall, a park – any venue that interests both of you is fine. But do not meet a person for a first date in a private setting. 
If you're going out for a meal and have food allergies or aversion, let your date know, so that you can finalize a place where these concerns don't get in the way of your time together. 
3. Strike a balance between comfort and style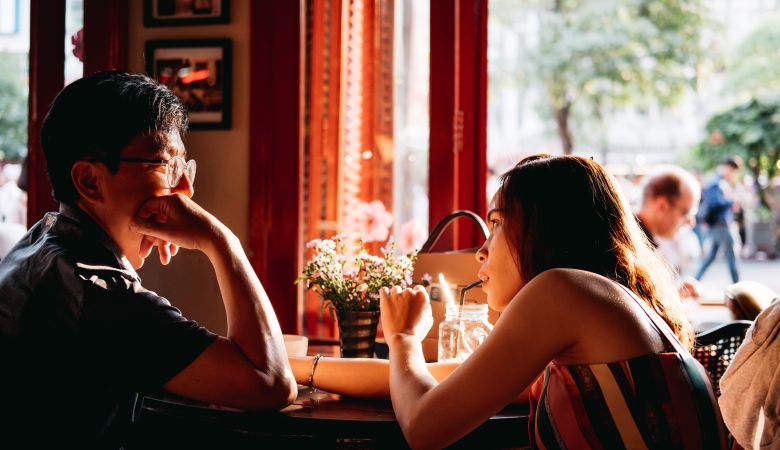 Of course, you'd want to dress up and look your best on a first date. That said, a bankable first date tip for women is not to wear anything too uncomfortable to let you walk, talk, eat or breathe easily.
You may have a new pair of stunning stilettoes sitting in your closet, and we get the temptation to wear them on your first date. But you don't want to risk dealing with a shoe bite on your first date. 
Similarly, wearing a dress so tight that you have to hold your breath throughout the evening will only add to the anxiety and nervousness you're feeling. The ideal way to rock your first date look is to choose a dress that accentuates the best of you yet is light and breezy on the body. 
4. What should a girl do on her first date? Be on time
Of the many first date tips for women, we cannot stress this enough: be on time. Being 'fashionably late' is not cool. Think about it. Would you want your date to keep you waiting? If not, then accord them the same courtesy. 
Showing up on time is right at the top in the long list of answers to, "What should a girl do on her first date?" It'll let your date know you're not taking them for granted and that you value his/her time. If you're late to the date, all that effort you put into figuring out where to go on a first date with a guy won't bear any fruit.
Unless there is an emergency or you have a good reason for the delay. In that case, inform your date beforehand and reschedule the time. 
5. What should a girl not do on her first date? Not obsess over her looks
You want to rock your first date and making the right first impression goes a long way in ensuring that. But how you're looking, is something you have to take care of before arriving for the date.
Once you're there, do not obsess over your looks. You have limited time together, so make the most of it in trying to connect with the person you're with instead of wondering how your hair looks or if your lipstick is still in place. Don't be too anxious or self critical then you will end up self-sabotaging the relationship even before it takes off.
Resist the temptation to rush to the restroom for repeated touch-ups. Definitely don't ask your date if you look okay over and over again. This person is already on a date with you, meaning, they already fancy you. A strand of hair out of place is not going to make a world of a difference.
When you're constantly anxious about how you look, you might not even get to figuring out what to talk about on a first date with a guy.
6. Make first date conversation flow
First dates can feel like a job interview with a romantic twist, what with the barrage of questions and queries. However, the only thing worse than having to answer or ask incessant first date questions is complete silence. 
So, one of the most useful first date tips for girls is to make an effort to keep the conversation flowing. Don't fixate on whether you're asking too many questions or if it's making them uncomfortable. The trick is to keep your queries open-ended, so that your date has a chance to respond in detail, and then build upon it.  
Ask your date about their travel experience, or talk about things you two have in common. Share a story about a funny incident you had, but don't try too hard to be funny. The best first date advice for girls is to have a conversation as though you're talking to a friend and try to take the edge off the situation.
Related Reading: 10 Best Ways To Propose A Boy [He Will Say Yes For Sure]
7. But don't ask anything too personal 
Politics, exes, religious beliefs, past relationship experiences and family issues are not typically first date conversations. You don't want to rake up a debate and turn the whole vibe upside down. Be respectful to your date and don't harp on these topics unnecessarily.
If in the middle of a first date you hit a nerve, the entire energy of the date may change. It may well be a traumatic past relationship that your date is trying to shake off, so it's best to keep certain heavy topics out of your conversation.
Remember you're still practically strangers to each other, and these sensitive topics are off-limits. Our dating advice for girls would be to keep the conversation as light, upbeat and positive as possible. 
8. What to do on a first date with a guy? Keep your hands off your phone
This is one of the first date tips for women you'll thank us for later. A lot of us have a compulsive tendency to reach out for our phones every couple of minutes to check on social media feeds, email and texts. However, this is poor dating etiquette and conveys a lack of interest.
That is undoubtedly a deal-breaker. Phone-snubbing someone is always rude, and if you're doing it to a date, you can forget all about the first date tips and tricks you're trying to pack under your belt. They will all be useless.
Would you like to go on a second date with a person who has their head buried in their phone for the better part of the evening? Yeah, no one does. So, put away your phone and be present in the moment. 
9. First date flirting is a good idea
So, you've asked your date all the questions you had on your mental checklist. They have reciprocated with queries of their own. Now what? Remember this isn't actually an interview, but a date. Adding a little flirtatious twist to your interactions isn't a bad idea at all, especially if you like the person and want things to progress. 
A compliment to the guy here, a light tap on the hand there, leaning in when talking to them, a mischievous smile or a loaded statement are all first date tips for women that work like a charm in taking the mood to the next level. If you've been wondering whether first date flirting is a good idea or not, we say go for it. 
10. Drink responsibly if want to rock your first date
At the risk of sounding preachy, we're going to say this. If you truly want to enjoy this first date experience, regulate your alcohol intake.
You don't want a stranger to carry you home at the end of the night. Or end up crying over your ex or a crush who didn't like you back on your first date. 
Worse still, you don't want to hurl in front of your date. So, go easy on the alcohol. Sure, a couple of drinks can help you loosen up and calm those nerves, especially if you two decided to meet up at a bar or some place that serves alcohol. Maybe don't experiment with that huge L.I.I.T. on your first date, and stick to a drink you're comfortable with.
One of the best first date tips for women is to know where to draw the line while you're drinking. Somewhere before you begin to feel tipsy should probably be a good place.
Related Rading: When A Guy Cancels A Date – 5 Common Scenarios And What You Should Text
11. Always split the bill
This isn't the 1930s. Don't expect the man to pick up the check at the end of the date. One of the most valuable first date tips for women is that you should always be prepared to go Dutch.
The easiest way to do this is by picking up the check as it arrives and paying your share. If your date insists on paying despite your earnest effort to split the bill, you should leave the tip at least. 
You should never expect your date to pay and if need be have a conversation over this so that your date is not jittery when you pick up a posh restaurant.
12. Want to be kissed? Let your date know
Well, not in as many words but through your actions. All that flirting will get the idea across anyway. When you're saying your goodbyes touch them lightly or linger in. You could even give them a peck on the cheek or a warm hug to let them know you're open to a kiss. 
If they're receptive enough, they'll pick up on the hints. But if your date is clueless and you really want that first kiss, don't hesitate to initiate it. 
These first date tips for girls will take the edge off the experience. To make the most of it, try to be yourself and focus on having a good time. 
FAQs
1. How should a girl act on a first date?
It is natural to be nervous on a first date, but there's no reason to fret over it. Wear comfortable clothes and accessories, choose a public place to meet and avoid controversial topics like past relationships and toxic parents. Do not let anxiety get the better of you.
2. What are some things a girl should not do on a first date?
A girl should stay away from the phone, controversial topics and more drinks than she can handle. She should also avoid frequently checking up on how she looks.
3. Is it OK for a girl to pay on a first date?
A girl must offer to pay on a first date and she should tell her date beforehand that she believes in going Dutch. That way her date will not feel any pressure if she picks up a posh venue.
4. Should you kiss on a first date?
It depends entirely upon you. If you feel comfortable with your date and there are body language signs of attraction then you can initiate a kiss.
Dating Etiquette – 20 Things You Should Never Ignore On A First Date