There are several reasons you might be searching for romantic things to do for your wife. Perhaps it's your anniversary, perhaps it's Valentine's, perhaps one of you is leaving for someplace, or perhaps you want to rekindle some romance in your relationship. But why wait for a reason to make your wife feel special? Why not do that every day?
Life and its daily routines are so mundane that it's hard not to lose the spark with your partner after your marriage. It's not an easy task to reignite the flame, especially if you're not the most romantic person. In that case, don't worry, you are exactly where you should be right now. In this article, we're going to look at the 33 most romantic things to do for your wife that will make her fall for you every time. These things will spice up the chemistry between you two, and improve and strengthen your relationship.
33 Most Romantic Things To Do For Your Wife
There are various romantic things to surprise your wife with. With these ideas that I have shared below, you can be sure to win her over. It will make her love and cherish you even more. Love isn't always about romantic desire, defying all practicality, it can simply be about wanting to make her smile and improving your mutual connection. And these little (or large) gestures show her that you don't take her or the relationship for granted. 
These ideas aren't hard to execute if you put a little heart into them. They are going to make your wife feel special and loved, and in turn, would make your days more romantic and energized as well. So, read on to find the 33 most romantic things to do for your wife. Make sure to read till the very end, because you never know which tip might catch your fancy!
1. Compliment her
This is the simplest yet the most easily forgotten aspect of a relationship. Complimenting a person invariably makes them feel good and improves the bond between you two. Remember the time when you two were dating, and how you'd compliment her all the time? Why wait for an occasion to tell her how stunning she looks, or how smart she is? Do this whenever you get a chance and you'll win her heart every time, again and again.
Related Reading: 365 Reasons Why I Love You | On Field Survey
2. Random love letters
You don't need to be a poet or an established writer to write something beautiful. Just write all that you feel for her, or perhaps borrow some romantic messages for your partner, from those who've come before you and loved before you. She'll love these little notes and will keep them safe in all likelihood. Make sure to do this as often as you can, especially if she loves the written word. However, don't forget to put in some effort and love behind it, or else it would just be a meaningless scrap of paper.
3. Go on dates
Another aspect of their relationship that couples often leave behind after getting married is going on dates. These dates are needed especially if you have a kid. It's time to bring some spice back into your relationship. You can let her choose her favorite place to go on a romantic date, or you can both go see that movie she's been excited about for months. Or you can pick up one of the many great date ideas for couples out there and give her an unexpected surprise!
You can go for more adventurous options like taking her for a surprise ride to someplace unknown and making things entirely spontaneous and fun. This is one of the most super romantic things to do for your wife. She can't help but love it. Not to mention, it's guaranteed to bring in lots of sexual tension between you two. After all, what better way to light up your chemistry than through adventures and unpredictability?
Related Reading: 21 Uncommon Romantic Gestures For Her
4. A walk to remember
Yes, I just used a Nicholas Sparks title to suggest something to you, but hey, it's true! Walks are a great way to get romantic while cementing personal connection and intimacy between a couple. The silent feeling of companionship is something everyone cherishes – just you two, hand in hand. It's one of the simplest romantic things to do for your wife, and yet one which she'll love and cherish. In a world that's always running on deadlines, spending some slow and quality time together helps you reconnect and strengthens your relationship.
5. Fleurs, mademoiselle?
One of the oldest and time-tested ways of wooing someone is by giving them flowers. There's something about those bright, fragrant things that can cheer up anyone's day, which is why it's one of the best romantic things to do for your wife at home. It might feel a bit overdone, but perhaps there's a reason it is overdone? Not to mention it's one of the most subtle ways of flirting with your spouse.
6. A massage a day keeps all tension away
A lot of the tips I recommend here will also depend on the preferences and habits of your partner, like flowers or letters. But massages? It's hard, almost impossible, to find a person who doesn't love massages (unless they're fictional). And this is why massaging her is one of the most romantic things to do for your wife in bed. Make her feel relaxed and free, and she would adore you all the more for it.
7. Text or call your wife
If you know she isn't busy at a particular time of the day, drop her a text or a call. You don't have to say or do much, just an "I miss you" or "you looked gorgeous in the morning" or "I just wanted to say I love you and am thinking of you right now" would do the trick. There are several ways to be romantic on phone, you just need to figure out what. These random bits of conversation would be the perfect romantic things to surprise your wife with and bring about more energy and passion in your relationship.
Related Reading: Give sex a break! 13 non-sexual touches to feel intimate and close
8. Work on your fitness
You don't need any other reason than the simple one of keeping yourself healthy to follow this suggestion. Keeping yourself in shape not only allows you to build stronger immunity and resilience but helps bring more energy to your relationship too. And when you're going out on date nights, you can always charm her all over again. This is not to say that physical appearance is everything, but staying fit is one of the best things you can do for yourself and your wife.
9. Contribute equally to household chores
Sometimes, the most romantic things to do for your wife are the simplest. From doing the grocery shopping that she loathes to taking care of the baby on the nights she has made other plans – these acts of love are often very impactful. It shows you care for her beyond affectionate words and sweet nothings. Doing these little things will make her love and value you even more.
10. Love her in her language
According to The 5 Love Languages written by Gary Chapman, each person has a love language that might be completely different from your own. Some prefer verbal communication while some prefer physical objects. Discovering that language and providing her love and affection in that language improves the intimacy between you two and brings you closer. This is one of the simplest yet effective romantic things to do for your wife.
11. Buy her favorite meal
Pay attention to what she usually prefers when ordering a meal or a takeaway. If you're unsure, ask her casually. Cook for her, take her out on a date, or order some food and choose all her favorite delicacies. She'll appreciate you going out of the way to cater to her preferences. This is one of the most romantic things to do for your wife on your anniversary or birthday. But really, do you need an occasion to make her happy?
12. Dance anywhere and everywhere
There are a few things that women love as much as dancing to the steady rhythm of music with their partners. This is why it's one of the most romantic things to do for your wife. Whether you're in a car or at your home or at a party – take out some time, overcome your shyness, if any, and lead her into a dance. You don't even have to be a great dancer to do this, all you need to do is pull her close and sway to the melody.
Related Reading: How To Be Romantic In A Relationship | 20 Easy Ways
13. Some steamy sex
Physical intimacy is a crucial part of any romantic relationship, and often, it phases out as time passes. Often, what women want from men is entirely different from what they get. This can reduce the chemistry between the couple. You can use external assistance such as candles, music, toys, and more. Have long, passionate foreplay that arouses her and makes her desire you. Have fun and keep it safe and consensual. This is sure to enhance the connection you have with your wife.
14. Show physical affection in general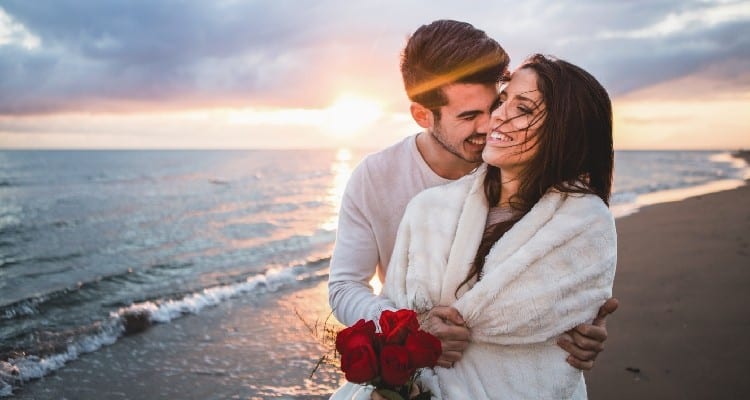 Hugging, kissing, and cuddling from time to time are some of the cutest and most romantic things to do for your wife. Physical closeness is a great way to improve the bond between you two and it doesn't always have to include sex. It doesn't even require any special occasion. You can hold her hands while watching TV together, cuddle with her as you two go to sleep, or kiss her all of a sudden. Things would turn spicier and more romantic in your relationship in no time.
15. Keep the phone away as much as possible
So addicted are we to our screens that keeping them away for extended periods can be the perfect romantic thing to do for your wife while away or at home. More digital time invariably means less time with your partner or anyone else for that matter. This is why keeping the devices away and having personal conversations can be so meaningful in this day and age when time flies away like the wind.
Related Reading: How to Fall In Love Again – This Time In The Small Things Of Life
16. Some humor would be appreciated
Another aspect of dating that often disappears after marriage is all those crazy bursts of laughter with each other. It's been shown, time and time again, that those with whom your mind produces the most amount of serotonin are those with whom you like spending time the most. So making her laugh might not feel like it, but it's one of the most effective and romantic things to do for your wife. After all, couples that laugh together often have the best bonding with each other.
17. Flirt with her
Remember all the times you flirted with each other while dating? When just a look would buzz with invisible electricity? Why not bring that back? Caress her in the middle of the day, just like that. Tell her how gorgeous she looks today in a whisper. Kiss her lightly for no reason at all. Bring back the energy and passion in your relationship and make your wife feel special at all times.
Related Reading: Flirting With Your Eyes: 11 Moves That Almost Always Work
18. Play games
It's no secret that playing games together is a simple yet entertaining way to improve camaraderie between two people. Maybe solve the crossword puzzle in today's newspaper together, or play that board game that has been collecting dust for years. These little things will serve to break any barriers you two might have and bring you closer.
19. Indulge in her interests
Now, this might take some time and effort, but try to engage with her hobbies and things she's passionate about. Does she love reading? Read her favorite book and talk to her about it. Maybe gift her that bestseller you saw outside that bookstore. Is she a dancer? Observe her during one of her sessions and tell her later how exhilarating it was to watch her dance. This can be one of the harder romantic things to do for your wife because you have to put in the effort to make it more meaningful so that it doesn't look superficial. But if you end up doing it right, she'll adore you.
20. Change your personality a little
Are you someone who likes to take charge in every situation? Relax a little. Are you someone who's always relaxed no matter what? Show initiative in some situations. This can be one of the super romantic things to do for your wife as it helps her see a different part of you and acts as a fresh breath of air for your relationship.
21. Listen
It's such a basic thing to do and yet most of us fail to do it. Humans tend to put their opinions and thought processes at the top of all conversations. Try to change that a little. Listen attentively and with full consideration whenever she's speaking to you. This is one of the simplest, yet one of the most romantic things to do for your wife at home, or anywhere for that matter. 
22. Compliment her in front of other people
Complimenting her in private has an entirely different effect than complimenting her in public. You can state how beautiful she is, how intelligent, or how talented she is, in front of other people. Humans love being praised and acknowledged, even more so in public. This is why it's one of the most perfect romantic things to surprise your wife with, any time guests are around.
Related Reading: 21 Last-Minute Gift Ideas For Your Wife's Birthday
23. Hiking
If your wife is a lover of adventures and thrills, hiking is one of the most romantic things to do for your wife on an anniversary or any occasion that's special to her. No matter what the time or occasion, it's never too late for a travel adventure together. Dangers, adrenaline, and harsh circumstances force you to rely on each other and help improve mutual trust. This brings you closer and adds new excitement and faith to your relationship.
24. Delicious gifts
Romantic things to do for your wife don't always have to take the time or be done repetitively. Sometimes, they can be simple and effective at the same time, like gifting her something she loves eating. And don't just stop at one product, give her a variety. If she loves coffee, bring her a gift with 20 coffee flavors. If she has a sweet tooth, bring her a box of chocolates to make your relationship sweeter. If she has a thing for cheese, go all out and bring as many types as you can find. You get a general idea, don't you?
25. A night of mystery
Plan a full night for her, including dinner and a walk, ending with a passionate climax in your house. Mystery adds a large chunk of suspense and spice to any occasion and she's sure to love it! Surprise her, make plans for something after the dinner that she'd never expect of you. This is easily one of the best romantic things to do for your wife that'll add more love and excitement to your marriage.
Related Reading: The Best 51 Anniversary Wishes For Wife
26. Go for a themed night
If you're thinking of romantic things to do for your wife that are cozy and relaxed, pick a classic movie, something preferably set in France or Italy. Cook something French or Italian, depending on the movie you choose. Make it a themed date night at home, and you can do this for any number of countries you'd like. It's an open ground for you to explore together and strengthen your bond in the process.
27. Aromatherapy
As the name indicates, this process involves stimulating your olfactory senses to cause relaxation and comfort. This is one of the best romantic things to do for your wife in bed as it's an immensely enjoyable experience. You can use candles or other products and plan this surprise while she's not at home. Create different lighting patterns to have a more atmospheric effect overall.
28. Good ol' nostalgia
If your marriage or dating has seen several years, you can sit together and recall the times gone by. That party you made a mess of yourself in, or that trip you two couldn't keep your hands off each other. Bringing back happy memories from the past helps you reconnect in new ways and rediscover your old chemistry, especially if you've been missing those old sparks. It can also usher in comfort and affection for each other and helps build your marriage further.    
29. Let the stars enchant you
Just take her hand and go out in the open. Sleep on your back and tell her your dreams. Then listen to her recount her dreams and fall in love with each other all over again. When it comes to romantic things to do for your wife, it's often the little things that matter the most. This is why lying down and watching the night in utter silence, just the two of you, is such a beautiful and romantic thing to do.
Related Reading: 10 Ways To Make An Angry Wife Happy
30. Some breakfast for her, please
There's barely a more romantic thing to do for your wife as much as waking up early and making breakfast for her. Serve her meal in the bed, and let her enjoy her morning with some food and you. Doing this shows how much you care for her and the lengths you're willing to go to make her happy. This builds more love and respect between you two and makes your marriage a little stronger. Don't wait for specific occasions to surprise her with a delicious breakfast, just surprise her!
31. Visit a new city or country
When it comes to romantic things to do for your wife, one of the time-proven ways is to take a long break and get a change of scenery. There's a reason characters in Jane Austen's novels prefer going to the seas or mountains whenever they feel sick. Traveling to a place different than the one you're used to helps you gain perspective and let go for a while. Visiting a new city or country can help you two reconnect, have fun, and rekindle old sparks.
32. I love you
There's a reason cliches are cliches. It's because they're so good that people can't stop using them despite their popularity. And so it is with these three words – I love you. Make sure to tell her this from time to time. It doesn't always have to be those three words either, you can tell her beautiful love couplets to show your love for her. You don't even have to profess your love with these words every time. Sometimes it can be an acknowledgment of her efforts, sometimes a compliment, and sometimes a promise to latch onto. So the next time you two are together, don't forget to softly whisper "I love you".
Related Reading: 21 Ways To Tell Someone You Love Them Without Saying It
33. Extravagant gifts
Sometimes, showing love is about going all out. Purchase that fancy necklace your wife has been eyeing for months or that stunning dress she saw at the party. Surprise her out of nowhere – it's definitely one of the most romantic things to do for your wife. She'll cherish and love you all the more for it, not necessarily because of the gift, but because you paid attention to her choices and likings.
Romance doesn't necessarily imply complexity. Even the simplest of things can be romantic, like a hug or a romantic indoor date. What matters more is your intent behind the gesture. Some of these things can be done for her without having to go out of your way. The primary thing to do is to make her your biggest priority and lavish all your love and attention on her. By employing the ideas I've shared in this article, I'm sure you'll bring the sparks flying back into your relationship.