There are few things as uplifting and romantic as the pitter-patter of raindrop, and the intoxicating smell of wet earth afterwards. With the right rainy day date ideas, you can make the most of this time to connect with your partner. We're happy to help with that.
What to do on a rainy day with your boyfriend or girlfriend? If this is something that is on your mind then we will tell you the most romantic things you can do when it's raining cats and dogs.
Related Reading: Are You A Pluviophile? 12 Reasons You Could Be One!
50 Rainy Day Date Ideas To Rev Up The Romance
So, you had an amazing date planned but an unexpected rainstorm washed it all down the drain. Or the relentless monsoon showers have forced you and your significant other into the confines of your home. What would you prefer in such a situation – sulking over cancelled plans or using indoor date ideas for couples to get creative?
The latter? Then, these amazing 50 rainy day date ideas would be right up your alley. These are romantic things you can do in the rain. These rainy day activities for couples at home can turn out to be really amazing.
1. A romantic dinner at home
Whether you're looking for rainy day date ideas in Los Angeles or New Delhi, you can rarely go wrong with this classic. Prepare a meal or order in, and set up a table by the window to get cozy while watching the rain outside.
Dim the lights, light some candles, use a few flowers, pour wine and enjoy a romantic dinner right in the comfort of your home.
2. Have a board game competition
What can couples do on a rainy day? If you're confined to the house all day because of the downpour, bring out those board games gathering dust in some corner. Set up a competition for yourself.
It can be a fun way to connect with your partner and bring out the child in you.
Related Reading: 10 Fab Dresses You Should Wear On Your First Date
3. Play strip poker
Wet weather is a great aphrodisiac. Make the most of it with this naughty rainy day date idea. Start a game of strip poker with some drinks to go along, and we're sure one thing would lead to another.
Needless to say this is one of the best rainy activities for couples at home.
4. Go bowling
If it's not pouring cats and dogs, consider hailing a cab and hitting the nearest bowling alley. As long as you both enjoy this activity, it can be one of the most fun indoor date ideas for couples.
You won't even know how hours fly by. By the time all the pins are down you have had a great time.
5. Visit a museum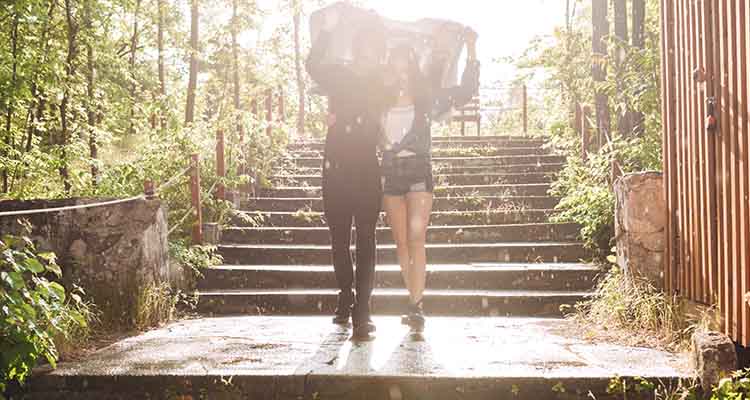 For couples who appreciate art or history, visiting a museum can a great indoor date idea. For instance, if you're looking for rainy day date ideas in NYC, you could visit the Met and appreciate some of the finest pieces of art there are in the US.
All museums host special exhibitions and shows from time to time. If you're in luck, you might get to see some fresh collections on display.
6. Cook together
No, we're talking your run-of-the-mill meals. That'd be far from fun rainy day date ideas. Explore a new cuisine altogether. Look up recipes on YouTube and get down to preparing a fancy meal together.
Of course, you can enjoy it with a romantic dinner date setting.
7. Plan a coffee date
Got an entire lazy afternoon to kill and wondering what can I do with my girlfriend on a rainy day? How about taking her on a coffee date without actually stepping out.
Get her to take a nap, order some brownies (or better still bake them yourself), brew some exotic coffee, set up a table on your balcony or porch. Take her on a coffee date where you can both sip your cuppa with raindrops caressing your feet.
8. Have a picnic
What to do with your boyfriend on a rainy day? This is hands down one of the most fun things to do in the rain outside. Relive those carefree childhood days with a picnic out in the rain.
Pitch a waterproof tent in a park, carry your own snacks and drinks. Play in the rain and later relish your little picnic basket together.
9. Read together
This is one of the most laidback and relaxing rainy day date ideas. Just get comfy with your partner on a couch and spend your time reading.
If both of you like books then nothing like cozying up on the bed and reading together while having a simmering cuppa.
10. Bake together
Baking can be extremely therapeutic, and those aromas go perfectly well with the rainy day mood. If you're wondering what can couples do on a rainy day? Try baking together. Cookies, cakes, pies, brownies…whatever takes your fancy.
Related Reading: 8 Rules Of Texting While Dating
11. Give each other massages
If you're looking for romantic rainy day ideas, this one is a classic you can't go wrong with. Dim the lights, light up some scented candles, bring out those essential oils and give each other a relaxing massage.
Things can get hot and steamy quickly.
12. A pedicure works just as well
Pamper each other to the fullest with a pedicure session. You can also try painting toes for fun.
A foot spa session in the warmth of your room while it's pouring outside is a great way to unwind. If you give each other foot massages then nothing like it. You don't really know what it could lead to.
13. Do nothing at all
What can you do on a rainy day with your boyfriend? How about doing nothing at all! Rainy days and laziness go hand in hand. So just stay in bed, cuddling, talking, napping.
This is the best way to spend a rainy day.
14. Plan a karaoke night
This can indeed turn out to be one of the most fun rainy day date ideas. If you can step outside, hit a karaoke bar. Or just set up one at home with a mic and YouTube.
You can make it a double date too when you call over a couple friend and have a romantic evening together while it rains outside.
15. Talk to each other
It's amazing how little time most couples have to just sit and talk, without worrying about work, responsibilities, chores and errands.
A rainy day is a perfect opportunity to catch up and connect with each other.
16. Set out on indoor sightseeing spree
How much of your city have you not explored yet? Put a rainy day to good use and do some touristy stuff. Make a list of all the landmarks you have not seen yet, and try to visit as many as you can.
For instance, if you're looking for rainy day date ideas in Atlanta, a visit to the Georgia Aquarium can be an exhilarating experience.
17. Hit a gaming arcade
If it has been raining for days on end, you can run out indoor date ideas for couples. Put on your adventurous hat and venture out. Spend a day at a gaming arcade.
18. Or go to the movies
What better escape from the monotony of being confined to the house than some good cinema, popcorn and soda.
If you are looking for rainy day date ideas then hitting the multiplex can be a great way of spending a rainy afternoon.
19. Bing Netflix and chill
Don't feel like venturing out? Find a binge-worth show on Netflix, order in some pizza and just chill. While it pours outside binge watching Netflix will help you catch up all the shows you had missed so far.
You have a lot to talk to also when you Netflix. So the debates and conversations are fun.
20. Have a trivia night
Add an interesting twist to rainy day date ideas. Organize a trivia night for just the two of you. You can make the questions specific to your relationship for an added romantic effect.
Ask Never Have I Ever questions and have a great time together. You will have plenty of reasons to laugh about.
Related Reading: 12 Best First Date Tips For Girls
21. Watch some standup comedy
Stream your favorite standup comedian's latest act and enjoy a laugh riot. Nothing like watching funny things and having a good laugh together.
22. Teach each other something
Use this free time at hand to teach each other a new skill. Perhaps there is something you're good at that your partner can learn too or vice-versa. Now that you have all this leisurely time at hand, make it count.
From cooking to playing the guitar there is something in teaching and learning that gets all the more romantic when it's sounding pitter patter in the backdrop.
23. Take a stroll in the rain
Why stay indoors when there are so many fun things to do in the rain outside. Something as simple as taking a stroll in the rain can lift your spirits. Get yourself some ice-cream while you're at it.
Have you tried cozying up under a single umbrella? For us that's the most romantic thing to do in the rain.
24. Have a sitcom relay
Do you and your partner have different preferences when it comes to sitcoms? Hold a sitcom relay, where you both watch one episode each from the other's favorite show.
This is one of those rainy date ideas that will keep you hooked for hours at end.
25. Set up a video game contest
Turn your rainy day date into a competition. Set up a video game that you both enjoy and make a contest of it. The winner gets pampered with the meal of their choice or breakfast in bed or a massage.
26. Check into a hotel
This is one of the more offbeat romantic rainy day ideas but one that can be extremely rewarding (if you know what we mean).
Check into a hotel, order room service, relax, and wrap it up with some action between the sheets. This is a staycation you will cherish.
27. Shop therapy
You don't even have to step out to execute this date idea. Just open your favorite shopping app, select stuff for each other, rate and approve each other's choices, and then buy the stuff you mutually agree on.
Virtual shopping is a rewarding rainy date idea. This is a romantic activity that can be a lot of fun.
28. Hold a wine and paint session
If you're exploring out-of-the-box rainy day date ideas, this could be it. Get some bottles of wine and pick a corner in the house to repaint. It can be a great activity to relax and connect on a whole different level.
29. Dance in the rain
This is one of those fun things to do in the rain outside that will make you let your hair down and bring out the child in you.
Blare up the music and dance without a care in the world.
30. Play dress up
If you're wondering what can you do on a rainy day with your boyfriend, consider this. Making him dress up, complete with some makeup and hair accessories can be a quirky and fun date idea. Take pictures for posterity.
Related Reading: 22 interesting questions to ask a girl to know her better
31. Plan a wine tasting getaway
If the weather permits and there are vineyards in your vicinity, you can book a wine tasting tour and spend a couple of days at a BnB. For instance, those looking for rainy day date ideas in NYC can plan a quick getaway to Vermont.
It can be the perfect way to bond and unwind.
32. Have an eat-off
Are you and your partner both foodies? What could be a more fun date idea than an eat-off! Order some pizza, burgers, tacos or whatever your favorite food is and hold a contest over who polishes off the most.
33. Have a barbecue night
Bring out the barbecue and grill some burgers and steaks together. And enjoy them with some chilled beer. You sit in the shade and see the falling rain. Devour those sausages and feel happy.
This one of the most romantic things to do on a rainy day.
34. Play a card game
If you have a lot of time to kill, there is nothing like a card game to keep things interesting. You could play poker, rummy or even Uno.
35. Never have I ever
One of the most interesting rainy date ideas is to get a few rounds of Never Have I Ever going. Get the shots ready, and bring up the most blatant and scandalous scenarios.
If you take a no holds barred approach, this can actually throw up some interesting revelations.
36. Try online gambling
Just for the sake of fun and novelty, give online gambling a try. If you're in luck, you may just make a quick buck in the process.
But be warned, online gambling can be extremely addictive. So you have to know when to stop. Remember you're doing just for the sake of experience.
37. Set up a scavenger hunt
Even though this game is typically played outdoors, there is no reason why you can't tweak it to fit an indoor setting. This can keep you both occupied for a long time.
38. Go for a drive
A long drive, some romantic songs playing on the radio, just you and your partner and a winding road ahead. Ah, bliss!
A drive in the rain is one of the most romantic rainy day date ideas that will help you create amazing memories.
39. Have a pillow fight
Want some rainy day date ideas that'll keep the mood light and breezy? A pillow fight fits the bill perfectly. It'll take you back to those childhood days. Soon, you'll be both in hysterics.
40. Build a fort
Speaking of fun childhood activities that can be recreated as indoor date ideas for couples, how can you miss out building forts. Gather up cartons, pillows, chairs, cushions.
Clear up an area in the house, and get down to building a fortress together.
41. Set up a warm bubble bath
Get a bubble bath going. Use some salts and candles for an enhanced experience. Pour yourself some wine, soak up the warmth and explore each other.
Walk out of the bath in your silk robe and see the effect.
42. A romantic day in bed
This is by far sexiest of romantic rainy day ideas. Spend a day in bed, exploring each other's bodies and trying new and sexy ways to turn each other on. Enjoy orgasms galore!
43. Hit a bar
Hail yourself a taxi and hit your favorite bar. What better excuse than a rainy day to start binging on drinks and snacks at whatever hour of the day you like.
Related Reading: 15 Things Guys Like Their Girlfriends To Do
44. Cocktails and puzzles
Make yourself a pitcher of Margheritas and get down to solving a puzzle. The drunker you get, the more hilarious your puzzle-solving attempts will be.
45. Explore new cafés
If your city is known for its quaint cafes, this is the perfect opportunity to explore them. Have breakfast at one, lunch at another and dinner at third, stopping for snacks and coffee at others in between.
46. Try your hand at pottery making
Look up pottery classes or workshops in your areas, and try your hand at this new skill with your partner. This one of those rainy day date ideas that can be fun and therapeutic at the same time.
47. Dance
Put on your finest set of clothes, dim the lights, play some romantic music and groove in perfect sync with each other. Hands down, one of the best romantic rainy day ideas.
48. Watch the sunset
Rainy day sunsets are the most breathtaking and make for the perfect way to spend a romantic evening with your significant other. Pick the best spot in your city and soak up the sight.
If you're looking for rainy day date ideas in Los Angeles, you can head out to the Santa Monica Pier to watch the sun go down while soaking up the rain.
49. Play darts
What can couples do on a rainy day? Playing darts can be a fun and exciting way to make time fly by and also connect with each other.
50. Take a trip down memory lane
Create a slideshow of all your photographs, right from when you just started dating to the latest ones. This trip down memory lane will surely make you marvel at how far you've come.
So, next time a downpour catches you off-guard, turn to these rainy day date ideas for inspirations and connect with your partner in fun, quirky, romantic and sexy ways.