FaceTime date ideas are essential for long-distance relationships not because love is difficult, but because long-distance relationships are difficult. If love is like taking the stairs to your favorite store because the mall escalator has broken down, a long-distance relationship is like walking up an escalator that is coming down. Not only do you've to work harder than everybody else, everybody thinks it's a lost cause.
Thanks to technological advancements, none of us have to rely on pigeons to send our dearest a portrait of an eggplant and a peach in rolled-up sheepskin. Video calling is getting better with every upgrade and every second day, a new app makes the rounds. Of course, many people talk of the exhilaration of seeing their partners after a long time, swearing how time can't dilute true love. But, why would you stay away from seeing each other for so long, when the Internet is bringing people closer across countries. And, if you're snorting there thinking 'What can couples do on FaceTime except talk like on a phone?', then my friend, do we have some treats in store for you!
23 FaceTime Date Ideas To Strengthen Your Bond
Shakespeare immortalized Juliet when Romeo said, "Come what sorrow can, It cannot countervail the exchange of joy, That one short minute gives me in her sight". Shakespeare didn't write about 'joy of sight' just for the heck of it. Even he knew that if Romeo and Juliet were born in the digital era and make-did with boring phone calls, the relationship wouldn't survive. Mercutio would be alive and kicking and talking of 'blind bow-boy's butt-shaft', while Romeo googled FaceTime date ideas.
Researchers saw a generally positive response from couples in long-distance relationships. Almost as good as couples who were located close to each other provided some conditions were met. Regular and meaningful communication was one of these. A relationship can fare well in the long run if both partners are committed to keeping the spark alive. One thing that can really help is experimenting with FaceTime date ideas for long-distance relationships. This maintains the communication and prevents it from becoming stagnant.
Related Reading: How To Find Yourself Again In A Relationship When Feeling Lost
1. Organize a FaceTime dinner
One of the great long-distance FaceTime date ideas is to have a meal together. People try to avoid video calls while they're eating. Everybody likes to relax while they're having dinner at home. You can use your hands instead of cutlery and do not have to worry about getting sauce on your clothes. But Facetiming, while you're eating, can be a great virtual date idea you and your SO will love. Not only do you get to see your partner in a very relaxed setting, but you also learn little details about their life. 
2. Pack for vacations on FaceTime
A sign of quality time love language is wanting to spend time over mundane activities. Packing together or vacation shopping are not bad FaceTime date ideas if you want to spend some quality time together. How people pack their possessions reveals a great deal about them and can lead to some funny but interesting conversations. You don't always have to show everything you're packing in case you're planning certain surprises (*wink, wink). It will also be a great help if you're one of those Influencer couples who like to shoot themed pictures. That way you can match all your outfits for the Gram.
3. FaceTime fashion show
Something that I did every two months with my Bengaluru boyfriend when I re-arranged my wardrobe. I would get out all the flashy, outlandish clothes I'd bought but never had the courage or the occasion to wear and would do a fashion show for him. Whatever he hated, I donated. Soon, he started with his own version too. And we moved on to competing who could create the funniest or sexiest costume with whatever we had in our wardrobes. Impromptu fashion shows can be great FaceTime date ideas if you are a hoarder. This could also evolve into some great trendy dinner date outfit ideas.
4. Virtual historical tours
Love in the times of Covid-19 has turned any tips for planning exotic couples trip into a precautionary guideline involving vaccines and tests. But, it has also created options to connect on virtual tours if one has a decent internet connection. Some great romantic FaceTime date ideas are touring the online exhibits at J. Paul Getty Museum at the Getty Center, Musee de Louvre, or the Smithsonian National Museum of Natural History. If you are not into museums, you could try the virtual NASA tour at the International Space Station. You could get similar virtual tours of the Grand Canyon or the Sistine Chapel. There's no limit to virtual experiences if you let your fingers explore the web. 
5. Holiday tours on FaceTime
If you're having a solo vacation or with other friends, video tours can be great FaceTime date ideas. It could be at a historical site or a crowded bar. Give them a slice of what you're experiencing at that point. Describe what you're feeling, how the air smells, and how the place feels so different from where you live. You could also send them some local gourmet foods or articles of clothing the place is famous for as simple yet practical gift ideas. If luck favors you, your partner will develop some serious FOMO and may soon plan a trip to meet you there.
6. Plan a virtual game night
A game night could be a great FaceTime date idea for long-distance relationships. You could start with multi-player games with other people as a team or with each other. It could be a super-detailed fantasy or as basic as UNO. Platforms like Tabletop Simulator or Board Game Arena are some of the best long-distance couple apps. They replicate a board-game experience where people can enjoy a realistic virtual game experience. These come pre-loaded with classic games like chess and poker, but more advanced games can be bought for an enhanced experience.
7. Listen to podcasts/audiobooks
Podcasts and Audiobooks can lead to amazing FaceTime date ideas. Using Spotify's Connect function, a group of people can sync a podcast and will have the same playback options. This way you can enjoy a comedy night from the comfort of your home. If you're into books, using audiobook platforms like Audible and Storytel, you can share a book for free with your partner. These platforms offer a number of relationship books that everyone should read. You could even set up a book club of your own, or add more friends.
8. Watch a movie in sync
The post-pandemic world saw the emergence of Teleparty, a free Chrome extension that enables multiple people to watch a movie on OTT platforms together in sync. On Teleparty, one can even have a real-time conversation in the comments while watching movies a couple should watch together. This is a great way to experience the movie that your partner keeps raving about, with their virtual presence when you can't have them next to you physically. Movies and conversations are great FaceTime date ideas.
9. Book review on FaceTime
Couples who love to read books will love this FaceTime date idea. If both of you like to read different genres, you can take turns deciding on the book and then exchange your thoughts. This not only gives you an insight into the kind of thoughts and works that shape your partner's way of thinking but where they might get their influences or inspirations from. People usually get very defensive about their favorite books and this tells you if your partner avoids confrontation or skids off into a different track. The book might also lead you to other deep conversation topics, helping to create a bond.
10. FaceTime food swap
If you and your partner are from different regions with different cultures and cuisines, then this FaceTime date idea would be great for you. You can order food from your culture for them and have a FaceTime date where you taste food from each other's culture. This way you explore their feelings about your culture with every bite. Though, it'd be good for your FaceTime date idea to let your partner know if you have any food allergies to avoid the last-minute visit to the Emergency Room.
Related Reading: 11 Things To Know When Dating A Firefighter
11. Online recipe exchange
Another food-related FaceTime date idea is to help them through your favorite recipes. You could do this in turns since it's not easy narrating recipes and cooking at the same time. You can send them a list of ingredients beforehand and then FaceTime them through the recipe. You can decide on the difficulty level depending on their familiarity with cooking. You could also get some custom-made personalized couple gifts such as aprons and spatulas. Cooking is a great FaceTime date idea while you're apart and looking for ways to connect with.
12. Have a FaceTime picnic
An online picnic is a FaceTime date idea that requires absolutely no planning or spending whatsoever. Just take a mat, and a sandwich in a hamper to your nearest park and have a picnic date with them. This would be a great FaceTime first date idea on a sunny breezy day. You can show your partner your locality and tell them about any particular customs you observe during these outings. This way you can connect over memories of picnics from your childhood.
13. Online workouts
Workout FaceTime dates are something you will relate to if your partner is a fitness freak. If your partner is passionate about fitness, gym workouts or yoga could be some great FaceTime date ideas. Whether you're just beginning your fitness journey or are trying something new like yoga where the postures must be correct, working out together is a great idea. If your partner is great at yoga, then they can help you in getting into form. This could also prove motivational for couples who find it difficult to stay on their fitness journey. 
14. Memory lane walks on FaceTime
You could use stories from their childhood as some questions to ask your partner to build emotional intimacy. Another great way to connect emotionally could be visiting an old locality where you lived or another place of importance in your life. You could show your partner the place where you grew up and describe to them the emotional memories you have of the place. Romantic FaceTime date ideas also mean showing them a vulnerable side and with this particular idea you're reliving memories you don't often share with anyone.
15. FaceTime treasure hunts
If you're one of those sapiosexual couples, treasure hunts could be a really great FaceTime date idea. Get a map of your partner's city, and pick out a few places accessible to the public. Create a few clues, each of which would lead to another place where they would get the next clue. You could make a contest out of it by adding tasks, conditions, and points to it. It takes some effort, but the fun makes it totally worth it. Alternatively, you could get date night subscription boxes for couples to get custom-made clues.
16. Made-up virtual scrabble
Scrabble is a fun thing to do with your boyfriend at home or online. But shouldn't this be a part of game night? Well, no… because it's not serious enough to be played with anyone else. Let me explain. Remember Beck and Joe from You creating their own version of scrabble with only made-up names like 'Everythingship'. Do something similar of your own. Not murdering your partner and burying them in the woods. But create your own version of the game using Blabrecs that allows a user to override the dictionary. Use made-up words or only movie names or whatever you please for this FaceTime date idea.
17. Virtual jigsaw puzzles
Custom-made jigsaw puzzles are a perfect gift for your Aries partner. But for the virtual experience, websites like Jigsaw Explorer allow you to create jigsaw puzzles of any pictures you choose. You can take turns solving each piece and get points for every piece that you get right. Make a contest out of it and reminisce about the places where the pictures were shot. Turn these FaceTime date ideas into contests and earn rewards that one can use to get their partner to do things for them.
18. Virtual drinking games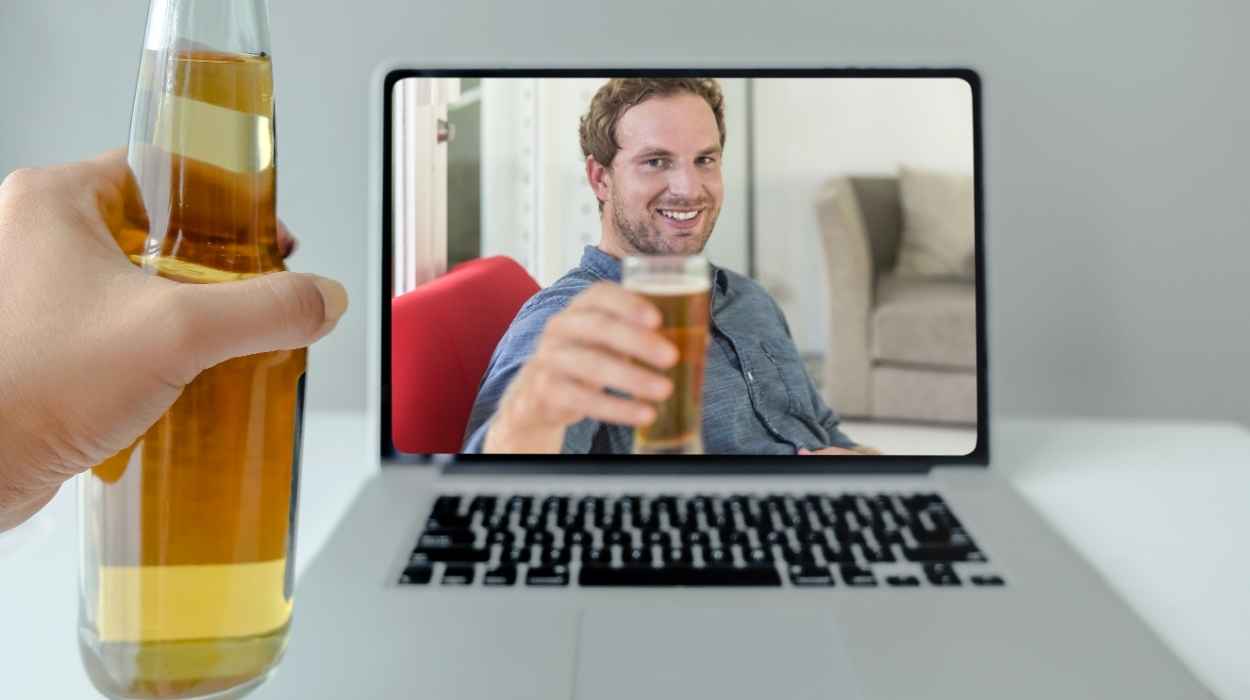 Haven't you heard, 'Couples who drink together, stay together'? For virtual drinking games, you can ask a series of yes/no questions to each other where every wrong answer will earn the loser a drink. If you want to make it more competitive, you could go to websites like Evil Apples that offer games that can be turned into drinking games. Drinking games are great FaceTime first date ideas. It's quite likely that when indulging in FaceTime date ideas like these, both of you might get sloshed. So time this activity for one of those nights when you don't have anything important the next day.
19. Online album carousel 
This could be one of those dates where you can connect over your Instagram or Facebook photos. Dig out the oldest pictures of your partner. Those are the ones with some great memories. It can be a bit tricky too since people often don't take down the photos of their exes. So, tread cautiously while following certain FaceTime date ideas. Better to pick pictures with their family or friends. Ask them about the day when these pictures were shot and see the nostalgia unfold.
Related Reading: Here's Why Making New Memories is Important
20. Dance routines on FaceTime
"What can couples do on FaceTime?"Maybe some dirty dancing. If you two are in for a bit of dancing or have a very specific dance dedicated to your culture, then maybe dancing could be a great FaceTime date idea. This could be a great way to introduce your partner to your culture. Certain south-Asian weddings have events where people perform in groups in front of an audience. If you're invited to one of those, why not shake a leg.
21. House hunting on FaceTime
If you are moving in together after weeks of staying apart, then house-hunting can be a great way to connect. Everyone has their likes and dislikes when it comes to bathrooms, kitchens, and even windows. Using this FaceTime date idea, you can start setting up the new home you'll be moving into together. This will be a great help when you move in with your partner.
22. FaceTime cuddles
The importance of physical touch love language can't be denied. In the absence of physical touch, a virtual touch will have to make do. An understated but vastly satisfying activity could be to just get into your favorite pajamas and snuggle in your bed with a hot chocolate during a FaceTime date. FaceTime date ideas don't always have to be about doing fancy things and nothing can beat the satisfaction of sleeping with someone, even if you're not with them physically.
23. What can couples do on FaceTime: get intimate
If you're comfortable and consenting, then a steamy date night playing strip poker can be a great FaceTime data idea. Just imagine teasing your partner with every item of clothing that comes off. A steamy session is not a bad FaceTime date idea for long-distance relationships. Though this is something that would fare better in the later stages of your relationship, so avoid intimacy for FaceTime first date ideas. Being apart can hit one the most in the sex department. But, no one is stopping you from blowing off some of that steam on your next FaceTime chat. To elevate the video sex, you could also try gifting some weird yet wonderful long-distance relationship gadgets to your partner.
Staying apart in a long-distance relationship can be difficult. But, you need to make an effort to stay connected. Connecting using long-distance FaceTime date ideas will help maintain that connection. Remember, a connection doesn't need physical intimacy, it can transcend physical boundaries if minds can connect.
12 Useful Gifts That Keep On Giving – Gift Ideas For Him And Her