Being in a relationship is a beautiful feeling. Knowing that you have someone to share your life and all its moments with, leaves you dreamy. However, your Google search of wanting to know fun things to do as a couple is proof that it doesn't stay that way organically. Some effort is required to maintain the charm. There must be a solution to this problem.
Let me address the problem quickly. In the humdrum of daily life and its associated mundane routines, we tend to steer away from being regularly affectionate to our partners. It's natural for couples to miss the initial stages of a relationship where things were always wild and steamy between them. You cannot deny a relationship's natural progression toward such a benign state. However, you can hack the romance.
Keeping the romance alive in a relationship is second to none. Flirting with your partner and holding hands are a couple of ways to show affection and keep the spark alive in a relationship. Whether you're married for a decade or dating for a few years, there's one thing that is eventually going to find its way into the relationship and its boredom.
Fear not because in this article we will be sharing with you all the romantic things couples can do to keep the fairy-tale alive. 😉
20 Fun Things To Do As A Couple
The beginning of a relationship is always filled with fun and frolic. You find yourself to be infatuated and smitten with every action of your partner. I am sure that the two of you must have done the most thrilling things during the initial stages of your relationship – the whole package of romantic dinners, spontaneous sex, and associated playfulness.
But somehow with time, the same little quirks that you adored, become simply annoying. Even going out for a date seems to be too much effort after a long day of work. Let me tell you that there is nothing wrong with the infatuation wearing off. After all, the 'honeymoon stage' doesn't last forever. Once your relationship settles into a comfortable pace, you'll find the boredom creeping in. This can often lead to misunderstandings or even a break-up. So, what can couples do to avoid that state?
Everyone wants to learn how to keep the spark alive in their relationship. Each relationship is unique in its own right; there is no generalized formula that will work for all. I have curated a list of 20 exciting and fun things to do as a couple and you can find out what resonates with your style.
Related Reading: 8 Steps To Reconnect With Your Spouse And Strengthen Your Bond
1. Have a cocktail date at home
There is no need for you to go out to a bar to have fun with booze – the party can come to you. While a glass of sparkling wine has been known to conjure romance, cocktails can also spark some passion, especially with Valentine's Day approaching.
If you've never made a cocktail before, then know that the key to crafting a fantastic cocktail at home is to look for beverages that are simple to prepare and not bothersome at all. Ultimately, it's your date night and you want to spend more quality time with your partner.
If your partner likes to accompany you in the kitchen then making cocktails is one of the most romantic things to do with your partner at home. It's both simple and full of love, and a great way to raise the temperature in the room if you know what I mean. *winks*
2. Stargaze together
Spending a date night stargazing can be a truly unique romantic experience for any couple. A romantic night under a clear sky watching stars and looking for constellations can be a delightful diversion from today's world where most of our time is spent online.
An overnight date out in the wilderness can provide lots of opportunities for snuggling up together with cocoa or coffee while staying wrapped in your sleeping bags. A night of stargazing can create a pleasant and romantic atmosphere to say romantic things to your husband and be the ideal opportunity for you and your significant other to feel connected and in sync with each other again.
If neither one of you has ever tried astronomy before, you're missing out on an exhilarating life experience. The very idea of being under a starry night and the fact that you can share it with someone special is what makes this idea a number two in this list of romantic things couples do together.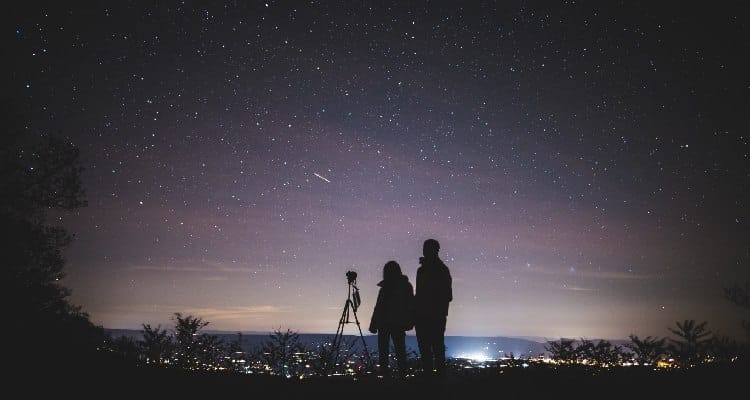 3. Visit a museum
You're probably thinking to yourself "How does a visit to a museum fall under couple bonding activities?". If the very thought of visiting a museum with your S/O feels boring, you should skip this one. There's more in the store for you so keep on reading.
For couples who enjoy knowing about different cultures and their historical aspects, a day out visiting a museum can prove to be very intellectually stimulating for the relationship and aesthetically pleasing. This will give you a chance to move away from the mundane routines of the day, take a break and bask in the culture of different times.
4. Picnic by a lake
The fourth one on this list of cute couple things to do is to surprise your boo with an old-school picnic by a quiet lake. Pack up a picnic basket with your favorite snacks along with your partner's favorite bottle of wine because snacks without drinks are like love without hugs.
If you intend to keep this picnic romantic, sunset is the best time to visit a lake where the two of you will not be disturbed by other people. The sunset reflecting off the water and casting a shimmer of warm golden tones around you while you sip your favorite drink is sure to give you heartfelt goosebumps.
If a picnic by the lake doesn't appeal to you, we recommend you hop onto a boat and add your own twist of fun toward the end of the evening. If you're one for taking a dip in the lake, do that enthusiastically, but do not forget to carry an extra pair of dry clothing. There are so many variations of adventurous and fun things to do as a couple on this trip.
Related Reading: The 5 Types Of Love Languages And How To Use Them For Happy Relationships
5. Make a scrapbook with old photos
Yes, we get it. Not everyone is the adventurous kind and some days, it's more fun to stay in and put on a pair of your comfy sweats and unwind. If you're looking for non-sexual couple things to do you're going to love this activity. Living with your partner can get boring in a long-term relationship and if you've been together for a few years, you know what I am talking about. So, what can couples do when bored?
Your search for romantic things to do with your partner at home ends here. Making a scrapbook of your favorite photos with your partner can prove to be a fun activity. So, pick out a cute scrapbook, discuss themes with your partner and bring out the stack of old photos.
The most wonderful thing about making a scrapbook is that you get to revisit the old memories from the time you two were a newly minted couple. Especially if you've been married for over a few years, this activity will leave you feeling nostalgic and make you appreciative of the progress you've made in your life.
6. Put on some scented candles and dance to slow music
Here is another addition to fun things to do as a couple while staying at home. Set the right mood for an evening and turn the lights down and slow dance to your favorite romantic hits with your partner.
Can't think of romantic things couples do together at home? Does a romantic evening with your partner in the comfort of your home sound good for you? You can spend the evening in each other's arms, slow dancing. This is truly a romantic way to impress your husband in the comfort of your home.
Related Reading: 30 Beautiful Things To Do With Your Boyfriend At Home
7. Want some fun things to do as a couple outdoors? Visit an amusement park
I know that every couple doesn't want a candlelight dinner in a romantic setting. Some love the rush of adrenaline in their system. So, for all the couples who are out here looking for adventurous couple bonding activities, this is for you.
A day out to an amusement park will settle your craving for thrilling and fun things to do as a couple. The best part about visiting an amusement park is that all you have to do is sit in your car and drive up to one. There are no extra preparations that are needed unlike preparing for a fancy dinner. It's ideal for couples who only have a weekend to themselves and want to make the most of that time.
Simply put on a pair of roller coaster-friendly clothing, start your rides on a light stomach, have fun, stop at a deli on your way back and that's a weekend that'll keep you going during the weekdays. This makes for a great summer date with your boo.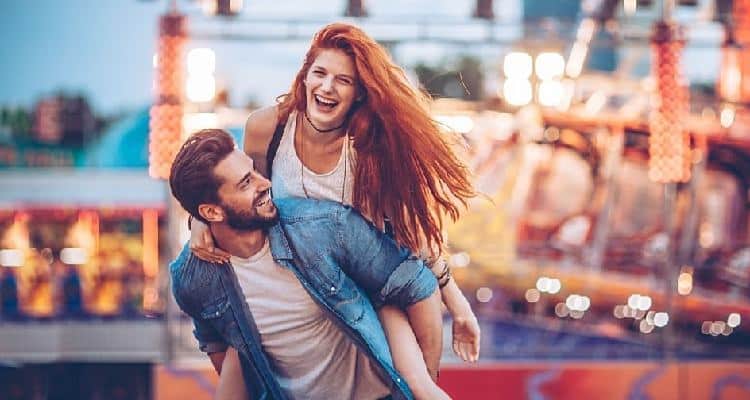 8. Explore a new neighborhood
What can couples do when bored with the same routine life and want a change in surroundings? Exploring the neighborhoods nearby or even on the other end of the town can be a great idea.
This will give you a refreshing change from seeing the same scenery in a boresome manner and opens the opportunity for you to get to know the communities on the other side of the town.
So, fill up some gas in your car and get out there to take in all the amazing sights and noises it has to offer. Drive or walk to a new locale and see what's around, for a free and unique date. Pick out your favorite houses and make up tall tales about who lives inside or choose the one you would have lived in if you were in this neighborhood.
9. Bake together
Baking together is one of those couple bonding activities that even our parents have fallen back to when they wanted to spend time with each other. There's something about baking as a couple that makes the simple act of baking into an intimate and romantic one. Get ready for a weekend of cooking fun recipes together.
You don't have to be a pâtissier for this activity. As clichéd as it may sound, it is the thought and effort that counts. By the end of this date, you have delicious treats to look forward to as soon as the timer on the oven goes off, filling the kitchen with the tantalizing aroma of freshly baked treats.
We advise you to put your phones on airplane mode and use the baking time to have heart-to-heart and intimate conversations with each other. After all, that's why you're looking for romantic things couples do together – to ramp up the intimacy quotient in your relationship.
10. What can couples do when bored at home? – Build a fort with blankets
There is no age limit to making a fort with drapes and blankets. Most of us remember this as one of the fun things we've done while growing up. So, it's a no-brainer to include it in this list of cute couple things to do together and it's probably the one that requires the least amount of effort.
All you need is a room with plenty of space, your most cozy blankets, some fairy lights, or lamps for setting the right ambiance, your favorite snacks, and of course your cutie cutes. This can double as a cozy winter date idea and you can never had enough of those.
There's nothing cozier than an afternoon inside a blanket fort with comfy clothes on and snuggling with the love of your life. You can even watch your favorite shows in your love fort. My girlfriend and I now have a dedicated spot in the living room corner where we read books together – that's our version of romantic things couples do together.
Related Reading: 11 Things To Do When A Relationship Gets Boring
11. Host a couple's game night and invite other couples
As I've mentioned before, with time it's natural for couples to feel bored with each other. Hosting a game night and inviting your friends can be your answer to what can couples do when bored spending time with each other?
Every sitcom has shown us couples hosting a game night and if you've not tried it yet, you absolutely should. There is nothing like a game night with other couples if you're looking for fun things to do as a couple at the comfort of your home. As an added advantage don't neglect the fact that spending time with your friends helps improve your relationship.
If you have children then put them to bed early, arrange for a sitter if needed, and get ready for a recharging evening with your friends. If you're still wondering what do most couples do for fun and romance? This next point will answer your question.
12. Couples gardening qualifies for fun things to do as a couple
If you haven't tried gardening with your partner yet, you may find that it has several advantages for both of you. Gardening with your partner is one of those couple bonding activities that get you to exercise and boost your physical and mental health while also giving you a sense of accomplishment.
Our houses often look the same for years, but a garden is forever caught in a constant change of state. Some might even say that the effort that goes into maintaining the garden reflects a couple's ability to stay committed to a shared vision. While we talk about gardening as a couple, did you know that farming dating sites are a thing now? Great times to live in.
If you live in a city apartment, try your hand at growing a window garden. Plants possess the characteristic to make any dwelling feel like a home. It's a great activity for couples looking to connect with one another in a relaxing setting and still have fun things to do as a couple.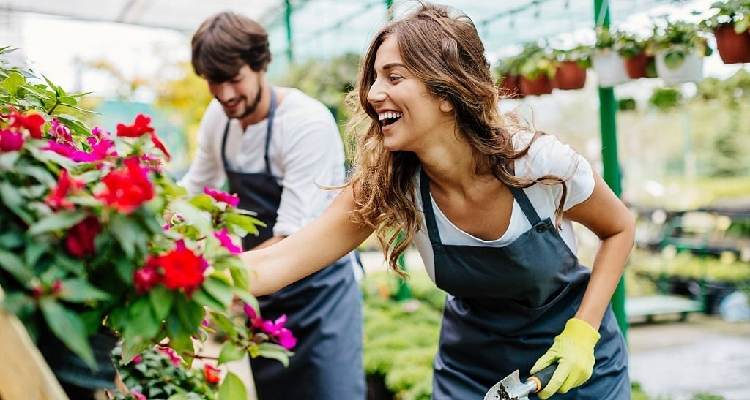 13. Have a bathtub date
Spoiler alert: This one may end in the bedroom.
Remember that episode in Friends where Monica and Chandler draw themselves a bath, yes that. Little did you know that your search for romantic things to do with your partner at home is going to spice up your sex life.
A massage in the tub is a great way to relax for both of you and once you determine the timing to be right, don't hesitate to initiate the foreplay and let things take their natural course. It's one of those few fun things to do as a couple that can lead to a hot night in the bedroom.
A romantic bathtub date is another window of opportunity for you to amplify the intimacy in the relationship to a whole other level. Intimacy is the key to having a strong and healthy relationship. A hot bath with scented candles, (a lot) of physical contact creates a very sensual atmosphere and allows you to connect on a deeper level.
14. Read a book together
Reading is an activity that can be very transformative for every individual – the same is true for couples who read together. Reading together has the power to create a bonding experience for couples emotionally, intellectually, and spiritually.
Escaping the real world by getting lost in a book doesn't have to be a solitary experience. Open a note on your phone and label it "fun things to do as a couple" and add this to the list along with other favorites from this list. I strongly believe that there are a few best-selling books that every couple must read together.
You can enjoy the perks of reading with your significant other. When you're starting off, pick a genre where you have something in common – this way both parties feel entertained. For most couples, fiction is the right way to start because of the way that the story helps to blur out any noise and distraction from the world around you.
Related Reading: 50 Double Date Ideas That Are Fun
15. Declutter and redecorate your shared living space
Most romcoms don't show how messy living with a partner can be. It doesn't matter whether you're married or dating and living-in, unequal distribution of household chores becomes a point of tension if not handled cautiously. This is why it's important for you to show your partner you care.
So, while we're here discussing romantic things to do with your partner at home, how about getting some housework done with your partner? Given the hectic lives we're all living, it's normal to walk into a messy living room. However, living in a clean and clutter-free space has several benefits like improved focus, sleep quality, and a reduction in stress and anxiety.
We highly recommend you focus on recycling and getting rid of the things that are just occupying space in your house. While you're at it, why not move things around and experiment with the decor of your room?
16. Get on the bandwagon of making trending TikTok videos
We've all seen viral trends exploding on the internet. While some like to make a living out of it, for most people, it's just a way to keep themselves entertained. If you're looking for fun things to do as a couple while you're hanging out with your couple at home, open the TikTok app on your phone and check what's trending.
Participating in viral trends online is one of the couple bonding activities that will help you to grow your account as well. I know that making a 15-30 second video may sound boring to a few and even too easy – *grins* try making one and you'll realize that's not the case.
17. Design a new workout routine
During the start of the pandemic, my girlfriend and I started to wonder what do most couples do for fun other than Netflix and chill? After a few hours of brainstorming, she came out in the living room excited to show me this workout routine she came across in the evening.
I'll be honest with you – at that moment, I never thought it was under the category of fun things to do as a couple, but I gave it a shot and I'm so glad I did. Something that started off as a way to move our bodies has now become a routine, we both follow and we're in the best shape too. Our team is of the firm belief that couples who workout together have a better sex life than those who don't.
Come up with a workout routine for you and your boo, schedule it over the weekend, and stick to the schedule. It's a fun activity that guarantees quality time together and gives you a chance to build trust and support with your partner. If you ask me, you'll even see a difference in your sex life.
Related Reading: 7 Workouts That Guarantee Better Sex
18. Make a bucket list of things you've always desired to do
We all have a bucket list of things we've wanted to experience. Your bucket list can have an extravagant wish like a visit to Bora Bora Islands or something as simple as learning to cook a particular dish.
Sit with your significant other and work on this list together, share your personal wish list as well and do this with the intention of checking things off the list. While we hope you get to check all the things off the list, even the process of making it can be a fun experience as you get to know each other a little better.
Include all your desires in this list; don't let "practical thinking" get in the way of that and you should encourage your partner to do the same. Plan your future life events and it'll spark a new sense of togetherness between the two of you.
19. Creative fun things to do as a couple – Paint together
Before you mumble to yourself that you're not a good artist, know that the point of this activity is to step out of your comfort zone and have fun with your significant other. You don't have to be a Picasso in order to pick up a paintbrush, just need your willingness to want to do fun things at home with your boyfriend.
Painting together is a relaxing and fun activity; it can be very therapeutic. The best part about it is that you can make it a part of romantic things to do with your partner at home by putting on some music and your favorite wine.
All you need is a few brushes, a handful of paint bottles, and a canvas. You're set for a relaxing and fun evening with your partner. If you've never lifted a paintbrush before and you wish to know more, a simple YouTube search will help you with that.
20. Volunteer in community work
Research suggests that volunteer work triggers the release of a hormone called oxytocin, popularly labeled as 'the love hormone'. Thanks to the way chemistry works in our brain, we have included volunteering on this list of fun things to do as a couple.
It's an exceptionally powerful bonding experience where you'll get to know each other's shared values. Both of you will learn what the other is passionate about and get to work on something as a team. There's much to learn in life, and volunteering will bring you to a place of gratitude by providing perspective about your own life problems.
And with that, you've reached the end of this list of fun things to do as a couple. We hope that this list helps bring back the fun into your relationship with your partner. If you know a couple who could make use of this list, send this piece their way.
Love After Marriage – 9 Ways It Is Different From Love Before Marriage