You are parents now. You have an adorable baby and you are over the moon gushing about how cute he is. Your body is feeling lighter, your body is healing, you can see your toes now and all that post-delivery massage is making your nerve endings tingle. Your husband's touch sends lighting shivers up your spine and you want to reconnect as man and woman as soon as possible. You are raring to bring back the romance after a baby.
As a man, you have waited patiently in the wings as your wife took centre stage. Her health, her well-being, and her safety were of utmost importance. You have abstained from sex or pleasure for some time now. However now your wife has a wonderful glow and she looks beautiful, you are rearing to rekindle the romance once again. You are looking for ways to be intimate after having a baby.
Related Reading: Here Are Our Solutions To 10 Relationship Problems After Having A Baby
You Ask: "How Do I Reconnect With My Husband After Having A Baby?"
My answer is try to spend more time together. Having a baby is overwhelming and you might want to get intimate with your husband but you end up feeling sleepy and can even doze off before things start to warm up.
Your sleep time becomes erratic after a baby and you are perpetually tired. Although sex is on your mind but you are unable to bring your body around to get to it.
How to keep relationship strong after having a baby? My advice would be take it slow. There is no immense hurry because your body is also healing after childbirth. Once your baby's life also falls into a routine you can spend some time on the couch at night watching Netflix. Hugs and cuddles are a good precursor to great sex. This is a fulfilling way to connect to your husband after a having a baby.
When the time comes to step outside the house schedule dates or you can even surprise your husband with booking a hotel room in the day (after you get a babysitter for the baby).
This surprise will excite him immensely and tell him you are in the mood too. This is a great way to spice up your love life after having a baby.
7 Simple Tricks To Bring The Romance Back Into Your Life
Hold your horses, it is not as easy as that. Now that the baby is born, you need to actually 'plan' having a romantic date. But you need to get that romance back in your life after having a baby. Here are 7 simple tricks to bring the romance back into your life after having a baby.
1. Get touchy
Nothing makes the body tingle than a touch. This is especially true after delivery when a woman's body is highly sensitive.
Be sure to make contact every-time you pass each other. A touch on the arm, a kiss on the forehead, a kiss on the lips, a gentle rub on the back, a foot massage; all add a wonderful intimacy and are a kind of foreplay.
This touching need not necessarily lead to lovemaking, but it is a beautiful way to reconnect with each other and bring the romance back into your life.
2. Spend time together
Often mothers and newborn babies are surrounded by other senior women in the house and the father hardly gets time to be with the mother. This is, of course, changing. The man is becoming adept in changing nappies and is as involved in the baby's day-to-day routine as the mother. This is, in fact, a great way to bond and rekindle romance after having a baby.
Talk to each other about the baby, about your future, about yourself as parents. Talk to the baby, share things about each other with the baby, tell the baby how much you love the mother or the father. This talking is beneficial at many levels.
One, it tells each of you how much your partner adores you and this also resonates with the baby who hears soothing words of love and affection. Take a walk together when the baby is sleeping or take the baby along with you for a small stroll.
3. Go on a date
It could be elderly women in your family, a babysitter or a friend who can be called in to look after the baby for a few hours. Seek their help and go on a short date with your partner.
Bathe, feed and make the baby sleep and leaving him in the care of his grandparents, (babysitter or friends) go for a small date where only the two of you are together.
Go to a movie or the restaurant or just a drive, but spend time together without your baby. Go all out while going on your date; which means get cleaned and groomed, dress well, put on your lipstick, look your best.
This really matters if you want to rekindle the romance after having a baby.
4. Cuddle up
Take every opportunity you get to cuddle up in bed, hugging each other. This physical contact is a very important to post having a baby. Each partner must realize how much the spouse is longing for him/her.
This physical intimacy also reintroduces each partner to the other's changed physique. This is very important to bring the romance back into your relationship post-childbirth.
This is also a great way for men to show their wives that the changes in their body do not make them any less attractive. They desire them as much now as they did before the baby.
Related Reading: My wife has put on a lot of weight, and I don't feel sexually attracted to her anymore. How do I deal with it?
5. Be teenagers again
Nothing seems more romantic or as cute as teenage love. Become teenagers once again and whisper sweet nothings to each other over your sleeping child. Leave handwritten love notes all over the house for each other. Send text or WhatsApp messages to each other.
The fun in doing such things without waking up the child is exciting, to say the least. You can get intimate with the baby in the same room. That can be actually very exciting.
6. Focus on the foreplay
Indulge in foreplay when the baby is sleeping or you have someone to look after the baby. If the foreplay pans out well, then you could even have intercourse depending on how well the woman's body has healed.
The focus has to be on the foreplay because nothing rekindles romance as a well planned out foreplay. If you are looking for ways to be intimate after having a baby then you can check out some new foreplay techniques that you have never tried before. Reading up or YouTube videos could help. Rest, be natural with your instincts.
7. Set realistic expectations
All said and done, everything might not play out according to plan. Do not fret about it. Remember these are challenging times and you both need time to accept and acknowledge the changes in your life.
So, go slow and go easy.  Love, after all, is what brought you together and helped you make your beautiful baby.
It is a wonderful feeling to rekindle intimacy after having a baby. It feels even more awesome because you have the result of your love right in front of you.
Why Do Couples Fight After Having A Baby?
This is a question many new parents ask me and they wonder if these fights would come in the way of rekindling their romance after having a baby. Let me tell you it won't.
Fighting more after having a baby is natural because you are stressed out about a number of things and you are constantly thinking if you are taking the right decisions about the baby's health and well-being. On the one hand you have a new routine, you are grappling with sleeplessness and at the same time you are constantly worried about the infant.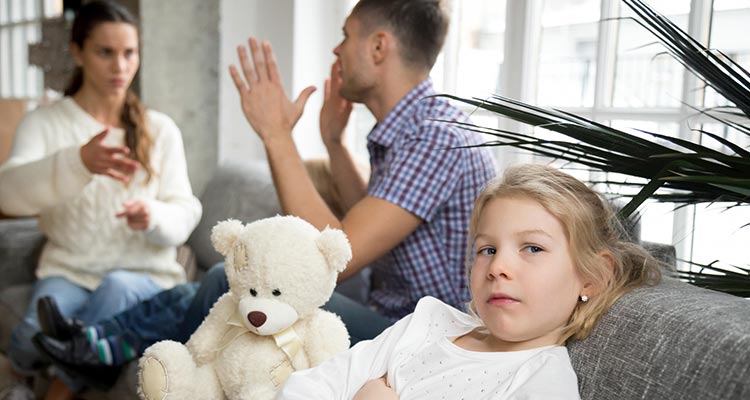 Related Reading: 5 ways our married life changed after a baby
Sometimes new parents are so jittery about a baby's health that they land up at the doctor's chamber at the drop of a hat, they could be fighting over things like when to switch to formula from breast milk, who should wake up at night to change the nappies or what clothes the baby should wear when they are taking him or her out?
Fights like this are normal and you should not get bogged down by it. It's a passing phase. These fights take off as quickly as these fizzle out, so it cannot come in the way of rekindling romance after having a baby. So just don't worry.
Riddhi Doshi Patel is a Child Psychologist and Physiotherapist, Parents Coach, Behavioral Coach, Art Therapist and three times TEDx Speaker.
Worst Parenting Mistakes We Always Make And Should Immediately Correct