A double date is exactly what it implies – double the fun of a regular date. A double date is one where instead of just hanging out with your significant other, you add another couple to your dates. This tandem of couples can prove to be very engaging, heartwarming, and zesty! But to keep the spark alive and make them truly exciting, you need to come up with some brilliant double date ideas.
Pam hates to go skiing but knows that John enjoys it very much. They often go skiing together but Pam just does not have the same enthusiasm for it. To help John have the fun he deserves, Pam invited a couple from her workplace to join them on their skiing Sundays. Kate and Matt often accompany them now. As the men bond over their intense love for sports, the ladies can back off now and relax with their hot cocoas.
50 Double Date Ideas That Are Fun
The whole point of a double date is to amp up the fun and explore newer things to do. It's also nice to bond with another couple and share the similarities or differences in your romantic experiences.
If you have not enjoyed double dates in the past, that is okay too. It does not have to be for everybody. However, we have come up with some brilliant double date ideas outside and indoors, a few exciting double date games that could help you out. In case, you are planning a double date anytime soon here are some ideas to make your day more delightful.
1. Off to the beach
One of my favorite summer double date ideas is to spend the day at a beach. Nothing like sprawling in the sun for the perfect tan and then splashing in the water. There are some super fun beach games you can play like frisbee, volleyball, chicken fights.
Beach activities like canoeing, snorkeling, and sunbathing are some of the fun things to do on a double date. Ask your darling for a dance on the beach – it will be romantic as hell! Or, you may go horseback riding. Hole up in that beach shack and enjoy the amusing conversations over beer and mocktails – doesn't that sound like a perfect summer date?
2. An intense game of paintball
If you and your couple friends are fairly competitive in nature, we have a great idea for double date games for you. Paintball is such a team sport that can really alert your senses and keep you thoroughly occupied. This double date idea will bore nobody and is a perfect team-building activity for your double date team.
Irrespective of your age or marital status, a game of paintball played between four people can be real fun. To make it extra spicey, the two couples can swap partners between each other!
Related Reading: Planning A Double Date? Here Are 15 Useful Tips!
3. Visiting an art gallery
On a more intellectual end of the spectrum, art galleries around the city can be considered great places to go on a double date. Discussing art, museum hopping, and appreciating artwork by some of the most famous painters, can build into a really awesome day for you all.
Actually spending an entire day at the museum is not something you need to do with only your kids. If you have a double date with friends who are into art and history it can be a great journey of discovery together.
Do you, by any chance, truly believe in the motto of 'vocal for local'? Then why don't you try to spot any small exhibition held by the struggling artists in your locality? It will be worth your while.
4. An outdoor picnic
A spread of delicious bread and some mimosas under the sun can never go wrong. This is one of the best summer double date ideas. Put on your hats, pack some heavy lunches, enjoy the lush greenery and make beautiful memories.
You can bring a scrabble board, break a bottle of wine or go diving in a nearby lake. For a couple of foodie couples, barbecue picnics are perfectly suitable. In case, you are not planning to cook at the picnic, pack a few important things like a blanket, umbrella, napkins, utensils, and of course, a trash bag.
Moreover, you can quickly turn it into a fall double date idea with some hot cocoa and marshmallows. Think about walking down the road piercing through red-and-yellow woods, over the pile of fallen leaves. It's going to be wonderful!
5. Never too old for arcade games
Who said arcade games are for teenagers? One of the most unexpected plus, cheap double date ideas is to spend the evening eating fries, shooting guns, racing cars, and winning tiny teddy bears at an arcade.
You can go to a fair too if you want to relive your childhood days. To add an extra load of drama, visit the Renaissance fair. You will get to try out a lot of cool rides and activities like archery, crossbows, giant swing, darts, or the butterfly ride. It is indeed a perfect way to spend some quality time on a double date.
6. An escape room
Nothing spells enthusiasm more than a game where you get locked in a confusing room and have to search for clues to find your way out in only an hour. The escape room concept has revitalized going out for adults.
Put your senses and faculties into play and enjoy this fun game! You can create an escape room in your living room, basement, garage, and just about anywhere. You have to use a lot of imagination to create an escape room and that itself is a lot of fun. If you can pull off the concept well, it can easily make the list of your double date ideas at home.
Related Reading: 10 Outfits For First Date – What To Wear On a First Date [Expert Advice]
7. A drive out to the countryside
On a gorgeous, sunny day, a drive out of the city can elate your moods instantly. Some seclusion can do wonders for you all. This is one of the best double date ideas when you do not want to do anything tiresome or preparatory, and just want to enjoy the world as it is.
You don't have to drive with a particular destination in your mind. You can just go out there and find some wonderful places to stop by on the way. You can book a secluded barn in the woods for the weekend. Take a little hike and discover a little spring flowing around the lap of the mountain. Embrace nature and it will never disappoint you.
8. Trivia night
A great way to build intimacy with your partner and with another couple is by playing team games. When you are running out of double date ideas during Covid, you can invite a couple over dinner who are very close to you. Trivia night on your couch sounds so cozy and exciting that you will certainly want to plan it over and over again.
Brush up on your Thomas Jefferson fun facts and get thinking. Movie trivia game is also very popular and can be a lot of fun. Also, you can team up and ask personal questions to test how much you know partners.
9. Board games night at home
In the same way, board games can keep people engaged for hours if played right. Could you stop laughing after the Pictionary episode from Big Bang Theory? I know, I couldn't. Imagine having that kind of fun! From Scrabble to Risk to Dungeons and Dragons, there is something for everybody here.
One of the tried and test double date ideas at home, it can never get boring for a moment. Have you ever tried the Charlie's Angels board game? If not, save it for your next double date night.
10. Cooking a fine meal together
Whether it is a planned five-course dinner, or throwing some burgers on the grill – cooking food is a primal activity and if done correctly, is truly enjoyable. So run to the grocery store, find the right sauces and meat and you have yourself a magical evening.
Cooking on a double date is creative work. You can make it a girls-guys thing. While the girls do the chopping and grinding the guys can actually toss-up the delicacies.
11. Hit the casino
For a jackpot of a night, you cannot go wrong with the casino. It does not have to be Vegas to bring all the awesome factors. if you are tired of all the date nights at home and looking for post-pandemic double date ideas outside, this is your best shot at it.
A little drunken 2 AM gambling is one of the grandest benefits of adulthood. Put on your best attire and enjoy this night out with him to the fullest. Yes, don't worry about ending up like Hangover. You could actually become flushed and can already start deciding on the next double date at the casino.
Related Reading: 60 Ways To Celebrate Spouses Day
12. Volunteer at an animal shelter or nursing home
To bring out your social consciousness and to share that with others, spend an afternoon doing something that you care deeply about. If you know another couple who share a similar interest in rescuing and fostering animals, make this plan with them. For you, it will be one of the most fun things to do on a double date.
A community activity will keep your energies channeled in the right direction. It can also nurture deeper connections on the double date since you would be sharing something worthwhile.
13. Explore the sights of the city
We know everything about the city we live in but hardly explore and appreciate the culture that it offers. Independently or on a tour bus, take a ride around your town with another couple to learn some fascinating things about its history.
The four of you can actually take a hop-on-hop-off bus together and have a great time going around your own city. Why don't you find an authentic guide or take a heritage walk? This way you get a productive, fun day with your loved ones, plus bag some interesting information about the city where you live.
14. A formal dinner affair
Let's stick to the good old classics for once – dinner, wine, laughter, and conversations! One of the best double date ideas to actively spend time in getting to know another couple is a dignified dinner. Talking and laughing over some great wine and delectable food is the key to starting to form a good bond!
If both the couples are foodies, then exploring new restaurants together could be a great double date idea.
15. A bar and lots of dancing
I don't think anybody refuses happy hour. Take those shots of vodka and get moving on the dance floor. As two sexy couples in public, you can nail it with your killer moves and have a fabulous time with your dance partner.
You can exchange dance partners too or dance in a group and enjoy yourself together.
16. Take an early morning hike
If you ask our suggestion for fall double date ideas, we don't need to think twice about a long hike on a Sunday morning. Exercising is great for the soul and even better when done with other people. Pick a nice chilly morning to set out on an adventurous hike. Kill two birds with one stone by bonding with another couple and also finishing your workout for the day.
Pick up the trails carefully and ensure the hike is long enough to enjoy the scenery and company as well.
Related Reading: 5 Reasons Why Couples Should Exercise Together
17. A movie and some popcorn can never go wrong
One of the perfect at-home double date ideas is Netflix and chill. Pick a classic heart-touching movie like Sleepless in Seattle or a Marvel movie for the nerd in you. Add in some popcorn and chips to that, and you are good to go.
When you are on a double date and watching a movie you do not have to think of all the things that you usually have to do when you are on a movie date as a couple. Here goes one of your engaging yet super cheap double date ideas. 
18. A yoga class
Get in shape, rejuvenate and enjoy a new form of fitness with your co-couple. Take up a new yoga class with your double dates. Their presence will also keep you accountable and make sure you don't skip the tougher days of couples yoga.
Apart from yoga, you can also opt for Zumba, salsa, or whatever keep you active and fit.
19. Go to an indie movie screening
This is one of the most unexpected double date ideas. Independent film screenings are all the rage right now. Their unique approach will really get you and your co-couple talking about topics you might never get a chance to otherwise.
I once saw a Palestinian documentary that I could not stop discussing with my friends for days. If you are going on a double date with like-minded people then catching up with some brilliant work of indie filmmakers will give you a reason to converse and also broaden your horizons.
20. Shop together!
How about some great double date ideas outside with an added bonus of a bonding activity? A day spent at the mall can really help you understand the tastes and shopping habits of another person. Try on fun outfits, buy some new furniture, and unleash the consumerist in you.
And the best part is when the guys inevitably gravitate to the gadgets section and girls are busy browsing clothes. But, boys you are on a date. So keep your excitements low-key over the video games and maybe find out a nice piece of jewelry or a pretty dress for your girls?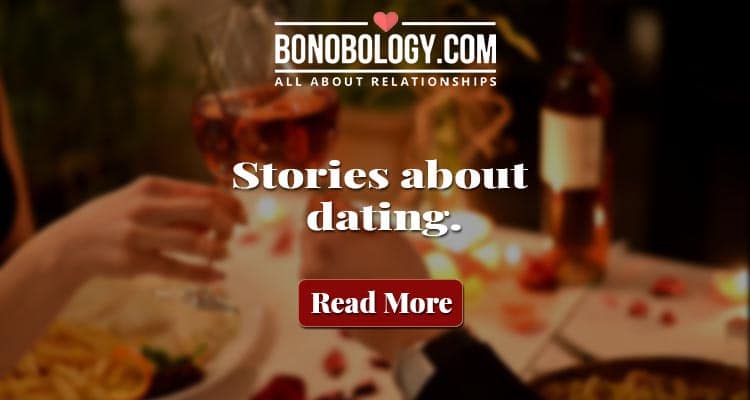 21. Roller skating
For endless laughter and shouting at the top of your voice, going out for roller skating is one of the best double date ideas. It's always nice to go back to childhood activities and share those with other people. Take a break from your suit-pant-briefcase schedules and loosen up a bit.
As a matter of fact, indoor skiing (we did that at the Mall of The Emirates in Dubai) or ice skating too are real fun things to do on a double date.
22. Go bowling
A great recreational activity, bowling allies have a lively charm for double dates. With yum snacks and super chill- music, this could be a flawless night out as a double date idea. Bowling is a perfect ice breaker for a first date.
You can actually spend hours at the bowling alley if the game really gets you.
Related Reading: 7 Non-Sexual Couple Things To Do Over A Weekend
23. A sultry salsa affair
A salsa class once a week, can really bring out your fun side! Put on those heels and twirl into the arms of your partner.
An intimate activity like this will bring you much closer to your partner and promise a wonderful time for both couples. Salsa not only helps you to learn some great moves but you can stay healthy and increase your stamina too.
24. Play tennis on the weekends
One of the best double date ideas is to indulge in a doubles outdoor sport. Team up anyway you like. Do a cross date or stick to your partner- whatever is comfortable. Pick a bright morning for this and enjoy some good shots as sports couples.
You will actually find a lot of older couples on a double date at the tennis court. It's fun to watch them having a ball.
25. Go camping
To drown the deadlines of life, take some time off with your co-couple and blanket yourself under nature and stars. A bonfire and some s'mores will add to the fun and will be an amazing weekend getaway.
You can take a sleeper van and go to a camping ground to do a few days of camping too. Otherwise if you want more double date ideas at home, the garden is always there, isn't it?
26. Go to a water park
Waterslides are the ultimate way to enjoy a nice, summer day. Cute bathing suits and suntan lotions are promising a beautiful summer date idea. You can play Marco-polo in the water or just enjoy the pool next to the bar and talk over some drinks.
A swim-up bar at the pool can be an add-on element.
27. Enjoy a spa day
For some much-needed R&R, invest in a couples massage to take the edge off. A light day without much activity can also translate to a brilliant double date. You do not have to always be active and about. You are allowed to just kick your feet up and enjoy yourself.
The couple rooms at the spa are nice. Then, after a rejuvenating massage when you sip your green tea, the discussion can be as deep as the massage you just got.
Related Reading: Trust Exercises For Couples To Improve Relationships
28. Try out a new cuisine
I personally enjoyed a double date once when I tried out a great Vietnamese restaurant in the city. Exploring new foods can bring out your fun, happy side. Try out new types of sushi or some outlandish desserts for an interesting double date with your foodie partners!
Having double-date partners who are as much into the food can be a very fulfilling experience. Visit places all around the city and cross off the items from the couples bucket list you made. Sounds great, doesn't it?
29. Watch stand-up comedy
Laugh away your worries and concerns by booking front row seats to your favorite stand-up comic. Humour is a beautiful thing and it's so much better when shared with other people.
When you cannot think of any places to go on a double date, book tickets for one of these to play safe and make sure it doesn't go flop. You can also opt to watch a humorous play.
30. Revel in your shared love for wine
A wine tasting trip with a backdrop of the lush countryside and a mellow sky is one of the perfect double date ideas. From a Merlot to a Rosé- indulge in the creativity of it or just simply get too drunk with your co-couple.
Be it at home or at the bar, or while you are traveling, wine tasting can be something to look forward to.
31. Take your dogs to the park
Talk about cheap double date ideas and the first thing that comes to our mind is a visit to the park. A park is actually an underrated place for double dates. It is easy, accessible and loads of fun! Even better, if you have pets. Having a doggie date can triple your double date in no time. Run around with a frisbee or simply roll in the grass with your pooch, this is one of the unexpected double date ideas.
A doggie and a double date can go hand-in-hand actually.
Related Reading: 20 Beautiful Summer Date Ideas For Married Couples
32. Play some video games
To be truly energized and engaged, play a vigorous video game with your double date. It can be as light as Just Dance on your WII or something violent on your Xbox. Find a common interest, lay out some snacks, and get competitive!
It can be thrilling to play a video game together. Especially during the pandemic, online role-playing games like World of Warcraft can be totally counted as fun virtual double date ideas.
33. Sledding and skiing
One of the great winter double date ideas is to go outdoor and enjoy what the season has to offer. To truly fall in love with the season, pick a double date, and indulge in some sports.
You can take a pick from our winter date ideas and tweak it into a great double date.
34. A zumba class
Get your muscles moving and grooving to some energetic Zumba tunes. A light workout on your double date will keep you active and smiling throughout.
Hanging out with another couple at your Zumba class will also keep you motivated. You won't feel like skipping class then.
35. Horseback riding
Horses are beautiful, romantic animals don't you agree? A dainty animal like a horse can spice up your double dates. An experience of horseback riding on a double date is something you will always continue to cherish.
Not everyone is into this sport, but if you have a couple friend who are as much into horse riding as you are, then the whole process will be enjoyable.
36. Go to a carnival
A city's reflection is portrayed in the carnival it hosts. This is one of the easy ways to be romantic. Enjoy your double date games, the giant wheel, and the local foods of the city at a carnival coming up near you.
Carnivals can also be romantic at night owing to the neon lights and the groovy music. Get up on a carousel or a giant wheel and have the time of your life.
Related Reading: How To Impress A Girl On A Date And Make Her Want To Go On More
37. Late- night munching
Some of the best double dates I've been on were the ones after 2 AM, spent in dimly lit diners while all of us gorged milkshakes and fries. Reminds you of the whole gang from Riverdale, season 1, doesn't it?
Sharing stories in the booths of cute diners while eating comfort food translates to some genuinely happy times.
38. A pottery class
Pottery is messy but that mess can become a lot of fun. Pottery is not a very challenging art and has room for everybody to enjoy. And who knows, as your fingers brush while shaping a beautiful mug, you might unknowingly rekindle the chemistry long gone!
One of the unexpected double date ideas, unleash your artsy side and create some muddy memories. Pottery can be a greatly creative way to have a double date.
39. Go kayaking
Nothing spells love like a cute boat. With a scenic background and calming waves, this experience is one you will remember for years. With a life jacket, the right partner by your side, and a co-date, this makes for a great Saturday morning plan.
You can check into a kayaking resort for the weekend and have an adventurous time together.
40. Check out a jazz club
If you enjoy classy and fine music, jazz clubs are for you. Even if your co-date might not know much about jazz, you can host a double date and introduce the concept to them.
A night out learning some good culture and history is something most people would enjoy. I know, I would look forward to this plan on the next double date!
41. Explore music together
Looking for fall double date ideas? Let us map out a beautiful fall evening for you and the couple neighbors next door. Go to an old record shop, pick up some old-school music records and play them together at home. A little couple dancing at home while reminiscing old tunes is what Friday nights are all about.
If you can play the guitar or keyboards have your own small gig and enjoy some foot-thumping music.
Related Reading: 50 Best Halloween Costumes For Couples
42. Take a hayride
A perfect autumn activity, sit with your partner and co-date to enjoy the weather and beauty of the season. A tractor or wagon is more romantic than you would think.
Riding through the farm can also be an opportunity for some fun pictures for the gram for the hopeless romantic in you.
43. Binge on a heartwarming TV series
When can't leave the home, one of the most fun stay-home double date ideas during covid is a marathon of your favorite sitcoms. Find a common genre and binge a TV show. An ardent discussion about the characters, plot lines and narrative inconsistencies is an awesome way to build friendships.
I'd recommend House Of Cards if you're feeling it, or Modern Family if you need something lighter. You can always rewatch Friends if you can't decide on what to watch.
44. Play a round of mini golf
Regular golf is a time-consuming activity. Not everyone wants to spend half their day waiting around for their turn unless they are really passionate.
Mini golf instead is a cute and shorter alternative that you can try as one of your double date ideas.
45. Karaoke night
Singing I Want To Know What Love Is by Foreigner or Bon Jovi's Living On A Prayer, will elevate your karaoke night fun. Pick out some fun tunes, sing away your blues.
You can hit a karaoke bar together or create the karaoke ambiance at home only. It will be an intimate sing-along among just the four of you.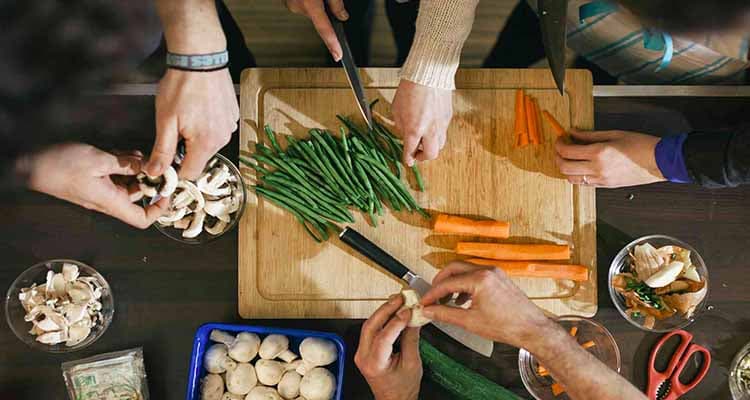 46. Take a baking class together
How wonderful is it to learn how to bake desserts only to relish them all by yourselves? Baking is a truly fun activity and the end results of it – are always more than worth it.
Try cooking some love together by baking tarts and cheesecakes with your co-couple for an amazing double date.
Related Reading: Planning First Overnight Trip Together – 20 Handy Tips
47. Go to a hockey game
To enjoy winter sports in its glory, this is one of the best winter double date ideas. Hockey is an enlivening sport that is truly a pleasure to watch. Put on your team jerseys and scream for your favorite players together!
Not only hockey, but you can also have a date watching a baseball game or even a game of tennis.
48. Play Never Have I Ever
The Never Have I Ever Game can be played on a double date. You can take it a notch above if you are really comfortable asking each other some of the most bizarre Never Have I Ever questions.
While playing a game like this you hardly realize when time slips away. But be careful don't be too honest with your answers, otherwise, you will land up in deep trouble. Just joking!
If you want more virtual double date ideas, it's one of those double date games that you can play over a video call. Both the couple sits over a glass of wine on the opposite sides of the screen and enjoy hours of blissful moments.
49. Go out fishing
It is always cool to be in the wild and enjoy nature and its bounty. Take a small boat out and dig all the fishing fun with your double dates. A bonus: dinner is sorted!
Fishing is something that teaches you patience and precision and if you love sitting with the fishing rod with not a word passing between you, then you are bonding at a different level.
50. Lunch with a view
An enchanting lunch date can be very romantic. Find a rooftop restaurant with a beautiful view and enjoy your meal under the sky with your double date. Laughing over some Champagne and a view of the city is one of those ideas that won't make you hate double dates.
There you go, now you are all set for the next 50 dates with our 50 super fun and exhilarating double date ideas!
FAQs
1. Is it good to double date in a relationship?
You can only double date when you are with a like-minded couple with a certain level of maturity. In that case, double dating can be good for a relationship.
2. What can two couples do together?
Two couples can chill out together either at home or outside. They can get involved in fun activities like board games and exploring museums, to water parks and lunch dates they can enjoy everything. A double date relationship is a lot of fun.
3. What does a double date mean?
It allows two like-minded couples to have some fun together at a restaurant, at the movies, on a weekend trip, or just at home over drinks and board games. Also, never go on a double date with the intention of swinging. A double date happens between monogamous couples and there isn't a question of an open relationship either.
4. Is a double date a good idea for a first date?
It can be a good idea for a first date if you are feeling nervous and jittery and suffering from dating anxiety. Going on a double date can give you more confidence especially if you are meeting for the first time after online dating.
Dating Etiquette – 20 Things You Should Never Ignore On A First Date