Madhavi and I are considered the runaway couple whose marriage is a runaway success. Twenty-nine years of togetherness with a sprinkling of sobs, a splash of sniffles and a tsunami of smiles is quite an impressive scorecard.
So what makes us 'explode'?
I think the infinite differences and the few similarities we share make our marriage work.
Let's begin with my favourite topic: Sex. Sex to me is an OCD, to Madhavi it is merely a distraction.
Madhavi is an out and out extrovert and loves to socialise. She can carry out an animated conversation on any topic under the sun (except of course the birds and the bees) even with absolute strangers.
Strangely, though she is great at 'talking the talk', when it comes to speaking on stage, she is all at sea. While I tie myself into reef knots in one-to-one encounters, behind a podium I am quite cool.
Related reading: Pati, Patni and Politics: How to manage differences in political views
Likewise, even though she is very gregarious on most occasions, she becomes extremely uncomfortable when anyone tries to flirt with her. I, on the other hand, come into my own only when I am practising the art and craft of this harmless, yet so very enjoyable, indulgence.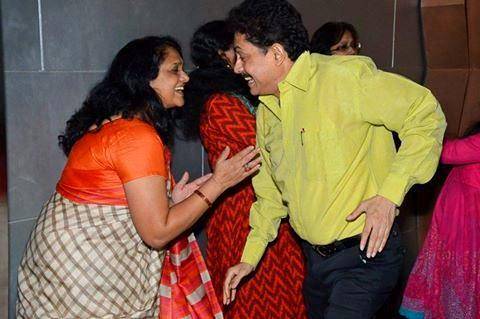 She has a great voice and sings very well. I croak but dance to her tunes and on stage, I think, with great felicity.
Related reading: When chalk and cheese fall in love…Tete-a-tete with Jammy and Rekha
As far as reading is concerned, again our tastes are completely divergent. While reading is a passion to me, to her it is merely a sleeping pill. The only time she ever managed to complete a book or two was during her maternity leave.
Madhavi's basic life position is I'm Ok, You're Ok. I flit between I'm Ok, You're not Ok and I am not Ok, You're Ok.
We do have a few similarities. We both love shopping, travelling and spending time with the kids. We are fond of animals and that naturally makes us fond of each other.
A colleague had once commented, "Ramen, both you and Madhavi complement each other beautifully – while you crack jokes with ease, she cracks up easily."
What I have learnt in these nearly three decades of married life is that with most couples the scenario is the same. Every relationship is a potpourri of similarities and differences. If a couple is completely the opposite of each other it would lead to chaos, if it is too much alike it would result in ennui. So the mantra of an effective relationship according to me is simple: "Celebrate the differences, enjoy the similarities and forget the rest!"
This couple may be different but their communication strategy is unique