Manvendra Singh Gohil is a widely renowned and popular name among the ever-increasing LGBTQ community in the Indian subcontinent. The prince of Gujarati origin, who is the probable heir of the Maharaja of Rajpipla, came out as gay to a journalist as early as 2006. The article on him, where he talked about his sexuality, made headlines in the world for several months after its publication in a popular daily.
The article came out on 14th March, 2006. Unable to handle the shock, his parents disowned him at that point but in later years his father became very supportive and understanding. Earlier, in order to fulfill his parents' wishes he had got married to a Princess from central India but the marriage did not last beyond 15 months.
The Prince has come a long way since then and he has emerged as a global leader in the LGBTQ movement worldwide. He runs a charity, the Lakshya Trust for the well-being and betterment of the LGBTQ population in India, particularly gay men and the transgender population, who are yet to come out or are not accepted by their families.
He was featured on the Oprah Winfrey Show in 2007, being one among the three persons featured on the show Gay Across The World. He was invited to inaugurate the Euro Pride Gay Festival in Stockholm, Sweden in 2008.
Manvendra Singh Gohil talks about gay rights in India 
In 2006 he told a national daily he was gay.
His coming out made headlines for months.
Manvendra Singh Gohil was the first prince in the world to come out of the closet.
His parents had disowned him then.
He went to the Oprah Winfrey Show in 2007.
He inaugurated the Euro Pride Gay Festival in Stockholm, Sweden in 2008.
Gohil says that the Indian court says two consenting adults of the same sex can live together.
He believes LGBTQ couples should always go to court to know their rights.
Parents are now more accepting in India about their wards being LGBTQ.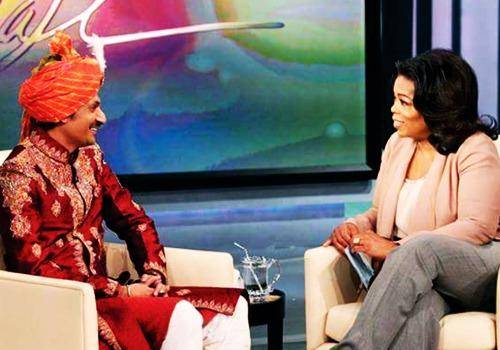 In this interview Manvendra Singh Gohil talks his mind…
Recently, you must have come across the news of Taiwan legalising LGBTQ marriage. How much impact do you think it will have on the neighbouring Asian countries, including India?
Definitely, it is a very significant part of the LGBTQ history for Taiwan to legalise the same-sex marriages. In fact, I have received an invitation from the Government of Taiwan to go for a conference which the Government is organising in November where they are expecting World Leaders to come and discuss about their countries and their respective cultures and specifically those who have been a part of the LGBTQ movement. So, I would definitely like to be a part of the same and provide my contribution to the conference regarding the global change that has happened.
With regards to India and other countries that are concerned, there is definitely going to be a change which started with the milestone, decriminalisation of Article 377.
As far as the other Asian countries go, Nepal is a very good example. Same-sex marriage was legalised sometime back in Nepal and the law was changed back to the old one again when the government changed.
Now, I have got the news that they are considering changing the law again when they saw the example of 377 in India. Not just Nepal, then there were other countries also which started considering changing the law. India is a part of Asia, it has connections with Taiwan regarding trade, export and import etc, and it is a part of the United Nations as well. I definitely see a change happening.
I don't know how soon, I can't comment on that, but there will always be a reaction to the legal changes happening in other neighbouring countries.
Do you think the LGBTQ community in India feel inspired or hopeful on seeing this legal change in Taiwan?
From what I've heard people talking about, they are generally very enthusiastic and kind of looking forward to this kind of change happening in India as well.
Let me tell you, even before Article 377 was legalised in India, gay marriages and lesbian marriages have been happening traditionally. Though they do not have a legal recognition, I know so many couples in India who have been living together like a married couple and I think they are happier than straight couples.
In fact straight couples and those who are going for arranged marriages often pretend to be happy. So much of hypocrisy is there. Gay and lesbian marriages are much more successful than the straight ones.
Even if you ask me, mythologically or spiritually, I've known priests who are coming forward to get same-sex marriages performed. In the Hindu Mythology, there is a term called "Gandharva Vivaah". Now, according to these priests, same-sex marriages have been a part and parcel of India since the bygone eras, there is nothing new about these "Gandharva Vivaahs", they have been happening in the past. Laws like the Article 377 were imposed on the Indian population as a result of colonization and in fact, because of the factors like religion in our country which has changed the mindset of the people. Even though there is a lack of legal recognition in India, there are same-sex couples in India who have been enjoying a good married life and they are very happy about it.
Long time ago, this was 13 years back in 2006, there were two women who ran away from home and wanted to stay together. They faced objections from their parents and then, it was the court which ruled that if they were of legal age and consenting to stay with each other, then the parents could not force them to stay separated.
This is an actual court case that has happened in Gujarat and although the sexuality angle was not discussed, it was clear that the parents could not impose any restrictions if two women or men wanted to stay together.
That itself goes to show that homosocial behaviour is accepted in our country and normalised widely too. When they talk about their sexuality, that's where the problem begins, leading to stigma, discrimination and violation of human rights of all kinds.
When the Supreme Court has passed the judgement regarding Article  377, though it has not talked about marriage and other rights for the LGBTQ population, a fundamental right of the Indian citizen has been highlighted and addressed. There should be a couple who should challenge the court for getting their legal rights. Recently, Keshav Suri, the Managing Director of a reputed hotel, came out openly as gay and got married to a French guy. He has faced no objection anywhere.
I will give you another example. It was believed that a transgender cannot get legally married. They went to the Chennai High Court and the Court said it is legal for transgenders to get officially married.
So if the Court of Law rules the transgender marriage to be legal, so same-sex marriage should be legal too.
I feel the LGBTQ population in India is not getting enough visibility. What is your take on this?
Yes, I think the couples who want to get married should do so and challenge the court of law for the legalisation of the same in case anyone denies them this fundamental right. I think that's the way they will be officially able to get the rights for marriage, adoption or even inheritance. Even there might be some laws which are obsolete and need to be removed.
Even Article 377, was not completely against homosexuality. They talked about penetrative sex without conception, which affected the straight sections of the population as well. Fortunately, there is no law in India which is only limited to homosexual population like the US, where laws are being made targeting the homosexual population, pertaining to religious reasons because many are followers of the Catholic Christian Church. That is conservative and anti-LGBT. But India, although it is a predominantly Hindu country is strictly secular. The transgender rights bill was passed in 2014, article 377 was legalised on 6th September 2018. As you can see, a lot of ambiguity is there.
If a couple wants to know the legal status, they should go to the court, more so as a response to any violence or discrimination against the LGBTQ population and get justice for themselves.
How do you think the mainstream society is going to accept the LGBTQ population in India, even though legal recognition has been achieved?
I think the first battle has already been won, the legal recognition will truly help us to overcome barriers and get the recognition we truly deserve in the mainstream society. Now, it is time for us to create as many allies as possible, which I am doing myself and encouraging others to do as well. For me, an ally is a person who is not a part of the LGBTQ community, yet openly supports us and accepts us. In that we will be able to establish ourselves prominently in the mainstream society. The best way to do this is through education and awareness. I am actively hosting TedTalks, teaching in colleges and universities. The youth are the future of this country, any one of them will grow up to become the Prime Minister, President of India or the Chief Justice of High Court. The main barrier which they face is the lack of education. We are a country where proper Sex Education is not given at the school level, so awareness about LGBTQ and homosexuality is a rather far-fetched thing.
It is very important that education is imparted at this level, so that the youth become much more understanding parents 10 years later than their parents actually were.
How can society be more inclusive?
As I said, it is going to take a long time for the mainstream society to come around and getting sufficient number of allies would prove to be really helpful in the long run. Many parent support groups are opening up in India, similar to the ones in US like the Parents and Friends of Lesbians and Gays. There is a similar organisation in India, "Svikar", it consists of the parents and relatives of those LGBTQ people who have accepted their children and allowed them to live together with their life partner as a couple. It provides a strong voice of acceptance to those parents who are yet to accept their children. The fundamental right of a human being is the Right to Love and if you are not harming anyone, you are entitled to this right. Each and everyone in the society truly deserve it to the fullest.
https://www.bonobology.com/a-traditional-south-indian-engagement-a-modern-lgbt-couple/
https://www.bonobology.com/discussion-topics/explaining-lgbtq-to-children/
7 Bollywood Movies That Have Sensitively Portrayed The LGBT Community