Who doesn't love witnessing the sea meet the horizon? And everyone just loves to watch the innumerable waves hit the shore, right? The tranquility of the ambiance, the sun-kissed beach sparkling in the sun, the sound of the ocean — it all comes together for a mesmerizing effect. I'm sure you know many people who think of themselves as 'beach people', as opposed to those who prefer the mountains. So why not surprise them with gifts that could be related to a beach holiday? We've come up with list of 25 beach gift ideas for all the beach babies you know. 
So if you are getting a gift for someone who loves to hit the beach whenever they can, scroll our list and we're sure you'll find something they'll love or find very useful.
25 Best Gift Ideas For beach lovers
While you are trying to narrow down the ideas for travel gifts, especially gifts for beach lovers, focus on two things: It should be something practical and useful that they can carry on their next trip to the seashore, or, you choose a beach-themed item for the home, like décor pieces, clothing, travel guides or mementos.
With that thought in mind, let's explore our collection of the very best gifts for beach goers to surprise the them like a giant wave surprises a surfer!
Related Reading: 35 Best Gift Ideas For Music Lovers And Musicians In Your Life
1. Unique drink holders for the beach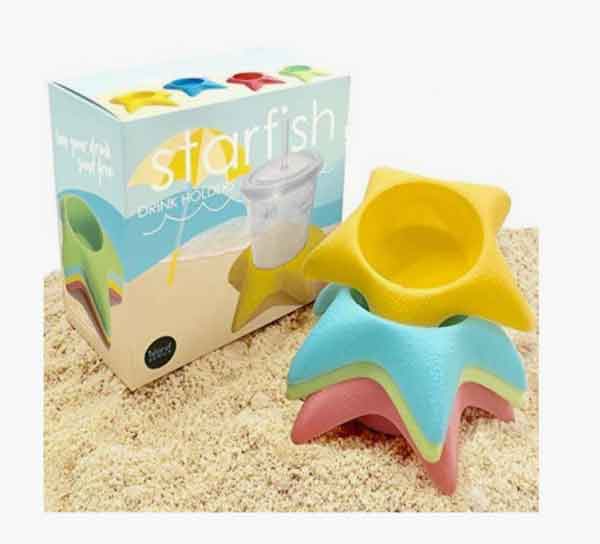 One of your friends is a crazy beach lover, so this year on his birthday you want to gift him some collectibles for the beach. How about the starfish-designed bottle and glass holders — don't they look amazing?
The most important thing is that they come in different colors such as green, red, violet, and blue. Indeed the composed architecture of the holders can let you fit them easily in the travel bag. Note that you can even use the same as a coaster as well. On the whole, it will create a unique look.
Set of 4 holders in assorted colors
Comes in a travel-friendly mesh bag
Helps to keep your bottles and beverage glasses sand-free
3 inch diameter fits all bottles
What better way to say 'Cheers!' to your friend even when you're not there clinking bottles with them. 
2. Women's cosmetic kit bag
Women love to stay groomed and makeup is a basic requirement for that. Therefore, it also becomes important that one should be able to carry those makeup essentials easily to stay trendy and fashionable. Like, your sister who has a fetish for beach and cosmetics both.
So why not this beige colored cosmetic bag with vibrant color prints on both sides? The bag is crafted from fine quality cotton and linen ensuring that the print stays intact and won't fade away.
Graphic on both sides with waterproof coating
Fine, sleek, black zipper
Long-lasting and high-quality print
Foldable and easy to carry in a tote bag
The best is that this cool bag is pretty spacious as well so your sister can smoothly tuck in other essential cosmetics as well without too much effort. You could very well give someone this as birthday gifts for beach lovers.
3. Clarke's beach sandal for women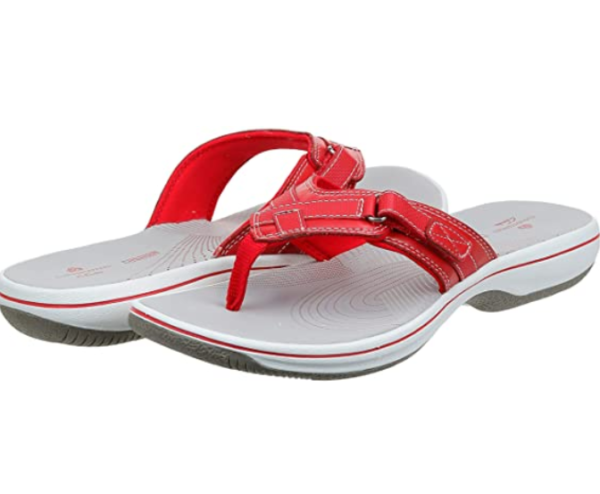 Next week your mother will be visiting her favorite beach so as a dutiful daughter, you are busy packing her items. But while doing so, you find that she doesn't have congenial footwear. So now you're looking for the perfect pair of beach sandals for her.
And voila — here they are! These sandals are made of imported synthetic material. The outer sole is made from good-quality rubber. As for the color combination, the red straps perfectly contrasts with the warm white base.
3-layered sole for extra comfort
Foaming midsole makes it feel weightless
Shock-absorber layer for better grip while walking
Perfect fit due to hook and loop closure
One more thing is that they aren't high-heeled, so your mother can walk comfortably on the beach. Apart from that, the straps are flexible so she can adjust as required. 
Related Reading: 21 Long Distance Family Gifts They Will Actually Want To Use
4. Cotton towel for the beach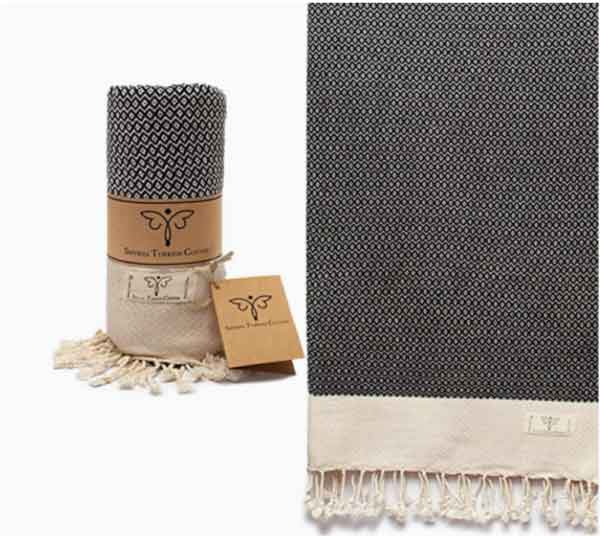 Are you planning for a couples vacation to a beach? If yes then you should prepare a list of necessary items that you need to carry out there. You realize your husband's favorite beach towel is missing.
So you decide to get him a new cotton towel for the beach vacation. It's made from Turkish cotton and is great quality which makes it an even better beach gift for him. The fabric is woven with Anatolian material which assures it will last really long.
100% organic cotton material
Decorative and multipurpose towels
Absorbing capacity is amazing
Absolutely eco-friendly and becomes softer with each wash
On top of that, the towel also holds a certified tag from OekoTex. The other attributes like lightness, softness and quick-drying will make you fall in love with it. 
5. Collection box for seashells 
Your sister loves to preserve seashells. Over time she has collected oh so many and that too of diverse kinds. So you've decided to give her a display box for the seashells. After some searching, you landed on vintage-looking wooden box that could also be added to your list of Christmas gifts for beach lovers.
The front portion of the box has inbuilt glass so that the displayed seashells can be seen from outside. Talking about the color, it is a faint blue, which reminds one of the pristine blue seas. .
Wooden box with a glass display
Opens from top to store collectibles
Vintage design with rounded edges and corners
Soothing pastel sea shade with lovely quote in white
Your sister can deck up this showpiece on one of her favorite wall shelves to enhance the décor of her room. 
6. Charming cufflinks for men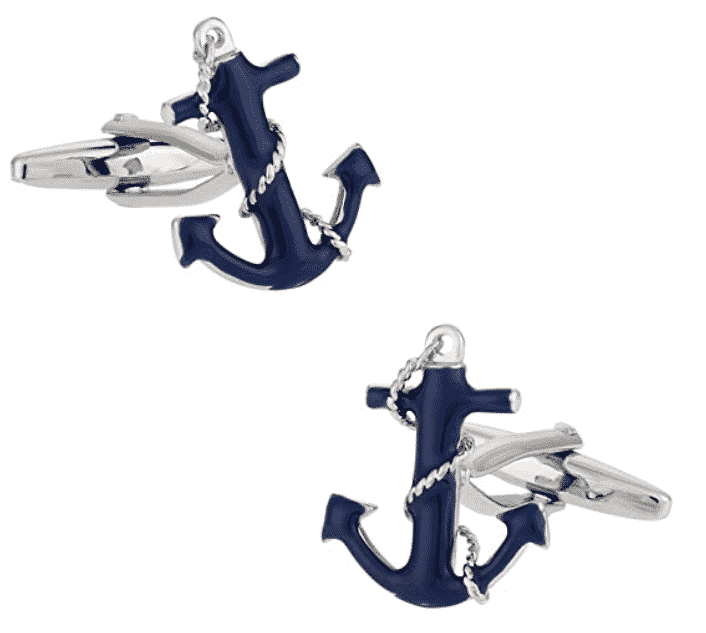 Next week, you have to attend your brother's birthday and you want to give him something different this time. Given his love for the seashore, you want to choose beach gifts for him this year. So, you pick a pair of charming, nautical cufflinks in the shape of anchors. The amalgamation of blue enamel-coated anchors and the silver-plated rope makes it a real piece of artwork. 
Extremely eye-catching design
Comes in a unique, clamshell gift box
Perfect fashion accessories for men
Overall, it is a perfect beach gift idea for a great beach lover like him. He can wear it whenever he wants at beach parties and at formal meetings at beachside resorts.
Related Reading: Travel For Two: Are You Ready For Extreme Adventures?
7. Gifts for beach lovers: Tote bags
When a woman is going to spend the day at a beach with her girl gang, you can be sure she's going to carry a lot of stuff with her. There's going to be sandals, sunscreen, towels, sunglasses, umbrellas, wine and other essentials.
Next time when you are buying birthday gifts for beach lovers, especially a lady, gift her a large tote bag to fit all her beach accessories in one place. It will be super handy and she would love you for such a thoughtful gift!
Contains 9 pockets in all with a large spacious one in the middle
Needless to say, it is water-resistant and sand proof
Separate compartment to keep wet clothes
Made of high-density polyester material with zipper closure
This beach tote bag is lightweight and of course, looks adorable with the cute pineapple prints. On other days, you can use it as a carry-on bag to the gym or to grocery shopping — it's basically multipurpose.
8. Wooden beach sailboat 
Your father loves to garner nautical décor pieces for the home. So why not give him one more? This wooden beach sailboat will definitely grab his heart. The boat deck is prepared from high-quality wood which adds resilience to the architecture.
In addition to that, the nylon ropes attached to the mast give a vintage appeal to this maritime décor item. Your father can use this piece to deck up his work area at home or even take it to his office to decorate that space.
Mediterranean style model boat in hand-held size
Sails are made of attractive and durable canvas
Elegant design; arrives fully assembled
.
Your father will definitely appreciate your keen eye and gifting sense. This is quite a collector's item to have at one's home or in the office and certainly one of the best gifts for beach goers.
9. Beach painting on canvas panel
Paintings make great gifts for anyone. If you are dating a young artist who is crazy about the beach and painting waves, a collection of sea canvases would be the perfect beach gifts for him.
Take look at these life-like beach sceneries captured on a canvas, like pure magic. There are starfish by the waves, seashells, a message in a bottle, as well as another one in the sand. The use of a canvas panel makes it more appealing. The lovely frames will bring in a sense of freshness to the home décor or wherever he displays them.
Set of 4 coastal, canvas, wall art
Hooks and nails provided to hang it instantly
High standard prints carefully wrapped around wooden frames
Your boyfriend will appreciate the paintings which depict these elements by the sea and these colorful art pieces will certainly fill his life with a motley of soothing colors as well. 
10. Sea themed tea mug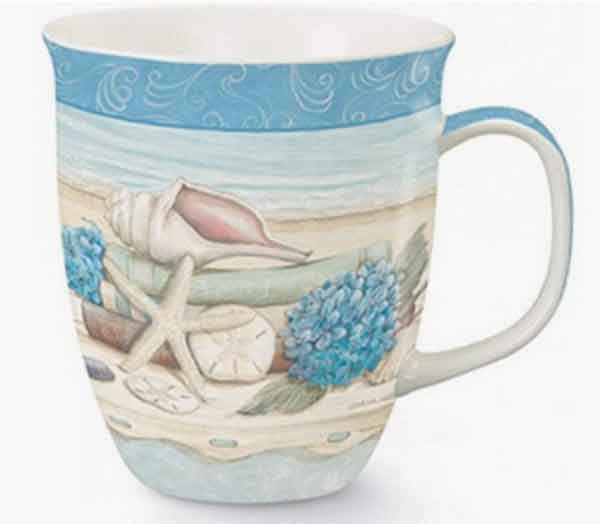 Do you find it tough selecting gifts for your brother because he's so finicky that it's almost impossible to buy anything for him? But if he is an ocean person, you can explore a lot of gift ideas for beach lovers.
How about a classic gift that can't go wrong? This mug, delightfully painted with seashells, starfish and corals painted will make him smile whenever he sits down with his favorite brew.
Made from A-grade ceramic.
Long-lasting, won't wear away if handled with care
Dishwasher and microwave friendly
Next time your brother decides to hole himself up in a beach house for a month, you can be sure he'll be carrying these mugs. A beach mug in the beach house by the beach — nice!
Related Reading: 30 Self-Care And Wellbeing Gift Ideas – Because You Deserve The Best
11. Sea creature coasters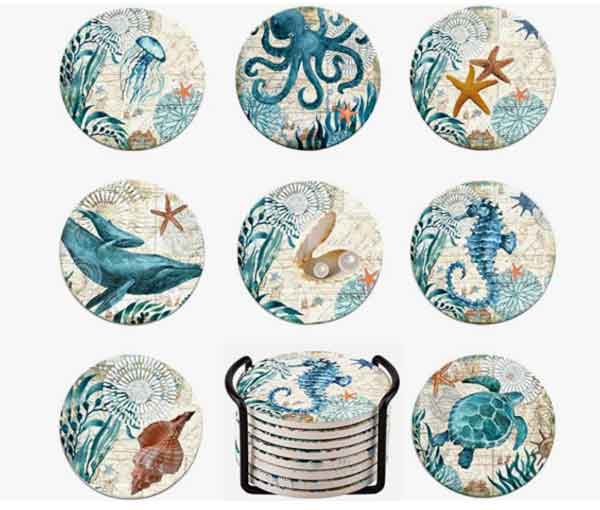 Your mother has a passion for collecting different types of home décor items. This time you thought to present her with something that will give her the best of both worlds –in other words, functionality as well as style. So, you need to look for practical home décor gifts for beach lovers.
This set of eight coasters fits that bill really well. Each coaster portrays different marine life. The upper layer of the coaster has better absorbing quality compared to the ones designed from silicone. The rear portion of the coaster is made from cork so that it does not leave any scratch marks on the table.
Includes durable iron organizer
Matte glaze on surface ensures print never fades away
Coasters are standard sized for placement of all types of bottles and mugs
The best thing about these coasters is that they come with an additional iron holder for keeping them in one place. It looks really neat and tidy when stashed away.
12. Tide timer clock
Your uncle is a marine engineer by profession so it's natural that he loves to get gifts related to his profession. So this year on his 54th birthday you decided to present him with an elegant clock that presents the high tide and low tide times. The look of the clock is a throwback to classic nautical designs. Let's take a look at the other features of this amazing clock:
Much easier to read and follow than any printed tide table
Mount on the wall or just use as free-standing item
Battery operated, attractive sky blue color, made of acrylic
Remember that you need to reset the watch every Saturday on the west coast, but the resetting is not required for the Atlantis or Gulf of Mexico. Trust me, you won't find a better birthday gifts for beach lovers, especially for someone who has a maritime profession.
13. Men's beach surfer anklet
Your husband loves and admires the depths of the sea, so whenever he gets time, he likes to spend the day at the beach. This men's beach anklet would probably be a fun gift for him 
A cool fashion accessory for men, this handmade anklet is prepared from a navy blue cord. The best part is the small anchor charm that adds an aesthetic touch to the anklet — it really looks so beautiful.
Cord is made of wax cotton material, silver-plated charm attached
10 inches long with clasp closure
Customization options available on cord color and size
You will receive the anklet in a ready-to-present cute box, so there's no hassle of wrapping it up again. It's really one of the best gifts for beach goers, especially if they are into surfing.
14. Beach chilling wine glass
Your boyfriend is passionate about the seas that is why he always loves to head to the beach whenever he is off from work. That's why you've decided to gift him a top-notch quality wine glass from a reputed brand.
What could be a better gift for beach lovers than staring at the ocean while sipping on wine? Coming to the wine glass, it is pretty and gives a wholesome beach vibe with its pretty seashore print.
Entirely hand-blown with "Beach please" sign
Each glass is uniquely hand painted by artisans in vibrant colors
20 oz capacity
Branded gift packaging with a note
On top of that, at the bottom of each glass, you will find a unique beach cocktail recipe printed. Your boyfriend will love sipping wine from this glass and hear the seawater gushing in the background. 
Related Reading: 24 Gifts For Minimalists – Simple Yet Practical Gift Ideas
15. Wooden beach decor 
Your sister likes decorating her bedroom with different knick-knacks. Recently she has remodeled her bedroom and the theme is "Beach vibes". She's painted her room aqua blue color and the furniture has a seaside resort look. So don't you think this wooden cutwork with the colors of the beach, would fit the vibes perfectly?
Set of 3 wooden signs — Beach, Ocean, Sea
Ocean-themed accent pieces
Stunning craftsmanship and design
Features 3 contrasting colors – ocean blue, white, and sandy brown
The dual color in light wood and aqua blue will make anyone fall for the décor. It has a free-standing style so you can place it on shelves. This could even be an amazing option as Christmas gifts for beach lovers.
16. Beach door stopper 
If your bestie is a beach babe, then this door stopper is rather unique as well as a perfect beach gift for her. It comes in a manageable size and is filled with sand so that it can bear the load of the door easily. Your friend will be so happy to get such a thoughtful yet creative gift from you.
5 inches tall and weighs 2 pounds
Wipe it with wet cloth to get rid of dirt
Crafted from high-quality polyester and linen
Sturdy rope attached to easily carry around the house
This door stopper bag is in a warm pastel shade and the imprinted write-up in white color makes it stand out. You can always go for such token yet meaningful gifts for beach lovers for a friend or one of your colleagues.
17. Turtle shaped paper towel holder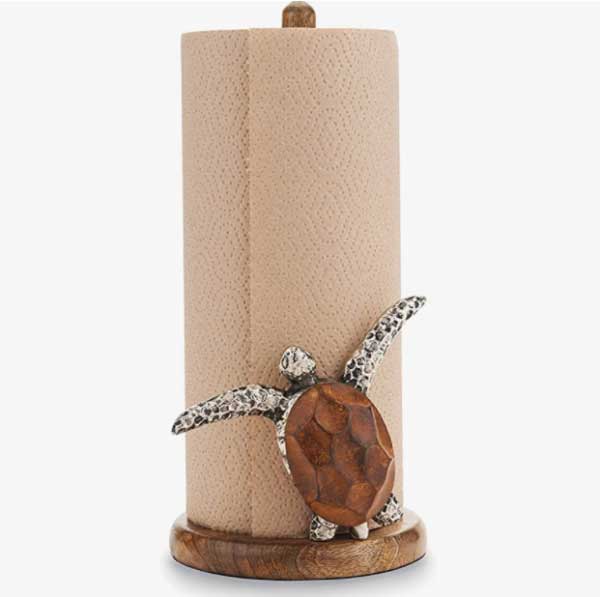 Little things make your wife the happiest and so she loves to add small things to her showcase. As a husband, it is your joy to gift her something pretty yet useful so how about this cute paper towel holder. The beauty is the design of the holder.
A brown turtle figure attached to the holder with a wooden base — adorable! If she places this on the kitchen table top it is going to look classy and beautiful. Don't you think it's an amazing gift idea for beach lovers?
Silvery legs and body of turtle are made of aluminum
Base and turtle's shell are crafted from mango wood
Cute and funny nautical design, great finish
She can either place it on the dining table or even keep it on the window sill of the kitchen. No matter where you keep this, it will accentuate the beauty of your home.
18. Sea themed tic-tac-toe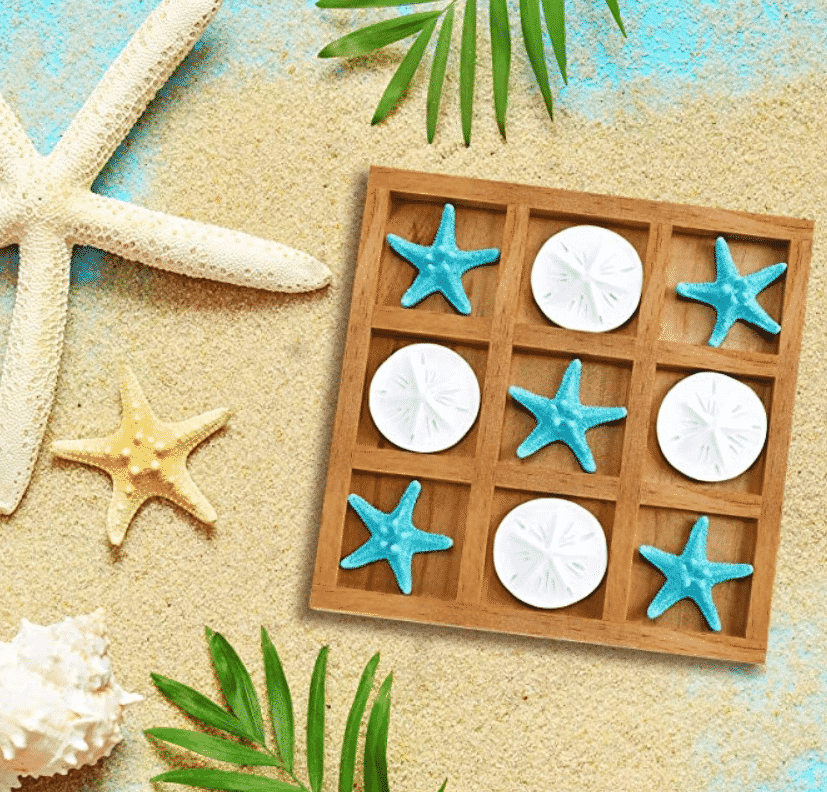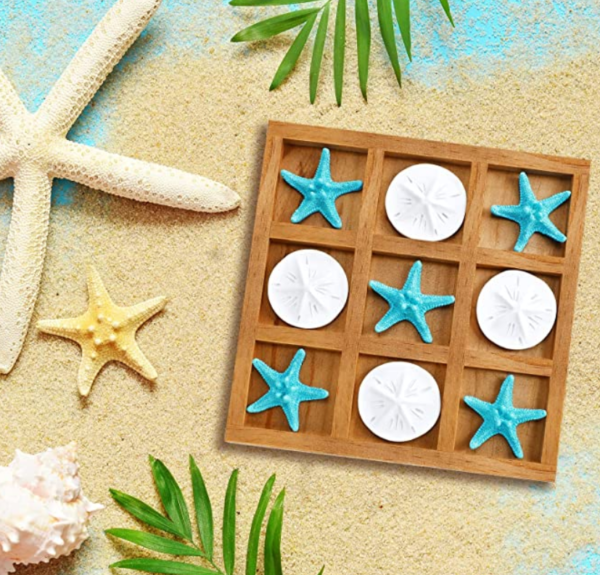 Traveling long distances can be quite boring, especially when you don't have anything to play while commuting. Well to keep the spirit of traveling bouyant, here's this super cute, starfish and seashell tic-tac-toe game. You should note that sediments of wood might fall off the board and that is because it is prepared from a simulation process. If you can't think of any Christmas gifts for beach lovers, a board game set will never fail.
Handcrafted from wood, sturdy
Classy wooden design with game pieces in vibrant contrasting colors
You will get 5 starfishes and 4 coins, all resin-made
Perfect for all age groups to spend quality family time together
You can easily clean that sand debris with the help of a brush and smoothly tuck this handy board game into your traveling bag.
Related Reading: 24 Food Gift Ideas For Foodie Couples Who Love To Cook
19. Beach lover bracelet 
Your best friend loves to saunter down on the beach and explore the beauty of coconut trees. Last year you saw how she enjoyed the beach outing. So here's a uniquely designed bracelet, one of the coolest gifts for beach lovers, that would be perfect for her.
She will absolutely adore this silvery bracelet that has so many sea charms attached. Talking about the material, it is designed from high-quality metal. It says, 'I am a toes in the sand kind of girl!' Rest assured, she will rock it with her next beach day outfit this summer!
Adjustable bangle so will fit most adult wrists 
Resistant to corrosion so need to worry about it rusting
3 silver plated charms — sand dollar, starfish, flip flop with 2 pretty stones
It is finely polished on both sides, so no need to muse about the color fading. Apart from that, it is hypoallergenic so it will not cause any allergic reaction on the skin. 
20. Sunrise at the sea canvas print 
You love surprising your wife who is an ardent sea lover, right? And this year, on her 27th birthday your search for birthday gifts for beach lovers ends with this canvas-printed sunrise photo by the beach.
The exclusive artwork was printed on high-quality photo paper and will engross you you with compelling beauty. High dimension ultra-chrome pigment ink has been used to print the picture. 
High definition painting printed in modern giclee process
Large enough (24×36 inch) to be displayed as accent décor
Ready to hang on wall with hook mounted on its back
Looking at this photo any time at day or night will have a calming, relaxing effect. That's what artwork should do, right?
21. Beach cocktail book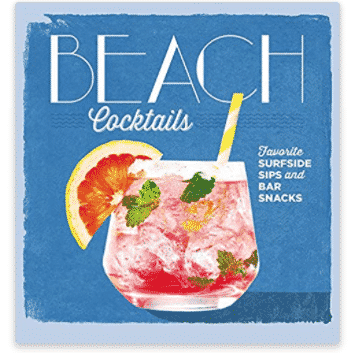 Every year during summer, you love to visit your sister who lives by the beach. Being a resident of a coastal area, your sister has nailed all the dishes popular over there. In fact, your sister loves to prepare fresh recipes, and this time you want to gift her a beach cocktail recipe book so that she can whip up some amazing, refreshing cocktails too.
The book unfolds flavored coastal cocktail recipes from different places such as Brazilian Caipirinhas or the Hawaiian Mai Tais. The book will also enlighten the readers on tiki bar essentials and their origin. 
288 pages hardcover book
Beautifully illustrated and enriched with information
Learn about basic bar skills and bar essentials
Filled with coastal scenery photographs to enchant any reader
This comprehensive cocktail book will end your thirst quest at once. Thus try out the simple syrup recipes and rejuvenate your beachside vacation to the fullest.
22. Beach lovers' tumbler
You want more ideas for gifts for beach lovers, here's a great one. Anyone who is a frequent visitor to the beach knows it's important to stay hydrated. That's why a sea-creature print tumbler will win their hearts in an instant. Check out the cool features of this funky tumbler:
Double-walled copper coated insulation to keep drink warm or cold for up to 24 hours
Made of food-grade and rust-proof stainless steel
No need to worry about spills with tight BPA-free lid
Lively design of sea creatures in bright pastel shades
Your crazy, beach-loving friend can bring their beverage to the shore, take a warm sunbath and sip on their drink as slowly and in as relaxed a manner as they want, because the temperature of the drink will stay the same.
Related Reading: 30 Unique And Affordable Bridesmaid Proposal Gift Ideas
23. Flip flop wall hanging
Beach lovers can't ever have enough nautical items to decorate their homes. If your brother and his wife nurture the same passion, getting a décor piece with the beach vibe would be ideal for them. A flip flop wall hanging will look adorable in any ocean-themed room.
Flip flops made of lightweight and durable wood in bright beach colors
Rope straps are ornamented with cute beach elements like starfish and seashells
Sign says 'The beach is my happy place'
4 flip flops attached together on a rope to directly hang on a wall
Trust me, they won't be able to thank you enough for such a thoughtful gift especially if they have a personal beach house to decorate.
24. Beach chair photo frame
Have you and your husband been missing all the exotic couples trips throughout the pandemic situation? It can be fairly difficult for explorer partners to stay back home for such a long time.
But hey, you can always take trips down memory lane. For example, so what if you could not hit the beach this year? You can look at the pictures of the crazy memories you have created together. For that purpose, this nautical beach chair photo frame would be the perfect beach gift for him and your family.
Has a shabby and rustic look just like a chair by the beach
Made of high-quality wood with back easel
Hand-painted to bring out the tanned and tattered look
Freestanding to place on any tabletop
Dive back into the memories and display some of the amazing pictures up on your desk to relive those days.
25. Beach treasure guide
The sea is a mystery by itself and once you start deep diving into those hidden depths, you come across oodles of discoveries, both, on the shore as well as the sea. But there are some explorations that require better understanding.
This guidebook with detailed illustrations of the sea's treasures is a perfect book in that end. The best part is that the book consists of descriptive points with graphics that help you learn about all the marine treasures.
128 pages, hardcover, illustrated book
Full of detailed artwork for easy identification of beach treasures
Informs you about tools and items required for a seashore adventure and for preserving shells
This useful, attractive and handy guidebook is a joy! It's a gift for beach lovers who will love to spend hours over it — quite possibly, on the beach with a tall, cool drink! 
Tips On Choosing Beach Gifts For Loved Ones 
Gifts are adorable and show how how much affection you feel for that person. Hence, in this part of the article, we will throw light on some useful tips that will guide you to buying the best beach gifts for your near and dear ones:
Related Reading:  21 Harry Potter Gifts For Adults [Choices For Die Hard Fans Only] | 2022
A functional and useful gift — While jotting down gifts lists to present to someone in love with the beach, you should obviously include gifts that would be functional and equally useful. Like you present a beach traveling bag so that they can use the bags for carrying essentials. Or, perhaps a fruit mixer to accompany them on the beach while resting
Research beach gifts — Honestly while searching for beach gifts online, don't just buy any random item for your loved one. You need to genuinely research and find out what relevance the gift can hold in that person's life. In that regard, the gift can be anything such as a cotton bath towel with the image of a sunset or sunrise by the sea 
Segregate the beach gifts for him and her — It is always better to prepare a separate list of gifts for him and her. You should not mix up the list and buy something abstract. Suppose, you want to present a beach gift item to your aunt…then you can search for charming beach bracelets or any crockery with a painting of a beach and coconut trees. On the flip side, if the item is for your husband, boyfriend, or father, you can search for a décor piece like a nautical boat that he can place on the office desk
Price of the beach gift — Honestly speaking, price does not matter when you want to gift someone from the bottom of your heart. What matters is your empathy and love. Still, you all have a budget and need to abide by that. In that context, while getting beach gifts, it is always better to pick the gifts from popular online shopping portals because there is a chance of getting a good discount percentage on the total price. 
And there we have it! These are some of the best beach gift collections that we have compiled here for you. Go through each one of them to understand which fits your requirements. Don't worry about the quality of these beach gifts because they are all handpicked gifts from top-class brands. So, go ahead and pick a suitable one.
Ask Our Expert
You must be Logged in to ask a question.