Knowing the right romantic words for him is the secret to always hold the key to his heart. Except finding the right words to say at the right time is a gift few are blessed with. Are you someone who finds themselves at a loss for ways to express your emotions? Do you struggle with staircase wit?
Well, pay attention. We're here with a crash course on the most romantic words that speak louder than actions.
51 Romantic Words For Him To Make Him Yours Forever
Contrary to popular perception, men too appreciate kind, loving, affectionate words, especially when they come from their significant other. So, if you have been reining in your romantic side on account of not wanting to put him off with corny, cheesy expressions, know that there is no reason to hold yourself back.
When you find words from the bottom of my heart, they are bound to strike a chord with his. To get started, draw inspiration from these 51 romantic words for him that will tug at his heart strings:
1. Your footsteps make my heart skip a beat
These love words for him will surely let your partner know how much you value his presence in your life.
2. You are my own slice of heaven
There could be no better touching words for him than these! You're literally equating him to the most aspirational, sought-after idea that is heaven.
3. No one has ever made me feel the way you do
Appreciate your partner or spouse for all the ways in which he makes your life a better place by being a part of it. These sweet word for him are just the perfect way of doing it.
4. You are my home
As they say, home is a person. If your partner is that person in your life, make sure you let him know with these simple yet impactfully romantic words for him.
5. Meeting you was the happiest coincidence of my life
Tell him that your life took a turn for the better, the day he walked into it. These words are sure to melt his heart.
Related Reading: 100 Questions To Ask Your Boyfriend
6. The reasons I love you outweigh the stars in the sky
Looking for the most romantic words that speak louder than actions? Give this a try. It's a perfect blend of mush and sentimentality.
7. I never knew I could love someone as much as I do you
Want to tell your partner how much you love him but cannot find the right words for it? Give this a try and let him know he has made you experience love like never before.
8. You are my person
Few other short and sweet words of love hit the nail on the head like these do. If you're both Christina and Mer fans, the meaning of these words will amplify manifold for you both. It's so much better than saying you're my partner and my best friend.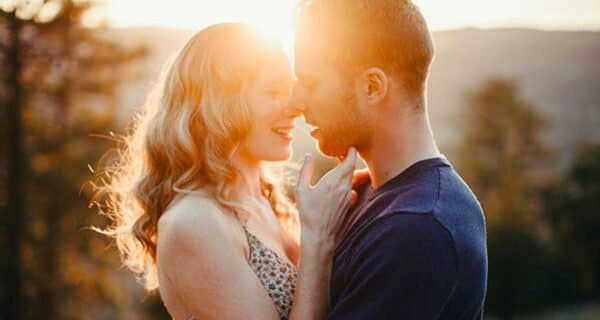 9. Your touch sends shivers down my spine
If you've been together long enough, these are the perfect words to tell your partner that spark between you two hasn't died down.
10. I can't get you off my mind
Want to let someone you've just started dating know how much they've come to mean to you? Use these flirtatious yet emotional words to let him know how you feel.
11. With you, I'm living my fairy tale
These touching words for him are just right to let your boyfriend or husband know that they're your dream come true.
12. I can't imagine a life without you
Looking for inspiration to craft the perfect romantic love notes for him on special occasions? Do keep this on in mind. It comes with a promise of a forever together and lets your partner know how much you value him.
Related Reading: 13 Relationship Milestones That Call For A Celebration
13. With you, I've not missed being single even for a day
While we all crave love and romantic partnerships, it cannot be denied that single life has its own charm. If you don't miss those carefree days, tell your partner so. These are most romantic words that speak louder than actions.
14. My heart beats inside your chest
It's a romantic yet quirky way to telling your partner how much they mean to you. And how deeply you love them.
15. You're universe's best gift to me
Love words for him don't get much better than this. You're essentially telling him that the entire universe conspired to bring him your way. It's spiritual, philosophical, romantic, all at once.
16. May you always have what your heart desires…
…because I know no one deserves it more than you. Use these caring words for him to let your partner know that you think the world of him.
17. Happiness…thy name is (insert his name)
What could be a more fitting way of telling your partner how much he means to you than calling him the source of your happiness.
18. With you, anything is possible
Tell him how much you believe in him and your future together by letting him know that with him by your side, no goal is too far out of your reach.
Related Reading: 5 Emojis Guys Send Their Girl When In Love
19. You're the wind beneath my wings
Does your partner push you to be a better version of yourself? Appreciate him for it by telling him that he is the wind beneath your wings.
20. 'Cuz of you, I forgot those smart ways to lie
Borrow these romantic words for him from Shakira to let him know that you trust him enough to not keep any secrets from him.
21. You make my heart race
Tell him that his one look, one touch, one gesture that turn you into a mushy pulp by saying these flirty words to him. It'll definitely rev up the romance between you two.
22. I'm so lucky to have you
Do you feel blessed to have him as your partner? Don't hold yourself back from telling him that and do so often.
23. Nothing is more perfect than waking up next to you
Make your love known with these sweet words for him. Don't take anything for granted. Sometimes stating the obvious can make all the difference in deepening your connection.
24. You're perfect
If you're not the one for long, emotional expressions and are looking for short and sweet words of love instead, don't miss this out. In just a couple of words, you're telling your man that he is everything you need him to be. And then some.
25. Even the thought of you makes me smile
'I was smiling to myself at work today and someone asked me what's up. That's when I realized I had been thinking of you.' Just the though of you fills me up with so much joy.
Related Reading: 12 Signs Of Unconditional Love In A Relationship
26. You bring out the child in me
An offbeat way of expressing your love to man in your life is to tell him that with him you can be your carefree self again. He brings out the child in you.
27. I love that you love me for who I am
If you can be yourself with your partner and show him your good, bad and ugly side without hesitation, tell him that. Tell him, 'these are words from the bottom of my heart to thank you for building with me a relationship without pretenses'.
28. You are the man of my dreams
These romantic words for him are perfect for those who are a total mush and don't hesitate in wearing their heart on their sleeve.
29. I want to grow old with you
This is one expression that conveys your love, admiration and commitment to your partner in a single breath. When he hears you say it, he'll know that he has your heart forever. In turn, you will have his.
30. Your voice is music to my ears
Tell him that not just his physical presence but even the sound of his voice can make your heart skip a beat. We assure you he'll think of this and smile to himself long afterwards.
31. You are the kindest person I know
Want to express your love with caring words for him? Appreciate him for his kind heart.
32. You're drop dead gorgeous
There is no reason why you can't express your love for him by lusting after him a little. Telling him that he looks drop dead gorgeous 😉ought to do the trick.
Related Reading: 22 Ways To Know If A Guy Secretly Loves You, But Is Too Shy To Admit It
33. I love the taste of your lips
Speaking of naughty yet romantic words for him, tell him this if your really want to press the pedal on some hot and steamy action between you two!
34. I wish we could spend more time together
Looking for romantic love notes for him to tell your partner how much your miss him? Try this. It may well open up new ways in which you can be together more often. For instance, if you've been in a relationship long enough, saying this could be the nudge needed to decide on moving in together.
35. I couldn't have gone through live without you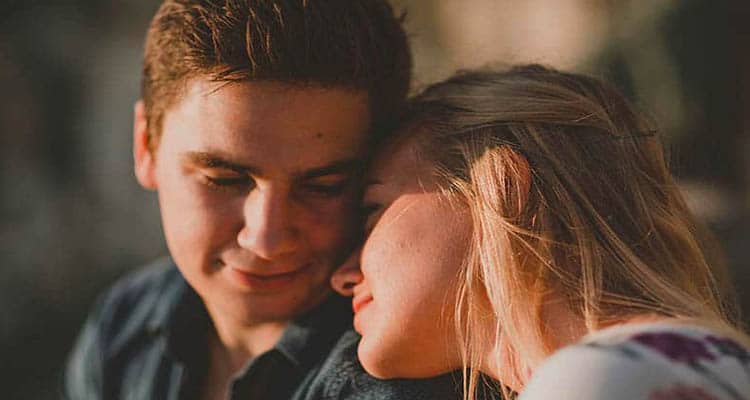 If you believe that your life is better because of your partner's presence in it, tell him so. Make him feel appreciated and cherished.
36. Friends' envy, my pride
Tell your man how special he is by letting him know that your friends envy you for having found him, and you just can't stop flaunting how perfect he is.
37. I love you even when I hate you
No matter how perfect a relationship, it still cannot be free of its shares of problems and disagreements. With these short and sweet words of love, you can reassure your partner that you love him even in the ugliest moments of your relationship.
38. I can't take my eyes off you
Looking for cheesy yet cute love words for him? Tell him that he is your eye candy and you just cannot get enough of him.
Related Reading: 10 Cute Texts To Send To Your Man When You Miss Him
39. I'm proud of you
Want to show your love and appreciation for your partner in a way that makes his heart swell with joy? Tell him that you're proud of him. These short and sweet words of love will be more impactful than anything you ever say to him.
40. I love you
Sometimes, the simplest romantic words for him can be the most effective. So, say 'I love you' to your man and do it often.
41. You are my lucky charm
Use these words of love to tell your boyfriend or spouse that their presence has transformed the course of your life.
42. You were worth the wait
These touching words for him will tell your man that you value and cherish his presence in your life. Chances are he will go above and beyond to keep it that way.
43. I will never stop loving you
There is no better way to tell a man how much he means to you than a promise of loving him forever. Say it if you mean it.
44. You taught me the true meaning of love
If you have been through a string of bad relationships before you found him, it'd be thoughtful of you to tell him how much he has changed your perspective on love and relationships.
45. We're imperfectly perfect together
Tell your partner that you wouldn't have life any other way with these romantic words for him. This will tell him that you are grateful for this relationship even with all its flaws and imperfections.
Related Reading: 15 Signs He Wants To Marry You Someday
46. You gave me everything…
And a little bit more. In moments when you're unafraid to wear your heart on your sleeve, tell him how he perfectly complements your life and makes it more fun and full of promise.
47. You add color to my life
If you were down in the dumps – nursing a crushing heartbreak, perhaps – when you met your partner, do take a moment to thank him for turning around your life. He brought color and cheer back to your grey and gloomy life. It's nice to acknowledge that every once in a while.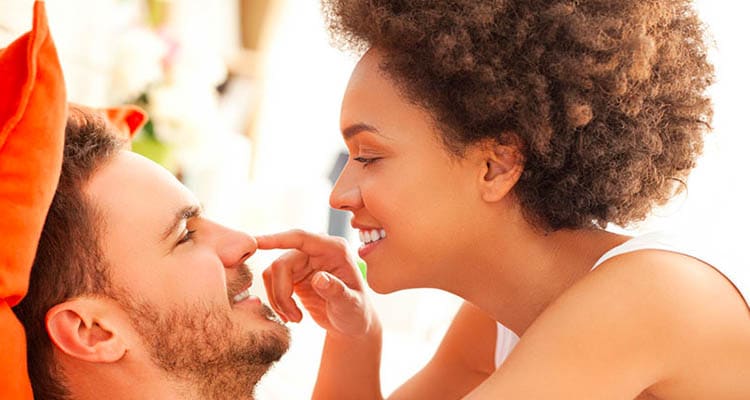 48. I could eat you up right now
For those moments when you feel overcome with a strong sense of longing to have all to yourself, use these words to let him know how much you desire him.
49. You never cease to amaze me
If your partner does something that sweeps you off your feet, convey your gratitude with these sweet words for him.
Related Reading: 21 Love Messages To Text Your Boyfriend After A Fight
50. You will make a great father
If you and your partner see children in your future, telling him this. The acknowledgment that you can't wait to make gorgeous babies with him and are confident that he'd do a great job raising them is sure to melt his heart.
51. Thank you for loving me
Finally, the simplest and most straight forward romantic words for him. Thank him for choosing to love you, day after day.
With these most romantic words that speak louder than actions, you can bowl over your partner and make his heart melt several times over. So, keep them handy and use them as often as you like.
FAQs
1. What can I say instead of I Love You?
You can appreciate the qualities that you admire the most in him or the things he does to make you happy.
2. What to say to a man to make him feel special?
You can tell him that you're proud of him. Or he has given your life a new direction. Appreciating him for all thing big and small in does for you and your relationship is the best way to make him feel special.
3. What are some romantic words to say to a guy?
Any of these 51 most romantic words that speak louder than actions are good enough to bowl over your partner and make his heart melt.
4. What to say to a guy to make him blush?
Tell him he is gorgeous and you can't take your eyes of him, sealing the word with a naughty wink to make him blush.