It is generally assumed that divorced people will have better knowledge about relationships because they have come out of failed relationships themselves. They have first-hand experiences of what could go wrong in a relationship and know what makes or breaks a relationship. However, this might not be the case for many divorcees. They might continue making the same relationship mistakes.
Anyone who goes through a divorce has to experience many changes in their lives – some of which can be bitter and heartbreaking. Some divorced people are unable to move on. While others, can face life changes boldly and think about getting into a serious relationship after divorce.
They feel empowered and ready to take on a new relationship with a better understanding. If you belong to the latter category of divorcees, then we congratulate you on taking the next step forward.
It is all the more reason for you to go through this article and be mindful of a few things while getting into a new relationship post-divorce.
If you are getting into your first serious relationship after a divorce, you must ask yourself this important question: Are you ready for a relationship after a divorce? We are coming to that.
Are You Ready For A Relationship After Divorce?
This is a question you should definitely ask yourself before you take the plunge into your first serious relationship after divorce. You know yourself better than anyone.
What was the reason for your divorce? Only when you are ready, both physically and mentally, you will be able to commit yourself to another person. It is better to go for a healthy relationship than a rebound.
You could be jittery about your first relationship after divorce because you will be worried if you are picking the wrong person again. Once that worry is taken care of falling in love after a divorce is not that hard.
Here are certain signs that will help you determine whether you are ready for a relationship after a divorce or not.
Related Reading: What You Must Know About Dating A Divorcee
You stop living in the past and think more about how the future can be fruitful and satisfying
There is productivity and positivity in everything you do, whether it is personal or professional
You regain confidence in yourself after being divorced
Feelings of hopefulness arise at the mere thought of going on a date or meeting someone new
Your attitude towards relationships changes. You're becoming more mature and understanding of your past relationship. This encourages you to begin a new relationship
The feelings of anger and disappointment that you had for your ex subside and gradually disappear
Relationships After Divorce: Success Rates And Things You Should Know
Does the first relationship after divorce last? Being divorced, you must have learned to stand up for yourself and find your own way. But now that you are independent and strong, are you tempted by the idea of getting a chance to love once again? It is risky and you might be wondering about how your relationship after being divorced will grow.
How soon should you get into your first serious relationship after divorce? How soon should you consider remarriage after divorce?
After being divorced, you must give yourself enough time to heal, readjust and then proceed with a new relationship.
Statistics suggest that breakup rates for relationships after divorce are higher than the first relationship. You may ask why? It is simply because those who get into new relationships after being divorced carry the emotional baggage of their past relationship. They fail to learn from their previous mistakes.
Also the fear factor works. They keep looking for the red flags and get jittery when they spot some. That's when they think that they should end it before things go out of hand.
Relationships after divorce are often built on shaky grounds because a person is still dealing with post-divorce issues like financial instability and insecure children. In a situation like this, they are often not able to give it all to their new relationship.
So if you are being the first girlfriend or first boyfriend after a divorce, you should also be prepared that your relationship will not be just about fun dates and spending time together. You will have to be understanding towards your just-divorced partner and the issues they are grappling with.
15 Things Divorced People Should Know About New Relationships
When a person is starting a new relationship after being divorced, a lot of factors are at work. Sometimes, the person learns from the past and wants to give their all to their first serious relationship after divorce.
However, it is also possible that he or she keeps making the same mistakes and the new relationship does not work. Here are a few things people should keep in mind while getting into their first serious relationship after divorce.
1. New relationships after divorce do not usually have good survival rates
A Pew Research Centre statistic shows that 4 in 10 divorced people get married again in the US, but once again second marriages have a lesser chance of survival.
This could be because a divorced person is usually going through a lot at that point in their lives. There is a lot of emotional baggage. Therefore, sometimes falling in love quickly after a divorce, is what kills relationships. You do not want to rush into a new relationship until you have worked out issues from your past one.
However, do not get discouraged by the statistics if you love your new partner you can always try your best to make things work. Nothing is written in stone.
2. The kids are more important than the new partner
It is obvious to a divorced person that their new partner will understand that their kids are more important to them. You might be in a new relationship but that does not mean your priorities change towards your kids.
This is natural because the kids are one thing that you cherish from your previous relationship. However, this can cause problems if you do not have a loving and accommodative new partner.
But if you partner with someone who has kids of their own and understand your predicament, then you can work towards having a successful blended family.
Related Reading: Dating In Your 40s – 15 Tips To Do It Right
3. The new relationship is all about having fun and getting to know each other
You should not think about getting too serious too soon in a new relationship. If you are recently divorced, then you must give yourself time to have fun and enjoy the new relationship.
Go on dates and spend time with your new partner and get to know each other well before you think about committing yourself to another serious relationship.
4. Timing is very important in a new relationship
Whether it is going on a first date with the new partner or introducing them to your kids, remember that the timing is highly important in these matters. Falling in love quickly after divorce and rushing things can be as armful as never letting yourself fall in love.
Only when you're sure that this is the person you want to give a chance to, is when you can start dating the person. In addition, take a lot of time before actually introducing the kids to your new partner.
All these cautious steps will ensure that your new relationship after divorce thrives.
5. Honesty and clarity of thought is a must in a new relationship after divorce
When you get into a relationship after divorce, you must be honest and clear in your mind. These qualities are something that every person looks for in a potential partner. Thus, even your new partner expects honesty from you and a clear expression of your inner thoughts and desires.
Make sure your intentions are clear and that you don't disappoint or hurt them. Be honest in your first relationship after the divorce.
Related Reading: I Am Single And I Want To Marry A Divorcee With A Kid
6. New relationships are more complicated to handle
As a divorcee, you think that you will be able to handle any sort of relationship. Well, then, you're mistaken because all relationships are not the same. Your new relationship will be entirely different from your last and is likely to bring its own set of complications.
You will not be as easy-going as you were in your first relationship and you now have an added responsibilities in the form of emotions and needs of your children.
Yes, there will be hardships but a new relationship will also bring with it newer experiences. You might get to experience love, hope and joy all over again. Possibly, in ways you never have before. So, try to trust your new partner and be open to new things.
7. Your partner will expect sexual intimacy at some point
Falling in love after divorce is one thing and achieving intimacy is another. After a divorce, it might be difficult for you to become physically intimate in a new relationship. This is understandable. Your new partner should give you enough time to overcome this difficulty.
Sexual intimacy is a part of any relationship and at some point, your partner will expect it. However, it is important that they do not rush you into anything. If sex is all your partner seems to be interested in, they are not the one for you.
And if the new partner is perfect in all other criteria, then being intimate with them should not take long.
8. Communication patterns change in a new relationship
The failure of the past relationship has probably taught you a lesson or two. So now you know that communication should be given top priority in your new relationship.
The way you interact with your new partner will change considerably in comparison to the way you conversed with your ex. You would probably understand the communication mistakes couples make.
You will be able to assert your needs and opinions more clearly than you used to in your previous relationship. On the other hand, you will even listen to what your new partner has to say. All this will make your new relationship successful.
9. Money matters will be dealt with intelligently in a new relationship
If you filed for a divorce due to a money issue, then it is possible that you will not make the same mistake again in the new relationship.
At the start of the relationship itself, you and your new partner will decide on how the money will be spent, who will spend on what items and other such money matters. This is a smart move to help nurture the new relationship after the divorce.
Related Reading: Divorce And Remarriage In India: Things You Should Know And Consider
10. Personal space and time should be highly respected by the new partner
Your marriage might have ended in divorce because your ex failed to give you enough personal space and time. If you get a good and understanding of the new partner, then they will respect your personal space and time.
Don't hold yourself back and be afraid of your new partner having the same flaws as your old one . Detach yourself from your past relationship and don't let it haunt you.
Most importantly don't keep comparing your new partner with your old one. This would be disastrous for the relationship. If you have fallen for someone after your divorce treat it as a new dawn in your life. 
11. Dealing with the relatives and close friends of the new partner can be daunting
Your new partner might have taken a step forward and introduced you to his/her relatives or close friends. But dealing with them will not be a cakewalk for you since you are a divorcee. It can be overwhelming.
However, while entering into the new relationship, you have to be ready for such advancements from your partner's side.
12. Fights and arguments will be quite different in a new relationship
Basically, as a more mature person in a new relationship after divorce, you will probably handle fights and arguments smartly. You might also stop fighting on small issues like possessiveness etc. The frequency of fights and arguments might also be reduced, as you will argue about major issues only.
Related Reading: How To Cope With Divorce As A Man? – Expert Answers
However, this does not mean that disagreements won't take place. Just that these disagreements will be quite different when you are in your first serious relationship after a divorce.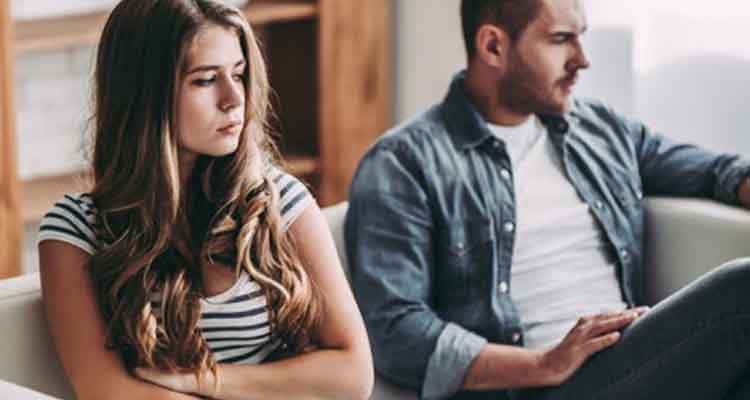 13. Flowery romance will not envelop your new relationship
Your divorce will make you a realist. So you might not expect any flowery romance from your new partner. All you will require in the new relationship is a show of genuine love and affection from your partner's side.
Superficial and shallow flowery expressions of puppy love won't impress you anymore. If you have fallen in love after a divorce you want to have a more mature romance and if your partner understands that then nothing like it. 
14. Expectations might be high in the new relationship
Though you will be a realist in your new relationship, you will expect more from your new partner. Why? The simple reason is that since you have faced disappointment from your ex, you will have high expectations from the current new partner. It is quite obvious and nothing to be ashamed of.
This could be detrimental for your first relationship after divorce and this is the reason it could fizzle out. But now you are in a state of mind when you know what you don't want to compromise on. That's perfectly fine too. 
15. Adjustment will not be a major issue in the new relationship
A majority of marriages end up in divorce because people have adjustment issues with each other. However, as a person who is now getting into a serious relationship after divorce, you will notice that adjusting to the requirements of the new partner will be comparatively easy.
You will understand and respect your partner's differences and might not face the same issues you did before. You will be certainly more chilled out and wouldn't pay as much heed to the small issues.
Get familiar with these things about new relationships after divorce so that you can have your second happily ever after. We understand that trust does not come easy after an emotionally draining ordeal that is divorce. However, if you want to give love another chance, be open to letting people into your lives and who knows, you may just find your soulmate.