Last week would have been my 8th anniversary had I not had a breakup with my boyfriend two years ago! Mending a broken heart is like nursing a broken wrist or leg, the pain is real and it takes time to heal! The breakup healing process is slow, for sure. Here is a list of things I did or did not do and I'd list some of them as the best ways to get over a breakup based on my own personal experience. I have had only one, but they say the first is the most difficult. I survived it, so will you!
20 fun things to do after a breakup
Laugh it off: Laugh at some of the choices you made, including him. You were young, naïve and madly in love when you thought that hairstyle looked nice on him or that tucked in a t-shirt was oh so cute! Would you seriously consider falling for someone with that fashion sense now?
Keep yourself busy and surrounded by friends: Once the grieving period is over, and you have cried your heart out, do not stay alone. Loneliness is the stepping stone to depression after a breakup. Force yourself out of bed, make plans with friends, take up an extra assignment which you would enjoy doing. Do not come back to an empty house early. Catch up with all the friends you ignored just so that you have all your extra time with him
Go on a holiday: You may have had all your travel plans with him earlier, but please do not think about what it would be like to travel with him. Travel alone, with friends or with family. If you decide to travel alone, stay at hostels, make new friends and discover new places on your own. Go for long walks and make new memories. You do not need a hand to hold, just a new road to walk on!
Get that sexy makeover: A makeover may sound clichéd but it helps. Do not take any drastic decisions in haste. I took six months and decided to cut my hair very short. It had nothing to do with my ex, it had to do with me trying to experiment with my looks. I always wanted short hair, he liked long. Guess what? What he likes did not matter anymore! And I am flooded with compliments for my chic look!
Hit the market: Please feel free to flirt and interact with all the men you never even spoke to because you thought your ex was it. He has proved to you that he definitely was not. Healthy flirting never killed anyone. Enjoy all the attention you are getting. Also, please make sure everyone who knew you were dating, now knows you are not. *Wink wink*
Pamper yourself: Get yourself an appointment at a beauty salon. Spend a day getting a pedicure, manicure, a body massage and a hair wash. Pure bliss!
Cook and bake: Cooking or baking can be a huge stress buster for many people – provided you like to do it. Bake yourself a chocolate cake or cook a hearty meal. Take these goodies to work and be loved for bringing them. Or just eat them by yourself – give that weighing scale a break
Party anyone? Buy that sexy party dress or jacket you have been eyeing for weeks now. Dress up, put on some makeup and go partying with your buddies. Do not feel shy to respond to that cute guy who has been noticing you
Scream, when you have to: Scream your lungs out to that empowering Adele song at the karaoke, 'Send my love to your new lover, treat her better'!
Related reading: How to get through a breakup alone?
Rearrange your home: Get rid of anything that reminds you of your ex. Move the lamp, rearrange the sofa, change the curtains and give those cushion covers a well-deserved break. See, it looks so much better!
Offer to babysit: Kids can be a wonderful stress-buster. Children have this power of making you forget everything else in the world. If you adore kids, offer to babysit for neighbours, friends or relatives
Stay in, with Maggi and chocolates: While it'd be great to hit parties and clubs and flirt around, too much of it may take its toll on you. Once in awhile, grab some Maggi, order some chocolates and ice cream and binge eat while watching an entire season of Friends. Somehow, I prefer biryani and Coke. Bliss!
Related reading: 10 things single men can do to keep busy
Take on work challenges: Is there a project that you have been shying away from owing to the time it demands? This is the time to take it up! Grab the opportunity to take on a challenging assignment and give your best to it
Volunteer for social causes: An animal shelter, education of underprivileged children, women's shelter – so many ways to help others while you heal from a breakup
Netflix and YouTube: What can be better than watching movies or series on Netflix or some funny videos on YouTube with a bowl of popcorn and some beer?
And the fact that you are dressed in your comfy pyjamas makes the whole thing so cosy!
Make time for hobbies: Spend time at home doing things you love to, with friends. It can be origami, painting, anything! I love cooking. Once I came out of my grieving period, which because of me being in constant touch with my ex (complete no-no) lasted a year, I hosted friends for dinners and had lovely conversations over food I cooked for them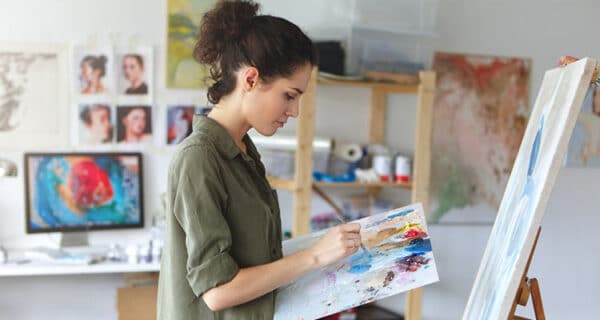 Find a surrogate friend: Get hold of that one friend whom you can take for granted. Every time you get the urge of contacting your ex, write a long text or mail and send it to your friend. It's therapeutic for you, cannot say the same for the friend!
Complete that home-project: Whether it is the lawn that has been screaming for your attention, or the walls that were to be painted 3 months ago – check them off from your to-do-list. Fix stuff that has been hanging loose, and you will feel accomplished
Hit the gym: Keeping fit is very important. If going to a gym is too cumbersome, wake up slightly early and go for a run. The fresh air and sun will make sure you have a bright day and will take all the gloom away!
Create a new playlist: Listen to new songs. Old songs bring back memories you do not want to revisit
One day at a time
These are only a few of the things I suggest you do. I know a breakup is not easy to handle, but it is only you who can help yourself. Forgive yourself if you do something silly, there is no point being too harsh on yourself when you are going through something so painful. Laugh at your 'past' mistake and most importantly, remember, one day at a time!
A bad breakup has left me wary of dating again. How do I snap out of it?