'I Love You' – these are the three magical words that are enough to take your breath away with their profound feelings. Yet, these are the same words that can give you a jittery feeling when it is time for saying I love you first time. Falling in love is quite easy; we never think and ponder over it. Most of the time, we fall in love when we are least expecting it to happen. Our hearts pound and flutter without us even knowing it. But, it leaves us with a herculean task at hand – saying I love you the first time.
Expressing your love for the first time can get really tricky. This is one of the situations when even people with the gift of the gab can fall short of words. So, if you are feeling tongue-tied and getting goosebumps before the big day of confession, you're not alone. We feel you. And this is precisely the reason why we have come up with a couple (well, 13 actually) of creative ways to say I love you the first time. Find here some romantic, unique, cute, and creative ways to say I love you for the first time.
Why Is It So Hard To Say I Love You For The First Time
Saying I love you the first time is not difficult. In theory, that is. Practically, it is really difficult. No, we aren't dissuading you nor are we trying to discourage you. Let's face the truth – it is intimidating to express your feelings. You want the moment to be perfect, you rehearse it well with butterflies in your stomach, and yet you get conscious and perturbed.
You look for the right words, the right place, and not to forget, the right moment and yet everything seems elusive. And for this reason, we have here this list of 13 ideas that you can use to say I love you the first time. We promise these are way better than shouting from the rooftops to declare your love.
13 Perfect Ideas To Say I Love You For The First Time
We know you are too eager to reach out to your bae, expressing how you feel for them. But, you need to hold your horses. You don't want to meddle with the special occasion by ending up with a fumbling, clumsy expression of love. For now, just sit back, read on, find the idea that you think your love will like the most, and take the plunge.
1. Whisper and say I love you the first time
Imagine this scenario – you are snuggling with your partner, all cozy and comfortable. You pull them closer to you, gently caressing them, and softly whispering in their ears, "I love you", while wearing a coy smile on your lips. Your partner is sure to be surprised and amazed at this demure yet personal expression of love. Saying I love you first time need not be lavish and grand. Keep it short, simple, and profound. Heartfelt emotions need the simplest of expressions.
Express yourself while you two are drifting to sleep. The sweet-nothings gently whispered in the ear exude an endearing vibe that will tug at your love's heartstrings. This will be the perfect moment to capture in your memories as your first expression of love. You can even go a step ahead to find out other creative ways to say I love you for the first time. Catch your partner in your embrace, hug them tight and utter the L-word.
Related Reading: 21 Secret Ways To Say "I Love You" In Text
2. Play it cool (yet romantic) with a curated playlist of love songs
Can't muster enough courage to speak up about your feelings? We totally get it. Love can scare you out of your wits. This idea of saying I love you first time is just perfect for you. You can compile a list of songs that both of you love listening to, add in a couple of romantic songs, and finish off with one song that lays bare your heart. What a cool idea it would be to propose and say I love you the first time with a special Spotify list.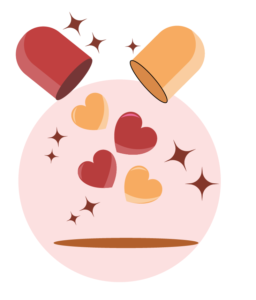 Get your dose of relationship advice from Bonobology right in your inbox
One of my colleagues came up with one of the most creative ways to say I love you for the first time. He was too shy and reticent with his lady love and couldn't find the right way to express himself until he stumbled upon this clever idea of expressing his love. He played a playlist of the most romantic songs which also had a personal recorded message in between. This sweet gesture of an intimate declaration of love saw both of them crooning to P.S I Love You, You, You.
3. Go old school with a hand-written letter
Saying I love you first time over text is passé, writing this down in a hand-written letter is the way to go. Go old-school with your expression of love and scribble down your ardent emotions for your bae. There is something remarkable about handwritten love notes that never go out of style. Saying I love you for the first time in a long-distance relationship becomes easier when you have your feelings bottled up in a love letter. Take out those fancy, colorful, and scented stationeries that you've been hoarding for special occasions. Nothing can get more romantic and special than a personal message of love.
Love confessions in hand-written notes make for great keepsakes too. My friend Eliza ditched the Gen Z way of saying I love you first time over text. Instead, she wrote her heart out on a letter and sneaked it into Ryan's book. He was ecstatic knowing that she felt the same way as he did. Her love found its perfect reciprocation in him and the two now fondly remember the moment encapsulated in that well-preserved love note.
4. Drop them a text to say I love you the first time
If writing a letter is not your thing, but you are good with written words, then this idea will suit you the best. Opt for the millennial way of saying I love you first time over text. At first thought, it might not seem to be a good idea to confess your love over a text. On the contrary, it might actually help you express yourself freely and confidently. Despite being an extrovert guy who has a way with his words, Shaun found himself dumbstruck and speechless while confronting his lady love, Mandy. He finally thought of saying I love you first time over text, and boy was he articulate! He could easily share and communicate the zeal and fervor with which he loves her.
Nervous about sharing your feelings with them in person? Just write down your feelings, put in a few emojis, and ace the game of hearts saying I love you the first time. Brownie points if they are in the same room while reading your text. You can even see their reaction to receiving and reading your love message.
Related Reading: Cute Places To Leave Love Notes For Your Boyfriend
5. Visit them unannounced to surprise them with your love
This one is particularly effective for saying I love you for the first time in a long-distance relationship. Things can get tricky if your love interest is far away from you. But fret not, we have just the right idea to act cupid for you two. Make your long-distance relationship work with a little effort.
Visit your love interest without informing them, spend some quality time together, and catch them off-guard with a sudden declaration saying I love you first time. Make sure you know where they're putting up; you can even rope in their friends/family to help you arrange a surprise visit. And you can make it all the more romantic with a couple of gifts to say I love you for the first time. Pick up a bouquet of red roses on your way to meet your love. Not only will they be happily surprised by your visit, but it will also make your moment of truth all the more special.
6. Keep it simple and sincere
While there can be a hundred creative ways to say I love you for the first time, it is best to keep it simple. Take an honest approach, and be sincere with your feelings. Sometimes, the shortest route is the simplest and the best. Honestly confess your love and tell them how passionately you feel for them. In an intimate moment, when you two are comfortable and cozy with each other, you can simply look them in their eyes saying I love you first time.
Once you realize you are falling in love with that special someone, it is best to be eloquent about your feelings. What makes saying I love you the first time daunting, is the fear of a negative response, which is absolutely okay. Get over your fears and take everything in your stride. A powerful expression of love conveyed directly with genuine and pure emotions is the most romantic way to spell out your love. If you are finding ways to deal with not hearing back I love you from your bae, you can find them here.
7. Choose gifts to say I love you for the first time
If you are looking for special and creative ways to confess your love, then this one's for you. Pamper your love interest with a few of their favorite things as gifts to say I love you for the first time. It can be anything – a framed collage of pictures of you two, their favorite perfume, a gift card or anything that you think they will like. No need to go extravagant. Let your feelings take the front seat this time.
Go the path oft taken – say it with flowers or a ring, go down on your knees, (yes we mean it, it is not even restricted to be a boy-thing anymore) and say those three magical words. Look deep into their eyes and mean every single word that you speak. We repeat, it is okay even if the response is not what you are expecting. There are ways to deal with unrequited love. At least you are speaking your heart out and doing the best that you can.
Related Reading: 10 Best Ways To Propose A Boy [He Will Say Yes For Sure]
8. Include it in a meaningful conversation
Picture this – you are with your love, spending a night under the stars, a gentle breeze is blowing, and you two are busy talking the night away. While gazing at the starry sky, you engage in meaningful and deep conversational topics like love and life, and while you are at it, you drop the word saying I love you first time. The personal moment that precedes will give enough weightage and credibility to your love confession.
Striking a deep conversation with your bae might help them make a better and more thoughtful decision since they are already engrossed in a contemplative mood. This could even be taken to mean that you two are ready to embark on a lifelong journey together. Your love declaration will gain more depth and meaning when it comes straight from your heart in a serious moment like this.
9. Make it fun and sassy with a sparkler
See the sparks flying, quite literally. You are head over heels in love, and can't wait to announce it to them. Take them out on a casual date, preferably after the sunset to be more effective. Light up a sparkler and use it to say I love you the first time. Definitely one of the most creative and unique ways to confess love and far better than saying I love you first time over text. Your love message will linger long enough for your bae to notice and will make the moment magical with its exuberance.
This idea of saying I love you the first time comes from my personal love story. I took my man out to a beach to watch the sunset together. We were just sitting when I fished out sparklers for both of us and wrote my feelings for him. And when he read it, his expressions were worth remembering. Both of us were dumbstruck and amazed at the beauty of the moment. And considering that it's been 9 years that we are together now, I'd say my idea clicked (of course, we also had other core values in our relationship)!
10. Spill the beans on the beach
This is another romantic and cute idea for saying I love you the first time. Plan a day out for some sun, sand, and surfin' (all these proposals offer a good date idea as a bonus too!). While you two dip your toes in the sand, trace those three magical words to surprise your sweetie. Walking on the beach as the sea waves hit the shores is sure romantic, but even better is writing the L-word on the beach.
Our love doctor prescribes steering clear of the cheesy and cliched idea of writing your names and a heart with an arrow piercing through it. It has been done to death. Make it unique with your personal touch added to it. If you find your creative juices drying up, take a cue from our list of beach proposal ideas. Follow your love declaration with any of the gifts to say I love for the first time and make it a memorable moment for both of you.
Related Reading: 25 Gifts For Beach Lovers [Gifts For People Who Love The Beach]
11. Treat your love to their favorite meal and a lot of TLC
We all need some (or a lot!) of TLC. Make sure you don't run out of this for your bae. Shower them with your affectionate love and care, the signs of true love. Show them how special a place they have in your life. Treat your honeybunch to their favorite meal. Take them out to their favorite restaurant or if you are feeling too adventurous, cook them their favorite dish. This will drop hints as to how well you know their taste and preference, and how well you can take care of them.
Keep it classy and simple with genuine efforts. Saying I love you for the first time over the phone is a strict no-no. Try to add a personal touch to your love confession. An intimate moment when both of you can feel the depth of emotions is what is needed. Just as you finish savoring the meal, or right after polishing off the dessert, end it on a sweeter and romantic note saying I love you first time.

12. Get them a cake sweetened with love
Who doesn't love to eat cake? And more so, when it is made better and sweeter with generous sprinkles of love and heaps of affection. Express your profound feelings for your love interest as icing on the cake, quite literally. Have your emotions iced on the cake and get it delivered to their home, saying I love you for the first time in a long-distance relationship. For those closer home, visit them personally with the cake. Brownie points if you can carry along gifts to say I love you for the first time.
Show some care to your sweetie and go for their preferred flavor of cake. You can even get it customized by a baker and ask them to hide your personal love message in the cake. This will surely be one of the most exceptional and unique ways to express your love which will outshine the usual ideas of saying I love you for the first time over the phone.
Related Reading: Thinking Of You Gifts For Your Partner – Ideas For Him And Her
13. Be personal, be intimate, be original
Ditch the cliches. Avoid the cheesy pitfalls. And for god's sake, don't even think of saying I love you for the first time over the phone. You sure don't want to ruin the special moment with an awkward silence. Calling up someone to say I love you sounds creepy, to say the least. Rather stay original and true to your feelings with a personal expression of your love.
Your love confession need not be something opulent and elaborate. Just a simple yet heart-felt expression of your true feelings coming straight from the heart is more valuable and romantic than anything else. Stay true to your emotions, and say I love you looking deep into their eyes. This purity and simplicity will surely get the message and feelings across, helping you create a balanced relationship.
We are sure the above-listed ideas will definitely help you smoothly sail the love boat. Find out which of the above ideas you are the most comfortable with and get ready to win over his/her heart with the purity of your love.
FAQs
1. How long before saying I love you for the first time?
Even though there are relationship timelines you can follow to understand the matters of the heart better, there is no fixed duration or time to achieve the milestones. You know you are ready to say I love the first time when you two are comfortable with each other. There are no appearances to keep, no shallow pretensions. You enjoy being yourself when you are with them. Just trust your instincts and take the plunge when you feel you are ready for it. 
2. When should I say I love you for the first time?
You can move ahead in your relationship and take things to the next level when you trust each other. You can foresee your future together and gauge your happiness originating from each other's presence. Being comfortable in your skin is the right time to say I love you.