The Millennials and Gen-Zers spend a lot of time on the screen – their laptops, phones, and iPads are as important as the air they breathe. But there is something else that's just as valuable; their relationships.
While WhatsApp and Instagram have made talking to our partners easier, texting is an art not many can master. Welcome to this collection of 101 sweet things to say to your girlfriend in a text, because it doesn't matter how often you text your girlfriend if you aren't saying the right things.
101 Sweet Things To Say To Your Girlfriend In A Text
A frequent complaint with texting is that it lacks the personal touch. And how can one be romantic or build intimacy through a screen? Well, turn that frown upside down. A screen can be a huge confidence booster as it provides a safe space to express our feelings.
Shaky voice, sweaty palms, or flustering become non-issues when you're texting. An online chat gives you a few moments to think and calibrate your response. In fact, you can strengthen your relationship with these sweet things to say to your girlfriend to make her feel special. This list is going to be your wingman!
A few sweet words over text are enough to make your lady love feel special and important. Time your texts right, and you'll have her smiling through the day, or blushing through the night. Let's get started.
1. You are my favorite notification
An online classic that never goes wrong. A pop-up on the lock screen with your girl's name makes you smile, doesn't it? Telling your girlfriend how important her texts are will make her feel loved beyond measure.
2. I wish we were together
Need things to say to a girl to make her smile through text? This one will not disappoint. This is an elegant twist to a simple "I miss you". It's the sweetest thing to say to your girlfriend in a text at night. For the sweet long-distance lovebirds out there, this is the way to go.
3. My day isn't complete till I tell you all about it
Everyone's busy hustling throughout the day but what counts is who hears about it. Imagine the look on her face when she learns that she is your go-to person. Deeply romantic, this saying is going to have her sigh in awe.
Related Reading: She Would Say, "Aww So Cute!" Instantly, If You Are Doing These Things…
4. You're the reason I get out of bed each morning
Right here is the ideal thing to say to a girl to make her smile through text. Your lady love will be thrilled to know that she inspires you and drives you every day. Make her feel important and indispensable with this simple, yet profound line.
5. I love you and I can't say it enough
What a sweet thing to say to your girlfriend in a text! Because you can say it countless times, but words will not capture the extent of your love.
6. Wish my pillow and you could swap places
I can guarantee a zillion heart emojis in response to this text as this is one of the nicest things to say to your girlfriend to make her heart melt. It's the perfect cute phrase to text to your girlfriend; a right mix of adorable, flirty, and dreamy. I acquired this gem from a close friend whose Tinder date used this opener.
7. Ever since you've entered my life, I've known that God loves me
This text is the answer to your question, "What's a long text to make her feel special?" You can easily floor her by thanking God for her presence. Simply divine (pun intended).
8. Talking to you feels like home
Your sweetheart is bound to tear up when she reads this. We all know that communicating in an online relationship is essential, but our hectic lives make it difficult. Why not tell your girlfriend that each conversation is a homecoming?
9. You are my source of strength
Wondering, "What can I say to make a girl blush?" My my, you'll be dropping aww-bombs with this one. It tops the list of sweet things to say to your girlfriend in a text in the morning. She'll wake up to the knowledge that her love powers you…
10. Now that you've stolen my heart, please keep it safe
Pair this with a winking emoji and make your girl grin all day. This line is absolutely cheesy, and that's why we've added it to this list of sweet things to say to your girlfriend to make her feel special.
Related Reading: 20 Tips To Be A Better Boyfriend And Make Her Your World
11. There's love at first sight, but with you there's also love at each fight
Ah! Creative and heartfelt. Studies have long shown that arguing is good for love's health because it builds different kinds of intimacy in a relationship. If your girlfriend is angry with you, text her why even fights with her are valuable. The only way for love is up and ahead.
12. I've been thinking of you all day
Who won't swoon at this text? Every girl loves listening to how unforgettable she is. It is a wonderful thing to say to your girlfriend to make her happy.
13. Mentally, I have my arms around you
Heart-eyes for this personal favorite (which I will confess to having used myself). There's little physical distance can do when imagination takes over. And describing these cozy scenarios will win you many brownie points.
14. Thank you for teaching me what true love is
Here comes another thing to say to a girl to make her smile through text. There is nothing better than knowing that you've introduced someone to love. It really is the best compliment a girl can receive from her man.
15. How are you so amazing?
A million-dollar question! I've often found that questions leave people speechless despite saying very little. This line will make your lady feel special and beautiful.
16. I can always count on you
Totes adorbs, these are words to make her feel special and trust you and your love. We all have our share of bad days but our better halves find a way to brighten them. If your woman is your support system, if she is the one you fall back on, texting her this beautiful line will strengthen your bond immensely.
17. Your voice makes everything better
You can expect a barrage of calls after you've dropped this text. It is such a sweet thing to say to your girlfriend in a text. Her delightful voice will fall on your ears super soon.
18. My dreams are always sweet when you're in them
Your sweetheart will blush the night away if you say this before bed. Very loving, and just a tad sexy, this hand-picked text will make her heart pound.
19. I look up to you
You don't need long texts to make her feel special, these 5 simple words can do the trick. In a lot of ways, your girlfriend is your role model. You follow her example in many cases, and she exemplifies grace. This line is the best way of conveying how you respect her for who she is.
20. We're together in the adventure of life
I can't get over how this line hints that you're in a serious relationship. It is a beautiful thing to say to your girlfriend to make her happy and shows some long-term commitment. How thoughtful, aww!
21. Words fail to express how stunning you are
This is such a cute phrase to text your girlfriend. Just look how flattering it is! I mean we all know that your jaw drops when you think of her but telling her the same is equally important.
Related Reading: Why Is My Girlfriend So Cute? How To Show A Girl You Love Her
22. On most days, our love feels like a dream
When thinking of things to say to a girl to make her smile through text, you cannot forget about this one. This is such a sweet thing to say to your girlfriend in a text, especially because it is personal and intimate. It has a surreal vibe to it and almost makes your relationship sound like a fairy-tale.
23. I just want to stop and admire you
That's it gentlemen – we have a winner! The amount of admiration this line carries is incredible. I bet you a million bucks that your girl will drop everything and hail a cab to your place. You're welcome.
24. You'll be on mind today
This takes the cake in sweet things to say to your girlfriend in a text in the morning. She'll spend her day thinking of how she's on your mind. You'll both be missing each other, and this will make for a long conversation at night.
25. I treasure our conversations
An attentive listener is always valued in a relationship. Mark your appreciation for the times you share together and drop this line over text to make her smile. She will feel cherished and loved with your thoughtful words.
26. Hope your day is as wonderful as you are
This is very clever in a cute way. When the compliment hits her in its entirety, she'll giggle like a schoolgirl. This line is a remarkable thing to say to a girl to make her smile through text.
27. Saying goodbye to you is the hardest thing for me
Looking for things to say to a girl to make her smile through text? Use this one. Endearing and romantic, this is such a sweet thing to say to your girlfriend in a text. It is very sentimental, and will probably make her heart stop. Ending a conversation with this text will have her thinking of you for a long time.
28. Sharing my life with you feels amazing
Conversations on text can often remind us of the distance. But a gentle reminder like this can go a long way in reaffirming why the relationship works. There's no one you'd rather share everything with…
29. I wonder what I'd do without you
Another deep question to enhance your love life. This is an unbelievably cute phrase to text to your girlfriend. It implies that she's a little out of your league, and will flatter her to no end. Though she probably won't admit it.
30. You are my first and last text of the day
Can these lines stop winning hearts already? I'm sure your beloved would like to know that your day begins and ends with her – even when she's not physically present. Her virtual presence trumps everything and isn't that beautiful.
31. I wish you knew what you do to me
Is it just me, or is this line a little seductive? It's so open-ended. Does your girl make your heart race, get your palms clammy, or make you stammer away? Guess she'll have to text you to find out.
32. Life is perfect with you in it
She completes your life and this is the sweetest thing to say to your girlfriend in a text. Everyone says perfection is impossible, but your girl makes you believe in it.
33. I would do anything to have you by my side
Imagine how you'd feel if someone was willing to swap everything for your company. It is truly one of the deepest things you can say to your girlfriend to make her happy.
34. In case you forgot, you're the best
No need to use long texts to make her feel special, this simple sentence is just enough. If someone sent this to me on text, I would blush and smile and blush and smile. You'll have her in the first half of this line with its genuine tone of a reminder, but the second half will surprise your darling immensely!
Related Reading: How To Make A Girl Laugh – 11 Failproof Secrets That Work Like A Charm
35. There are many fish in the sea, but you're the one for me
Something about rhymes is so unbelievably cute. This line is so cheesy and romantic it can charm your girl's wits away with its goofiness.
36. I can't wait to see you sweetie
Mmmm, building anticipation. Conveying your excitement or eagerness for the next date is a certain path to making your girlfriend feel special.
37. I would say good morning, but you're brighter than the sun
Another line that will catch her by surprise! This right here is the sweetest thing to say to your girlfriend in a text in the morning. Start her day off on this pleasing note that she'll remember throughout the day.
38. How was your day?
Simple questions like these go a long way in making her see how thoughtful you are. They show you care, and that you are willing to listen. Your lady is going to feel special and heard when you drop this text.
39. Hey babe, I keep thinking of you
This text is an excellent conversation starter during the day. An exciting improvisation on the regular 'hi' or 'hey'. It will grab her attention with its romantic tone. You could pair this with a kiss emoji to shake things up.
40. We were meant to happen
This definitely belongs in the top 5 of our collection. You're adding fate to the mix with this saying, and it will make her jaw drop.
41. You're my best friend
A recent study at the University of Indiana revealed that friendship led to better emotionally and sexually satisfying relationships. If your partner is your ultimate BFF, acknowledge it with this cute phrase to text to your girlfriend.
42. I've got your back no matter what you do
I've said it before, and I'll say it again – supportive men rule! Women value support from their partners as it is an important relationship quality, and this saying captures the sentiment perfectly.
43. I'll kiss your day better once we meet
What can I say to make a girl blush? This! It is laughably cute. In my opinion, this is the thing to say to a girl to make her smile through text when she's having a hard day. It will make her feel better, and you both will probably meet soon…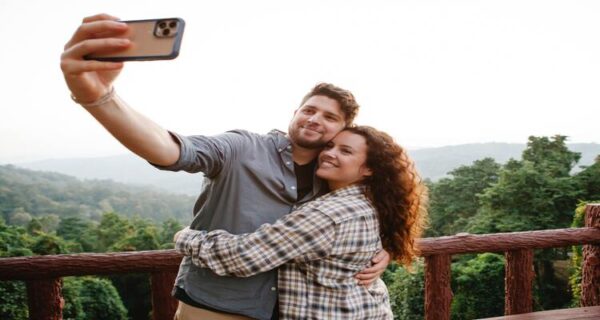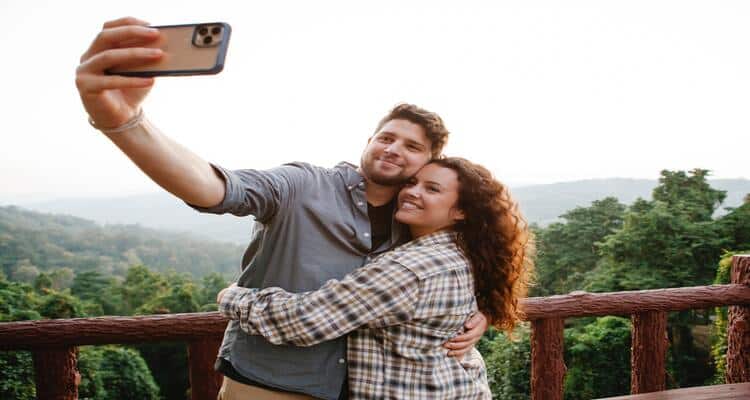 44. Go to bed soon, you must be tired from looking so gorgeous all day
Here's a sweet thing to say to your girlfriend in a text at night. It will please her to know that this is what you think, and she'll sleep better.
45. It's admirable how hard you work
Complimenting an individual for their qualities can never go wrong. It's a huge boost to their self-esteem and acts as a positive affirmation. Don't we all like to be appreciated for the person we are?
Related Reading: Top 5 Qualities Women Admire In Men
46. I'm crazy for you
This line seems like a crossover between a Hollywood dialogue and something a high-schooler would say. Charming, funny, and straightforward – flawless!
47. Cuddling with you is the absolute best
Not just the best, it is actually healthy too. Cuddling with our partners releases a hormone called oxytocin, which can help us deal with stress better. Set the mood for a long cuddle session at night with this wonderful text.
48. We have a problem…I can't get enough of you
I can't decide whether I should laugh or blush, and your sweetheart will feel the same. It is the best thing to say to your girlfriend to make her happy.
49. I know you can't tell, but I smile like an idiot when we text
Just awwwwwwwww! Such a sweet thing to say to your girlfriend in a text. She'll be thrilled to know that she makes you stop and grin. If I'm not wrong, she might just start texting you more frequently.
50. I'd be lying if I said I didn't love you the most of all
This line is so heartfelt and touching, no girl is ever going to get over it. The sheer intensity of this text will make her take a pause. It is the right choice of a long text to make her feel special.
51. I'd trade the world for a hug from you
I can hear your girlfriend sighing in bliss when she reads this. She'll be glad to know you have your priorities set straight.
52. Thank you for all that you do
My brother has a habit of thanking his better half using this affectionate line, and their marriage is in its tenth blissful year. It is a considerate and sweet thing to say to your girlfriend in a text. Gratitude never went unnoticed.
53. What can I do for you, my love?
These thoughtful questions will make my heart stop one day. How beautifully sensitive and such a sweet thing to say to your girlfriend in a text. It shows that you're willing to do anything you can to help.
54. I know a place for the weekend – my arms
*Internal screaming* Flirting is something no couple should stop doing. Ever. This text will raise the temperature and no guesses on what your weekend plans are.
55. My heart melts when you smile
I love something about the phrase 'heart melts'. It is one of the most genuine things you can say to a girl to make her feel loved unconditionally.
56. I love how you listen to me
Always. Mark. Appreciation. There are countless days when your girlfriend listens to you talk about your problems. She even offers solutions and consoles you. This text will tell her that you know it is no easy task, and you're thankful that she does it.
Related Reading: How To Say "I Love You" In 10 Different Languages?
57. It's ridiculous that we're this far away
The way this text expresses lovable frustration is amusing. And it's a marvelous thing to say to a girl to make her smile through text. Your girlfriend will agree instantly, and you can both find a way to reduce the distance soon.
58. You are my safe space
These are the words to make her feel special and trust you even more deeply. Your partner would love to know that you feel comfortable with her. You allow yourself to be vulnerable with her, and she knows everything about you. Strengthen your intimacy with this loving text that makes her feel important.
59. I'm here for you
Sometimes all you can do is be there for someone. Not every problem has a solution, but every problem can have your support. This is why this is one of the things to say to your girlfriend to make her heart melt.
60. On most days, I think only you understand me
Ellen Degeneres had it right when she said, "It's wonderful to be loved, but it's profound to be understood." Understanding each other is a true sign of a healthy relationship! Send this tender text to your girl and make her smile.
61. Looking at you is therapeutic
Basically, this is a much nicer way of saying that she makes everything better. Your troubles disappear and your mood lifts whenever she's around, her presence is soothing…
62. Your happiness means the world to me
This sweet thing to say to your girlfriend in a text is sentimental at its core. It sends across a beautiful message – that you're willing to do everything for her happiness because she's that important to you.
63. How many more texts before we meet?
Here is the countdown we all need! It tells her you miss her and want to see her. Moreover, this text leaves the ball in her court; she'll be the one making the plans.
64. I just spent ten minutes worshiping your photo
I can visualize your girl rolling her eyes affectionately. She wants to tell you to stop buttering her up but she enjoys the attention as well. Don't you love the dilemma you've put her in?
Related Reading: How Do You Give Someone Attention In A Relationship?
65. Your opinion is the one I care for
One of the winners of sweet things to say to your girlfriend in a text, this line notes her importance in your life. Her say matters to you, and probably takes precedence over other opinions. These words to make her feel special and trust you will go a long way in strengthening your relationship.
66. Is there something you'd like to share?
Creating a space to share is very important. Your woman must know that she can talk to you, but the final choice will be hers. This sweet question will build emotional intimacy and convey that she can fall back on you without breaching her boundaries.
67. I hope you sleep well
This gentle wish is a winner of hearts and a sweet thing to say to your girlfriend in a text at night. It carries sincere hope that she'll sleep well, and it's impressive enough to make her dream of you.
68. What we have is beyond belief
What can I say to make a girl blush? Use this surreal, and intoxicating line. (Add a few sparkling emojis for the full effect!)
69. My life's greatest joy is making you laugh
Everyone knows that women love men who can make them laugh, but why not tell your girlfriend that you love being the reason behind her laughter?
70. You've made a hopeless romantic out of me
Hmmm…You were never one for cliché songs, red roses, or a box of chocolates…but then entered the woman of your dreams and changed your perspective completely. Tell her how you've become a hopeless romantic with this cheesy text.
71. All these love songs seem to be about you
Music and love are a combination that never fails. Never. This is one of the most romantic things you can say to a girl to make her smile through text. She'll be playing Ed Sheeran back in her room before you know it.
72. Life is worthwhile because of you
Your woman brings meaning to your life and the thought of her makes your worst days bearable. Why keep it to yourself? Drop this cute phrase in her inbox asap.
Related Reading: 15 Signs He Is Ready To Settle Down With You
73. I'm so much happier when I'm with you
Being in love releases some serious serotonin, our happy hormone. Your girl is your primary source of joy and this text will return the favor.
74. Let's do something you like tomorrow
Striking a balance is very important in a relationship. There are days when you make the decisions, and others when she does. Let her select the next plan of action for your date so she feels valued.
75. You're literally an angel
You may not be able to see her wings and a halo, but you can see the light that shines from within her. This is an incredibly sweet thing to say to your girlfriend in a text and it will make her cheeks redden.
76. Time stops when I'm with you
If life had a pause button, you would pause every moment you share with your girl. But she makes the earth stop spinning with her personality anyway. Pay her this compliment over text and stop time for her momentarily.
77. Everything you do is unforgettable
Too cute to be true. Your mind automatically keeps track of every cute thing your girlfriend does, and you aren't forgetting it anytime soon. Text this mushy line before bed and she'll smile herself to sleep.
78. You're my guiding light
A lot like the North Star which guides sailors through every weather. In a nutshell, she keeps you going through thick and thin. With such things to say to your girlfriend to make her heart melt, she will fall in love with you more and more.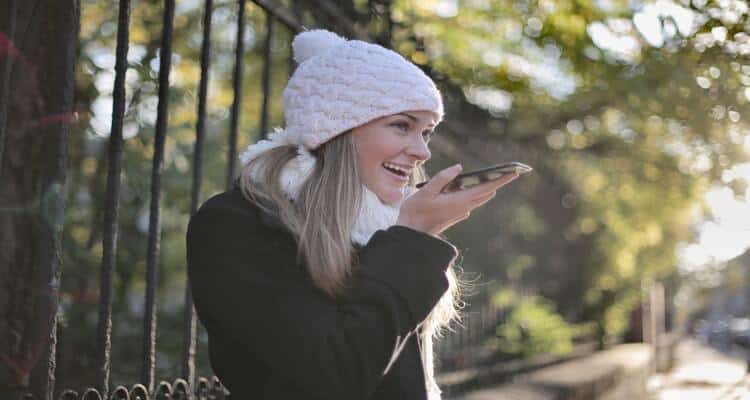 79. My secret wish is to spend every waking minute with you
If only this were possible! But even if it isn't, you can express your desire over text. Your intentions are equally adorable.
80. I'm worried for my health, you're such a heart-stopper
Now, this is a long text to make her feel special. Pure, innocent, and lovable. Say this sweet thing to her in a text in the morning and let her cheeks hurt for the rest of the day with all that smiling.
81. Did you have lunch?
Sweet things to say to your girlfriend to make her feel special don't always have to be flowery sentences. Asking after such basic things shows a lot of concern for her wellbeing. Check-in on her like this, and show her you care.
Related Reading: 100 Romantic Questions To Ask Your Girlfriend And Make Her Heart Melt
82. You've got me mind, body, and soul
You are completely devoted to your partner because she has bewitched you. Ever since you set your eyes on her, you knew she was the one. This is a sweet thing to say to your girlfriend in a text that shows how committed you are.
83. I don't need a reason to love you
What was that thing Paulo Coelho wrote? "One is loved because one is loved. No reason is needed for loving." Your love for her is boundless, and enough in itself. Say this to her over text and make her day significantly better.
84. There's nothing better than talking to you
Just because you aren't together physically, doesn't mean you can't have a good time. Texting her is also a highlight of your day. Honestly, anything with her is the best.
85. I want to give you as many kisses as there are stars in the sky
Affection over text is tricky to convey but this line is absolutely nailing it. You're mentally showering countless kisses on her, and she is blushing on the other side of the screen. The perfect time to deliver this message would be before bed.
86. You're worth the extra screen-time
Roses are red, violets are blue. If there's anyone I'd damage my eyes for, it would be you.
87. I can run out of compliments to give, but I'll never run out of love
The honesty in this though. Yes, compliments are flattering and really impressive. But there are times when we run out of them. Say this over text and remind her that your love is an ocean and your compliments are droplets.
Related Reading: Why you should say 'I love you' often
88. The thought of seeing you is getting me through my day
What can I say to make a girl blush, you ask? Oh dear, this one is delightful. Some days are awful and there's nothing we can do about them. But we can focus on who we go back to after the day ends. Tell your girlfriend she's the one you come home to after a bad day.
89. I know we met a few hours ago but it's been too long
There really is such a thing as not getting enough of your better half. This is a superbly sweet thing to say to your girlfriend in a text a bit after your date has ended.
90. You look a lot like my future
Stop already! I'm a huge fan of any and all texts that hint at the long term or an exclusive relationship but this one knocks it out of the park by being direct.
91. Have I told you how radiant you are?
A rhetorical question to win her heart. There is no answer to this except blushing for an hour or so. This is a cute phrase to text to your girlfriend that will increase her confidence.
92. I am my most authentic self around you
Honesty really is the best policy, more so in a relationship. And being our best true selves takes a lot of courage. Your girlfriend knows your truth and you love her for it.
93. You are my 4 am thought
This expression is so deep and personal. It is a beautiful thing to say to your girlfriend in a text to make her feel important and special.
94. I love it when you distract me
Text messages can be really distracting with their constant pings, and it is a surprise how we get any work done with our phones beside us. But your girlfriend's texts are a distraction you love and look forward to.
95. Our love is a promise I intend to keep
Looking for things to say to a girl to make her smile through text? Then this line is straight-up poetry. It has the hint of wanting to spend a lifetime with her without being overbearing. How artistic, just wow!
96. I am grateful for what we have
The relationship you both share is like no other. And you are thankful for this truly rare bond. Saying this sweet thing is a simple way to cheer up your girlfriend.
97. You are the human version of the heart emoji
The creativity of this saying is mind-blowing. It'll be surprising and delightful to receive this text in the morning. An amazing start to her day, don't you agree?
98. There's nothing I can't face when I'm with you
My dear gents, we have a champion with this line. Your girlfriend will be stunned to know that she makes everything possible. You both are an unbeatable team.
99. Stick around forever, will you?
Call me partial, but any line that uses the word 'forever' is the best of the best. It is a true mark of love and commitment. Hands down, this is one of the sweetest things to say to your girlfriend to make her heart melt.
Related Reading: 33 Questions To Ask Your Significant Other To Know Them Better
100. Come and see me today, texting isn't enough anymore
Yes, texting can't make up for physical absence but it can reduce it. When not meeting her gets to you, send this sweet text and make a plan that is the talk of the town.
101. I miss you as much as I love you
The levels to this text! A stellar blend of two all-time favorites, this text is going to make your girlfriend cry and blush. I promise you, this can be used any hour of the day, and any day of the week.
This super long list of 101 sweet things to say to your girlfriend in a text has come to an end. I'm sure that you'll find something for each mood. Be sure to communicate well with your leading lady, and use these beautiful sayings with a heavy hand. Your relationship will bloom like a red rose.
How To Make A Girl Think About You – 18 Tricks That Always Work