We have all heard about the first-night wedding gifts – most commonly it is believed to be given by men, but here we will be talking about first-night wedding gifts for the husband. The first night officially marks the beginning of married life with your husband and you must make efforts to celebrate the occasion by buying a first-night wedding gift for your husband. Everything about the first night after marriage is unforgettable, the memories are etched forever, very often couples use those same memories to perhaps end an argument or to remind the other what they meant for each other once.
Why not make this romantic night even more memorable by selecting the perfect gift for your husband? It will be a thoughtful start to your marriage journey and he will know how much you have put behind this special night.
But buying gifts for men is not an easy exercise. Since this is a first-night wedding gift for your husband, it needs to be extra special and tuned to what is right for him.  Confused? Don't be! In this article, we will list the 12 best first-night wedding gift ideas for your husband so that you can make this already special night even more beautiful and special for both of you.
Related Reading: First Night Jitters: Here's How To Prepare Yourself
12 Best First-Night Wedding Gift Ideas For Husbands
Gone are the days when only the husband was expected to gift something to the wife on the first night after the wedding. The trend nowadays is that the wife also buys gifts for the husband to express her love and affection towards him. You do not necessarily have to spend lavishly on the gifts because it is the thoughtful gesture that will matter rather than the price tag behind it. Surprise your man with these very special first-night wedding gifts.
Keeping his likes and dislikes in mind is essential while purchasing the first-night wedding gift, because it shows how much you understand him and value his opinions.
You can opt for either handmade gifts which you make yourself or you can buy gifts from local/online stores. It all depends on your budget and your husband's taste and how you can manage the best by matching those. What matters, in the end, is your act of appreciation and love towards your husband.
To make things easy for you, here are the 12 best first-night wedding gift ideas for your husband that we think would turn out to be the most memorable for your husband.
1. Perfume/perfume set or cologne
Most men love to smell good and if your husband is one of them, then you must gift him a perfume or cologne. Select a perfume/cologne which has a mild yet long-lasting smell so that your husband and even the people around him can adjust to the smell without any difficulty. Also, go for a branded perfume set or cologne, because these can never disappoint a person who has a fetish for good aroma. This is one of the best first-night gift ideas for your husband.
Shop for perfumes for your husband from online portals or walk-in exclusive stores. It's a pleasure to shop for aromas for your husband and gift him that on the wedding night. Enjoy the experience. Alternatively, you can also gift him a pack of aromatic teas which will help both of you relax a bit under the sheets as well.
2. Electronic gadgets
Just like diamonds are considered to be a woman's best friend, in the same way, electronic gadgets are considered to be a man's best friend. If you are thinking of romantic gifts for your partner gadgets make a good first-night wedding gift for your husband. Therefore, according to his hobbies and likes, you can either gift your husband the latest music player or external hard drive. In case he is someone who loves to travel, then you can give him a satellite phone or GPS enabled compass.
Go to this link to discover various options available for gifting.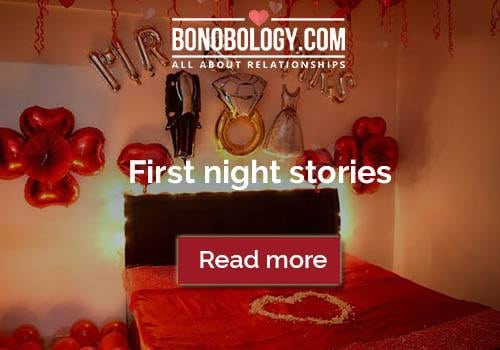 3. Customised mugs
No doubt this is one of the simplest first-night wedding gift ideas, but it is very thoughtful. You will make an effort to specially customise a mug according to your husband's preferences and perhaps add a personal message or photo of the two of you to it and then gift it to your husband. We are sure your husband will cherish such a customised mug forever. This does make a great first-night gift for your husband.
Visit the much reputed Archies stores or another shop that specialises in this to order a personalised mug for your husband.
4. Sexy briefs or knickers
You must have already prepared your sexy lingerie to sweep your husband off his feet. But what about your husband? He also should have the right to feel sexy on the first night after the wedding. So the best way to make him feel desirable is by gifting him sexy briefs or knickers and set the dice rolling for an intimate night between the two of you. This first-night gift will make your husband feel very desirable. In fact, this is the most romantic wedding night gift idea.
You can get good options online as well as in malls and stores.
Related Reading: 21 Last Minute Gift Ideas For Your Wife's Birthday
5. Jewellery pieces
For a first-night wedding gift that will last a lifetime, consider gifting jewellery to your husband. Jewellery pieces such as rings, bracelets, watches, chains, etc. can be bought from giants like Titan and Caratlane for your husband according to his favourite colour or birthstone. Personalised jewellery pieces are also available in some speciality stores and you can opt for those as well. Remember, jewellery is not just an ideal gift for women, but also for men, especially on the occasion of the first night. This could be an ideal wedding-night gift for your husband.
6. Fashion accessories
If your husband is a fashion buff who gives special attention to his appearance, then the best first-night wedding gift for him would be fashion accessories such as ties, scarves, sunglasses, belts, hats, wallets, etc. Online portals such as Myntra has a lot of variety from which you can select the most suitable fashion accessory for your husband.
What to do on your first night of marriage? Shop for the choicest fashion accessories for your husband from brick-and-mortar shops. Then when you gift it to him on your first night see the expression on his face.
7. Exotic chocolates
Instead of the same old chocolates that are available locally, you can get hold of exotic and new chocolates from Bigbasket to gift your husband, as chocolates act as aphrodisiacs. These are perfect for an occasion like the first night after the wedding, as chocolates help set the mood and allow you to spice things up between the two of you.
But before you do that, make sure you know what he likes – bitter, nuts, fruits, or white chocolate.
8. Grooming kit
Nowadays, men are very particular about their hygiene and put in a lot of effort to look presentable. So you can gift a grooming kit to your husband to let him know that you appreciate the way he looks and that you consider him to be the most handsome person in the world.
9. Video games/Play Station
Whether your husband is a professional gamer or an ordinary man who just loves playing video games, the most appropriate gift for him would be either the latest video games or a Play Station. These gifts will show that you value his preferences and have accepted the kid in him as well. Visit specialized gaming zones and many other online stores to buy the best gaming console/video games for your husband.
But remember, this could be a tricky one as many men prefer to stay hooked to gaming in the nights!
Related Reading: 12 Gift Ideas For Your Woman
10. Gym equipment
In case your husband prefers a healthy lifestyle and goes to the gym regularly or is thinking about joining a gym after marriage, then you can bring the gym home. Gift gym equipment like a treadmill, dumbbells and home gym kits that are available on in plenty online and offline. To make him happy and support him in the endeavour to be fit. This could be the most romantic gift to your partner because it shows you care for his health and passion for fitness.
Make sure you consider the space available to make a home gym. And make it a point to join him working out, for couples who work out together also have a better bonding.
11. A romantic getaway
There actually can't be a better idea of a first-night wedding gift for your husband. You can plan out a romantic getaway in advance so that you both can spend precious and unforgettable moments together with each other. You both will get time to know each other better and get comfortable with each other as well. You can gift him the tickets for the romantic getaway or a schedule of the getaway on the first night and take him by surprise.
Surf online extensively to get an idea about the best romantic getaways in our country and abroad. This could be the best first-night gift for your husband that you could enjoy too.
12. A fun session at the spa
To make your married life more exciting and adventurous, you can book a fun session at the spa for both your husband and you. The special spa session will surely be something that your husband will look forward to and appreciate, especially after the hectic wedding schedule. Take a step further and book a couple spa for a relaxing time together!
One gift that you can gift yourself is to control your own jitters. We get many questions where the brides write to us about how to control their own anxieties in situations like these. Don't worry we have that covered for you here.
This is not an exhaustive list of best first-night wedding gifts for your husband. You can add more to the list. You must think out-of-the-box and twist the gifting ideas given in this article according to your wishes and creativity and your husband's desires and needs. Remember, making your husband feel desired and cherished on the first night should be your top priority.