Most people get cold feet at the thought of sending the first message on a dating app. No doubt making the first move is scary, whether it is in person or online. But it is essential to take your connection further by initiating a conversation or what's the point of matching with someone?
The question is how can you express interest without coming across as odd? I have been in your situation before, which is why I know how important this is to you. Especially with all the pressure to make a good first impression, and the only one you can make while dating online. All this put together can make sending the first message on a dating app harder than it should be.
A lot of things have to go right while you are shooting your shot over a text. If you're new to the online dating space, I am certain you must have realized by now that it takes a bit of trial and error initially before you can get it right.
Lucky for you, I have put myself out there enough times, and in the process, acquired the skill of sending the right first message for that perfect start. Now that you are here there is nothing for you to worry about because I will help you send that perfect message to that cutie who's caught your attention.
23 Text Examples For First Message On Dating Apps
Once you have matched with someone you're really into, I know how eager you can feel to contact them and start chatting. What do you write, though? It can be difficult to know what to say on dating apps to an unknown person. Even though online dating has a lot of good things to it, one clear limitation is that it doesn't give us much time to make a good first impression.
You get one text, at best, to send to the person you're into and that text will determine whether they'd be interested in talking to you or not. You only get one chance to create a first impression, as the adage goes. Before I proceed to help you with the right messages, I believe that it is equally important for you to not send the wrong ones.
A quick brief on what you should NOT send as a first message: 'hey' (people you have got to stop with these); something that is potentially heavy or deep – this person knows nothing about you so this information for them is irrelevant; anything that is sexually explicit is big NO, and lastly, don't be nervous (it always reflects in your messages).
Now that we've got that out of the way, let's look at 23 text examples with which you can nail your first message on dating apps every single time:
Related Reading: 37 Funny Tinder Questions Your Matches Will Love
1. I think we've got a lot of pet-tential here, are you feline it too?
If you see a cat's picture in their profile or even a mention of a cat, then this has to be your first message on a dating app of your choice. If you have a cat, this makes this all the more relatable for the person behind the other screen.
If you are into the furry little cuddly creatures too, this text is a no-brainer and will ensure you have the purr-fect start with your match. You're not a creep in her DM trying to get into her pants with this message. You're the type she'd like to learn more about, and if all goes well (which I hope it does), you might even get a first date.

2. Ah, you're into books too? There's nothing more wonderful than the smell of a new book 😉
Given that you are here looking at an article on the perfect start with your match, it's safe to assume you are looking to build a connection with a person who has similar interests as you. Once you find a common interest, making the perfect start with your text messages is a cakewalk. Adding a personal touch is important, it's a conversation starter that works like a charm.
For example, if you're a book nerd and the person you're swooning over has indicated a love for reading in their books, leading with this text message is a no-brainer to use if the person you've been swooning has given off a vibe in their profile that they are into books.
3. It's impossible to look any cuter than that. You have pretty eyelashes
All right, I get it. This person you want to text is cute, like REALLY cute, and complimenting them for their looks seems like the only sensible way to start a conversation with them. What can we say, when you come across someone who is unbelievably cute, you just feel like shooting your shot.
You can also use this text when you can't seem to find a lot of common interest, but your gut tells you that there is potential here. This is a good workaround for those wondering, "What to say in the first message on a dating app when their profile is too simple?"
4. I was hoping we'd match. Do you prefer a message that leads to a perfect start or a message that leads to a perfect start?
Confidence is key when talking to your crush online. It's really attractive for the person on the other side of the screen when they get a sense that the person they are talking to is comfortable being who they are.
You are going to have to project confidence when you message someone first on a dating app. This is a very simple but potent first message you can send because there is no scope for any awkwardness and it does not come off as random. If you're feeling upto it you can always use flirty conversation starters to break the ice.
5. Hi! So, I'm going to go and buy a cute blanket for your cat/dog while you're replying to this text
I love animals, and I have matched with people who love animals. My dating site of choice is Tinder and the algorithm is well in sync with my interests, my regards to big data *clears throat*. So in my personal experience, using any cute pets I see in their profile as my online dating icebreaker messages fetches a lot of responses.
In a DM filled with the worst pick-up lines ever used, being relatable hands you an edge because it shows you're making an effort to notice the finer details about your online crush. When everyone is trying to send everyone the perfect first message on a dating app, you will need to personalize your messages to stand out from the crowd.
Related Reading: 13 Tips To Date Online Successfully And Find Your Ideal Partner
6. Hello! *pretends to be a waiter* Here is your 'cutest first message ever' garnished with awkwardness
I want to address the elephant in the room, so should a girl message first on a dating app? Yes, absolutely! Even though we are progressing better than any other previous generation on the planet in breaking gender stereotypes, women are socially taught to hold a passive stance when dating. Unfortunately, many women still feel that they "need to be chosen".
This is the farthest thing from the truth. So, be confident and take the initiative. You got this, girl! For all the girls who want something subtle and not too flirty because they are tired of attracting fuccbois, this cute first message on a dating app can be the perfect start and help you take charge.
7. Awww! I see that you are into (interest/hobby). What's your favorite thing about it?
Here is the ideal first message to a girl example for those who are tired of their advances not being reciprocated. Given the way the dating culture has been set, girls get a lot more attention even in an online space. Remember what I said about triple-digit unread texts in her DM's? Yes.
You're going to have to make an effort to understand what she is into. With the best intentions I must tell you that if you use generic openers, you'll notice that your dating game is flatlining because of bad pick-up lines. Spending time and recognizing what she is into is the key to crafting your perfect first message on a dating app.
8. Hello, fellow bookworm! I'm reading a book about anti-gravity. It's impossible to put down
That awesome moment when you are on Google looking for funny first message online dating examples and you get a punny one. If they are a texting nerd, there is a good chance that they are going to appreciate some puns.
I know for a fact that nerds find online dating very lackluster because they can rarely find people with similar interests on the usual dating sites. If you're nerdy and are having a difficult time matching with people of your interest, there are dating sites for nerds, geeks, and sci-fi lovers too. You're welcome 😉
Before you go running off to explore these new dating avenues, take your chances and shoot this punny text to that cute girl or handsome hunk who's making your heart race. Who knows you might get along like a house on fire, and save yourself another dating app subscription.
9. I couldn't get us the reservations at the library for our first date, it was completely booked
Another pun? Yes. You see, my best friend is a nerd. I've managed to get her on board with online dating. It took her a while but she made her peace with a few major disadvantages of online dating that worried her. And has since been killing it with such pun-induced conversation starters.
So, I took a leaf out of her playbook to bring you this funny first message on a dating app. You can use it even if you're not a nerd per se. Because it's a pun, it will get your match to reply to you, and then it's up to the two of you to decide how to set the tone from thereon. If you're lucky, you might even score a date right away. There are many ways to score a date on Tinder.
10. The food in that restaurant looks delicious, are we going there on our potential first date?
The key to online dating icebreaker messages is to be clear about what you seek from this conversation. At the start of the piece, I made it clear that sending sexually explicit messages is a big no. Most people on these dating sites are there to date, not hookup. Girls, you want to stay away from these types of men on Tinder.
All the men looking for the first message to a girl examples, try to be transparent with the girl you're talking to. If you wish to only hookup that's okay, but say so in a respectable manner and if they're not interested leave it at that.
11. Be honest, what made you swipe right on my profile? It's important because I'll have to take it off now that we've matched
In this list of messages to help you figure out what to say in the first message on a dating app, you will notice that flattery is a recurrent theme. That's because everyone likes to be flattered. I don't want you to go with the 'You're cute' cliche. Other than that there are Tinder etiquettes one must follow.
When you send this as the first message on a dating app, your online match will immediately get a sense that you are the kind who likes to commit. As a bonus, it will give you an idea of what's working in your favor on your dating profile and what isn't. In this day and age, it's so important to know how to make an effective dating profile.
12. You are so pretty, I was starting to wonder if you don't exist?
When sending the first message to an unknown girl, you want to flatter her and compliment her but not creepily or casually. When you are texting a girl on any dating site, you can safely assume that she already has 100+ texts unopened. Now you are trying to stand out among all the guys that are already using cringy pick-up lines.
Having an element of subtlety in your compliment is something women appreciate. They might not even agree with what you're saying but they'll always be appreciative of a compliment.
13. #Name I don't give out compliments right away, but I must say that you have excellent taste in women/men
Embrace yourself for a snarky response if you are going to send this as the first message to an unknown girl. How do I know this? Because I have been sassed when I've used this with my beloved.
We've been together for two years now, so I know what I am talking about. All of these funny first message online dating examples are tried and tested. But remember a killer opener alone is not enough to carry you through. It's up to you to sustain a good conversation after you get a response so be creative with it.
14. *Spawns out a wand from his/her cloak* Accio response!
You can never go wrong with a Harry Potter first message on a dating app. Just like you can never go wrong with Harry Potter gifts. All you adults who have grown up reading the amazing collection by Rowling, bring that wizardry fun into your online dating space.
This is my favorite among these funny first message online dating examples, and with good reason. The tone of the conversation is set by the response you get. You can be the most interesting person possible but it takes two to tango. Don't entertain dry responses no matter how attracted you're to someone because things will eventually fizzle out.
Related Reading: Online Dating Profile Examples To Attract Men
15. Your outfits are straight fire, you make a great fashion student. I will have to pick my first date outfit meticulously
Outward appearance is important to people to varying degrees, but let's be honest here, who doesn't like aesthetics and a good sense of fashion. For all the lads who drool over 'eye candy' on Tinder and are always on the lookout for the first message to a girl, here's a non-creepy way to compliment a girl.
I wish this wasn't something I have to point out but 'Fine booty' is not how you compliment a girl's physical appearance. Don't contribute to the plague of creepy texts on Tinder. If things were the other way around, it would make you uncomfortable, wouldn't it? Also, if someone is not a fashion student, you can follow up with a compliment that you'd make a great one if you were.
16. You have been to #name! How was your visit? Something we have in common already!
The internet is full of stories about how people match on a dating site, find out that they are both into traveling and that's that. So for all the backpack adventurers who want to embark on new adventures with their partners, this message will surely lead to a perfect start. There are many ways to find love while traveling for those of you who travel for a living. I cannot think of a better way for you to open a conversation with someone who's also into traveling.
17. NO WAY! We've been to the same university and never met? Hiii!
Even though I have not experienced this when online dating, my friends have. And I have been told it is a lot of fun to meet new people online and discover there's a shared history there. Just the 'what are the odds' factor will be enough to carry you through the initial awkwardness, not to mention, you'll have lots to talk about.
Now you can't just put on that overused sweatshirt and walk into the campus. The person you're into is on the same campus and the chances of running into them are really high. If I were you, I would already be looking for valuable tips for a first date after meeting online.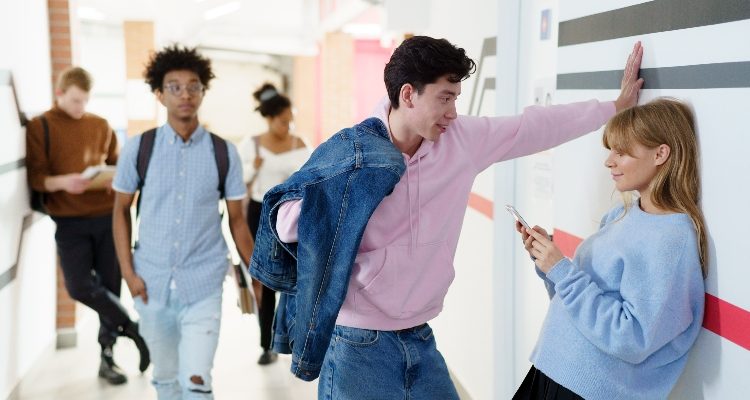 18. Were Ross and Rachel really on a break according to you?
Have you run out of online dating icebreaker messages? Don't really find anything relatable because of their basic Tinder profile. By this point, your mind just starts to wonder what to say on dating apps to the kind of people who don't put any effort into making their profile?
You could send them tips on writing a dating profile… I'm kidding, of course. You can't do that. What you can do is use the most well-known sitcom show and ask for their opinion on a controversial thing that happened in it.
19. I was just telling my friend about how I don't need Tinder anymore once it works out between us 😉
Once you've matched with someone you're really into, this is the next logical step, isn't it? Please use this as a first message on a dating app only if you are sure about this person. The one who's going to be reading this would respond to you under the impression that you're looking to build a meaningful connection.
20. On a scale of 000-000-000 to 999-999-999, how likely is it that we'll go on a first date?
Here is the ultimate one from this list of funny first message online dating examples. Those who find it difficult to ask someone out in an online setting can make this their go-to first message on a dating app. With this, you are asking them out subtly, in a way that doesn't feel too soon or desperate.
Use this as an opener or a follow-up conversation starter. The best thing about this message is that it can be used in a variety of situations. Personalize and improvise.
21. Hi! Seeing that we're both vegans, if we fight, is it still considered beef?
I've been lucky enough to match with a few vegans, and they're the most amazing and kind people. I'm friends with one of them now, and thanks to her influence, I am actually transitioning into becoming a full-time vegan.
Related Reading: The Ultimate Funny Online Dating Questions
If you're a vegan, then congratulations you've scored yourself a punny first message. ANYTHING that gets you an edge over the other in your crushes DM has to be used to skew things in your favor. Having an eco-friendly can spice up your dating life if you know how to use it to your advantage.
22. Do you think people should come with warning labels? If so, let's discuss ours
The question describes its intention in complete transparency. I want you to know what you're getting into and this will make your match introspect a bit. Because you're making the effort to message someone first on a dating app, you now get to set the tone for the first conversation.
They might even tell you stories about how they wish 'some people' (probably their ex) came with a warning label. It's essential when online dating to get to know the person and their tendencies, maybe an appropriate amount of past as well.
23. There is something wrong with my phone, it doesn't have your number in it
Casual flirting is always a good idea when you are dating online. If your match has spent a significant amount of time on Tinder already, they're bound to be bored. So slide in their DM with confidence and feel free to follow up with cute questions to ask your crush while texting.
And that wraps up all the messages you need to have that perfect start with your online match. Whenever you are using these, make sure it is relatable for your match. You can't be random with these. Always try to add a personal touch to a message you send.
Online Dating – 8 Tips To Make It Work For You
5 Reasons To Research Your Online Date Before You Meet
Teenage Dating Apps – 9 Dating Apps For Under 18